Grading the 2017 Packers Season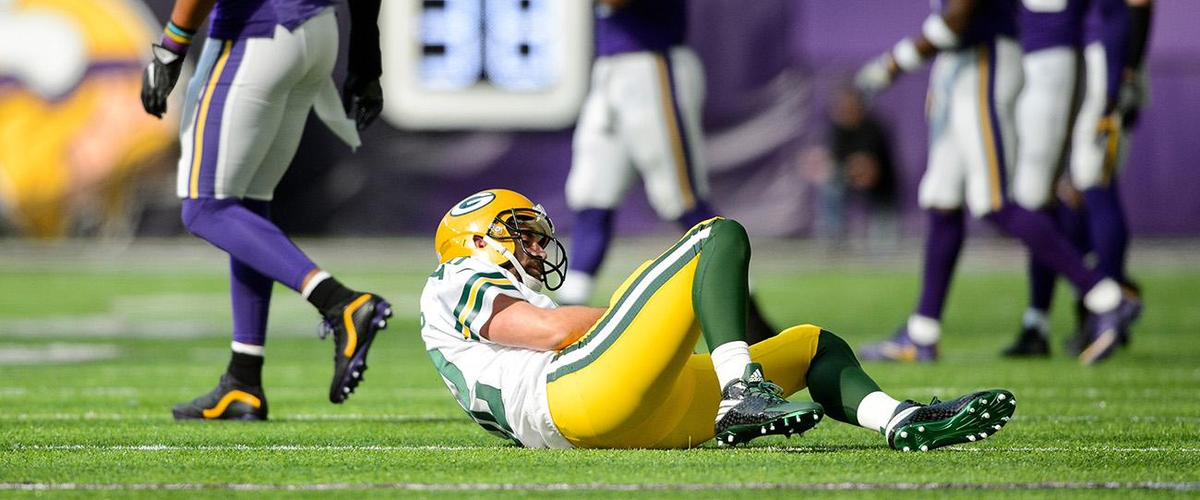 It took one dirty hit from a Minnesota Viking to take down Aaron Rodgers and inevitably prevent the Packers from reaching the playoffs. What Anthony Barr's hit really did was expose the lack of talent in Rodgers' supporting cast.
On the offensive side of the ball, Aaron Rodgers isn't getting any younger. He's 34. Yes, fellow quarterbacks Drew Brees, Phillip Rivers and Tom Brady will all play into their 40's, but that's not a guarantee, especially not for a quarterback who spends much more time outside of the pocket than the aging three. For the stretch of seven games Aaron Rodgers spent on IR, the Packers started Brett Hundley. Brett Hundley was a headache to watch. He had a couple decent performances away from home, but he ended up being the worst starting quarterback at Lambeau Field in Packers history (statistically, I'm not even generalizing.) This season clearly demonstrates how Brett Hundley should never be a starting Packers quarterback again. The running game also caught the injury bug, with starter Ty Montgomery only playing half the year and ending the season on IR, and both rookie backups Jamaal Williams and Aaron Jones missing time as well. Usually leaving the running game to two backup rookies is a bad sign, but both Williams and Jones actually had decent campaigns; I have no problems with the backfield moving forward. The QB's and RB's had a solid offensive line - when healthy. Injuries led to the Packers having as many O-Line starting combinations as any other team. Pro Bowler David Bakhtiari had a rough first game and then missed the next four, and his Tackle counterpart (and forever overrated) Bryan Bulaga only started five games all season. Only Center Corey Linsley was healthy enough to start all 16 games. The left three of the line (Bakhtiari, Lane Taylor and Linsley) all had good seasons, and RG Jahri Evans played well enough to earn starter-worthiness. Bulaga is where I have concerns, as I have for years now. He's injury prone like no other, overrated and if kept on the roster, he'll make over $8 Million next year. This is why Bryan Bulaga should be released this offseason. Jason Spriggs played well enough to contend for the starting Right Tackle job, and Bulaga would only be a $3.2M dead cap hit if cut. The receivers (mostly) stayed healthy, but with Aaron Rodgers out, Brett Hundley completely ignored Jordy Nelson. Some argue that Jordy is on the decline, but I can't say that unless he starts putting up disappointing production with a healthy Aaron Rodgers throwing the ball. Davante Adams had a breakout season, but two illegal hits kept him out from a couple key games. With him and Jeff Janis left as unrestricted free agents, let Jeff Janis walk and give Davante Adams whatever money he wants. Both Tight Ends Lance Kendricks and Richard Rodgers had mediocre production in the passing game, which could partially be blamed on Brett Hundley too. This offense got shut out twice, which is absolutely unacceptable for any Gren Bay Packers team.
On the defensive side of the ball, there wasn't a single leader present. Starting with the defensive line, Mike Daniels was once again pretty good but not quite deserving of his $10 Million salary. Sophomores Kenny Clark and Dean Lowry both progressed significantly into starting roles, with the latter seeing (and deserving) more snaps than even he probably expected this year. The starters were fine, but the depth guys (Quinton Dial and Montravious Adams) didn't contribute whatsoever. The Linebacker level was a tumultuous one. Blake Martinez had an incredible second-yera campaign, being one of the NFL's leading tacklers all year. That also shows how long the Packers' defense was on the field every game. Jake Ryan lost his starting job in 2017, and deservingly so. Clay Matthews SHOULD be playing on the interior, but a lack of talent in the pass rush kept him as an outside linebacker, where he really showed his age. Newly-extended Nick Perry had a decent year when healthy, but both he and Matthews simply disappeared during certain games. Ahmad Brooks did next to nothing when healthy, and the likes of Joe Thomas, Chris Odom, Vince Biegel and Kyler Fackrell had very little impact. The secondary was AWFUL. Kevin King was selected instead of Dalvin Cook and T.J. Watt, and he was an average starter who couldn't stay healthy due to a shoulder injury stemming from college. Damarious Randall had a horrid first nine or ten games or so, but to give him credit, he stepped up to playing as an average starter for most of November and December. Quinten Rollins couldn't stay healthy enough to prove his worth (again), and Davon House was a poor starter who didn't prove why we signed him in the offseason, Demetri Goodson missed the entire season due to injury, and names like Josh Hawkins and Lenzy Pipkins saw starter snaps and didn't deserve them. Ha Ha Clinton-Dix and Morgan Burnett both had inconsistent, average-at-best campaigns, and rookie Josh Jones made more impact than either starter. This team needed a better pass rush and a better secondary, and it seems like although money and draft picks were invested in both, the two weaknesses both got worse.
As far as special teams, Mason Crosby had a good season, Justin Vogel was an average punter and Trevor Davis was an average returner who showed a couple glimpses of potential. Now let's address the rookie class that boasted ten names. Kevin King was a starter for most of his playing time, but a starter for one of the worst Cornerback corps in the league. Josh Jones made some big tackles, but his play in coverage simply wasn't good enough. Montravious Adams was hurt for most of the season, and even when healthy, he did nothing on the few snaps he saw per game. Vince Biegel also missed most of the season due to injury and made no significant impact when he saw the field. Jamaal Williams had a good campaign despite having a horrid training camp, and he ended the season having more rushes than anyone else. His consistency running as a power back that can also pass block will be great moving forward. DeAngelo Yancey spent the entire season on the practice squad. Aaron Jones showed some explosiveness and had an eye-catching rookie campaign given his third-string status at the beginning of the season. Kofi Amichia also spent the entire season on the practice squad. Devante Mays was surprisingly kept on the roster, and in the few snaps he saw, he couldn't get past the line of scrimmage. Malachi Dupre got hyped in training camp, but got waived and spent half the season on Buffalo's practice squad. Overall, not an impressive batch for Ted Thompson, who among many others in the front office and the coaching staff should be on the hot seat.
There will be a subsequent article to this one addressing what I believe the Packers should do in the offseason, but for now, I'll just go over all of the individual Packer grades from this collective season.
QUARTERBACK
Aaron Rodgers, #12: B (Last year: A+)
Who knew that one man's collarbone could lead to missing the playoffs, but that is sadly a direct correlation. As far as individual play, Aaron did well in the early games, especially considering the injuries to key offensive lineman. If you average his stats from the 7 games he played over all 16, he would have a line of 3,828 Yards, 37 Touchdowns and 14 Interceptions. The interceptions would be higher than normal for Rodgers, and the yardage is a bit lower than par for him, but that shows his decision-making this season. His return game was, well, horrid. He's a good quarterback that needs to be 100% healthy and have his trusty line healthy too. A "B" is fitting. He's got two more years left on his contract, so no worries with him in the offseason.
Brett Hundley, #7: D (Last year: D)
I would argue most Wisconsinites would shudder when hearing the name "Brett Hundley" after this season. He was nothing short of awful in the nine games he started this season. Averaged over an entire 16 game schedule, he'd have under 3,000 Yards, 14 Touchdowns and 22 Interceptions. Yep, that's bad. He earned a "D" last season but that was simply from looking absimal in his rare minutes as a backup. Seeing about 10 games of all offensive minutes, he was most individually responsible for ruining the Packers playoff hopes. He overthrew receivers, completely ignored Jordy Nelson, fumbled more than he scored, fell down to get sacked, held onto the ball too long, completely missed seeing wide open receivers, and couldn't finish on third down. It was an all-around awful season. He still has another year on his rookie contract, but I don't want to see him play another minute in the Packers uniform.
Joe Callahan, #6: n/a (Last year: n/a)
Callahan should have taken some of the minutes away from Brett Hundley, but neither Mike McCarthy nor Edgar Bennett decided to put him in until the final two minutes of a blowout loss, not to mention the last game of the entire season. His status is a question mark, but don't be surprised to see him serve once again as a practice squad/injury replacement third-string quarterback next season.
RUNNING BACKS
Ty Montgomery, #88: B- (Last year: B+)
Montgomery was the makeshift starter last year who tallied 993 total yards and 5 Touchdowns. He only played in 8 games, so if you double his numbers he's got 892 Yards and 6 Touchdowns. If he played more than half the season, he would have certainly been at a "B", if not at last year's mark of a "B+"Montgomery's injuries led to a breakout year for two rookie running backs, so Ty's role in 2018 is currently a big question mark. Maybe a creative playcaller could use him in a Jerick McKinnon/Christian McCaffrey-like role next year. He's under contract at only $880K so he's on the 53-Man Roster for sure next year.
Jamaal Williams, #30: B (Rookie)
Praised for his pass blocking, Jamaal Williams was considered to be the platoon third-down back to begin the season, but he saw more carries than anyone on the team. The season concluded with Ty Montgomery and Aaron Jones out, so Jamaal Williams saw multiple games with 20+ carries, literally and metaphorically carrying the team with a sucky quarterback. Averaged over 16 Games of starting reps, he'd have around 1,100 Total Yards and 8 Total Touchdowns. Combine that with the fact he had over 150 Carries and no fumbles as a rookie, and it's clear Jamaal Williams may have called dibs on being the front-runner to lead the team in rushes again in 2018.
Aaron Jones, #33: B- (Rookie)
Jones made some excellent plays during training camp, but the 2017 fifth-round pick began the season inactive as the fourth-string back. Once he got his chance, he didn't blow it. In the 8 games he saw more than a couple touches, he averaged over 5.5 yards a carry. If his per-game stats were averaged over a full 16-game workload, he'd have over 800 Yards and 9 Touchdowns. His agility and explosiveness didn't go unnoticed, and he'll work well in combo-back packages in his sophomore year next season.
Devante Mays, #32: D (Rookie)
Mays was to running backs what Brett Hundley was to quarterbacks last season: a guy that only saw a handle of reps on offense and proved absolutely nothing with them. As the fourth-string running back, he saw only two games of touching the ball, running four times for a total of one yard and catching three passes for a total of zero yards. I was surprised he made the active roster back in September, and I'm not sure he did anything to show why he should make the 2018 active roster either.
FULLBACK
Aaron Ripkowski, #22: C+ (Last year: B+)
After putting up nearly 200 Total Yards and 3 Touchdowns last season, his role was extremely limited in 2017. He was used in a strict blocking-only role, and even the blocking opportunities were harder to come by with Jamaal Williams being able to pass block. He'll get a worse grade, but the reasoning has very little to do with his actual play. Next year is the last of his four-year deal, but with his very limited role, I don't see why the Packers would move or cut him.
Joe Kerridge, #40: n/a (Last year: n/a)
Kerridge saw the field in only four games, mostly as a special teamer with just a handful of offensive reps. One catch for three yards is the only stat to his name. The Restricted Free Agent is just another body the Packers will debate keeping around next training camp.
WIDE RECEIVER
Jordy Nelson, #87: B (Last year: A+)
Nelson, the top receiver on the depth chart, missed just two games, but his receiving numbers looked like he missed many more. Brett Hundley could rarely find him, and he ended the season with 53 Receptions for 482 Yards and 6 Touchdowns. Those might be good numbers for a third-string young player, but Jordy Nelson is earning $12 Million to be an elite receiver. This raises the question of what's to blame for his lack of production: Brett Hundley simply ignoring #87 or is the aging Nelson on the decline? I will say, it looked like he was a step behind on a lot more plays compared to last season's all-star form. With only one year left on his contract,
Davante Adams, #17: A- (Last Season: A-)
Adams backed up a promising 2016 campaign with one of the best contract years out of any Packers receiver ever. Despite taking two nasty illegal helmet-to-helmet hits, both resulting in concussions, Adams put up 74 Receptions for 885 Yards and 10 Touchdowns. Take away the two games he missed for illegally-induced concussions, that's 85 Receptions for 1,011 Yards and 11 Touchdowns. Those numbers might have been even larger if Aaron Rodgers stayed healthy. He was often the only target Brett Hundley could find, and giving his erratic inconsistency, Adams had to put in extra work to pull in numbers similar to last season. The Packers better do whatever they can to bring him back next season, even if it means placing the franchise tag on him.
Randall Cobb, #18: B (Last year: B+)
Cobb was able to stay as healthy as any receiver in this deep catching corps, missing only one game. He racked up 66 Receptions for 653 Yards and 4 Touchdowns. His versatility was shown by his 9 Rushes and even a 15-Yard passing competion. He's slotted to earn $12.7 Million in the last year of his contract, so with he and Jordy Nelson burning a $25 Million hole in the Packers' 2018 Salary Cap, so cheeseheads might have to get used to the thought of not having either Nelson or Cobb next year.
Geronimo Allison, #81: C+ (Last year: C+)
Allison only missed the season opener, and in a sophomore campaign of 50% more games, Allison pulled in 23 Receptions for 253 Yards. He had almost exactly twice as many catches and kept a similar catch-to-target ratio. My concern is a decrease in yard-per-reception from 16.8 Yards to just 11. I really wanted to see Allison develop into a deep threat this season, but if his numbers keep increasing at the same pace as his playing time, I have no complaints. Allison stands as an Exclusive Rights Free Agent, basically meaning the Packers have the choice to resign him for cheap before anyone else has a chance. Essentially, Allison will be back next year, and maybe in a bigger role with Jordy Nelson and Randall Cobb potentially on the chopping block.
Trevor Davis, #11: C+ (Last year: C-)
Davis' sophomore campaign was a progressive one, with a good full season as the returner and two more receptions, 46 more yards and an average of six more yards per catch. His efficiency might cost Jeff Janis his job, but it should secure his returner/depth receiver usage.
Jeff Janis, #83: C (Last year: C)
Janis technically played in all sixteen games this year but only pulled in two catches for 16 Yards. To be fair, he's the fifth or sixth string receiver once again, and the emergence of Geronimo Allison during the second half of 2016 really limited any field time he would see this year. Trevor Davis replaced him as the returner, so the only thing keeping him afloat at a "C" was his consistent tackling on the punt team. He's without contract, and given the depth at the position, Janis is unlikely to return in 2018.
Michael Clark, #89: C- (Rookie)
Clark was activated off the practice squad to cover for the receiver injuries the last two games of the season. He caught four passes for forty one yards, so averaged over a full 16 game season, that's 32 Receptions for 328 Yards. Not bad for a rookie depth guy. However, my concern is that he only pulled in 4 catches on 14 targets, a poor ratio. Three of his four catches were as a wide open receiver. This concerns me, but as an ERFA, he'll be back as a depth option again next season.
TIGHT END
Lance Kendricks, #84: C-
Kendricks had the lowest production out of any season in his career, pulling in a mere 18 Receptions for 203 Yards and a single touchdown. After Martellus Bennett left in Week 8, Kendricks saw more reps than Richard Rodgers but couldn't be a factor in more than one good game (Week 3 against Cincinnati). In fact, that game was the only game above a "C+" rating all season. He's signed through next season, a year in which he better step up or he won't see the 2019 season in a Packers uniform.
Martellus Bennett, #80: C
Bennett was waived after not discolsing and injury and simply being an asshole in the locker room. He was also second in the NFL in drops at the point of his release. His stats over the 7 games he played average out to 55 Receptions for 533 Yards and still no touchdowns. Combined with too many drops to mention, he's only at a "C" for the year. He played the rest of the year with the Patriots, and there's no way in hell he's wearing green and gold again.
Richard Rodgers, #82: C (Last year: C+)
Rodgers saw more snaps than any other tight end last season, but with Jared Cook and Justin Perillo departing and the Packers spending big bucks on Martellus Bennett and Lance Kendricks, he began the season as the third-string. He was healthy enough to play 13 Games, seeing only 10 games of true action, and pulled in just 12 Receptions for 160 Yards and a Touchdown. He wasn't bad, but he really didn't do anything to contribute to the team's success this season. He obviously didn't earn any more reps than he got either. He's an Unrestricted Free Agent this offseason, and now being held to a rotation tight end role, the Packers could easily afford to let him go.
Emanuel Byrd, #86: n/a (Rookie)
The undrafted rookie was signed to the Packers practice squad in November and got activated to play the season finale given Richard Rodgers' placement on IR. In his career debut, he pulled in a couple catches for 31 yards, a decent game for a backup tight end. Obviously that's nowhere near enough to give him a grade, but as an ERFA, he could legitimately fight for a roster spot in 2018.
TACKLES
David Bakhtiari, #69: B (Last year: A)
Bakhtiari is always rated as one of the best pass protecting lineman in all of football, but by missing four games due to injury and having an all-around rough start to the season will prevent him from seeing a similar grade to last year. He's still one of the NFL's best Left Tackles and he's signed through 2020, ergo not going anywhere.
Bryan Bulaga: #75: C (Last year: C+)
Bulaga wasn't necessarily bad when he played, but "when he played" was less than a third of the season. He's injury-prone and not showing any improvement over the past three seasons. In fact, he's actually gone down a grade each of the past three seasons. He's due for $8 Million next year, and he's only $3.2 Million in Dead Cap if the team cuts him. Jason Spriggs played just as well in his place, and he's much cheaper, historically healthier and younger. If I was the GM, Bulaga wouldn't be on the roster in 2018.
Jason Spriggs, #78: C (Last year: C-)
Spriggs started the season on Injured Reserve and only played in six games, but he made less mistakes than Bryan Bulaga did at the same position. If he doesn't show he can stay healthy in season three next year, the second-round selection would be rightfully deemed a bust. Still, if healthy, he's a probably-better and much cheaper option at Right Tackle than Bryan Bulaga, who has notoriously had his own health issues.
Kyle Murphy, #68: F (Last year: n/a)
Murphy was, frankly, god-awful. He only played three games before ending up on Injured Reserve, and in those three games he was an eye sore and a liability on the right side of the line. He has two more years on his contract, but seeing him on the field will undoubtedly induce anxiety in 2018.
Adam Pankey, #77: n/a (Rookie)
Pankey never saw the field, and as an ERFA, he'll be back in 2018 as a training camp body on the bubble of earning a roster spot again.
Ulrick John, #74: n/a
I only saw Ulrick John come in on a play with an extra offensive lineman. He'll be a 25-year-old Restricted Free Agent and the Packers could easily bring him back to fight for a backup roster spot or let him go.
GUARDS
Lane Taylor, #65: B (Last year: B+)
Taylor only missed one game and had an overall good season. He just simply have an incredible games, keeping him one grade worse than last year. Taylor is reliable, healthy and signed through 2020, so no need to address anything here this offseason.
Jahri Evans, #73: C
Evans was a human insurance policy for letting T.J. Lang go in free agency, and he had a mediocre single season. I don't know what exactly the Packers were expecting from the veteran, but in his 14 games, he barely did enough to be deserving of a starting role. He's an Unrestricted Free Agent and I'd honestly look into cheaper options like Luke Joeckel.
Justin McCray, #64: D
McCray came out of nowhere to start multiple games this season and, well, should return to nowhere. He put together some of the worst performances out of anyone on the entire 2017 roster. He's an ERFA and I could see the Packers being dumbasses and bringing him back again, so I won't even say anything about this one.
Lucas Patrick, #62: D+ (Rookie)
Patrick wasn't good in his rookie campaign, but he was also put on the spot and probably wasn't expected to see the field at all this year. In his sophomore year, he'll fight for a backup spot again in 2018.
CENTER
Corey Linsley, #63: B- (Last year: B)
Linsley honestly spent a lot of the time just waiting to block someone while not actually blocking anyone coming up the middle. Usually it was the right side of the line that collapsed anyways, so maybe he could get away with it, but he still didn't pass the eye test. One huge is the fact that he's the only O-Lineman to start all 16 games. Reliability and consistency are two key attributes in Centers, and with Linsley providing both, he earned his newly received contract extension.
Dillon Day, #54: n/a
Day was signed by the Packers off of the Broncos' on December 20th and never saw the field. In fact, over his first three years, he has one Super Bowl Ring while not playing a single snap of NFL football. Who knows where he'll be in 2018.
DEFENSIVE LINE
Mike Daniels, #76: B (Last year: B)
Daniels will have a lot of expectations every year of his $10 Million per year contract, and despite getting the same grade as last season, he had six more tackles and one more sack while playing in only 13 games compared to last year's 19 game campaign. As far as overall explosiveness and run stopping ability, he showed the same level we saw in 2016 again in 2017; he just had more opportunities to rack up statistics because the defense couldn't get off the field. He put up the same grade as older teammates Randall Cobb and Jordy Nelson, and with the glaring holes on the two other lines of defense, the Packers couldn't afford to cut Daniels even if they wanted to save some money.
Kenny Clark, #97: B (Last year: C)
Clark made HUGE strides in his sophomore season. In 19 games last season, he had just 27 Tackles and no sacks. In 15 games, all of which he started, he put together 55 Tackles and 4.5 Sacks, two Forced Fumbles. He went from a platoon run stopper to an every down plug in both the passing and running defense. Look for him to continue to have a major role moving forward.
Dean Lowry, #94: B- (Last year: C+)
I called for Lowry to get starting reps when grading his 2016 season, and he didn't disappoint as a starter in 2017. He had 32 Tackles, 2 Sacks and a memorable Fumble Recover-turned-Touchdown spanning over half the field. He, like Mike Daniels and Kenny Clark, has earned a starting spot on this defensive line through at least 2019.
Quinton Dial, #91: C-
Dial was cut by the 49'ers after training camp and quickly signed by Green Bay to add depth along the defensive line. In the 13 games he played, he had just 19 Tackles, none of which were for loss. He simply didn't make a single significant play on defense. He's an Unrestricted Free Agent, and after his first campaign as a Packer, Green Bay can afford to let him go.
Chris Odom, #98: C-
Odom only managed to make six tackles in his first season as a Packer. Maybe Green Bay only intended to use him as a borderline active/inactive depth guy, but Odom simply was invisible this season. He's under contract next season and could see more reps if Dial walks away, which he easily could.
Montravious Adams, #90: C- (Rookie)
Adams was a third round pick and only managed to be healthy enough to play in six games, posting a mere two tackles. He better find a way to stay healthy and get on the field, because right now he looks like a complete bust of a third-round draft pick.
Rickey Jean Francois, #99: C-
Francois, the former Redskins D-Lineman, had just two tackles in the three games he was on the roster. Like pretty much every other backup on this defense, he didn't make a single significant play all season. He was cut and signed by the Patriots, so I highly doubt we'll ever see Francois in a Packers uniform again.
OUTSIDE LINEBACKERS
Nick Perry, #53: B (Last year: A-)
Perry was the best defender in 2016, and injuries hampered him to only playing 11 healthy games in 2017. However, averaged over 16 games, Perry totaled 50 Tackles and 9.5 Sacks, close to his 59/12 spread of last year that earned his big extension. Although his stats were close to last seasons, the eye test didn't boast the same results. Perry would have a couple big games, but then be missing from the pass rush entirely over the next two. One of the biggest weaknesses the Packers faced all year was an inconsistent pass rush, and despite Perry's decent numbers, he also contributed to the inconsistency bug.
Clay Matthews, #52: B (Last year: C+)
Matthews had a 2017 campaign that was all over the place. In some games, he seemed invisible or completely swallowed up by blockers. In other games, he was too busy showing inexperienced fellow linebackers where and how to play. Still, he had games this season where he demonstrated the explosiveness that at one time made him one of the most feared defenders in the league. All of the different forms of Clay Matthews combined to have a team-leading 8.5 Sacks and 13.5 Tackles for Loss. An interesting thing I noticed while watching Matthews this season was that he no longer has that explosive step off the edge, but he has discovered this elusiveness when blitzing up the inside gaps, causing mayhem in the backfield. Because of this, whoever becomes the next Defensive Coordinator needs to build more packages and plays where Clay Matthews can line up as a pass-rushing interior linebacker. This is, however, if Matthews and his $11.4 Million final-year salary return in 2017. That will be a big question whoever the next General Manager is needs to answer.
Ahmad Brooks, #55: C
Brooks was another former 49ers defender signed to bloster depth, and in 12 games, the veteran had 4.5 Tackles for Loss and 1.5 Sacks. That would be a decent year for your everyday backup edge rusher, but we all know Brooks is capable of better. The 33-year-old is free to leave next year, and he hasn't made a solid case as to why the Packers would push to resign him.
Kyler Fackrell, #51: C+ (Last year: C)
Fackrell looked confused and out of place at times, but he did stay healthy enough to play in all 16 games and had 5 Tackles for Loss and 3 Sacks. His performance showed some signs of positive development, but this pass rusher needs someone to step up. If Fackrell can takes notes from his draft class compatriots Kenny Clark and Blake Martinez on how to develop, maybe he could see near-starting reps in 2018.
Vince Biegel, #45: C (Rookie)
Biegel began the season on the PUP list, and in the 8 games he was healthy for, he had 16 Tackles, one of which was a Tackle for Loss. He didn't look bad when he saw the field, but he wasn't a difference maker either. Maybe a healthy training camp can further the fourth-rounder's development.
Reggie Gilbert, #93: n/a (Rookie)
Gilbert was activated for the final two games of the season, flashing signs of explosiveness and disruption in his first NFL action. He's an ERFA, so he'll be back in training camp and I wouldn't be surprised to see his name make the 53-Man Roster come day one of the 2018 regular season.
INSIDE LINEBACKERS
Blake Martinez, #50: A- (Last year: C+)
Talk about a sophomore season. Martinez finished the year starting and playing in all 16 games, finished tied for first in the entire NFL in Tackles with 144. Part of that might have been because the Packers defense couldn't get off the field, but that wasn't Blake's fault. He also had 11 Tackles for Loss, a Sack, an Interception, one Forced Fumble and two Fumble Recoveries. Last season, he only saw about half the reps of fellow middle linebacker Jake Ryan, but in 2017 he saw (and earned) as many snaps as any other defender. Look for Martinez to be the ace run defender for many years to come.
Jake Ryan, #47: C+ (Last year: B-)
Ryan was the premier inside linebacker in 2016, but with Martinez's breakthrough second year, the former Michigan boy fell to getting the second-most reps. He still managed 81 Tackles over 15 Games, a decent tally for his playing time. Still, if this year showed anything, it's that Blake Martinez is a big time playmaker and Jake Ryan is, well, just kind of there. He'll likely see a similar amount of snaps next season in the final year of his rookie contract.
Joe Thomas, #48: C- (Last year: B)
I don't know where the hell the Joe Thomas I saw last season went, but he certainly didn't show up in 2017. This version of Joe Thomas was only healthy enough to see the field in 8 games, tallying an abysmal 14 tackles and only half a sack. He's a Restricted Free Agent, and the Packers could probably afford to let him go, but I would bring him back for cheap in hopes of him regaining at least some of his 2016 form.
CORNERBACKS
Davon House, #31: D
House left the Packers for the Jaguars as a fourth-string corner, and he was signed back on a one-year contract for 2017 to be the #1 cornerback. He looked more like the fourth-string corner he left as. House jsimply let receivers fly by him, that is when he wasn't committing penalties. He showed okay as a press corner, with 4 Tackles for Loss and a Sack demonstrating that, but he only pulled in one pick and didn't make any positive contributions in man-to-man or zone. He's a UFA and although the Packers might pull the "he knows are system" BS, I wouldn't bring him back to see him take another snap as a Packer.
Damarious Randall, #23: C+ (Last year: C-)
Randall had one of the most tumultuous mental season I've ever witnessed. He was off to a horrible start and got benched during a Thursday night game against Chicao after blatantly giving up a touchdown. He then left the sideline and, in turn, left the stadium before the game was even over. Many people thought that might be it for Randall, with a no-nonsense front office possibly cutting him in the middle of the week (look at Martellus Bennett). However, I have to give credit where credit is due: he had a fantastic second half of the season and really stepped up as a mature, disciplined center. The second half of the season was the first time since being drafted that he showed deserving of a first-round selection. His team-leading 4 Interceptions also defends that. If he puts together a full season of who Randall showed he could be in the second half, Randall will likely get extended pass next year, the final year on his rookie contract.
Kevin King, #20: C (Rookie)
The earliest draft pick of the Packers' 2017 Draft, King has healthy enough to play in half the season. He showed talent in man coverage and proved to be a decent tackler, especially compared to other secondary players. His effort didn't go unnoticed either. However, he didn't prove much in zone coverage, deep coverage and didn't pull in an interception, preventing him from getting a better grade. When healthy, Kevin King is a borderline starter, and maybe he could have a sophomore-level growth comparable to Blake Martinez next season - if he can stay healthy. He's got years under contract and doesn't bear any major character issues, so he'll be a Packer for at least the next few years.
Quinten Rollins, #24: C- (Last year: C- )
In his third season, Rollins had a legitimate shot at starting reps, but instead played at the level of a fourth-string special teams defender. He's fine if he's only being a depth guy, but as a former second-round pick, he should be at the talent level of a starter by now. His health kept him to only seeing six games on the field, and he didn't much in those six games either. He's still under his rookie contract next season, so he'll still make the roster, but he won't be anything more than a depth guy. A disappointing development, honestly.
Josh Hawkins, #28: D+ (Last year: D-)
Hawkins saw very little time in 2016 and severely disappointed, and despite seeing more reps and having another year of experience under his belt, he still disappointed. In 12 games, the initally fifth-string corner had 37 Tackles, a Forced Fumble and even started a game. Hawkins committed too many penalties and got burned far too often for a reserve corner fighting for reps. He's under contract in 2018 and will fight players like Demetri Goodson, Lenzy Pipkins, Donatello Brown and whoever else they draft for a backup corner spot.
Lenzy Pipkins, #41: C (Rookie)
Pipikins began the season on the practice squad, but with the injury bug at corner, he ended up seeing 7 games of NFL action. He had 15 Tackles, one for loss and was the secondary's best player in the season finale against the Lions. He's under contract and will fight for a fringe roster spot once again in 2018.
Demetri Goodson, #39: n/a (Last year: D)
The 2014 pick managed to spend the first 13 weeks of the season on PUP list, got activated, was inactive for two games and was placed on injured reserve for the last two weeks. Yes, he didn't see the field even once. He's an unrestricted free agent, and the Packers could easily bring him back for camp, but I'd bet against him making the roster next season.
Donatello Brown, #44: F (Rookie)
Brown played in the season finale, seeing his first NFL action. He shouldn't see NFL action anymore. Donatello Brown is the epitiome of the Packers' issue on defense: they have absolutely no depth in the positions they already suck at. Donatello Brown simply didn't play like anyone who should ever make a 53-Man Roster. He'll be a 26-year-old ERFA and knowing the Packers, they'll probably bring him back into camp, but I don't ever want to see him on the field in a regular season game.
SAFETIES
Morgan Burnett, #42: C (Last year: B)
Burnett is the player on defense hearing the plays in his helmet, but it didn't look like it in 2017. This defense needed a leader; someone on the defense who will unify the unit. Burnett may have demonstrated leadership by his willingness to cover wherever the team needed, but he didn't step up as far as playmaking ability. Last season, Burnett racked up over 100 Tackles with 3 Forced Fumbles and 2 Inteceptions. In 2017, he had 68 Tackles, 1 Forced Fumble and no Interceptions. The veteran has had a solid career with the Packers, and maybe this was just an off year, but he's an unrestricted free agent and with Josh Jones playing well in his rookie year as a hybrid safety, this may have been the last year we see Burnett in a Packers uniform.
Ha Ha Clinton-Dix: #21: C+ (Last year: B)
Clinton-Dix led the team in interceptions last season, but wasn't as productive in 2017. He still left receivers wide open and had a problem covering mid-range crossing routes and disappearing on third down all season long. I thought it was wrong for him to get a Pro Bowl nod in 2016 and he showed more of his true colors in 2017. Over 16 Games, he had 12 fewer tackles and two fewer Interceptions. He was still a bit more productive than fellow safety Morgan Burnett, but if he really wants to be a leader like he talked about in a press conference after the season finale, he simply needs to start by doing his job in 2018, the final year of his rookie contract.
Josh Jones, #27: B- (Rookie)
When Jones was drafted, they knew immediately he was going to play in a hybrid safety/linebacker role like Mark Barron or Deone Buchanon. He did exactly that in his rookie season, with 71 Tackles, 5 Tackles for Loss, 2 Sacks and an Interception. Yes, Josh Jones had a pick and Morgan Burnett didn't. He'll look to see near-starter reps next year in a hopefully successful sophomore campaign.
Kentrell Brice, #29: C+ (Last year: C)
Last year, Brice's role was to play special teams and the occasional back-up rep on defense to hit people. He hits people hard. He saw much more playing time in the 6 games he was 100% healthy, but injuries limited him to just those six games. If his numbers were averaged over a healthy season, that's 70-ish tackles and 3 Interceptions. Incredible numbers for a guy only seeing the fourth-most reps out of safeties. His size and hitting ability should see the new defensive coordinator (Assuming they pull their heads out of their asses and fire Dom Capers) using Brice in more packages. He's earned it.
Marwin Evans, #25: C- (Last year: C-)
Evans once again played in all 16 games as a special teamer that made the spot backup safety appearance. He tripled his tackles total from 8 to 24 and even forced a fumble. He still looked like a liability in the reps he saw on defense. He's under contract and, barring any major offseason acquisitions or draft picks, will likely serve in the same role in 2018.
Jermaine Whitehead, #35: C- (Last year: F)
Whitehead had a god awful 2016 campaign and looked a little bit better in 2017, but still not good. Used nearly explicitly as a special teamer, his sole major accomplishment was recovering an onside kick to open the season finale. In the six games he saw on the field, he made 11 Tackles and no significant plays on defense. He's an ERFA and the Packers could easily bring him back, but I could honestly care less either way. All I know is that if he makes the initial 53-Man Roster in 2018, the new General Manager did an awful job in the offseason.
SPECIAL TEAMS:
Mason Crosby, #2: B- (Last year: B+)
Crosby went 15/19, a 79% mark. That puts him tied for 27th in Field Goals Made and 24th in Field Goal Percentage. His 33/35 Mark in Extra Points (94.3%) puts him at a mere 17th in the league. Still, Crosby has this clutch gene that we saw during the playoffs last year and even in close moments in 2017. The most intangible in a kicker is reliability, and Mason Crosby simply is reliable. He has two more years on his extension, so injury-barring he's not going anywhere anytime soon.
Justin Vogel, #8: B- (Rookie)
The undrafted rookie punter filled in after Jake Schum spent the entire season on Injured Reserve. His average punt length of 44.4 finished 23rd in the league, and on the brighter side, his net average of 41.6 finished 7th. Overall, he had an above-average year, espcially considering he's an emergency replacement. He's under contract through the next two season, so I would assume the Packers will let Jake Schum walk and keep Vogel around for the next couple of years.
The next article is one addressing the offseason, which will clearly be the most action-packed offseason in a long time. At the current moment, GM Ted Thompson and OC Edgar Bennett have been relieved of their duties and reassigned elsewhere in the organization, and straight up fired DC Dom Capers. Currently, the favorite for the GM position is Russ Ball, Ted Thompson's former right-hand man. There are multiple reliable reports saying that both Mike McCarthy and Aaron Rodgers have major issues with Ball. This concerns me because McCarthy could easily walk away from his job if Ball is hired, and Rodgers could easily deny a contract extension proposal and become a free agent in 2020. Plus, if Russ Ball is so close with Ted Thompson and Thompson is retained as a senior advisor, would anything really be changing by replacing Thompson with Ball?It's clear that Mike McCarthy wants a more aggressive general manager to bring in talent, and Aaron Rodgers clearly wants a better supporting cast before he decides if he wants to resign or not. This a clearly pivotal decision and I'm choosing to expand upon it in this article before the full offseason one because that decision could be already made by the time i finish the impending article addressing the Packers offseason.
To put it simply...
Dear Mark Murphy, thank you for firing Ted Thompson and Dom Capers, but PLEASE don't hire Russ Ball, a Ted Thompson-2.0 General Manager prospect that could push away Mike McCarthy and Aaron Rodgers.
Good Luck, and May the Force Be With You.