NBA Mock Draft 1.0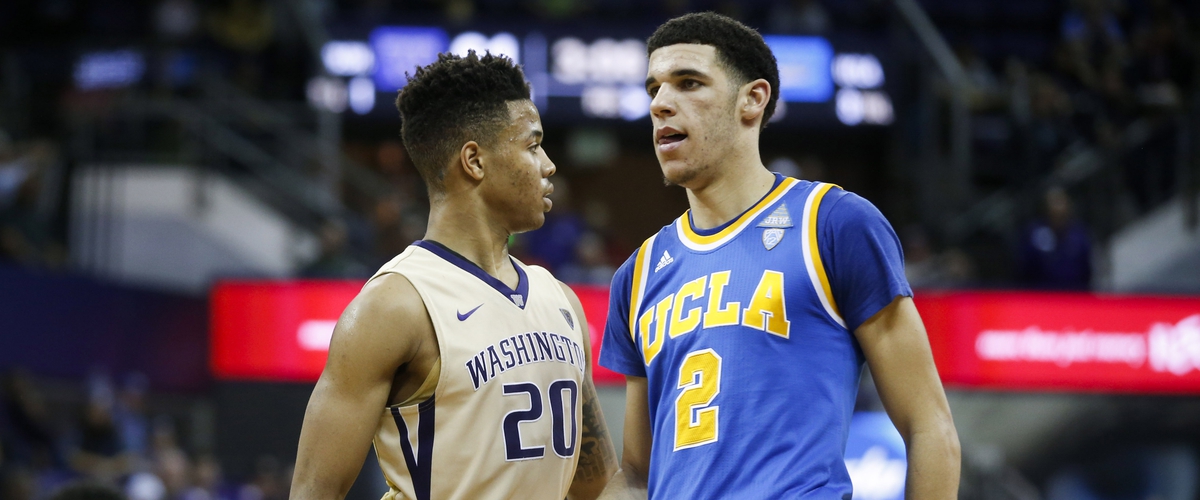 After working in the NBA for a full season, I decided it's time I put in a similar amount of investment into the NBA Draft as I do with the NFL. I mean, I follow college basketball far more closely than I do college basketball. I waited until after the combine was finished and individual workout reports began rolling in to divulge into my 1.0. AS always, this is definitely going to change around, as the international player aspect adds a layer of difficulty the NFL Draft is absent of. Let's give it a shot!
1. Boston Celtics: Markelle Fultz, PG, Washington
All of the Big Baller Brand nonsense aside, Fultz is simply a better player than Lonzo Ball. Scouts agree, every single board I've seen agrees, Fultz is the Myles Garrett of the NBA's Draft.
2. Los Angeles Lakers: Lonzo Ball, PG, UCLA
Just going off of the big board, Ball is the second-best player in this draft, hands down. Both he and Fultz could easily be All-Stars. The Lakers also might be shopping D'Angelo Russell, and my good friend and to-the-death Lakers fan Colin Wallace would be head over heels with that move.
3. Philadelphia 76'ers: De'Aaron Fox, PG, Kentucky
NOW things get interesting. If they keep this pick, this will likely be either SF Josh Jackson, SF Jayson Tatum or PG De'Aaron Fox. Let's just take a look at the roster. C's Joel Embiid and Jahlil Okafor are solid, PF Dario Saric had a great rookie year and F Ben Simmons could be the next leader of the team. In the backcourt, they have aging guard in Gerald Henderson and Jerryd Bayless, a free agent in Sergio Rodriguez and an iffy starting PG in T.J. McConnell. If they see Ben Simmons as a point-forward like Giannis Antetokounmpo, this could easily be either wing, but for now, PG De'Aaron Fox seems like the best fit. This could easily change to Tatum or Jackson.
4. Phoenix Suns: Joshua Jackson, SF, Kansas
If Jackson was a consistently good shooter with no off-the-court issues, he'd be the #1 pick. The Suns already have deadly shooters in Devin Booker and Eric Bledsoe, and they've shown they're willing to work with extracurricular issues in their choice last year (PF Marquese Chriss). This is a killer fit if he falls to Phoenix.
5. Sacramento Kings: Jayson Tatum, SF, Duke
The Kings could look a lot different this Fall. Darren Collison, Ty Lawson, and Tyreke Evans are all UFA's, and Langston Galloway and Rudy Gay have player options. This means dire help is most likely needed at PG and SF. Jayson Tatum is the best player on the board and Sacramoento could build around a well-polished talent.
6. Orlando Magic: Lauri Markkanen, PF, Arizona
First off, damn you for taking GM John Hammond away from the Bucks. Okay, now to the ugly roster. Nikola Vucevic and Bismack Biyombo is all there is on the front court, overpaid Evan Fournier, new guy Terrence Ross and UFA Jeff Green make up the 2 and 3, and the Point is a weird combo of D.J. Augustin, Elfrid Payton and C.J. Watson. Just a weird roster. I see them needing front court help (and no, Stephen Zimmerman is not enough) and seven-footer PF Lauri Markkanen can knock down 3's as well.
7. Minnesota Timberwolves: Jonathan Isaac, PF, Florida State
The T'Wolves have an ensemble of Rubio/Dunn/Jones at PG, Lavine and Wiggins as wings, and Towns/Dieng/Pekovic in the frontcourt. They don't have any glaring needs, and having Isaac develop into a high-speed transition guy who can also hit 3's and block shots would be dangerous in-between Wiggins and Towns.
8. New York Knicks: Dennis Smith Jr., PG, North Carolina State
Oh, the Knicks. As far as starters, C Joakim Noah, PF Kristaps Porzingis, SF Carmelo Anthony, and SG Coutney Lee are all locked in. Only PG Derrick Rose is a question mark, and he should walk. Dennis Smith is a monster of an athlete that can also put up major points. Dream scenario for New York here.
9. Dallas Mavericks: Zach Collins, C, Gonzaga
In what will be Dirk's grand farewell tour, C Nerlens Noel is a RFA and they have locks in SF Harrison Barnes, SG Wesley Matthews and a PG combo of J.J. Barea and Devin Harris. This is a wild card spot, as they could take an international guy or a backup at really anywhere, but 7' Zach Collins could make a major contribution at the 4 and 5 right away for Dallas.
10. Sacramento Kings: Frank Ntilikina, PG, France
The Kings already took a solid wing in Jayson Tatum at #5, and with Darren Collison and Ty Lawson both UFA's, so there could be a gaping hole at PG. After De'Aaron Fox and Dennis Smith, wild-card Frank Ntilikina is the only first-round-lock PG, and he's popped up higher than #10 on a lot of draft boards as of late.
11. Charlotte Hornets: Ike Anigbogu, C, UCLA
The Hornets don't have a ton of space to fill, with PG Kemba Walker, wings Nicolas Batum, Jeremy Lamb, Michael Kidd-Gilchrist, and Marco Belinelli, and a frontcourt of Marvin Williams, Cody Zeller, Miles Plumlee and Frank Kaminsky all signed to big-salary deals. Other than Kemba, none of those guys have any All-Star talent or potential in them, especially up front. Even though there are more talented guys here at SG and SF, this will come down to a Center, and right now it's between Texas's Jarrett Allen, UCLA's Ike Anigbogu and Creighton's Justin Patton. There's a good number of guys that could rise up and enter the front-court picture (John Collins, Bam Adebayo, TJ Leaf, Harry Giles, Ivan Rabb, etc.) but for now it's between the previously stated big men. Any of them could go here, but out of the M-Will/Zeller/Plumlee/Frank combo, none of them have athleticism or freak length. Ike Anigbogu has both, and the Hornets can work with how raw he is.
12. Detroit Pistons: Malik Monk, SG, Kentucky
Reggie Jackson and Ish Smith are locks at PG, and Tobias Harris, Marcus Morris, Stanley Johnson, Jon Leuer and Andre Drummond are all under contract in the front-court. Wings Kentavious Caldwell-Pope and Reggie Bullock are RFA's, and they need scoring help at SG anyways, so the best player left on the board Malik Monk goes here.
13. Denver Nuggets: OG Anunoby, SF/PF, Indiana
PG is full with Jameer Nelson, Emmanuel Mudiay and Jamal Murray, SG looks like a Will Barton/Mike Miller/Gary Harris/Malik Beasley logjam, Wilson Chandler is signed at SF and Danilo Gallinari has a player option of $16 Mil, and the front-court looks like Nikola Jokic and Kenneth Faried followed by Darell Arthur and the young Juan Hernangomez, with Roy Hibbert and Mason Plumlee both easily departing. This team has offense but lacked severely on defense, and SF/PF OG Anunoby is a raw offensive player but a tenacious defender.
14. Miami Heat: John Collins, PF, Wake Forest
The Heat just have an ugly roster. Goran Dragic is making crazy money at PG but with no true backup. SF Justise Winslow is signed, but SG Dion Waiters has a player option, SF Luke Babbitt is a UFA and Wayne Ellington, Josh Richardson and Rodney McGruder all have non-guaranteed contracts. Chris Bosh is departing, Josh McRoberts has a year left and Udonis Haslem and James Johnson are both UFA's. So basically it's Hassan Whiteside, Goran Dragic, Justise Winslow, maybe Dion Waiters and a TON of question marks. They need a true Power Forward under the age of 30, and John Collins can provide that right away for Miami.
15. Portland Trail Blazers: Jarrett Allen, C, Texas
Dame and CJ are a killer back-court duo, and the rest of the team (Allen Crabbe, Evan Turner, Al-Farouq Aminu, Maurice Harkless, Ed Davis, Meyers Leonard, Festus Ezeli, Jusuf Nurkic, etc.) seems pretty complete. This front-court doesn't like to stay healthy, and the consensus is Center is the way to go. With options, Jarrett Allen doesn't have to play major minutes, which is perfect for his needed growth.
16. Chicago Bulls: Justin Patton, C, Creighton
PG Rajon Rondo, SF Jimmy Butler and C Robin Lopez are all coming back, but Dwyane Wade is a question mark. PF Nikola Mirotic is an RFA, and this team is really empty on the bench otherwise. They have no backup at C, and Joffrey Lauvergne, Bobby Portis and Cristiano Felicio don't add much as support in the frontcourt. Assuming Wade comes back, Justin Patton is a no-brainer here.
17. Milwaukee Bucks: Luke Kennard, SG/SF, Duke
IT'S GO TIME. PG will be a Brogdon/Delly duo, Giannis will be his own position, Khris Middleton is a starting wing, and even if Greg Monroe doesn't pick up his player option, Center can be a Thon Maker/John Henson duo with Spencer Hawes coming off the bench. Jabari will be gone for probably the whole year, and we need some more 3-point scoring and perimeter. Luke Kennard isn't a reach and he shot 44% from beyond the arc. He can also take major minutes right away out of the ACC (Malcolm Brogdon-like, no?)
18. Indiana Pacers: Ivan Rabb, PF, California
Uh, Jeff Teague and Aaron Brooks are both gone at point, so they have to sign someone to fill that (Derrick Rose?). Monta Ellis is back at SG and C.J. Miles has a player option. PG13 and Lance Stephenson will be back on the wing, and a Thad Young/Miles Turner/Al Jefferson combo in the front court will return as well. This Pacers team could use some help, well, everywhere, but up front as much as anything else. Ivan Rabb could be that guy right away, if not Harry Giles, T.J. Leaf or even D.J. Wilson. If Justin Jackson is still on the board here, I wouldn't blame them for taking him either.
19. Atlanta Hawks: D.J. Wilson, PF, Michigan
PG Dennis Schroeder, C Dwight Howard and SF Kent Bazemore are the returning starters. SG Tim Hardaway Jr. is a RFA and Ersan Ilyasova, Mike Muscala, Kris Humphries and Thabo Sefolosha are all set to walk. That's right; a power forward is needed. T.J Leaf, D.J. Wilson, and Harry Giles are the three most likely candidates. Wilson can shoot, play the 3 or 4, and switch well on defense, making him more capable of needed minutes right away above Leaf and Giles.
20. Portland Trail Blazers: Rodions Kurucs, SF, Latvia
This is Portland's second pick of the first round, and even though they have Allen Crabbe, Evan Turner and Al-Farouq Aminu, Jackson can't drop much further than here, but they can stash a good shooter right here with Rodions Kurucs from Latvia. If he can turn into Bojan Bogdanovic 2.0 like his shooting stroke says, this is a worthy pick.
21. Oklahoma City Thunder: Justin Jackson, SF, North Carolina
Russ and Oladipo are locks in the backcourt, but PG Norris Cole is a UFA. The front court has C Steven Adams and PF Enes Kanter as starters (when they stay healthy) and Domantas Sabonis will be the third big man as PF's Nick Collison and Taj Gibson are both leaving. The wing is weird with a Kyle Singler/Doug McDermott/Jerami Grant combo right now. Justin Jackson is starter-worthy and although very unlikely to drop to #21, could be gold here.
22. Brooklyn Nets: Donovan Mitchell, SG, Louisville
God, the Nets are bad. PG Jeremy Lin is the starter when he's healthy, with Isaiah Whitehead as the backup. The 2 is a nightmare with only Caris Levert under contract. K.J. McDaniels has a Club Option, Randy Foye is a UFA and Joe Harris, Sean Kilpatrick and Archie Goodwin are all on non-guaranteed contracts. SF looks like a Quincy Acy/Rondae Hollis-Jefferson combo, and PF Trevor Booker and C Brook Lopez have their starting spots down with Andrew Nicholson and Justin Hamilton as their respective backups. Although a lot of boards have a big man going here, I see them taking a SG, and Donovan Mitchell out of Louisville is still on the board. If not Mitchell, they could gamble with Australia's Terrence Ferguson.
23. Toronto Raptors: Bam Adebayo, PF, Kentucky
Man, I really wanted to see the Raptors win the East. They need to figure out what is going on with Kyle Lowry. If he's leaving, this changes everything. Let's assume he returns or Cory Joseph is good enough to be a full-time PG. Demar DeRozan and Jonas V are killer players, DeMarre Carroll is a good starting SF and Serge Ibaka and Patrick Patterson are both free agents. So is forward P.J. Tucker. If both Ibaka and Patterson walk, Siakam is a decent paint defender but not an offensive weapon at all. Kentucky's Bam Adebayo is the best option at PF over Kentucky's Harry Giles, UCLA's T.J. Leaf. Germany's Isaiah Hartenstein, Oregon's Jordan Bell, Syracuse's Tyler Lydon and Pudue's Caleb Swanigan.
24. Utah Jazz: Isaiah Hartenstein, PF/C, Germany
Alec Burks may be the outright contributor at PG next year with George Hill and Shelvin Mack as free agents. Dante Exum and Rodney Hood will share time at the 2, and PF Derrick Favors, C Rudy Gobert and SF Joe Johnson are all major players coming back, with All-Star SF Gordon Hayward as a huge question mark. Trey Lyles and Joel Bolomboy are mediocre options at PF, and Jeff Withey and Boris Diaw both might be leaving this offseason. The best 4/5 guy here is German international Isaiah Hartenstein. He's got good size and athleticism, and his stretch-4 ability could see him pushing into the Top-20 very soon.
25. Orlando Magic: Terrance Ferguson, SG, Australia.
They took a big man already and SG Jodie Meeks is a free agent. Terrance Ferguson is a J.R Smith-potential 2-Guard who will have time to grow behind Evan Fournier.
26. Portland Trail Blazers: P.J. Dozier, PG/SG, South Carolina
Ah, the Blazers again. They've taken C Jarrett Allen and SF Rodions Kurucs so far. P.J. Dozier has worked out with Portland and he;s popular on many boards right now, so the combo guard could easily go here. I can't even imagining getting to develop behind Dame Lillard and C.J. McCollum.
27. Brooklyn Nets: T.J. Leaf, PF, UCLA
The Nets could add a big man behind Trevor Booker and Brook Lopez, as Lopez can't stay healthy and fellow backups Andrew Nicholson and Justin Hamilton not flashing significant potential. T.J Leaf could actually be great off the bench, and Harry Giles could be the man here if they didn't already have consistent injury concerns.
28. Los Angeles Lakers: Jonathan Jeanne, C, France
Now with Lonzo Ball, the team looks like Ball/Russell at PG, Jordan Clarkson and Brandon Ingram as wings over Corey Brewer, Nick Young and Luol Deng, and Julius Randle and Timofey Mozgov as starting big men over Larry Nance and whoever else. Jonathan Jeanne is a 7'1" Center from France who had a good combine but is a huge gamble. Still, Jeanne is likely to contribute more than Tarik Black and/or Ivica Zubac.
29. San Antonio Spurs: Anzejs Pasecniks, C, Latvia
I feel like the Spurs' first round picks are the hardest pick to predict by any team in honestly any sport. This will likely be Tony Parker's farewell tour, and Patty Mills is unrestricted, but rookie Dejounte Murray might be goon enough as the sole backup at point. Manu Ginobili might have played his last NBA game, but Danny Green and superstar Kawhi Leonard starting on the wings is enough. LaMarcus Aldridge is locked in, but Pau Gasol has just a player option and so does David Lee and Dewayne Dedmon. The Spurs might actually need to rebuild a bit, and they have sparce options in what used to be Tim Duncan's front-court. So many stretch-four guys are available here, with Harry Giles leading a list containing Jordan Bell, Caleb Swanigan, and Tyler Lydon. What happened to Nigel Hayes? Anyways, the only true Center worth taking is Latvian international Anzejs Pasecniks. At 7'2", the international is a fluid, streaky shooter who Coach Pop would love to get his hands on.
30. Utah Jazz: Dwayne Bacon, SG, Florida State
On a team led by Gordon Hayward, they could use more scoring. Dante Exum, Shelvin Mack and Rodney Hood combined to score 19.5 PPG. Dwayne Bacon is a good shooting wing that could contribute more points right away. Honestly, this could go so many different directions here at #30.
SECOND ROUND:
31. Atlanta Hawks: Harry Giles, PF/C, Kentucky
32. Phoenix Suns: Tony Bradley, C, North Carolina
33. Orlando Magic: Edmond Sumner, PG/SG, Xavier
34. Sacramento Kings: Caleb Swanigan, PF/C, Purdue
35. Orlando Magic: Jordan Bell, PF/C, Oregon
36. Philadelphia 76ers: Sindarius Thornwell, SG, South Carolina
37. Boston Celtics: Semi Ojeyele, SF, SMU
38. Chicago Bulls: Wesley Iwundu, SG/SF, Kansas State
39. Philadelphia 76ers: Tyler Lydon, SF/PF, Syracuse
40. New Orleans Pelicans: Jonathan Motley, PF, Baylor
41. Charlotte Hornets: Kyle Kuzma, PF, Utah
42. Utah Jazz: Frank Jackson, PG, Duke
43. Houston Rockets: Dillon Brooks, SF, Oregon
44. New York Knicks: Josh Hart, SG, Villanova
45. Houston Rockets: Derrick White, PG/SG, Colorado
46. Philadelphia 76ers: Tyler Dorsey, SG, Oregon
47. Indiana Pacers: Jawun Evans, PG, Oklahoma State
48. Milwaukee Bucks: Jonah Bolden, PF, Australia
49. Denver Nuggets: Cam Oliver, PF, Nevada
50. Philadelphia 76ers: Damyean Dotson, SG, Houston
51. Denver Nuggets: Kobi Simmons, PG/SG, Arizona
52. Washington Wizards: Mathias Lessort, PF, France
53. Boston Celtics: Alec Peters, PF, Valparaiso
54. Phoenix Suns: Frank Mason, PG, Kansas
55. Utah Jazz: Sterling Brown, SG, SMU
56. Boston Celtics: Monte Morris, PG, Iowa State
57. Brooklyn Nets: Nigel Williams-Goss, PG, Gonzaga
58. New York Knicks: Aleksandar Vezenkov, SF, Bulgaria
59. San Antonio Spurs: Jaron Blossomgame, SF/PF, Clemson
60. Philadelphia 76ers: Devin Robinson, SF/PF, Florida
Questions? Comments? Concerns? Brandon Bloom hate? Let me know!
Thank you and God Bless,
Samuel R. Fuller