Packers Training Camp by Position: Inside Linebacker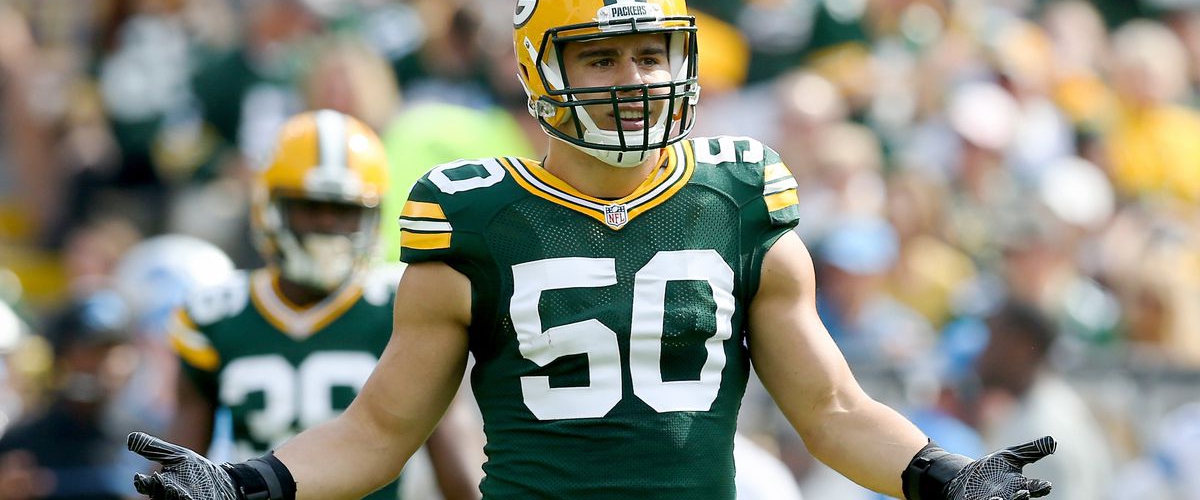 Compared to other NFL training camps, Green Bay is currently lucky to have only one returning starter out for the season due to injury. Jake Ryan, who took second-fiddle to Blake Martinez after his incredible sophomore campaign, will unfortunately not play in his fourth and final rookie contract year after blowing out his ACL early in camp. This leaves a wide-open spot for Oren Burks, the 2018 third-round Safety-turned-Linebacker prospect out of Vanderbilt. While Burks has already shown glimpses of starter material, you obviously can't have just two Inside Linebackers on the roster. Unfortunately, there's not a single healthy Inside Linebacker in camp other than Martinez with active roster experience. Green Bay will either have to give an undeserved opportunity to one of the fringe players, or they better start looking for free agent talent & experience to fill the void. I'd personally prefer the latter, but let's see what Mike Pettine & Co. have to work with right now...
INSIDE LINEBACKERS
Blake Martinez - 24, 3rd season, 25 starts, $726K Salary
Martinez took as big of a sophomore step as anyone, going from #2 option to starting all 16 Games and leading the NFC with 144 Tackles. He was an absolute plug inside, especially against the run. My Packers Grades indicated that Martinez was the 2017 Defensive MVP for Green Bay, and there's no reason to expect a healthy 24-year-old rising star with no starting competition to drop off anytime soon. He's quickly become a Green Bay staple.
Oren Burks - 23, Rookie, $685K Salary
Burks was initially drafted to give Green Bay a coverage-first option to compliment Jake Ryan at #2 Inside Linebacker, but the package-specialist tag has been thrown out the window after Ryan's season-ending injury. In the preseason opener, Burks ran all acrosss the field and held his own in pass coverage, but really struggled against the run. He needs to step it up with the latter if he wants to outright earn the #2 Inside Linebacker spot, but right now, he has no serious competition. Assuming Green Bay is still lining up in a 3-4 base on a weekly basis, Burks is strolling into an automatic starting spot as the #2 Inside Linebacker. He's also filling big footsteps wearing the #42 after Morgan Burnett led the defense in that jersey for years.
Ahmad Thomas - 23, 2nd season, 0 starts, $480K Salary
Thomas was a three-year starter at Strong Safety for a talented Oklahoma Sooners team, went undrafted in 2017 and found his way onto the Packers practice squad last December. At 6' and 220 pounds, Green Bay has made it clear they've converted him to a Linebacker (who just happens to play Safety), and his number (#56) seals the deal. Pro Football Focus gave Ahmad Thomas the second-best defensive grade in the preseason opener, and with the lack of depth behind Blake Martinez and Oren Burks, a player who changed positions and has never taken an NFL snap may actually have an easy path to a 53-man roster spot. The ILB3 spot is his to lose, especially if Mike Pettine keeps Josh Jones at Strong Safety full-time.
Greer Martini - 23, Rookie, $480K Salary
Brownie points for having the best last name on the roster. Unlike James Crawford and Naashon Hughes, Martini has 50 games of experiences as a primary Inside Linebacker for Notre Dame. In the preseason opener, he took 29 snaps inside, 3rd-most on the team. He also took as many special teams snaps as any other Linebacker and held his own on every one. With no clear favorite for the ILB3 job, Martini's natural feel for the position combined with handling more reps than anyone else behind Blake Martinez and Oren Burks might just make him a favorite to make the 53-man roster.
James Crawford - 23, Rookie, $480K Salary
Crawford was mostly an Outside Linebacker for Illinois, but the undrafted free agent will have to learn to play inside if he wants a shot at this roster. At 6'3" and 240 pounds, he's only slightly bigger than Oren Burks, so the size is more acceptable for a switch than most other edge rushers. That's really all the news I have out of him in camp, so he'll need to make some plays from the inside positions if he wants a shot at the 53-man roster come September.
Naashon Hughes - 23, Rookie, $480K Salary
Like James Crawford, Hughes was mostly an Outside Linebacker in college. However, the undrafted Texas grad stands at 6'3" and 260 pounds, relatively heavy for an Inside Linebacker. That being said, he's more athletic than most 260-pound 'backers, and he was noticed earlier in camp for an impressive pick at Inside Linebacker. The #3 Inside Linebacker spot is up for grabs, so more impressive plays in the rest of camp could potentially give him an edge over his fellow undrafted peers.
Marcus Porter - 21, Rookie, $480K Salary
At 21, Porter is younger than the rest, but also only played at the Division 2 level. That being said, he was an All-American for his level at Fairmont State in 2017. He has the opportunity to win some playing time, but hasn't really shown up in practice yet. Unless a major breakthrough happens in the second half of camp, Porter's potential is capped as an average practice squad prospect.
Jake Ryan* - 26, 4th season, 27 starts, $2M Salary
Ryan is still under contract; he'll just be on injured reserve until his contract expires next summer. He's not a bad Linebacker on run defense, but it's safe to say we've seen exactly what we'll get out of Jake Ryan. I wouldn't be surprised if he resigns on a cheap "prove-me" deal next summer, but Oren Burks is more than capable of taking his ILB2 job for years to come.
C.J. Johnson* - 24, Rookie, $363K Salary
Johnson has a good build to play Inside (6'2, 226 pounds) but the 24-year-old D-3 Linebacker will be out with a nasty hamstring injury for a long time. Even if he heals quick enough to see action later this year, he's a longshot to make the practice squad, let alone the active roster. Enjoy the Injury Reserve paycheck while you can.
SUMMARY:
Blake Martinez: Starting Inside Linebacker (and Pro Bowl candidate)
Oren Burks: #2 Starting Inside Linebacker
Ahmad Thomas: Backup Inside Linebacker - pass coverage specialist
Greer Martini: 50/50 odds of making the cut, would be backup run defense & special teams specialist
James Crawford: Misses the cut, average practice squad candidate
Naashon Hughes: Misses the cut, average practice squad candidate
Marcus Porter: Misses the cut, better off trying to make another practice squad
Jake Ryan: Out for season, unrestricted free agent next summer
C.J. Johnson: Wouldn't even make the practice squad if he came back healthy