Sam's Grading the Pack Week 1: D is for Daniels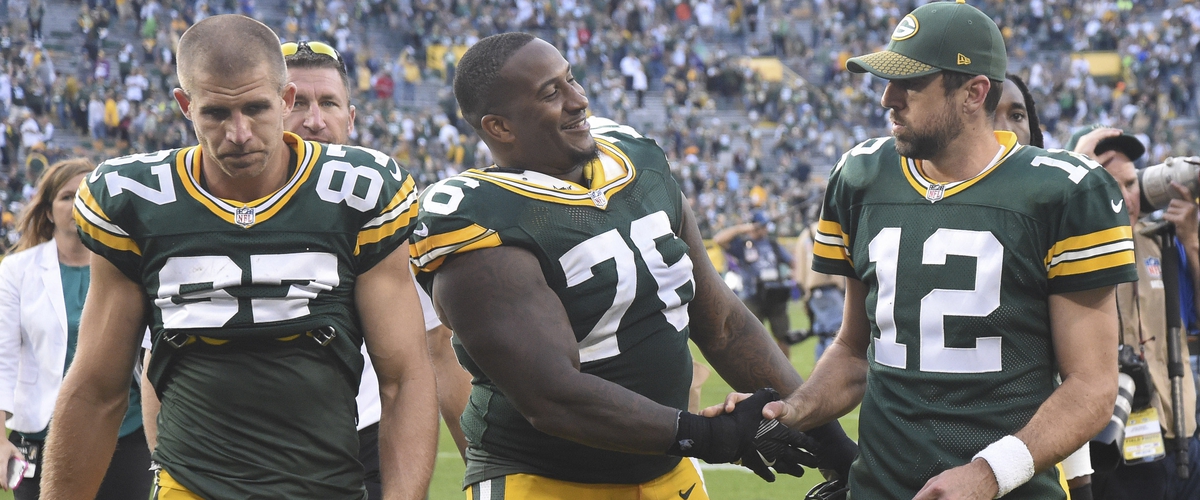 Guess who's back? Me AND the Green Bay Packers! Also I haven't seen the defense in a couple years, but there we are, showing up week one. Mike Daniels, my favorite Packer player since I was in high school and he bear-hugged me in a Subway, played like the All-Pro contract he bears. In fact, all of the prime-time players played like they, well, should. Aaron Rodgers, Jordy Nelson, Nick Perry, Randall Cobb, and even Ty Montgomery showed up in the season debut. Hopefully this is a sign of good play on both sides of the ball this season (thank the lord).
OVERALL: B
Offense: B- QB/RB: B+ WR/TE: B OL: D
Defense: B DL: B+ LB: B DB: C+ Special Teams: B
BEST GRADE:
A+: Mike Daniels, DE
God I was so proud of Mike Daniels out there. Daniels had 1.5 Sacks (it honestly should have been two, Nick Perry did very little on the second sack) and a crucial forced fumble that gave the Packers the ball six yards away from the end zone. At least once on every set of downs, Mike Daniels ended up within a car's length of Russell Wilson. Sure, the Seahawks don't have the best offensive line, but there were multiple plays were the Iowa grad blew through double coverage to get in the backfield. Football is all about momentum, and the Packers offense was lackluster and down 0-6 at the point of the game where Mike Daniels flipped the script for a quick go-ahead touchdown to set the tone of the second half. The Packers had one of the worst passing defenses in the NFL last season, but Mike Daniels & Co. might have just made a major title statement.
WORST GRADE:
F: Kyle Murphy, RT
I literally had anxiety watching Kyle Murphy play. He himself gave up three of the four sacks of the game, and he would've given up many more if Cliff Avril and Michael Bennett stayed healthy for the entire game. On many pass rushes, new Guard Jahri Evans had to help out and double, while an eligible skill player like Ty Montgomery or Aaron Ripkowski had to stay back and help out the blocking effort. Hopefully Bryan Bulaga will be healthy enough for Atlanta next Sunday, because neither me nor Aaron Rodgers can handle another game with a liability like Kyle Murphy starting on the line. To be fair, NONE of the starting offensive linemen had a good day. Not even All-Pro LT David Bakhtiari.
Honorable Mentions: A: Nick Perry, OLB; and A-: Jordy Nelson, WR
Nick Perry had a fantastic blitz on every drive the Seahawks tried to muster, and his 1.5 Sacks shows his worthiness of the new big-money contract. Ahmad Brooks was very quiet and Clay Matthews only had a couple big pass rushes, so Perry's heavy involvement was crucial to the Packers not giving up a touchdown all game. Jordy Nelson pulled in 7 Receptions for 79 Yards and the game-cementing touchdown, showing similar value to that of last year's campaign in which he led all wideouts in fantasy points. Combined with Randall Cobb, the veteran WR duo had 164 Yards between them. Without the leadership of the receiving core given a god-awful offensive line performance, the result of this game could have been a lot worse.
MVP Watch: It's only the first game of sixteen, but if Mike Daniels can keep it up, he could end this year being the Packers' most valuable player. He'll have the likes of Nick Perry, Jordy Nelson, Aaron Rodgers and maybe even Randall Cobb on his tail though.
STATS OVERVIEW:
Passing = Rodgers: B+ (28/42, 311 Yds, 1 TD, 1 INT)
Rushing = Montgomery: B+ (19 Rush, 54 Yds, 1 TD, 0 Fumble, 4 Rec, 39 Yds); Rodgers (7 Rush, 21 Yds, 0 TD, 0 Fumble)
Receiving = Nelson: A- (7 Rec, 79 Yds, 1 TD); Cobb: B+ (9 Rec, 85 Yds, 0 TD); Adams: B- (3 Rec, 47 Yds, 0 TD); Bennett: B- (3 Rec, 43 Yds, 0 TD)
Defense = 0 INTs, 3 Sacks (Daniels x1.5, Perry x1.5), Forced Fumble (Daniels), Fumble Recovered (Fackrell)
Question? Comments? Concerns? General Feedback? Ted Thompson Hate Mail? Let me know!!
Thank you and God Bless,
Samuel R. Fuller