Sam's Grading the Pack Week 11: Yep, Brett Hundley Is Bad.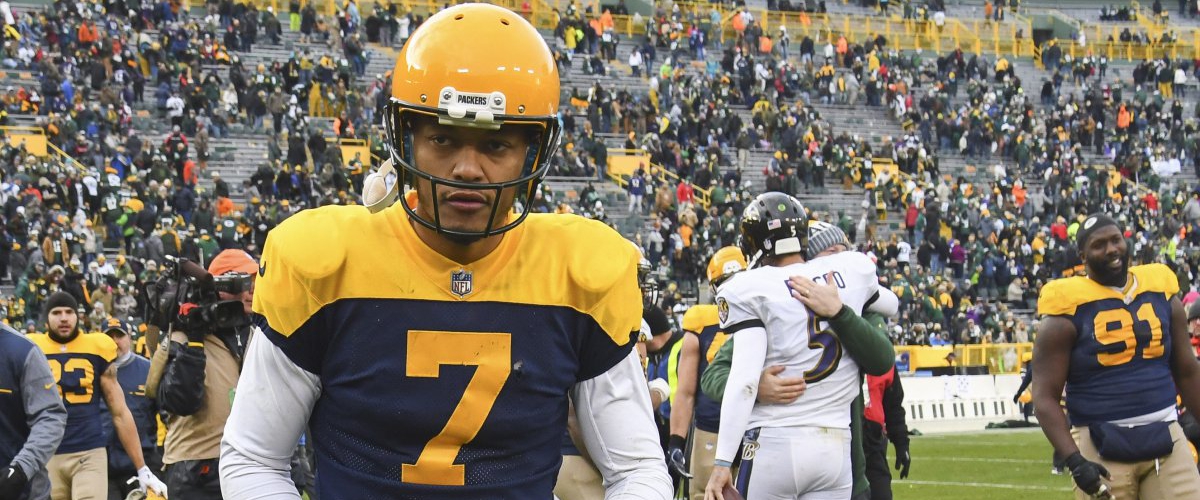 They didn't even score. 23-0. They played the Baltimore Ravens, and they didn't even score. I have NEVER seen this in my lifetime, growing up in Green Bay where the Packers are a religion. This is the worst the Packers offense has looked since before they drafted Brett Favre. Since George H. W. Bush was president. Before my parents were even married. It's extremely difficult to write this while holding back the urge to scream or punch things in a state of pure anger and disgust. I mean, who the hell are these Green Bay Packers?
Where does the blame fall? First, let's address Brett Hundley. If I hear my mom start yapping about how this never happened when Aaron Rodgers came off the bench or when Matt Flynn filled in for Aaron ONE MORE TIME, I'm going to rip my hair out. Still, she has a point. At some point, you know when a quarterback just has "it". Look at how the Lions and the Bears have gone through over two dozen quarterbacks since the 90's. At some point, you just know if a quarterback has "it" or not. Brett Hundley doesn't have it. He's a poor decision-maker, and that was a major flaw when he was in college. He led the nation in interceptions per attempt and self-enforced sacks during his time at UCLA. That hasn't changed AT ALL since he's studied year after year under Brett Hundley. As you can see in my previous article "If Not Brett Hundley, Then Who?", there might not be a better starting option on a same-week basis. That being said, how much longer can fans suffer? It's clear that he can't perform his job, so therefore, he should not perform his job. It's that simple. I'd rather see Joe Callahan or Taysom Hill or even Colin Kaepernick or Shaun Hill at this point. Hell, I'd rather see Tebow Time than Hundley Time. Sure, he could prove me wrong down the road, but at this point, I don't see anything proving me wrong saying Brett Hundley is not a NFL starting quarterback.
As expected, head coach Mike McCarthy defended his poor-performing starting quarterback. I am absolutely a fan of Mike McCarthy, but at some point, I have some red flags. Come on man, I get that you defend the guy that you have in your corner, but at some point you have to be realistic. If he starts Brett Hundley in every game moving forward, he will have started for over half the season, and that's more than enough time to figure out if a quarterback should be starting or not. I don't think one season alone necessarily should put a head coach on the hot seat, but the Green Bay Packers and their fans (who, by the way, own the damn team) have expectations of a Super Bowl run, especially with a team built around future Hall of Famer Aaron Rodgers. If he starts Brett Hundley in every game for the rest of the year and the team ends up with a losing record in a year where the Packers were one of the Super Bowl favorites, It wouldn't surprise me if Mike McCarthy got fired.
Now any Packer fan right now would be yelling at me about Ted Thompson, and don't worry, I'm getting there. This is a full team effort, and Ted Thompson built that team. Look at guys like Damarious Randall and Quinten Rollins. One a first rounder, one a second rounder, and neither player was traditionally a cornerback in college nor are good enough to be starters now. Other than that, he's only been okay. First Rounder Kenny Clark is okay. Second-Rounder Jason Spriggs is only a backup. First-Rounder Datone Jones was only a backup before he left. Second-Rounder Jerel Worthy was a total bust. The fact of the matter is Ted Thompson has drafted player after player in the early rounds that have completely busted. It's like him and Dom Capers have never had a conversation. We'll get to Capers next. Aaron Rodgers deserves better out of his supporting cast, and the last thing we want is to have Aaron Rodgers be compared to Phillip Rivers and his situation in San Diego/Los Angeles. If the Packers was to build a Super Bowl-contending team, Ted Thompson might not be the man for the General Manager job.
I'll keep my section on Dom Capers short: it's time. He's the longest-tenured defensive coordinator in the league, but certainly doesn't deserve that title this year. He can't ever blame injuries this year; the defense has been relatively healthy as a unit. Guys aren't lining up in the right places and if the opposing offense is all on the same page, they can walk all over this defense. Dom Capers should be fired by the end of the season.
Mike McCarthy is the play caller for the offense, so Offensive Coordinator Edgar Bennett can keep his job - for now. I don't have a problem with team chairman Mark Murphy yet either. Still, this should not become an acceptable outcome. No team with Aaron Rodgers on it should miss the playoffs, and if they do because he was out injured, then that shows how poor the front office and coaches has done with building a team around him.
OVERALL: D+
Offense: D+ QB/RB: D WR/TE: C OL: D+
Defense: C- DL: C LB: C DB: C- Special Teams: D+
BEST GRADE: A: Davante Adams, WR
I'm incredibly surprised that in a game with a god-awful quarterback performance, the best performer was a receiver. Nevertheless, Davante Adams proved once again why he deserves an extension this offeseason. He pulled in every pass that ended up near him, racking up 8 Receptions for 126 Yards. Only earning a touchdown would have pushed him to an A+ performance. Clearly Adams is the only wideout Brett Hundley can hit, with no other receiver getting more than three receptions or even reaching 35 yards. What a lack of utilization with Jordy Nelson and Randall Cobb on the roster, but what a game for Davante.
WORST GRADE: F: Brett Hundley, QB
Yes, Brett Hundley absolutely earned an "F" against Baltimore. I don't care if he managed to get 239 Yards, he had no touchdowns, three interceptions and a nauseating 13.6 QBR. He also managed to get sacked six times, so his issues from college have actually been amplified at the next level, not diminished. If this team knew what was good for them, Brett Hundley would not start another game.
Honorable Mentions: B+: Dean Lowry, DE; Kyler Fackrell, OLB; and Ha Ha Clinton-Dix, FS
The defense didn't have a good game by any means (C-), but these three players had good individual games. Dean Lowry was the best of the D-Lineman, with the consistent pressure leading to a sack. Kyler Fackrell saw more of the field when Clay Matthews left the game with the groin injury, and he finally found out where to line up on defense, resulting in a sack and 1.5 tackels for loss. Ha Ha Clinton-Dix was fourth on the team in tackles and picked off Joe Flacco, good enough for a B+ and certainly good enough to be the best DB out of this lackluster squad.
MVP Watch: After possibly the worst Green Bay Packers game I've ever watched in live time, Davante Adams found a way to actually better his season GPA (3.38), extending his first-place lead over Blake Martinez (3.23 GPA) and Jordy Nelson (3.13 GPA).
STATS OVERVIEW:
Passing = Hundley: F (21/36, 239 Yds, 0 TD, 3 INT; 3 Rush, 19 Yds)
Rushing = J. Williams: B (18 Rush, 57 Yd; 4 Rec, 38 Yds); D. Mays (3 Rush, -1 Yds)
Receiving = Nelson: C+ (2 Rec, 24 Yds); Adams: A (8 Rec, 128 Yds);
Cobb: C+ (3 Rec, 34 Yds), Kendricks: C+ (1 Rec, 5 Yds)
Defense = 1 INT (Clinton-Dix), 3 Sacks (Lowry 1, Matthews 1, Fackrell 1)
Question? Comments? Concerns? General Feedback? Who should be considered for the chopping block at this point in the season? Please let me know!
Thank you and God Bless,
Samuel R. Fuller