Sam's Grading the Pack Week 15: Aaaaand We're Out of the Playoffs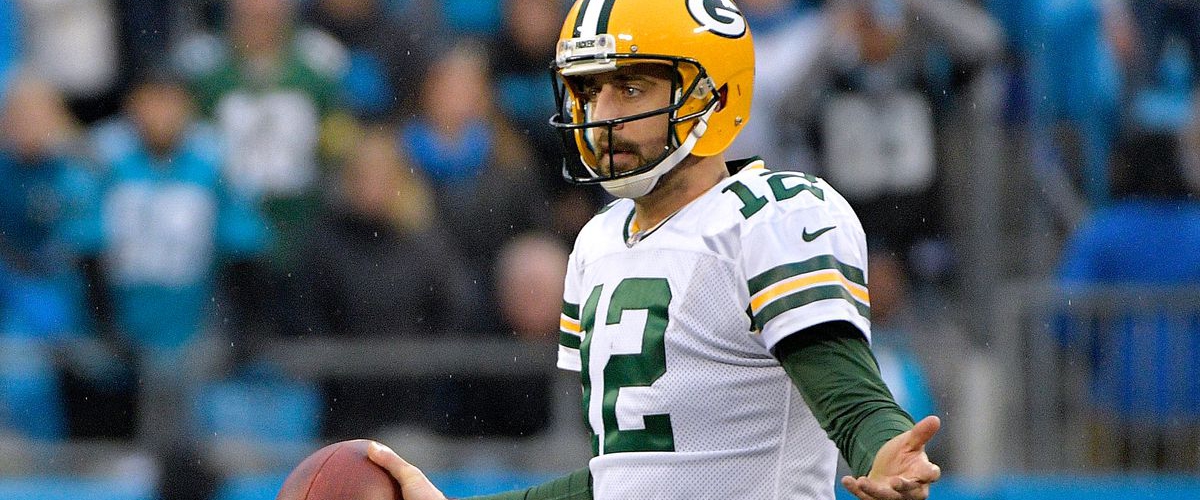 My thoughts on this season are pretty much summed up by this picture of Aaron Rodgers. Just a shrug and a look of "what the hell?" on my face. At one point, I actually thought that Brett Hundley would be better off behind center. Yeah, it was that bad. Talk about anti-climactic too. The savior Aaron Rodgers comes back and throws 3 Interceptions for the first time since 2009. Sure, he finished with the same number of touchdowns and nearly 300 yards, but all three picks were entirely his fault: all under-thrown. I've watched Aaron Rodgers since the first training camp of his rookie year, and under-throwing has never been an issue. This can only lead to one conclusion - Aaron Rodgers rushed himself back.
It's even more evident when you watch Aaron field questions about his health. After each reporter asked the age-old question on if he's at 100%, he replied with a smirk and a coy "I'm cleared." It's no secret that he isn't at 100%, and he wasn't going to manufacture a lie when it's painstakingly obvious. With the Packers all but eliminated from the playoffs, I would argue that the smart decision would be to sit Aaron Rodgers for the rest of the year. Brett Hundley's best start is only a week removed, and Aaron just turned 34 this month. It would be wise to rest the franchise player and let him fully recover from an easy-to-aggravate injury. Plus, I hate to be that guy, but if we're not going to make the playoffs anyways, wouldn't you want better dds at a better draft pick? I'm not saying to intentionally tank the team, but risking talent going into hard-to-win games when you're not going to make the playoffs anyways is a potentially dangerous move.
Now, since the miracle of a playoff berth is all but vanished, can we start talking about change now? I've said it for weeks now, and my passion behind this stance is growing exponentially week after week: Dom Capers needs to go. This defense is not good. He clearly isn't on the same page with Mike McCarthy or Ted Thompson, and I have no problem with the Packers letting the latter go. We see good individual perormances week after week, whether it be Clay Matthews with 2.5 Sacks, Damarious Randall with a pick-6, Dean Lowry taking a fumble to the house or Kenny Clark's dominant game against Carolina; however, the team looks god-awful put together. One gaping hole that Carolina exploided with ease is our zone coverage. It is too damn easy for opposing teams to convert passing on third downs. I don't know what Ha Ha Clinton-Dix, Morgan Burnett and Josh Jones study during the week, but they certainly don't study how to guard Tight Ends. Carolina's Greg Olson pulled in 9 Receptions for 116 Yards and a Touchdown. Greg Olson is talented, but we've seen the same thing with Dallas and Jason Witten, Tampa Bay and Cameron Brate, the Vikings and Kyle Rudolph, hell even the Bears and Zach Miller. This problem isn't a new one either. Even when Micah Hyde was the nickel defender, he and the rest of the secondary had troubles guarding tight ends and pretty much anyone with size (thank god Calvin Johnson retired). The defense is bad, the defense has been bad, and the defense clearly isn't going to get any better under Dom Capers. Time to go, buddy.
OVERALL: C
Offense: C QB/RB: D+ WR/TE: C+ OL: B-
Defense: C- DL: B- LB: C- DB: D+ Special Teams: B
BEST GRADE: A: Kenny Clark, DT
Kenny Clark put together what just may be the best all-around game of his career. His 8 Tackles was second on the team and among the most he's ever had in a single game. While he's known as a run stopped and the 8 Tackles demonstrates his effectiveness, he was also able to nab the only sack by any Packers defender in the game. He was a do-it-all defensive lineman against Carolina, and he certainly showed first-round-pick worthiness on a defense where many early picks have disappointed.
WORST GRADE: D: Josh Jones, S
It's a shame that Josh Jones ended up on this list. I'm pretty sure this means every single player that's started in the secondary this season has ended up getting a "Worst Grade." Maybe part of it wasn't his fault because of the size difference between him and Greg Olson, but he simply let Olson have his way the entire game, giving up 9 Receptions for 116 Yards and a Touchdown grab. He didn't add anything in the box as far as run-stopping either, meaning he was useless as a hybrid safety/linebacker against Carolina. No other defensive back even reached a "C", he he has company at the bottom of the barrel.
Honorable Mentions: A-: David Bakhtiari, LT
It's unusual to see only one name make the honorable mention, but that's what happens when the team doesn't play that well. I'm sure that Davante Adams would have ended up here as well, but a cheap, unnecessary hit from Thomas Jones gave him his second concussion of the season and third concussion in the past 14 months, thus knocking him out of the game. David Bakhtiari definitely earned his spot here. Being the protector of Aaron Rodgers' blind spot in a game where Carolina's defense had no problem hitting as hard as possible, whether against the rules or not, Bakhtiari held up a good defensive team and prevented any sacks while not committing any penalties either. Right Tackle Jason Spriggs needed to play better, as the majority of blown protection came from the right side of the line, but David Bakhtiari stood firm. Accord to Pro Football Focus, he ranks as the #1 Left Tackle in the entire league. While I don't thing his overall form throughout the season defends that, games like this and many game sfrom 2016 surely would prove that to be true.
MVP Watch: Even though his day was unnecessarily cut off short, Davante Adams still leads the MVP race by a handsome margin. He has the second-most touchdown catches in the entire NFL (10), and his 3.45 GPA is far ahead of Blake Martinez (3.18) in second. If you count Aaron Rodgers again, he's in third with a 3.07 GPA, but if he's still ineligible, Jordy Nelson's 2.96 GPA is sadly enough to be third place.
STATS OVERVIEW:
Passing = Rodgers: D+ (26/45, 290 Yds, 3 TD, 3 INT; 6 Rush, 43 Yds)
Rushing = J. Williams: C- (10 Rush, 30 Yds; 7 Rec, 69 Yds); A. Jones: C- (3 Rush, 47 Yds)
Receiving = Nelson: B- (3 Rec, 28 Yds); Adams: B+ (5 Rec, 54 Yds, 1 TD); Cobb: B+ (7 Rec, 84 Yds, 1 TD), Allison: D+ (5 Rec, 33 Yds); R. Rodgers: B+ (4 Rec, 77 Yds, 1 TD)
Defense = No Interceptions, 1 Sack (Clark)
Question? Comments? Concerns? General Feedback? Who all do you think should be fired?
Thank you and God Bless,
Samuel R. Fuller