Sam's Grading the Pack Week 17: 7-9 Never Looked So Bad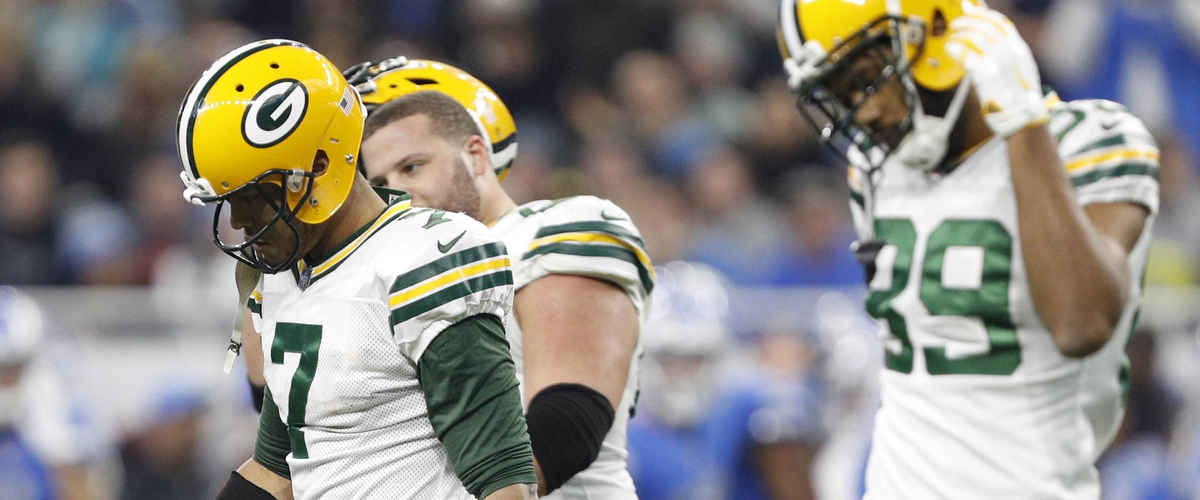 Wow, that was rough. I don't think there were enough Miller Lite Steinies in my fridge to make me forget about how bad the Packers looked. My whole childhood, I had the guarantee that the Packers would beat up on the Lions, but instead, 2017 was the first time Green Bay got swept by the Lions since 1991. I mean, this was bad on all ends: Offense, Defense, and Special Teams. Brett Hundley was god awful once again (Three turnovers) and the Lions threw eight or nine defenders in the box so Jamaal Williams couldn't go anywhere even if he wanted to. The ball bouncing off his hands leading to an interception didn't help the cause either. The receiving corps was already depleted with Jordy and Davante out, so Cobb and Michael Clark dropping multiple passes on third down made the weakness even worse. Two sacks for the defense is sadly above average as of late, and to no one's surprise, the secondary was horrid, giving up easy touchdowns without trying and not ringing in a single interception. To cap off the shit show, special teamer Donatello Brown ran into returner Trevor Davis to lead to a muffed punt return and a fumble recovery for Detroit. Let's dive into these grades and leave all of the offseason assumptions to my upcoming "Entire Season" article, shall we?
OVERALL: D+
Offense: D+ QB/RB: D WR/TE: C+ OL: C-
Defense: C DL: B- LB: C+ DB: D Special Teams: C
BEST GRADE: B+: Randall Cobb, WR; Mike Daniels, DE; and Mason Crosby, K
A "B+" is not fun to see in the best grade category, but the silver lining is that not everyone was god awful. Randall Cobb had the rare game of a completed pass, a rush for positive yards and a touchdown grab. He had a couple drops and that prevented him from getting anything higher than a "B+", but with a heavily depleted receiving corps, his efforts in every facet of offense didn't go unnoticed. Mike Daniels provided streaks of pressure in both the pass and run defenses, and he tallies one of two sacks the ample pass rush produced. Mason Crosby literally began the game with an incredible onside kick that was successfully recovered. He made the single field goal he attempted too, not a small feat from a game with little production from the offense.
WORST GRADE: F: Brett Hundley, QB; Lucas Patrick, RG; Justin McCray, RT; Davon House and Donatello Brown, CB
Wow, I don't think I've ever given out five failing grades in a single game before. However, all of these players certainly earned it. Brett Hundley fell down, overthrew receivers and threw two picks, fumbled, thus causing three turnovers and many failed drives. I don't know why they didn't play Joe Callahan for more than the last two minutes of the game. We knew Brett Hundley wasn't deserving of starting reps, and he certainly shouldn't see any more after the Lions game.
Honorable Mentions: B: Clay Matthews, OLB
Clay Matthews didn't see a ton of reps, but he made the quarterback scramble on a few of his reps, one of them leading to one of two sacks the lackluster pass rush created. It's sad that only four players got a grade "B" or higher, but that goes to show exactly how poorly they played
MVP Watch: With the season sadly done before January for the first time since 2008, 16 games is all we'll see out of the Packers this season. This means that despite missing a second straight game, Davante Adams is the 2017 Packers MVP. Blake Martinez finishes in second place, with Jordy Nelson taking home the bronze. David Bakhtiari and Randall Cobb just missed out on the metaphorical medal podium.
STATS OVERVIEW:
Passing = Hundley: F (14/24, 172 Yards, 1 TD's, 2 INT's; 3 Rush, 15 Yds, Fumble)
Rushing = J. Williams: B- (22 Rush, 82 Yds; 3 Rec, 31 Yds); Mays: D+ (1 Rush,
2 Yds)
Receiving = Cobb: B+ (4 Rec, 45 Yds, 1 TD; 1 Rush, 4 Yds); Allison: C+ (2 Rec, 15 Yds); Davis: B- (3 Rec, 56 Yds); Byrd: C (3 Rec, 31 Yds);
Defense = No Interceptions, 2 Sack (Matthews x1; Daniels x1)
Question? Comments? Concerns? General Feedback? Could Mike McCarthy's role change like Ted Thompson (transition into non-GM role) and Dom Capers (thankfully fired)?
Thank you and God Bless,
Samuel R. Fuller