Sam's Grading the Pack Week 2: No Pass Defense, No Protection, No Win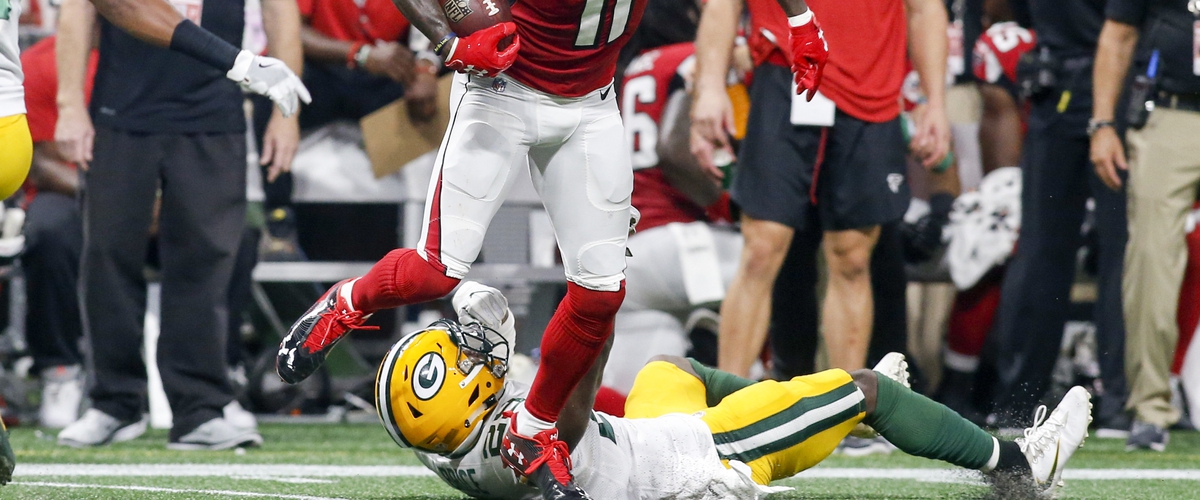 I didn't need to include half the number or his upper body to know this was Julio Jones once again trampling the Packers' defense - this time, literally. So many bad flashbacks to him throwing Ladarius Gunter around in the NFC Championship came back throughout the game, but at least in that game Aaron Rodgers had SOME time to make a play. Every single play, he was scrambling and not in the usual fun Aaron Rodgers way. I don't think I've ever seen a pair of Green Bay Offensive Tackles play so poorly in a single game in my entire lifetime. Honestly, when they announced both David Bakhtiari and Bryan Bulaga inactive just about two hours before kickoff, I knew we were doomed. The score might have only been a two-drive difference, but it certainly didn't look like it or feel like it. No surprises grading-wise today.
OVERALL: C-
Offense: C- QB/RB: C+ WR/TE: C OL: D
Defense: C DL: C- LB: B- DB: C- Special Teams: B-
BEST GRADE:
A: Ty Montgomery, RB; Davante Adams, WR; and Clay Matthews, OLB
It was an overall rough game, but three players definitely stood out: Ty Montgomery, Davante Adams and Clay Matthews. Montgomery was an absolute dual threat in the running and passing game, with a combined 110 Yards and 2 TD's. In a game where both Randall Cobb and Jordy Nelson, who wasn't healthy enough to even make a catch, didn't see the field for most of the game, Montgomery seemed to be the go-to option on every set of downs. If he can be as reliable as he was against a good Falcons defense, he could be a major asset moving forward. Davante Adams quietly racked up 8 Receptions for 99 Yards and an incredible touchdown catch. With Nelson and Cobb down, Adams became the #1 target and did not disappoint as such. Clay Matthews looked to be in classic form, racking up 1.5 Sacks and get in the backfield multiple times on every drive. That kidn of cinsistent pressure was essential with Nick Perry being swallowed up and Ahmad Brooks inactive with a concussion.
WORST GRADE:
F: Kyle Murphy, LT; and Justin McCray, RT
The anxiety that I had watching Kyle Murphy play last week was duplicated AND doubled with an equally-horrid counterpart in Justin McCray starting opposite of good ol' Murphy. Neither player should be a starting offensive tackle for a mediocre-or-better team. Whether it was Vic Beasley, Adrian Clayborn or Takk McKinley coming off the edge, they all got into the backfield and either hit Rodgers or came damn near close every set of downs. The run blocking was collectively poor as well, as Ty Montgomery on his A-game couldn't muster more than 3.5 yards a carry. David Bakhtiari and Bryan Bulaga better be healthy by next week, or this Super Bowl hope, let alone Division title, could be a lot harder to grasp if this becomes the new norm.
Honorable Mentions: B+: Blake Martinez, MLB
With this new "Nitro" defense, whatever the else that's defined as, Morgan Burnett sees a lot of time as a hybrid middle linebacker, and with Jake Ryan as the assumed top traditional middle linebacker, Blake Martinez wasn't expected to see much of the field. That should change permanently after Sunday. Burnett only got burned as a Nitro backer, and Jake Ryan's only effective on run defense, but Blake Martinez showed explosiveness from the inside I haven't seen from a Packer in a while. He was one tackle behind Ha Ha Clinton-Dix in overall tackles, tied Clay Matthews for Tackles for Loss and had a Sack for himself. Other than Martinez, Randall Cobb, Joe Thomas, Kevin King and Mason Crosby had "B" level games, which over the course of a haphazard season could end up being solid contributions.
MVP Watch: The two best players last week, Mike Daniels and Jordy Nelson, weren't healthy enough to see 80% of snaps this week, so after two games, the highest-rated qualified player is, unbelievably to some, Ty Montgomery. Davante Adams is right behind him, and then a crowd of five or six more players coming up in third.
STATS OVERVIEW:
Passing = Rodgers: B- (33/50, 343 Yds, 2 TD, 1 INT, 1 Fumble)
Rushing = Montgomery: A (10 Rush, 35 Yds, 1 TD; 6 Rec, 75 Yds, 1 TD); Rodgers (2 Rush, 8 Yds)
Receiving = Adams: A (8 Rec, 99 Yds, 1 TD); Cobb: B (6 Rec, 60 Yds; 1 Rush, 10 Yds); Bennett: C+ (5 Rec, 47 Yds); Allison C+ (3 Rec, 24 Yds)
Defense = 0 INTs, 3 Sacks (Matthews x1.5, Martinez 1, Thomas .5)
Question? Comments? Concerns? General Feedback? Ted Thompson Hate Mail? Let me know!!
Thank you and God Bless,
Samuel R. Fuller