The Packers' biggest problem is..... Aaron Rodgers?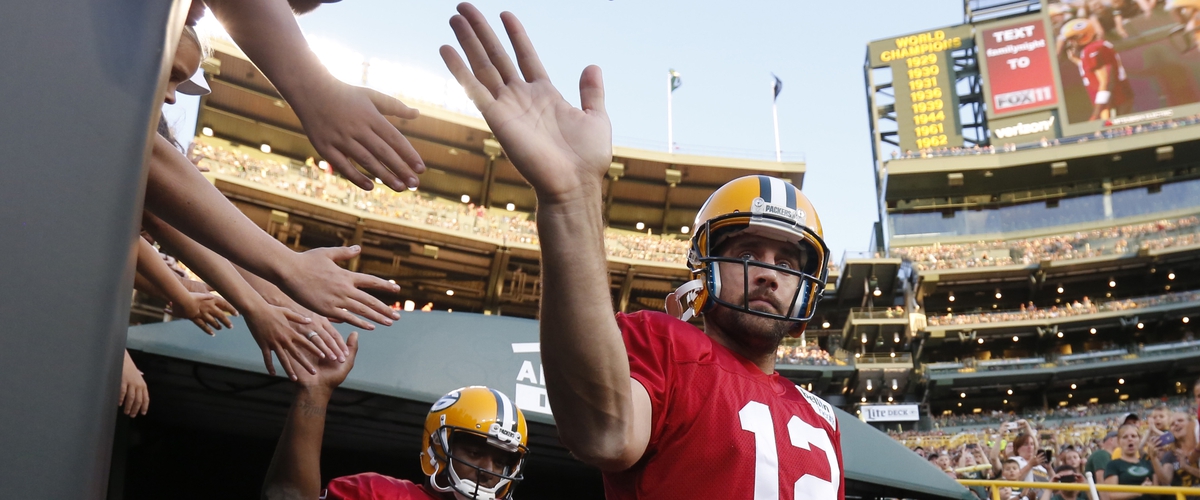 Aaron Rodgers has undeniably proved his worth.
Green Bay's 2017 proved more than any other how dependent Titletown is on #12. When healthy, he was undoubtedly in MVP-finalist form, and the Packers were one of the favorites in the NFC. After the collarbone injury, the Packers had one of the NFL's worst offenses, and missing less than half the season ended up costing the Packers a playoff birth for the first time in almost a decade. A Lombardi Trophy and 2011 NFL MVP award led to the Brett Favre successor signing a five-year, $110 million extension back in 2013, making him the highest-paid player in the entire league at the time, let alone the highest-paid quarterback. Unfortunately, Rodgers & Co. haven't been able to make it back to the Super Bowl since before his extension, but Rodgers will still ask for what he thinks he deserves
Rodgers probably wants to be the highest paid player in the NFL again.
If that number was still around $21 Million a year like the final year of his previous extension stands, the Packers wouldn't have much to worry about. However, as we've seen already before free agency even starts this offseason, that number is much, much higher. Jimmy Garoppolo was traded to the 49ers from the Patriots, and started the final five games of the season. Don't get me wrong, Jimmy G played very well, but well enough to earn a 5-year, $137 Million contract with over $71 Million guaranteed? That's crazy money. The highest-paid player in the entire league is a quarterback on a losing team who hasn't even started six games in a row yet in his entire career. What's even scarier is that Drew Brees and Kirk Cousins, two gunslingers with more talent and experience than Garoppolo, are unrestricted free agents. If a quarterback with single-digit starts in his career can rake in an average annual salary of $27.5 Million, what can Brees, Cousins and Aaron Rodgers make?
Making Aaron Rodgers the highest-paid player again will require a salary as high as $35 Million
There are two different ways Aaron Rodgers could address being the top earner. One scenario, which is probably the best scenario, is to wait until Kirk Cousins and Drew Brees get paid, and then literally tack on a dollar to whichever player earns more. If Kirk Cousins' new annual average salary is $29 Million, Rodgers will earn $29,000,001. Simple as that. However, Rodgers' agent could easily demand the Packers don't wait for the other shoe to fall and give him, well, an absorbent amount of cash. If that's the case, we're looking at an annual salary of at least $30 Million, with his new contract possibly being the first ever to earn nine figures ($100M+) of guaranteed money.
The Packers already don't have a ton of cap space to work with
While each team's salary is capped, there is no cap on any individual's salary. Depending on where the salary cap is finalized, the Packers will have somewhere around the range of $16-$18 Million in cap space. While that's more than what 99% of society will earn in a lifetime, that's maybe one difference-making free agent signing, given they have to pay the new rookies too. Now, like any other NFL franchise, the Packers will look to cut dead weight and release players who are far from deserving their salaries. Some of those names on the chopping block might make Aaron Rodgers wary...
Aaron Rodgers wants to keep his friends around while still making a Super Bowl push
Let's look at the three players we know Aaron Rodgers is good friends with: Jordy Nelson, Randall Cobb and Clay Matthews. Whether it's social media posts, State Farm commercials or literally just seen hanging out together, pretty much every Packer fan knows these are Rodgers' buddies.
Unfortunately, the NFL is a business. Randall Cobb and Jordy Nelson, his two favorite targets, make up 15% of the entire team's payroll. are coming off of down years and are both past their respective primes. Jordy Nelson is 32 and despite playing in all but one game, had his lowest yardage total since 2009 and lowest touchdown total since 2010. Some fans might blame that drop-off on Aaron Rodgers' absence, which is partially fair because Brett Hundley basically ignored Nelson during his time as the fill-in starter. However, he's upwards of 30, tore his ACL less than three years ago, and cutting him would save the Packers $10.2 Million. While Randall Cobb may have been more productive during Rodgers' absence, he's their third-string receiver at best, and cutting him would save $9.5 Million. Maybe these two can restructure their contracts, but over $25 Million of a Super Bowl-caliber roster can't go to aging second and third-string wide receivers. On the other side of the ball, Clay Matthews is the fourth-highest earner behind Rodgers and his other two friends. Matthews is 31, hasn't had double-digit sacks since 2014 and cutting him would save $11.4 Million. Again, maybe they could restructure a contract, but an aging edge rusher shouldn't be making eight figures a year when the other edge rusher, Nick Perry, just signed an extension earning about the same every season. That's the thing, they can afford to let all three players go if need be. At receiver, Davante Adams is now their ace and he just signed a hefty extension, and both Geronimo Allison and Trevor Davis have earned more reps. Matthews would be better if pushed to inside linebacker, so the Packers will still have to get younger on the edge, where they'll more likely than not draft Tremaine Edmunds (Virginia Tech), Marcus Davenport (UT-San Antonio) or Harold Landry (Boston College) with the 14th overall pick in April. The receiving class is deep and adding a deep threat on Day 2 of the draft would be an easy fix to the receiving corps.
Aaron Rodgers literally told reporters that defense is the key to winning a Super Bowl. Green Bay's defense has a LOT of work to do to get there.
Aaron Rodgers looks back at the defense that helped him win Super Bowl XLV fondly. That defense had Charles Woodson as their veteran leader, two other Pro Bowlers in Clay Matthews and Tramon Williams, and other solid starters entering the limelight in Nick Collins, A.J. Hawk, Desmond Bishop and Morgan Burnett. That was 2010.
In 2018, the Packers have one Pro Bowler in Mike Daniels and that's it. Making up the rest of the Defensive Line is Kenny Clark and Dean Lowry, two young players that will be average starters in 2018. At Linebacker, Blake Martinez is a guaranteed lock in the middle, but both Clay Matthews and Nick Perry were very inconsistent in the pass rush, and Jake Ryan shouldn't be getting starting reps alongside Martinez on the interior. In the secondary, Morgan Burnett plays as a pseudo-linebacker in their "Nitro" packages, but whether it was at faux-Linebacker, Strong Safety or Cornerback (yes, he had to cover for their lack of depth), he was decent at best in all three positions. Ha Ha Clinton-Dix gave receivers far too much space on a consistent basis in 2017, Davon House was a bust of a free agent signing, first-rounder Kevin King couldn't stay healthy, and Damarious Randall has as much of a roller-coaster season as anybody.
This defense needs help
Yes, drafting a new Edge Rusher and pushing Clay Matthews inside (If he's retained) will automatically make the defense better, but this team needs a playmaker. Who is going to step up? Mike Daniels can only do so much being double-teamed every game because the opposing O-Lines can afford to given the Packers' lack of pass rushing options. Blake Martinez will tackle a running back once he gets to the second level, and that's about it. Who is going to be a difference-maker? Who's forcing turnovers? Hell, who's going to be a veteran leader on a defensive unit who communicated about as poorly as I've ever seen? They can't find all of their answers in the draft, nor should they. They also can't devote all of their salary cap to the defense, as they have holes at Right Guard (Jahri Evans is gone) and Right Tackle (It's time to cut Bulaga) they'll need to address as well.
This all leads to literally the hundred-million dollar question
How is this lackluster roster going to transform into a Super Bowl-caliber squad if they have no money to spend after Aaron Rodgers' extension?
Quick answer: it can't. Aaron Rodgers can't ask for over $30 Million a year just because it's what he thinks he deserve while also demanding the team brings in more talent around him. This is going to be the busiest offseason for Green Bay in, well, I don't even know how long.
It should also be mentioned that once you have to pay your Quarterback a lot of money, more times than not, it doesn't work out. Look at Russell Wilson. The Seahawks won Super Bowl XLVIII in 2014 while Wilson was still on his rookie deal. The team finally extended him after reaching the Super Bowl a year later, but since they've had to pay him, they got bounced in the Divisional Round in 2015 and 2016, and the team failed to even reach the playoffs in 2017. Now it looks like the window is closing and the Legion of Boom is splitting soon. In contrast, look at three of the final four teams of the NFL playoffs. With Philadelphia, Carson Wentz is still on his rookie contract and Nick Foles was signed for cheap. In Minnesota, Case Keenum was a cheap backup and neither Teddy Bridgewater nor Sam Bradford were signed for much. With Jacksonville, Blake Bortles was in the final year of his rookie contract as well. One of the best rosters of the regular season was the St. Louis Rams, where Jared Goff was only on year two of his rookie deal. It's clear as crystal that these teams were able to invest in a top-of-the-league roster because they didn't have to pay a quarterback, oh, let's say, over $30 Million a year.
If Aaron Rodgers truly want to "make a run for it" in 2018, maybe he should step back and realize what it takes to build a Super Bowl roster. The Packers have stuck to a draft-and-develop scheme, and while they've found the occasional gem here and there, Ted Thompson has simply been mediocre at drafting since Super Bowl XLV. Now they're left with many complacent starters and an above-average number of holes to fill, as well as significant cap-clearing decisions.
Let's look at Tom Brady. Brady has been to three of the last four Super Bowls while bearing a cap hit of just $14 Million. Tom Brady is arguably the best quarterback of all-time. While he's also 40, Brady has known year after year that the Patriots needed to invest in other areas to the overall roster would be good enough for him to win championships. Maybe Aaron Rodgers should take a page out of the best quarterback of his generation's playbook. Also, it's not like Aaron Rodgers is going to be clipping coupons on a $21 Million salary....
So, Aaron Rodgers, do you want to be selfish and become the highest-paid player in NFL history, or do you want to do what's best as the face of the Green Bay Packers and leave some on the table to build a championship roster?
To put it simply, Aaron Rodgers can't have his cake and eat it too.