Cowboys clobber Giants.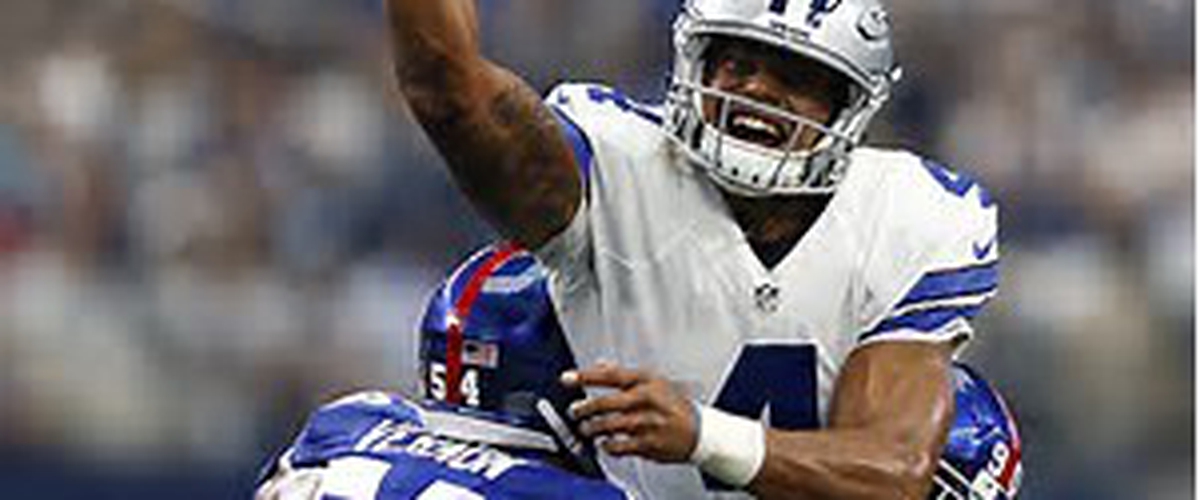 Last night I was ecstatic. It was finally time for the beginning of the football season I cared about. Last week was the start of college football, Thursday was the official start of the NFL season, but this was the first game of the Giants season. It was a matchup of the Giants vs Cowboys which each of the past games had been an exciting affair, so I was ready to watch a good match. Boy was I wrong. Speaking from the perspective of a Giants fan, This was just absolutely horrendous to watch. I would've been fine if we lost if we at least looked good on offense without Odell. We looked like an absolute trainwreck. In the first half, our offense was an absolute train wreck. In the first half, we got a whopping 40 yards and 2 first downs. This was against the Cowboys defense which half of it is rookies and the other half is suspended. In the second half we had one good drive where we did some stuff differently, and then we couldn't convert in the green zone just like last year. The line's blocking was absolutely awful. There seemed to be pressure on every other play, and Eli threw the most passes to running back Shane Vareen who got 9 receptions. The positive to take away is that Ereck Flowers didn't look totally awful. Against the Cowboys, he looked serviceable as a left tackle for the first time in his career.
The only good thing was our defense. Our defense played basically three-quarters of the game and held the Cowboys to 16 points. The Giants defense was able to stop the Cowboys on most of their drives, and the looked good all around. Although the Giants defense gave up a few too many 3rd and longs against the Cowboys, we look to be in good shape on that side of the ball. B.J. Goodson was impressive in his first career start with 18 tackles and 14 of them solo. Damon Harrison looked just as good as last year with mostly stopping Zeke from running up the middle at all. JPP and Oliver Vernon looked to be in good form with them playing well against the amazing Cowboys line, and Vernon had a nice sack on Dak. Jenkins mostly shut down Dez except for one 35 yard pass and another pass that Jenkins got a pass interference call for.
Eli Manning: 29-38, 220 yards, and 1 INT
Dak Prescott: 24-39, 268 yards, 1 TD
Paul Perkins: 7 carries, 16 yards, 2.3 YPC
Ezekiel Elliot: 24 carries, 104 yards, 4.3 YPC
Rodger Lewis: 4 receptions, 54 yards
Terence Williams: 6 receptions, 68 yards