Never Doubt Sam Presti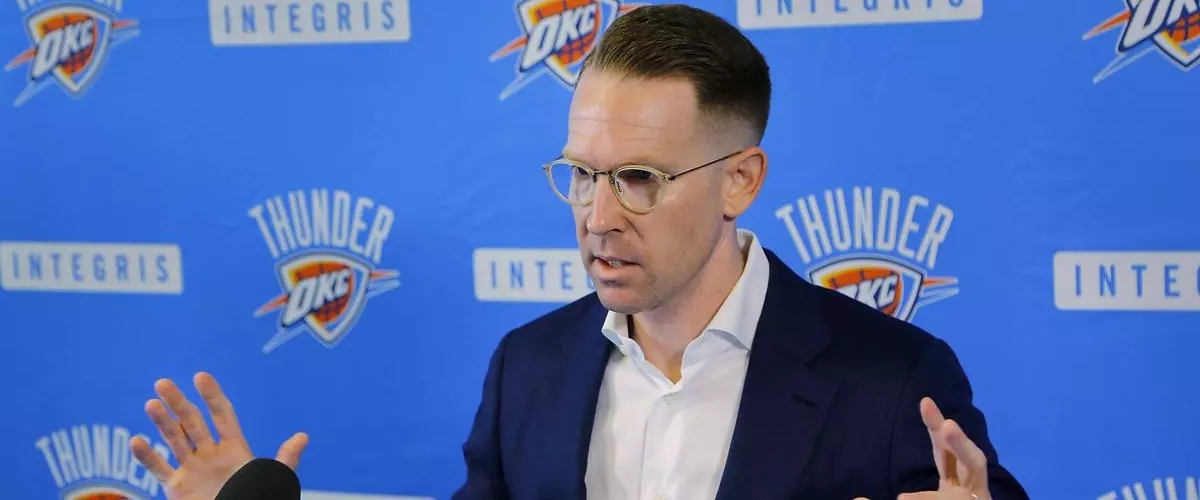 Remember back when everyone praised Sam Presti for drafting talent like Durant, Westbrook, Harden, Ibaka and even Reggie Jackson. It was only a matter of time after that when he was looked at as being a terrible general manager and should even be replaced. Presti was quickly judged for trading of at time 6th man, but now superstar James Harden for Kevin Martin, Jeremy Lamb, and a few more pieces all because he didn't want to give Harden more money. The next move was getting rid of Reggie Jackson which hurt because of his bench production, but was ebtter for both sides. Then, it was the trade of Ibaka, who was on the decline. Finally, it was the complete loss of Kevin Durant. The only piece that just walked away from him while the Thunder got nothing in return.
While we can all dream and fantasize what that team would be doing now, in all reality, those pieces would not have worked or would not have developed properly. At the time, Durant was the clear alpha dog. A 7 foot shooter that could handle the ball and score with ease who eventually brought OKC an MVP and a trip to the NBA finals. Russell, a triple double machine may not have even come to close to averaging a triple double this past season if he didn't have the same opportunities and the Ibaka trade ended up benefiting the Thunder based on the pieces they received in return. Harden was able to capitalize on furthering his skill set as well as earning more money and endorsement opportunities. When KD left, Russ was left with a difficult task in which he did everything one person can do and then some and brought home MVP honors over former teammate James Harden. At one point Sam Presti has had three legitimate MVP candidates and one of the best rim protectors and shot blockers in the league. Presti cannot be the one to blame for the teams other misfortunes. Injuries struck the Thunder for a few seasons which held them from making another trip to the finals along with adjusting to a new head coach and the eventual head clashing of two alpha dogs. Presti did his job, he found the talent, and when they left he did his best to get something in return. In KD's case, there was not anything more he could do. It seemed to be too much debate over who's team it was and KD wanted a new experience. In his one season away from OKC, we saw a superhuman performance put on for an entire season by Russ.
After the departure of Durant, the team is left with Russ and a few non-shooting, under developed and over paid role players. Some of those contracts handed down by Presti others gained via trade. Going into the offseason, it did not seem as if the Thunder could add any pieces. They were all out of cap space, rumors around the league surfaced that Russ may not be the best to recruit free agents and the pieces they had didn't garner too much interest. Luckily for Presti, there were superstars unhappy in their roles with their teams. Some teams desperate to make a move so they do not end up like the Thunder and getting absolutely nothing in return for your best player. Other teams needed to make a move to begin a new start. Same Presti took advantage of what was going on. He knew Russ would be a free agent after one more season. He knew the teams in the west were only getting better while no help was added to compliment the current MVP.
With trade rumors being the topic almost everywhere, Paul George and the Lakers seemed like it would happen. Maybe even the Cavs. The Thunder's name rarely popped up until one afternoon news randomly broke that PG13 was dealt for an overpaid non shooting, shooting guard, and a rookie who started last year, but didn't impress. Sam Presti just landed a top 10-15 player for players that may not be ranked top 100. Why not take the risk if it presents itself? You gave up the same two players you received for Ibaka that you didn't see in your future plans anyway to gain a superstar to make your team more competitive and to relieve some pressure off of the most used player in the league last season. The league was completely shocked. PG went where for what?!?!? Presti still is not done. He then goes out and signs power forward Patrick Patterson to space the floor for Russ to better operate the offense.
Only a week until training camp, and the Thunder roster already looks promising even if it is only for one season. Then another piece of news breaks. Carmelo Anthony adds the Thunder to the teams in which he would waive his no-trade clause for. This came as a huge surprise because for weeks, he was set on going to the Rockets. Despite heavy recruiting, he even turned down one of the most dangerous and explosive back-courts in the league with the Trailblazers. Only a day after he adds the Thunder to his list, Presti does the impossible. He completes an offseason where we originally thought this team would look non different into a new big three in the west. Doug Mcdermott and Enes Kanter for Melo. Yes those are the correct names. I can understand the Knicks wanting to trade Melo, but its like they didn't even care about who they are getting in return. They received another big man who is making almost 18 mil next season which now makes the center spot over crowded which happens to be your best players true position.
While the loss of KD for nothing can never be replaced, Presti managed to get Paul George and Carmelo Anthony for a peanut butter and jelly sandwich and a 2nd round pick. Now with news on Wade reaching a buyout and the Thunder being a possible destination, Presti has gained the trust back from those around the league and hopefully can avoid criticism. He did more than other teams could with a lot less than other teams offered and still was able to pull it off. Do not be to quick to write someone off, especially when that person has already proven themselves once before. Clearly he is no fluke.
This article was written by Ian, one member of GSI Unbiased Opinions