A site lists two Heat players in the Top 5 worst free agent contracts of 2017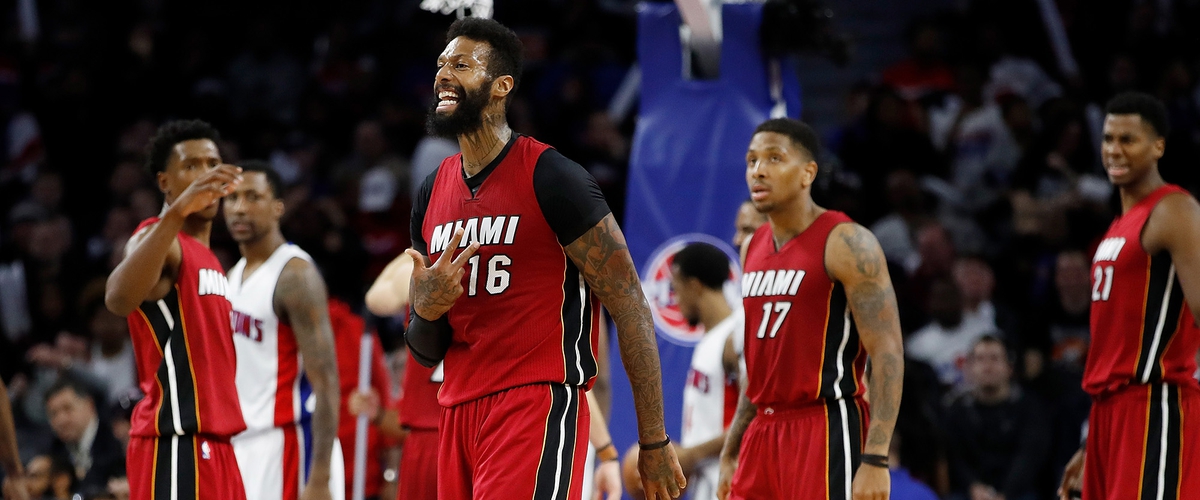 During the off-season, NBA teams are tasked with improving their rosters. Some teams--with a lot of cap space available-- go for the home-run and target star free agents. Others choose to reserve their cap space for the next summer by only signing players to one-year deals. For those who miss out on star free agents, they chose to fall back on the mid-tier free agents with palatable contracts.
This summer, the Heat pursued the best available free agent in Gordon Hayward but was able to land him. Hayward decided to go to Boston and reunite with his college coach Brad Stevens. With no star addition, the Heat immediately focused on signing its own free agents and Kelly Olynyk to long-term deals. While the Heat have no problem with the contracts they offered, there are some who disagree with the deals.
Earlier today, The Big Lead sent out an article on the top 5 worst free agent contracts this summer. Included in the top 5 was Miami's James Johnson and Kelly Olynyk. Johnson re-signed with the Heat on a four-year 60 million deal. Olynyk was added on a four-year $50 million deal(if he meets some incentives).
This is what they on James Johnson:
This contract wouldn't be bad in and of itself, but on top of the other deals the Heat handed out, this adds to what was an awful offseason. Miami gave Dion Waiters, James Johnson and Olynyk a combined $162 million over the next four years. None of that trio is a franchise-changing talent that will put the Heat anywhere near the top of the Eastern Conference. This was simply a case of a team having a ton of cap space and being convinced it had to use it, not save it. It was short-sighted management.
As for Johnson, sure he's a nice, versatile forward who can do some things. In 2016-17 he averaged career-highs in points (12.8), rebounds (4.9), assists (3.6) and minutes (27.4) per game and hit a career-best 34 percent from beyond the arc. But he's already 30, his 17.03 PER wasn't a career high, he was 121st in win shares per 48 (.117), and he shot just 47.9 percent from the field.
While Pat Riley has suggested after re-signing Johnson that he could move into the starting lineup next season, he only started five games this season. Again, giving a versatile potential starting forward an average annual salary of $15 million for the next four years isn't egregious, but Johnson was signed after Waiters and Olynyk. At that point this contract was moronic, and horrible for the future of the franchise. Not to mention, they almost certainly could have gotten him cheaper.
And on Kelly Olynyk:
I have no idea what the Heat were thinking here. Kelly Olynyk has never been anything but an average rotation player who occasionally had a good game. He's a 7-footer who can shoot a bit, but isn't a great rebounder and never really cracked the starting lineup for the Boston Celtics. In 278 career games, the 26-year-old has started just 36 and has averaged 20.7 minutes per game for his career.
Looking at the numbers, it's not like Olynyk had a big year in 2016-17 that would lead you to believe more is on the way. He averaged 9.0 points, 4.8 rebounds, 2.0 assists and 0.4 blocks in 20.5 minutes. His PER dropped to a near-career-low 15.32, he ranked 105th in win shares (4.1) and 109th in value over replacement player (1.0). He had one big performance against the Washington Wizards in Game 7 of the Eastern Conference semis, but that's really it. In that game he poured in 26 points and added four boards and four assists, but that's been nothing near the norm from him.
Olynyk is and always will be a reserve. You don't hand out an average of $12.5 million over four years for a guy like that. This is the kind of contract Miami will be begging someone to take off their hands in a year or two.
Other players included in the top five were Clippers forward Blake Griffin(5-year $173 million), Kings guard George Hill(3 year $57 million), and Knicks guard Tim Hardaway Jr. (4-year $71 million).