Former Celtics teammates still hurt by Ray Allen's decision to join the Heat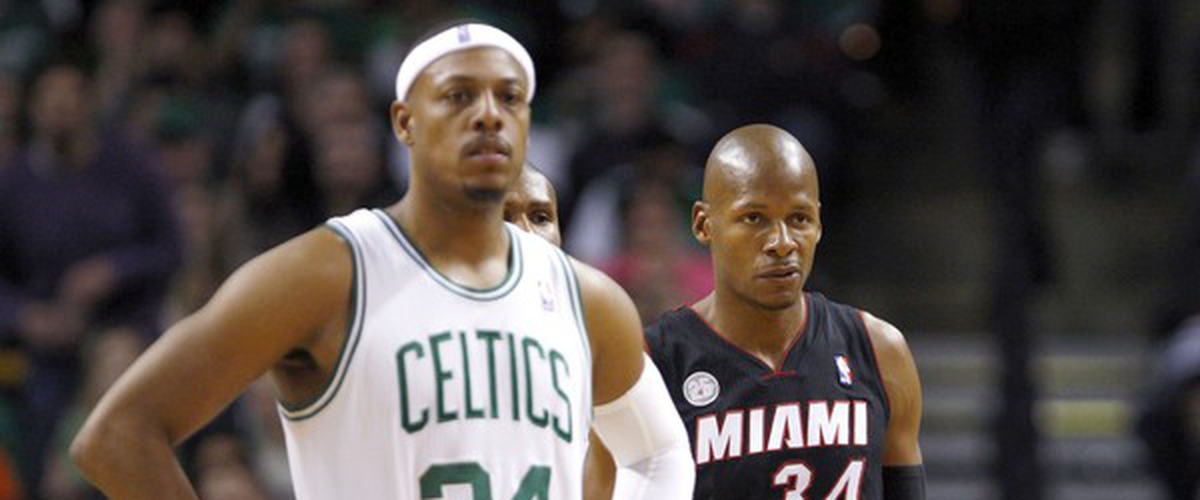 Five years after Ray's departure, his former teammates are still stung about the move.
In 2012, Ray Allen turned down a 2 year $12 million from the Celtics to sign with the Heat on a three year $9.5 million. The same Heat team who beat them in route to the franchise's second championship.
Ray played a key role in the Heat's repeat in 2013. His clutch three pointer helped stave off the Heat's elimination in the 2013 NBA Finals, which the Heat later won in Game 7.
As part of "Area 21"' segment on TNT playoff coverage, Kevin Garnett welcomed former Celtics teammates "Big Baby" Davis, Paul Pierce, Rajon Rondo, and Kendrick Perkins. Noticeably absence was former teammate Ray Allen, who wasn't invited to the 2008 Celtics reunion celebrating the team's ten year anniversary.
Garnett explained why:
"Everybody's asking us, 'Where's Ray?' People don't understand that this is real life for us," said Garnett. "The situation with Ray is very sensitive. I think that when we all talked about doing this reunion tour, we were talking about guys who we consider loyal and part of this group. Just being honest, my two cents, when Ray decided to go to the Heat, I felt like he moved on. And he went to pursue another ring, he got another ring, shouts to him. And that's it. There was no other Wizards, it wasn't no other Spurs, it wasn't no other Heat. It was all Celtics invited to this."
Paul Pierce added:
"I was initially hurt by the whole way everything went down.... "I thought we formed a brotherhood here in Boston. Just how we carried ourselves, not only on the court, but off the court. And I just figured if it was me leaving or KG leaving, then I would have been like, 'Rondo, Perk, Baby, this is what I've been thinking about.' That's what I was hurt by when Ray didn't just at least give us a heads-up about it."
Rajon Rondo, who didn't see eye to eye with Allen in his final season with the Celtics, remained quiet. Even when teammates tried to get his input on the situation.
Garnett later admitted that time heals all wounds and that there's no ill will towards Allen.
Perkins believes for any reconciliation to happen Ray Allen has to make the first call.
"Who going to break the ice? At this point and time, I don't think it's on nobody on here to break the ice," said Perkins. "I actually think it's on Ray to break the ice. If Ray wants to make amends with anybody up here or whatever the case, I think it's on him to reach out and say, 'Hey [Pierce], I handled this wrong. Man, we better than this. Hey Ticket, I handled this wrong. Hey Big Baby, I handled this wrong, or hey, Rondo, I handled this wrong, man.' Just get it past this, man. We won games together, man. We did a lot of things."