James Johnson thankful for Heat opportunity, hopes to remain with team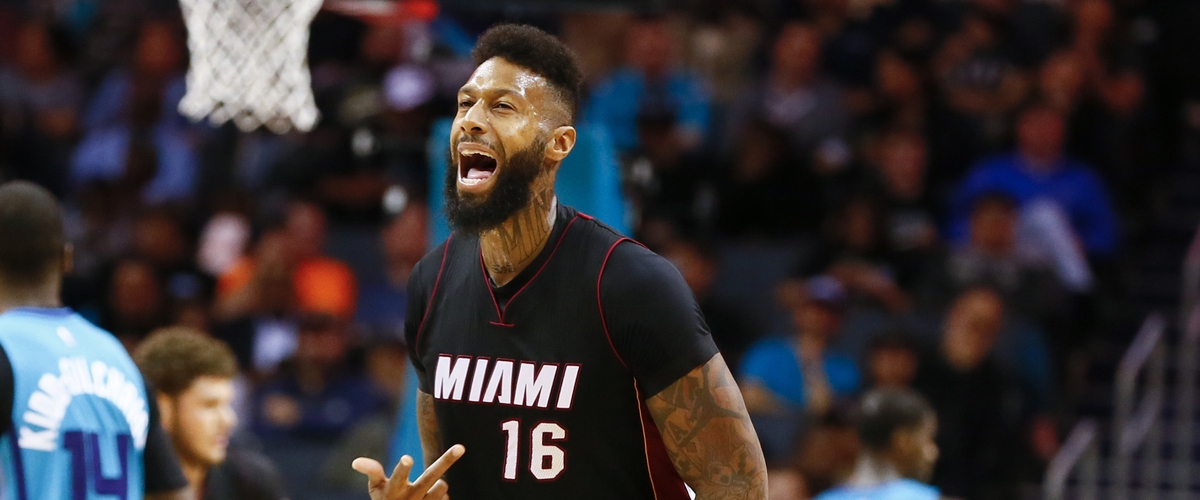 Late Sunday night, impending Heat free agent James Johnson appeared on WTVJ-NBC 6's Sports Final. Johnson, who had a career season in Miami, is expected to receive a larger salary and more years in his next contract. Throughout his career, he's never made more than $4 million.
"I think the Heat already did plenty for me and even more than that," Johnson when asked if the Heat will reciprocate the love James has expressed for them, via Palm Beach Post. "Just giving me the stage to work on and the opportunity to go out there and to become the best player I can be. They definitely gave me that stepping stone or eight stepping stones. For me, I feel like they did already more than what I had asked them or thought they would do. Anything after that, I'm truly grateful for the Miami Heat and I'm truly honored to be a part of it and hopefully it keeps on going."
Just like his teammate Dion Waiters, who appeared on WSVN's 7 Sports Xtra last week, Johnson was noncommittal about taking a hometown discount. Johnson, however, did say he's looking for a place to call home.
"I love this place so much and the opportunity they gave me, I couldn't thank them enough," he . "Down the line, it's hard in this phase of my career to try to find somewhere that you call home or want it to be home. So, you know, the love I have for this team is up there. But it's just something I got to let the agent and Pat [Riley] discuss and try to figure out, and then just give my last say so at the end."
While Riley has stated the Heat would love to bring both Waiters and Johnson back, the Heat are expected to first make a run at top free agents like Gordon Hayward. Likely to sign at his max salary (31 million), signing Hayward would leave the Heat with 6 million left in cap space to offer Johnson or Waiters. That's not enough to bring either Waiters or Johnson back. But if the Heat uses the stretch provision on McRoberts, they'll have enough to bring one back.
Should Hayward and other top free agents sign elsewhere, Miami will most likely bring back both Waiters and Johnson while adding another veteran to the team.
While they await the start of next month's free agency, Johnson says he and Waiters never discuss free agency whenever they're around each other.
"We try to stay away from that, to be honest," Johnson said. "When we get together, we're just the same normal James and Dion. We're not worried about basketball or what's to come."
This past season, Johnson posted career highs across in (12.8) points, rebounds (4.9) and assists (3.6) points as a reserve. He also played a huge role in the Heat's position-less system playing all three frontcourt positions and a point forward role in the Heat's offense.