Hockey Stop: Welcome Back Hockey Season!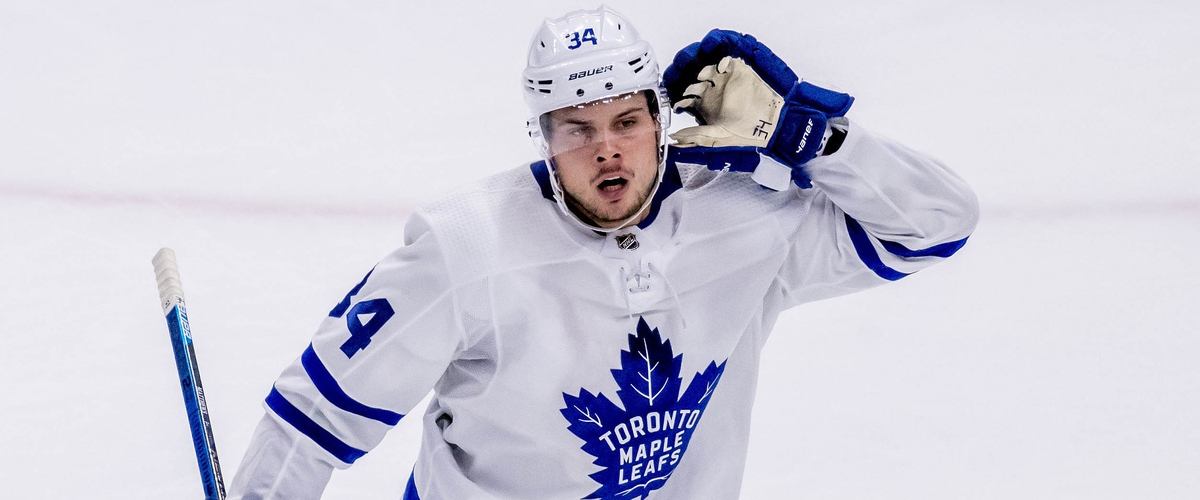 Hockey season has finally arrived! The happiness in the air throughout the hockey community is so noticeable that you can almost feel it. Respectively so, as there's many reasons why hockey fans around the league should be excited. Rasmus Dahlin, Andrei Svechnikov, Elias Pettersen, Thomas Chabot, and Jesperi Kotkaniemi are all super talented rookies that made their NHL rosters. Then you have top NHL players like Erik Karlsson, John Tavares, Mike Hoffman, Elias Lindholm, and Dougie Hamilton who are ready to continue their journeys with a new organization. Then there are the storylines with NHL teams. Will San Jose dominate with Erik Karlsson? Will the Leafs be able to resign all of Matthews, Marner and Nylander with John Tavares with a $77 million contract? Can Buffalo or Carolina right their ships and get back to the playoffs after all the roster moves they made? Will Washington repeat?
Will the Shark dominate the league now that they have Erik Karlsson?
Well, after the first week, they find themselves 1-1-0, good for 5th in the Pacific Division with 2 points. In the season opener, they were blasted by the Anaheim Ducks 5-2, and Karlsson finished with a goose egg, and one shot on goal. Not the best of starts for a team with Stanley Cup hype, but it is just the start. Let's move on to their first win, which was against the Los Angeles Kings. They beat the Kings 3-2 in OT, with Karlsson finishing with his first point as a Shark. But what I've noticed a lot of is Karlsson being on the wrong side of things. Especially in the Kings game, where at one point he was cheating up the ice while Vlasic was being pressured by a forechecker, who then had an open man in front of Jones because Karlsson was out of position. It could be a matter of miscommunication or a lack of chemistry, but still, not very good. As of right now, the Sharks are not a threat to me. There doesn't seem to be great chemistry, and they now have to deal with an injury to top forward Joe Thornton. But things can change quickly, all it takes is Karlsson to get up to speed with the Sharks style of play and gaining more chemistry with Vlasic.
Will the Leafs be able to sign all of Marner, Matthews and Nylander with Tavares' contract now in the way?
Let's look at their contract list, per Capfriendly.com. They have a projected cap space of $12.2 million for this season. That right there is more than enough to sign Nylander, who is currently a restricted free agent. The problem is, they need to then resign Marner and Matthews the following year, along with these other free agents: Josh Leivo, Par Lindholm, Kasperi Kapanen, Andreas Johnsson, Tyler Ennis, Jake Gardiner, Ron Hainsey, Igor Ozhiganov, Martin Marincin, Garret Sparks, and several AHL guys/Prospects. Nylander is reportedly asking for $8 million, while Dubas and the Leafs front office is offering $6 million. Nylander is not worth $8 million per year, but he is also more valuable than $6 million per as well. According to sources, Nylander isn't budging, so that leads me to believe that the Leafs need a bridge deal. I'd say a 2 year, $6 million deal. He's out of the way during a busy offseason, and isn't getting lucrative money either. That would leave them with $6.2 million in cap for this season, which can then allow them to make trades, if needed. Before we get to Matthews and Marner, let's see who they won't sign. Tyler Ennis and Ron Hainsey are similar, in that they are both on the old side (Ennis will be 30, Hainsey will be 38). Ennis has already shown that he isn't nearly as good as he used to be, while Hainsey is just slow, and not catching up to the evolving game. Martin Marincin is another guy who they may not sign, as they have both Timothy Liljegren and Rasmus Sandin in their system. That could save them much more money. Other than that, there aren't any guys you can look at and, based on situation, say they will be cut. So let's say that they sign all of these guys left over, not including Matthews and Marner, and say they all sign to an average of $2.5 million. That would be a total of $17.5 Million, which would leave them $6.6 million to work with. Yikes. So let's just say they call up multiple forwards, they can then release Par Lindholm, and they call up both Sandin and Liljegren, they can release Ozhiganov. That means 5 players, not including Marner and Matthews to sign. In total, it would cost about $3 million for those call-ups, and those 5 players sign for an average of $2.5 again. That would cost, including call-ups, $15.5 million. That would leave them $8.6 million. So let's go back and adjust the bridge deal, since this isn't working. Nylander gets 2 years at $4.5 million instead, and we will keep the same 5 players from earlier, but to be more realistic, they sign for an average of $3 million. Plus call-ups, that would cost them $10.6 million. Matthews came out and said he would take a paycut to stay with Toronto, and let's say that's true. He'll take $7 million. That leaves $3.6 for Marner. So basically, no matter how you look at this, it is almost impossible to keep all 3 guys, barring a trade. They could move Horton's contract elsewhere, or they can trade a guy like Nazem Kadri, who has a cap hit of $4.5 million per year. I doubt they trade a defenceman, unless Liljegren performs at a high enough level in the AHL to get called up, and proves he can stay at the NHL level. Then they could possibly trade Jake Gardiner, who'd be a free agent with Matthews. That way, he won't be an obstacle and they won't lose him for nothing.
Can Buffalo/Carolina right their ships and finally make the playoffs?
First, I'll start with Buffalo. With their newest acquisitions in Jeff Skinner, Patrik Berglund, Vladimir Sobotka, Conor Sheary, Tage Thompson, Remi Elie, Rasmus Dahlin and goaltender Carter Hutton, the Sabres finally have a deep lineup. Sure, they lost Ryan O'Reilly, but in his time with the Sabres he had 176 points in 224 games and a -40 /minus. That isn't bad, but he never worked for the Sabres, as he never brought them to the playoffs. Plus, the return they got was huge, a 1st in 2019, a 2nd in 2021, top prospect Tage Thompson, Vladdy Sobotka, Patrik Berglund. The Sabres now have 3 firsts, as well as getting Remi Elie, another good prospect, from the Stars. Plus, new captain Jack Eichel just got PAID, and he's looking to show why he got that big money. They're young, fast, and skilled, and all are ready to prove themselves. I could see them squeaking in. As for Carolina, they made some decent moves in the offseason as well. However, they didn't get very big returns in their trades. Elias Lindholm was a solid top 6 forward for the Canes, and he was sent off along with Noah Hanifin, another solid, young, top 4 defenseman with a somewhat high ceiling. They got Dougie Hamilton from Calgary, who is better than Hanifin, but he's 25 and there isn't much time left for him to grow. Hanifin may end up being better in the future. They also added Michael Ferland in that deal, veteran top 9 winger. He helps their depth, sorta, but Lindholm was the much better option for them. The final part of the deal was defenseman prospect Adam Fox, who projects to be a top 4 defenseman. But he is not NHL ready and won't help them this season. So while Carolina was a better team last season than the Sabres, they added veterans that may not have been the best fit for them, while Buffalo went out and grabbed young guys that are all, for the most part, established. The Sabres made the better moves, and will finish higher than the Canes. Plus, the Eastern Conference is stacked, and the Sabres will struggle themselves to make playoffs. The Hurricanes did not make the right moves, at least to me, and will not make the playoffs.
Will Washington win the Stanley Cup back-to-back?
This is a very difficult question to answer. There are things that are impossible to predict that you have to take into consideration. Will everyone on the Capitals stay healthy? If yes, they will make it to, at least, the second round. But the thing is, the Eastern Conference is just absolutely stacked. If they make it to round 2, they'll face Pittsburgh, most likely. The Penguins were not happy about losing to the Caps last season, and Matt Murray was playing with a lot on his mind. Murray should be better this year, and the Pens will be hungry. That could prove difficult to the Capitals. If they do beat out Pittsburgh and advance to the third round, they will face a very tough team. The Tampa Bay Lightning remain the favorites in the East, with an unreal lineup, and possibly better depth with young guys like Anthony Cirelli and rookie Mathieu Joseph. Then there are the Leafs, who really need to figure out their contract situation. If they do, they could really threaten top Eastern Conference teams, like the Capitals. With Tavares, the Leafs could challenge for the Cup. Then there is the Boston Bruins. They are very experienced, and very skilled. They also have very good young guys, like rookie Ryan Donato, Jake DeBrusk and Anders Bjork. Their defense is solid, with McAvoy, Carlo, Chara, Krug, Moore, Miller, and Grzelcyk. Plus prospect Urho Vaakanainen, who made the roster this season. Their plates are certainly full, but if they come out of the East, they could very well win the Cup again. But watch out for Winnipeg, Nashville and others who come out of the West. Plus it's the NHL, anything can happen.