Time for the Texas Longhorns to focus on the run game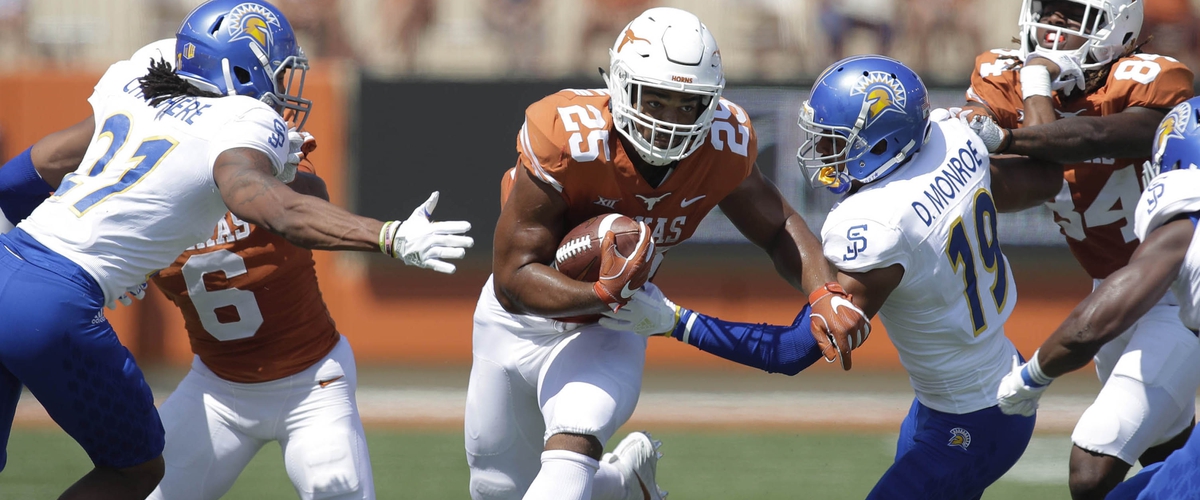 The Texas Longhorns put themselves within one victory of claiming a bowl game this season and the run game has been a big reason for this.
The Longhorns recently earned a 42-27 win over the Kansas Jayhawks to hold a 5-5 (4-3 Conference) record heading into the final two weeks of the regular season, scoring 28 points in the first quarter.
The Longhorns should have picked up more points against the 1-9 Jayhawks, but a failure to play an effective run game has seen the Austin-based team struggle to score as many points as they could have in recent weeks.
The majority of Longhorns touchdowns have come from their runners, with Chris Warren III leading the way with six touchdowns on the ground so far.
But the Longhorns have not managed to consistently get the ball rolling on the ground, picking up just 1353 combined rushing yards this season.
Compared to the 2739 combined yards picked up by Shane Buechele and Sam Ehlinger through the air, there is a clear imbalance between the passing and rushing game.
If the Longhorns hope to make improvements under the guidance of Tom Herman, placing a larger importance on the running game could help.
Recently, Longhorns alum Chris Simms of his desire to see his alma mater play an offence closer to that used by teams in the SEC.
The SEC is stacked with highly ranked power-run style offences in the form of the Alabama Crimson Tide (10-0), Georgia Bulldogs (9-1) and Auburn Tigers (8-2).
The Tigers, who have the third-best record in either of the SEC's divisions, have rushed for a combined 2367 yards while top-ranked Alabama have 2708 yards on the ground.
If the Longhorns changed their offensive style to match that of the SEC powerhouses, with big-bodied runners alongside the existing core, then there is every possibility that the spread-based Big 12 could be in for a big surprise.
A change to a power-run system is also not out of the question for the Longhorns, who previously attempted to bring Crimson Tide head coach Nick Saban to Austin – a move that would have no doubt seen a change in offence much earlier.
The current core of backs could put up bigger numbers if the Longhorns are able to recruit top-rated offensive linemen this year, but adding a top power-back to the recruiting class could certainly add to the team.
The Longhorns have the second ranked recruiting class so far according to ESPN, with plenty of top defensive players currently committed to the program.
Adding a top back and reworking the offence to churn out yards and points on the ground could see a very different Texas Longhorns team next season.