Win Or Lose, Kevin Durant Made The Right Decision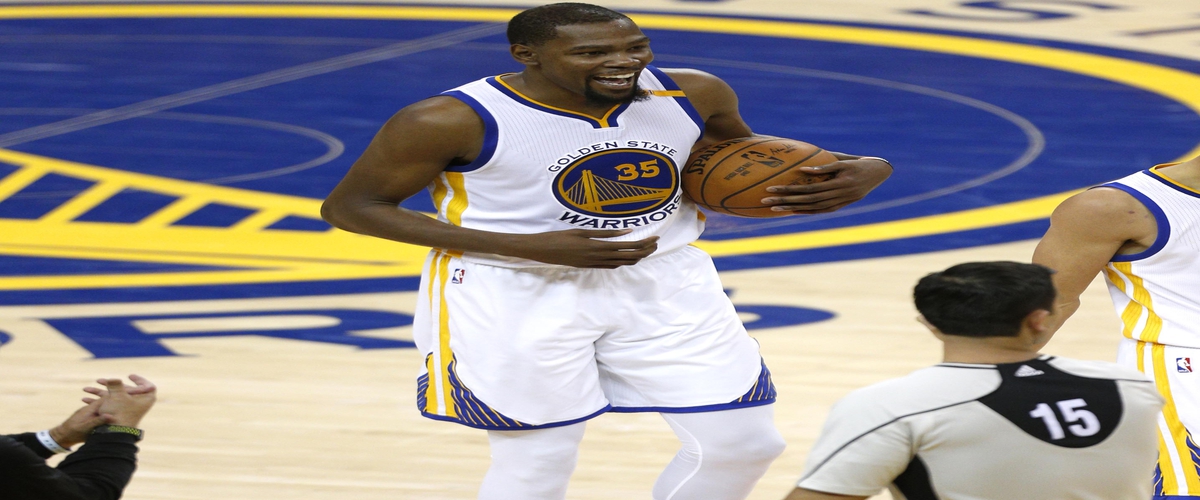 Ever since at the very least college, people have been trying to make Kevin Durant out to be something he isn't.
Durant was an enigma to me the few times I watched him play on TV during his lone year in Austin. He was the skinniest player I had ever seen to that point and though he was clearly talented, he wasn't dominant. I remember watching him and wondering what all the hype was about.
That was definitely not the case with Greg Oden, a talented seven footer who was so physically dominant in his lone year at Ohio State that he looked like a grown man who was playing against boys. The choice of who should be the first overall pick was beyond clear.
Then Oden suffered the first of many injuries that derailed a career with unbelievable promise, and Durant eventually established himself as one of the league's most talented up and coming scorers and most unique players by far. The rest, as they say, is history.
The problem with KD is everybody has always not only ignored his obvious flaws but even tried to make it out like they don't exist, that there isn't anything he doesn't excel at. This is pure nonsense.
We make KD out to be what we wish he was because we can't comprehend things like a player with his physical gifts who refuses to be a lockdown defender, a player who is 6'11" yet doesn't consistently block shots or use his length to defend the post. We can't comprehend that a scorer with his talent could have average handles or be an average driver who misses layups and relies far too much on said physical gifts and his shooting touch. We can't comprehend that a player who is that gifted and unique could play so nonchalantly and choke when the pressure is on him. That a kid who was drafted to be the new face of a franchise and groomed to be its franchise player could be so immature that he won't hold himself accountable or make the sacrifices necessary for his team to win a championship. That he doesn't care.
We wanted Durant to be Jordan, to be Kobe, to be LeBron -but he will never be that. Those players were/are all lockdown defenders who saw a defensive assignment as a personal challenge. Not only would they light you up offensively, they would consider it a personal challenge to make sure you had one of the worst offensive performances of your life. They are also all players who fought through adversity and had to prove doubters wrong at multiple points in their career. They have all felt the weight of the world on their shoulders and faced the scrutiny any true franchise player faces.
That has never been the case with KD. He is a kid from a -admittedly somewhat rough- suburb of DC who went to a prep school and has been groomed for the league and coddled/enabled for most of his basketball life. He's never had pressure on him to win or been expected to make the sacrifices necessary for his team to win -or been judged for not doing so.
The problem is that everybody ignored that he went to prep school. That he played one year of college ball for a middling team that he didn't turn into a winner. Everybody ignored that he was drafted into the absolute perfect situation for him to be able to flourish, going to a losing franchise whose fans were desperate for even the tiniest spark or up and coming young player.
They ignored the fact that the move to Oklahoma City -and Scott Brooks' turning the Thunder into something similar to a college program- created the perfect situation for KD, with a small market who had never had major pro basketball prior to the temporary relocation of the New Orleans Hornets after Katrina or even a major professional team of any kind. It was a situation where he would never face real scrutiny and would receive nothing but universal praise from a fanbase who was so grateful to have their very own superstar and one of the best up and coming teams in the league.
They ignored the fact that it was fellow 2007 top ten pick Jeff Green who held that team together and played like its true franchise player while KD and Russ grew into the players they would become. They overlooked all of the players like Thabo who did the dirty work necessary to make it possible for Durant to be able to be a standout player. They ignored that the Thunder didn't win until they had Serge Ibaka and James Harden. That they fell off after trading first Jeff Green and then Harden. They ignored that KD himself stagnated offensively after peaking from 2010-2012 at the absolute latest and has not improved since.
KD might be delusional about some things but I doubt he's stupid. He might have been flattered by the many offers presented to him last summer but deep down he had to have known that any team he chose would then become his team -with all of the pressures that come with that. Almost every situation he signed on to was either in a big market or one with a fanbase and media that would expect things of him that they should know he can't deliver. All but one.
Golden State didn't need KD. They had Draymond Green, Iguodala, Kevon Looney, and were sure to re-sign Harrison Barnes. They won a title without him in 2015, and the only reason they didn't repeat was because Steph wasn't Steph and they had no replacement for key players who they undervalued -especially David Lee. They didn't need a star, and the Warriors will always be Steph and Draymond's team. In Golden State, KD found another small market franchise where he would get nothing but universal praise and made out to be the unselfish superstar who swallowed his pride in order to win rather than the franchise player who never delivered a championship.
Everything has always been made as easy as possible on a basketball court for KD, and that is why he always fails when the pressure is on him to step up. That's why he needed players like Jeff Green, Harden, and Russ in order to win in OKC. Most importantly, that's why he'll never be the franchise player people want him to be.
The Warriors accept him as he is, flaws and all. They don't make him out to be something he's not. It's time the rest of us do the same.