Winners And Losers of the 2017 NBA Playoffs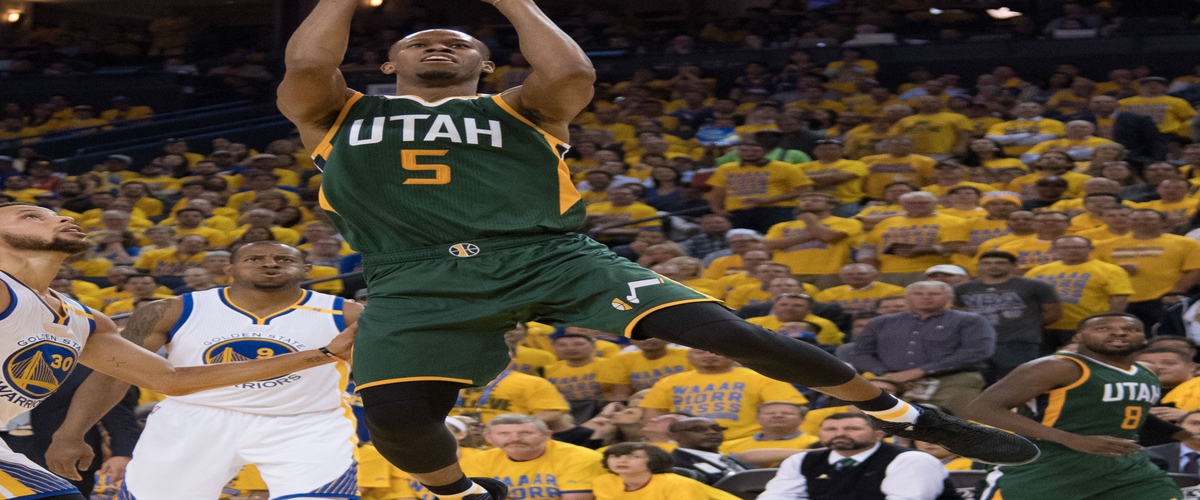 Contrary to what you might think, the annual NBA champion is not the only winner of the NBA Playoffs.
Every year there are teams who have players step up in the playoffs who go on to have monster years the following season. Every year there are teams who find themselves in the playoffs and establish an identity that they carry for as long as that particular iteration exists. Every year there are young teams who get their first taste of the playoffs and thrive, setting up future playoff success and maybe even a championship or two.
Unfortunately, every year there are also losers. There are teams who shrink when the lights are brightest. There are teams who find out they spent a lot of money only to have nothing but questionmarks to show for it. There are teams who find out that their big money acquisition was a complete swing and a miss. And there are legendary teams who find out their run may be coming to an end.
Here are the Winners and Losers of the 2017 NBA Playoffs.
Winners
Utah Jazz- No team who didn't win the championship this year was a bigger winner in the playoffs than the Jazz. Rudy Gobert might have shrank against the Warriors but literally every other player shined. Derrick Favors gutted through an injury to provide Utah with some tough and impactful minutes at the four. Boris Diaw was very solid behind him. Joe Engles showed that not only is he a ridiculously underrated offensive player who is capable of running an offense but he guarded Chris Paul for Christ's sake! Rodney Hood showed that he's a very capable two-way wing and was maybe their best perimeter defender after Engles. Dante Exum looked like the future franchise cornerstone everybody thought he could be. Joe Johnson was unbelievable offensively. But nobody shined brighter than George Hill. Not only did he establish himself as a top flight point guard, he was by far Utah's best player in the postseason. Most importantly, Utah showed that even if all three of Hayward, Hill, and Engles leave they are the biggest up and coming threat to the Warriors until the Blazers, Rockets, Thunder, and now TWolves prove otherwise.
Milwaukee Bucks- The Bucks are second only to the Jazz when it comes to being winners of this year's postseason. Giannis established himself as not just a force to be reckoned with but a warrior who will stay in and fight for as many minutes as possible in order to secure a victory. Tony Snell was unbelievable on both ends. Thon Maker held his own and then some. Jason Terry was incredibly solid. Milwaukee destroyed Toronto for most of this series and served notice that they will be the power in the East sooner rather than later. They did so well that Greg Monroe opted in for next year, which is major for a team looking to build off of that momentum. The Bucks are coming. Watch out.
Boston Celtics- The Celtics found out just how useless 2016 major free agent signing Al Horford is without a dominant banger or at least shot-blocker next to him but literally every other major piece stepped up. Isaiah Thomas was understandably shaken a bit by the untimely death of his sister but still came up huge at times. Marcus Smart established himself as an up and coming young two way player. Terry Rozier showed the potential that was glaringly obvious both at Louisville and starting in the 2015 NBA Summer League. Avery Bradley was Boston's most consistent offensive player, and Jae Crowder was his usual dominant self. Most importantly, the whole world found out on the biggest stage that Jaylen Brown was not a reach as the third overall pick in the 2016 NBA Draft. Mark my words, that kid will be a player in this league.
Portland Trailblazers- There were nights where some Blazers struggled. There were nights where seemingly every Blazer struggled. But Portland found out that almost every single major acquisition they have made in an at times controversial post-Aldridge reality can and should provide exactly what they were signed or traded for to provide. They're still a few pieces away from being a legitimate threat to Golden State -and I fully expect them to make some major changes- but in reality Portland would have probably gone a lot further in the playoffs had they not had the unfortunate fate of being the first round opponent of a stacked and motivated Golden State squad.
Losers
San Antonio Spurs- Nobody was a bigger loser in these playoffs than the Spurs. Kawhi Leonard was in my opinion the best player in this year's playoffs by far and San Antonio found a new star in the amazingly perserverant Jonathan Simmons but the rest of the team showed itself to be a complete joke. LaMarcus Aldridge was supposed to be the dominant offensive big man that would help carry the Spurs through the next decade as a running mate of the increasingly dominant Kawhi Leonard. Instead, he looked like a huge waste of money. The Spurs would have a hard time giving him away right now. Danny Green is still solid on both ends, and both DeWayne Dedmon and Bryn Forbes showed themselves to be overlooked gems. But not only was DeJounte Murray an atrocious draft pick but Popvich seems hellbent on letting him basically take over the team. The Spurs are in serious trouble.
Memphis Grizzlies- James Ennis, Deyonta Davis, Troy Daniels, Wayne Selden, and Jarell Martin at times against the Spurs all proved themselves to be very good additions. However not only were Wade Baldwin and Andrew Harrison terrible additions, they are delusional and overrated ball-dominant combo guards and anchors who will bring down the entire Grizzlies team. Mark my words.
Atlanta Hawks- Luckily the Hawks didn't bring in any overrated, ball-dominant players who could tank their whole team. In fact, not only did they have an excellent 2016 NBA Draft but they really for the most part didn't make a single bad move. In fact, almost every game of their series with Washington was close. Unfortunately for Atlanta, that series left them with nothing but questions. DeAndre Bembry and Taurean Green were excellent draft picks and cornerstones of this team going forward, and Tim Hardaway Jr finally established himself in Atlanta as the same potentially elite wing they traded with the Knicks for. However, the Hawks still have no clue who can be a true replacement for the highly versatile and criminally underrated DeMarre Caroll or former face of the franchise Al Horford. Until these questions are answered the Hawks flat out will not win when it counts. Period.
Toronto Raptors- Kyle Lowry finally stepped up in the playoffs. Unfortunately other than the players who had previously done so in the postseason, he was the only one. Toronto completely embarrassed themselves, probably nobody moreso than franchise big man Jonas Valanciunas. Even if Lowry stays, Toronto has some serious questions to answer.
Chicago Bulls- Even before the Jimmy Butler trade, the Bulls showed themselves to be an absolute mess. Yes Jerian Grant showed why there was so much hype around him going into the 2015 NBA Draft, and yes Paul Zipser is a feel good story. But there are many people who so very wrongly believe that Rajon Rondo was the reason the Bulls made it a series against Boston when in reality he's the reason they're a mess. Ignore the numbers and actually watch him play sometime. He's a delusional, immature, overly showy, atrocious passing ballhog whose stats come at the expense of his teammates. Good luck to Chicago without Jimmy Butler. They're gonna need it.
Washington Wizards- Sure Markieff, Bojan, and Otto Porter Jr established themselves as playoff standouts. But what Washington showed in the postseason was why they will never win anything real with John Wall on the roster. Ignore the totals for one second and look at how unbelievably inefficient this kid is. And don't try to act like it's because he was injured. First of all, he only got injured because he's lazy and has bad habits. He's looked and moved like current Wade since at least 2013-2014. Second, he's been the exact same delusional, immature, selfish, overrated, ball-dominant player since he was at Kentucky. He still refuses to ever hold himself accountable and is not and never will be a winner. If Washington traded him for a real point guard then they'd have been a genuine power in the East since the 2014-15 season but instead Washington fans can look forward to falling just short every year for the remainder of his overhyped career.
There you have it, the winners and losers of the 2017 NBA Playoffs. Only time will tell what this will all mean going forward.