Daily Fantasy CFL Picks - Week 5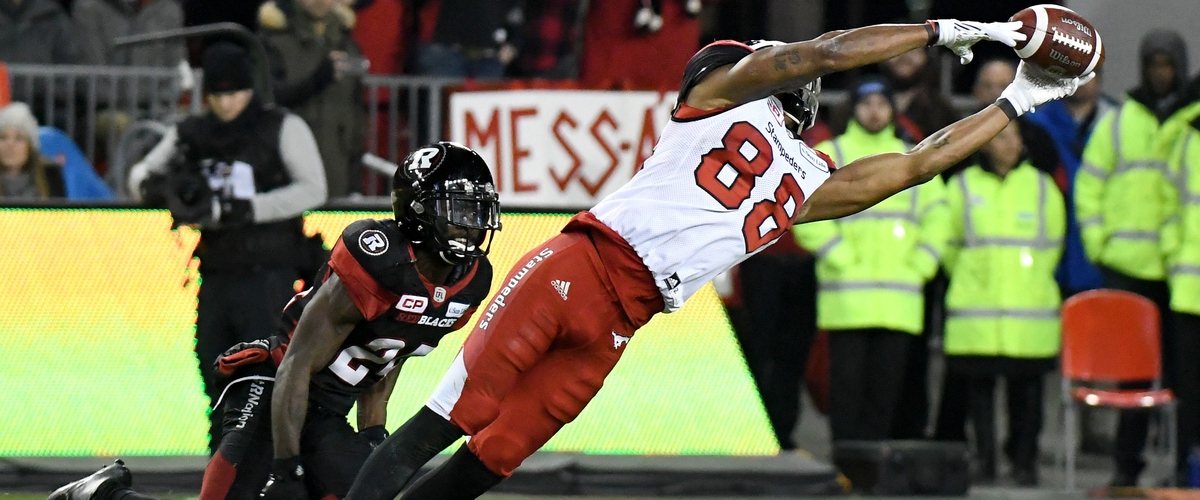 Hello football fans and welcome to Week 5 in the Canadian Football League. This week we have a four-game slate with the action starting at 6:30 pm et on Thursday evening. No NFL, no problem. Let's get started shall we?
Current Vegas Odds:
Edmonton -3.0 @ Hamilton (Total - 53.5)
Winnipeg at B.C. -4.0 (Total - 56.5)
Saskatchewan @ Calgary -10.0 (Total - 58.0)
Ottawa @ Toronto -1.5 (Total - 54.0)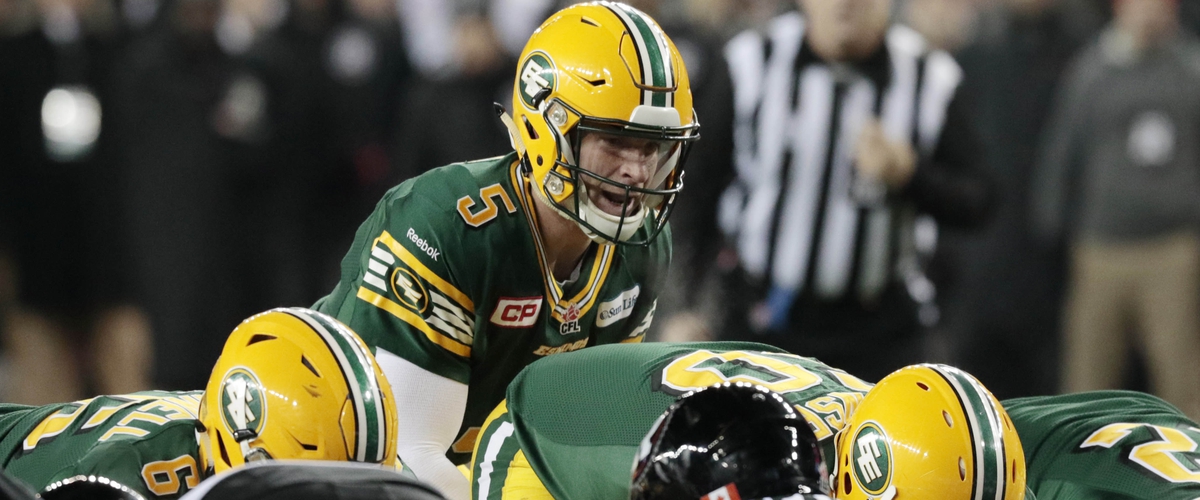 Edmonton Eskimos @ Hamilton Tiger-Cats Game Breakdown:
Starting the four-game slate, we have the undefeated Eskimos facing off against the winless Ti-Cats. I know the Eskimos are on the road, but they're only three point favorites here? The Lions destroyed them with their backup QB last week, so Edmonton be able to handle them fairly easily, but I guess stranger things have happened. There are some very nice fantasy plays here.
Edmonton Eskimos players to target:
Mike Reilly (QB) $11,000
The most expensive QB this week has the juiciest matchup of all. The Ti-Cats are ranked dead last in total yards allowed (510.0) and dead last in passing yards allowed (427.7.) That's just plain ugly. Reilly's value has taken a hit because the Eskimos have decided to roll out a very balanced attack and it has been working wonders so far this season. He still has 866 passing yards with four TD's and a QB rating of 109.9 (which is very good.) Reilly is my 2nd favorite QB in all formats behind a guy who I will cover a little later on.
Travon Van (RB) ) $7400
Since Jon White went down with a season ending injury, Van has stepped up in a big way and this is a fantastic spot for him. Edmonton leads the league in rushing attempts with 23 per game and second with 99.3 rushing yards per game. In only two games, Van has rushed the ball 35 times for 153 yards and a TD for an average of 20.4 Draftkings points. Look for another solid game for Van this week and he is my favorite RB in all formats.
Brandon Zylstra (WR) $8000
Hamilton is a bad football team and Edmonton has a ton of weapons. This guy has been on fire to start the season, as he has 21 receptions for 296 yards. He hasn't recorded a TD yet, but I wouldn't bet against him bringing one to the house this week. Zylstra is getting expensive, but Adarius Bowman is injured, so there will be a ton of targets coming his way and he is an elite play in all formats.
Hamilton Tiger-Cats player to target:
Jalen Saunders (WR) $6000
Oh brother, what a mess of a team this is, but this young man has had two solid games in row and the Ti-Cats throw the ball an average of 41 times per game, so he will see a lot of targets again this week. The rookie caught five passes last week for 147 yards and he now has 11 catches for 225 yards in only two weeks of action. Hamilton will probably be losing for most of the game, so they will be forced to throw a lot. Saunders is a terrific gpp play and I think we can also consider him for our cash game lineups at this reasonable price.
Winnipeg Blue Bombers @ B.C. Lions Game Breakdown:
This game opened with BC as a -7.5 favorite, but it is now -4 and probably still getting lower as we speak. The Bombers beat the Argos at home last week to earn a 2-1 record and BC beat the lowly Ti-Cats to go to 3-1. This should be a close game with a decent amount of scoring provided by both teams.
Winnipeg Blue Bombers players to target:
Andrew Harris (RB) $7300
I love targeting players who are about to play against their former team. It gives them that extra motivation to succeed. This is no exception. The former Lion is off to a good start as he has ran 40 times for 170 yards and 2 TD's. He has also caught 16 passes for 120 yards. Look for him to have another solid game. Harris is my 2nd favorite RB behind Van in all formats.
Weston Dressler (WR) $8500
I'm a Bombers fan I have to admit, but I'm unbiased, I promise. I will tell you honestly who I like from every team and Westy is a guy that, although expensive, is one of the very best WR's in the league. He's on fire through three games with 19 catches for 309 yards and two TD's for an average of an awesome 26.6 Draftkings points per game. He has a high floor with an even higher ceiling and is a solid play in all formats in Week 5.
B.C. Lions players to target
Nick Moore (WR) $6400
The little brother to former NFL'er Lance Moore absolutely exploded last week in Hamilton. Like I mean an out of this world explosion. The weird thing is, the Lions' #1 QB Jennings got hurt on the first play, so former star, Travis Lulay comes in and it became like a perfect marriage. Moore caught 10 passes for 210 yards and a TD. Say what? He only caught eight passes in the previous three weeks with Jennings under centre. It looks like Jennings will be out again, so with Lulay at QB Moore is a great play in all formats and most people won't know who he is yet.
Travis Lulay (QB) $9300
I want to give you a long-shot pick for the huge $8 150 max entry Draftkings tourney and here it is. Last week, Lulay passed for 436 yards and 3 TD's for a whopping 39.1 dk points. The Bombers limited Ricky Ray last week, but they can be vulnerable though the air. If Lulay gets going again, he could have another monster of a game. Give him a shot in a gpp lineup.
Saskatchewan Roughriders @ Calgary Stampeders Game Breakdown:
Saturday's night's showdown should be a beauty as it has the highest projected total this week (58.0.) Calgary is favoured by 10 points but I think it will be closer than that. The Stampeders will be angry after losing to Montreal last week, but Saskatchewan is fresh off of a bye and looking to go to .500 on the season. Their QB Kevin Glenn has shown that he's not done quite yet. Make sure you roster some players from both of these teams.
Saskatchewan Rough-Riders players to target:
Bakari Grant (WR) $5800
This is just way too cheap for a guy who has three TD's in three games. The former stampeder has formed a rapport with Kevin Glenn and Calgary has been beatable this season as they are ranked 2nd worst in the league with 419 total yards allowed. Grant has caught 18 passes for 185 yards and three TD's and from a PTS/$ perspective, he's a good cash game play for one of your flex spots.
Namaan Roosevelt (WR) $8600
I don't think we can fit this star-in-the-making into our cash lineups, but I love playing him in tournaments as he will be lowly owned. He's been red hot this year. He caught 10 passes for 167 yards last game and Glenn looks to him often. Take a chance on him in gpp's.
Calgary Stampeders players to target:
Bo-Levi Mitchell (QB) $10,600
Here he is, my favorite QB of the week. Last week I went with Reilly, like most people did and that was because of Mitchell's tough matchup with Montreal's defense. Well, Bo-Levi scored 22.2 Draftkings points and that just proves that he's matchup proof and he has the largest floor of any QB in the league. He also has upside, especially this week, where he should be engaged in a shoot-out with Saskatchewan. Bo-Levi now has 1382 passing yards in only four games and seven TD's with only two interceptions. He is an elite play in all formats.
Kamar Jorden (WR) $7700
Again and again, I play this guy in all of my lineups and he comes through every time for me while being under 20% owned in every contest I was in last week. He has been money in the red-zone, but last week he also showed that he's deadly anywhere on the field. He hauled in nine passes for a career-high 140 yards. He scored 26 Draftkings points and that's without a TD. The youngster now has 23 catches for 380 yards and five total TD's. Jorden's price is still tolerable and he's a very dangerous fade in all formats.
Davaris Daniels (WR) $7300
Quietly, Daniels is having an above-average season. He has 12 receptions for 208 yards in only three games and he scored his first TD last week. I wouldn't play him in cash games, because Jorden is the better play, but I love stacking him with Jorden and Bo-Levi in some gpp lineups.
Ottawa Red-Blacks @ Toronto Argonauts Game Breakdown:
Another battle of Ontario already eh? Well, fine then let's do this, but it's the least appealing game for me from a fantasy standpoint. It still has some appeal though. Ottawa is still winless. That lovely championship hangover curse is showing its ugly head. Toronto lost last week, but they won the first meeting between the two teams by only one point. This is going to be another close game and there is no love lost between these Ontario franchises.
Ottawa Red-Blacks players to target:
Brad Sinopoli (WR) $7300
Greg Ellingson (WR) $8900
These guys are 1. a) and 1. b) in Ottawa, so they belong together here. They were quieter last week, but that was a tough matchup they had against a very stingy Eskimos secondary. Ellingson has 30 receptions for 435 yards and a score and Sinopoli has 25 catches for 319 yards and a score. I will be playing one or other in all formats based on how much salary I have left.
Toronto Argonauts players to target
S.J. Green (WR) $8700
Toronto Argonauts players in cash games? No thank you, but this guy in a tourney lineup or two? Yes please. Green is as prolific as any receiver. He can disappear at times, but if he gets going, he's almost impossible to contain. He already has 24 catches for 452 yards and a score and in week 3 he scored a whopping 40 Draftkings points.
Good luck this week folks and if you have a question me on (@curlmonster7)