DFS CFL Picks - Week 2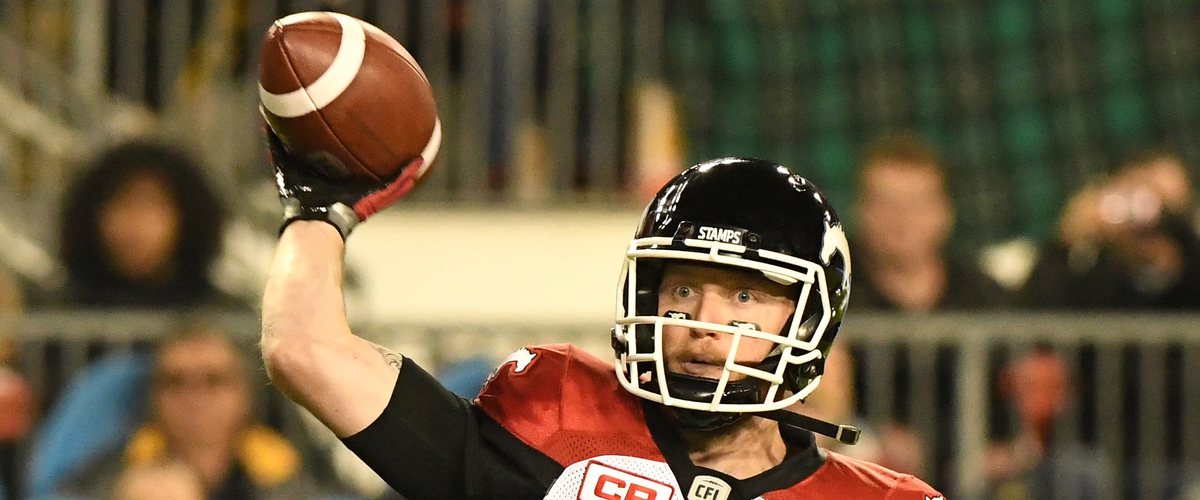 Hello every one welcome to the first daily fantasy CFL article of the 2017 season on the JagerBombs Sports Blog. Each week Ryan Couckuyt will be bringing you his team by team breakdown of every game and his favorite picks to target. Let's see what he has in store this week.
Hello football fans and welcome to Week 2 of CFL action. We have a four game slate for you this week on Draftkings, with a game starting at 8pm et on Thursday. No NFL, no problem. Fasten your seat belts for some exciting football in the Great North. Let's get started with some picks shall we?
Ottawa Red Blacks @ Calgary Stampeders Game Breakdown
We start off the slate with the game that has the highest projected total by six points (57.0). Calgary is favoured to win by eight points. These two teams played in Ottawa last week and they tied 31-31. I expect around the same amount of points scored this week as both teams weren't afraid to throw the ball around. Calgary gave up 376 yards through the air and Ottawa gave up 300 yards passing which were ranked 2nd and 4th in the league last week. As you will soon see, this game is filled with fantasy goodness, especially on one side.
Players to target from the Calgary Stampeders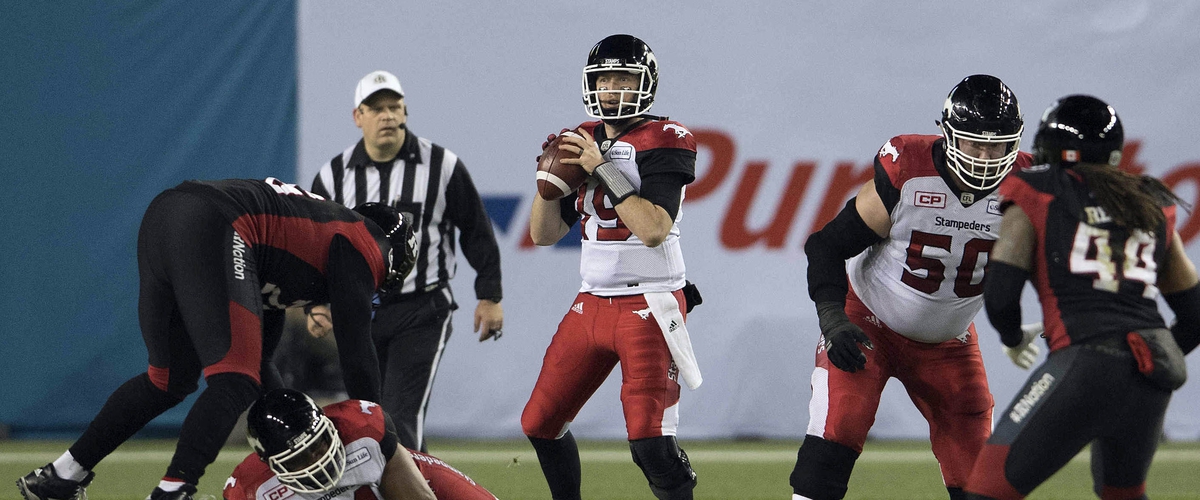 Bo-Levi Mitchell (QB) 10,400 "Mr consistent" had a huge week last week as he completed 31 of 48 passes for 376 yards and two TD's. He averaged 23.6 Draftkings points last year, with his best being 32.8 and his lowest 16.2. He has safety written all over him and he's my top cash game play this week.
Jerome Messam (RB) 7400 This guy is a beast and when he starts running downhill, he's hard to stop. He doesn't do much in the passing game though, so he's more of a gpp play for me. He scored 18.4 Draftkings points last week and he ran for a touchdown, but he only had 13 carries.
Kamar Jorden (WR) 6000 The second year speedster is one of my top WR plays this week. Davaris Daniels is very doubtful to play, so he will have a lot of targets coming his way. Last week he caught 5 passes for 72 yards and a score. Elite play in all formats.
Marquay McDaniel (WR) 8400 Wow, 10 receptions for 114 yards for this veteran receiver was impressive last week. The problem is inconsistency as he was up and down like a roller coaster last year. GPP only
Players to target from the Ottawa Red Blacks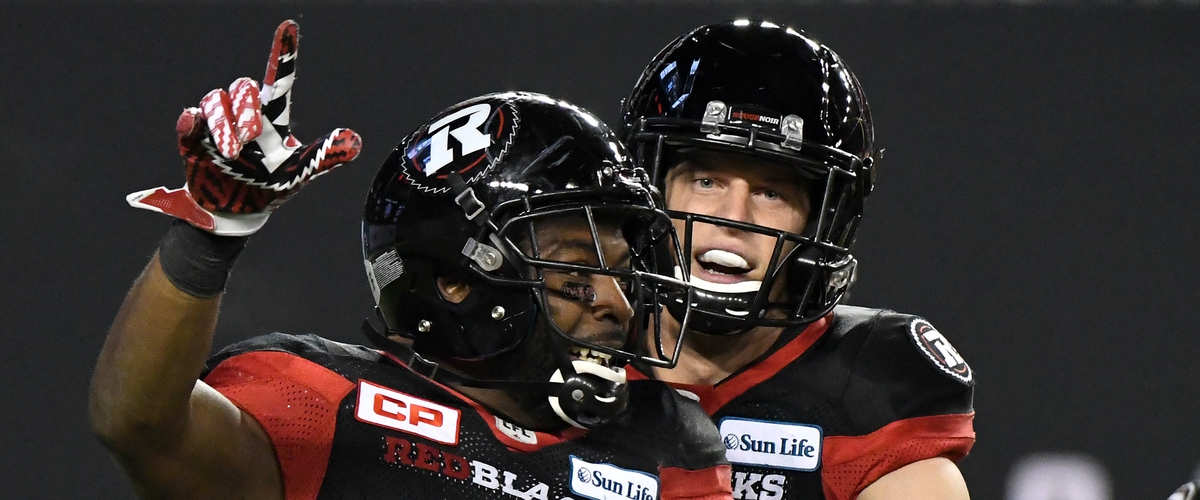 Greg Ellingson (WR) 6900 This guy is his QB's favourite weapon, especially against Calgary as they've hooked up 12 times for 148 yards and a TD in their last two meetings. Solid play in all formats
Brad Sinopoli (WR) 6600 Here is the #1b WR in Ottawa. He caught 8 passes for 88 yards last week which was good for 16.8 Draftkings points. He's also a decent play this week, but I like Ellingson slightly better.
B.C. Lions @ Toronto Argonauts Game Breakdown
This game is currently projected for a total of 51.0 points with Toronto being -2.5 favourites. The Argos spanked Hamilton 32-15 last week, while B.C. narrowly lost to Edmonton 30-27. This game is a tough one from a fantasy perspective but there are a couple decent plays. Oh and don't fall in love with Ricky Ray's 506 yard passing performance. He will be highly owned, but don't expect even close to that here.
Players to target from the B.C. Lions
Jeremiah Johnson (RB) 7300 It looks another week that we need to spend up at RB and this guy is one of the best in the league. Last week he ran wild and scored 25.4 Draftkings points. He's a good play this week in all formats.
Emmanuel Arcenueax (WR) 9300 After getting held to only 20 yards last week, look for a possible comeback this week. He's always a boom or bust GPP option. He can help you take down a massive tourney though.
Players to target from the Toronto Argonauts
S.J. Green (WR) 6700 He actually had four 1,000 yard seasons while playing in Montreal. He was hurt last season, but he's a dynamic player and Toronto will attract some attention this week. I don't mind paying this price for Green in cash games. He hauled in seven passes for 124 yards last week.
Montreal @ Edmonton
Here we have what should be a fairly one-sided game. Edmonton is currently favoured at -7.5 with a total of 51.0 points. Edmonton will be fired up for their home opener. The Eskimos squeaked out a victory in B.C. last week as did the Alouettes at home against Saskatchewan by a score of 17-16.
Players to target the Edmonton Eskimos
Mike Reilly (QB) 10,200 This guy is good and he has a ton of weapons at his disposal. He went 20/28 for 315 yards and two TD's last week and he should at least match that mark this week against a weak Montreal team. He's not as safe as Mitchell but his upside is monsterous. Solid GPP play here.
John White (RB) 7700 Now we have my favourite running back in every single format this week. White ran for 104 yards on 17 carries and a score last week and look for him to run even more against Montreal, who owned the league's worst rush offence last season and gave up 103 rush yards to a lowly Rider team last week.
Brandon Zylstra (WR) 6100 Derel Walker left for the NFL, but this guy made Edmonton fans forget him very quickly last week. He went off for a ridiculous 172 yards on seven catches and fading him in all formats will be a dangerous decision in Week 2.
Winnipeg Blue Bombers @ Saskatchewan Roughriders
A good ol' rivalry game this early in the season. This should be a good game, but there's not much excitement from a fantasy persepective. Winnipeg had a bye last week while Saskatchewan lost a tight 17-16 affair in Montreal. Winnipeg is favoured by a single point with a low total of 50 points.
Players to target from the Winnipeg Blue Bombers
Weston Dressler (WR) 8100 This guy always plays well against his former team and with Ryan Smith retiring, look for Dressler to find holes in Saskatchewan's secondary, although their defence was pretty good last year.
Players to target from the Saskatchewan Roughriders
Bakari Grant (WR) 6200 Winnipeg gave up the most passing yards last season and the ex stampeder caught six passes for 68 yards and a TD last week. With Chad Owens still on the IR, look for Grant to see a lot of targets week-to-week.
If you have any questions leading up to lineup lock be sure to hit Ryan up on Twitter(@Curlmonster8). Thanks again for reading and be sure to check back next week for more picks!