The OPEN Championship Update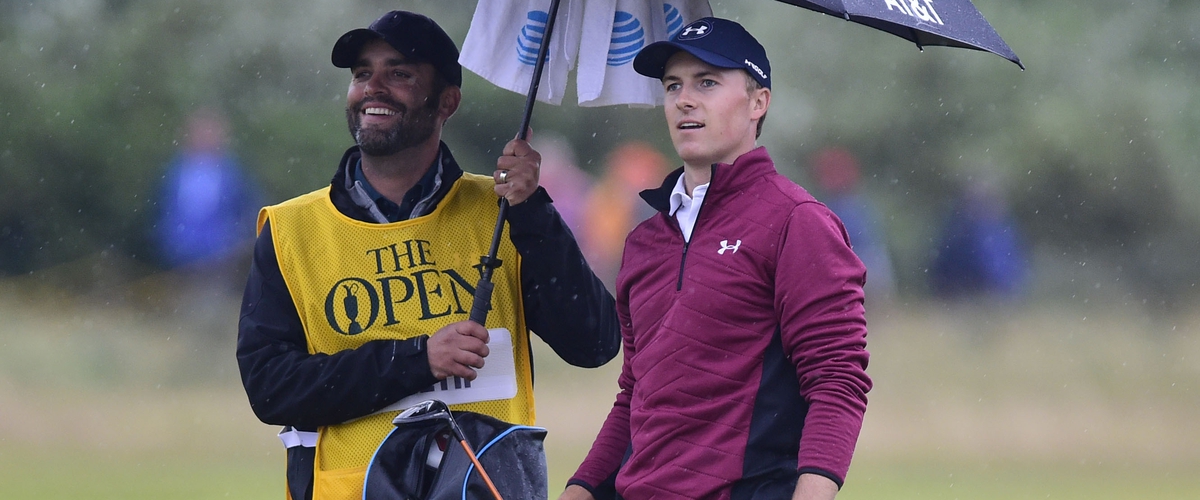 Round three is complete and the leader remains the same. Jordan Spieth posted his second Bogey-Free round of the OPEN on Saturday shooting a five under 65 and enters the final round with a three shot lead over Matt Kuchar. He was much better statistically today hitting nine of 14 fairways and 14 of 18 greens to go with 28 total putts. Kuchar shot a four under 66 and sits at -8 for the tournament and will once again be paired with Spieth.
The day started while I was still in bed as Branden Grace went crazy and set a new Major Championship record 62 on Saturday. Just think about that fora minute. Thousands of rounds played over the years and not one man has shot a 62. Truly amazing. The scoring came early or Grace who opened with a birdie and went on to make four more on the outward nine followed by three more on the back. He averaged 310 yards off the tee and hit 10 of 14 fairways and 16 of 18 greens. A phenomenal round that has him six back of the leader in a tie for 5th going into the final round. And to boot, Bones called a 62 pre-round.
World #1 Dustin Johnson also made a move on Saturday shooting a six under 64 to climb back inside the Top 10. Top ranked players in the world making moves was the theme on Saturday. Here is how it turned out:
Hideki Matsuyama(#2) - shot a four under 66 moving him to a tie for 5th
Henrik Stenson(#8) - shot a five under 65 to get him to a tie for 7th
Rickie Fowler(#10) - shot a three under 67 getting him back to a tie for 15th
Jason Day(#6) - shot a five under 65 and back into a tie for 18th
Rory McIlroy(#4) - shot a one under 69 and sits in a tie for 11th
Sergio Garcia(#5) - shot a two under 68 to get back to Even and a tie for 18th
Alex Noren(#9) - shot a one under 69 to jump up to a tie for 15th
All 10 of the world's top players made the cut this week and John Rahm was the only one not shooting under par today and is also the only one of the 10 who is not inside the Top 20 going into the final round. Can you say excited for Sunday?
The other story I was tracking today was the play of 20-year-old Canadian Austin Connelly who didn't let the pressure of a Major or the fact he was surrounded by the world's elite affect him whatsoever. In fact, he opened with a Birdie and then holed out and Eagle on the second hole. To cap things off, to Birdied #17 and #18 to close out his impressive four under 66 and sits in a tie for third with and will be paired with Books Koepka in the final round.
For those of you playing Daily Fantasy this week, I hope your Milli Maker lineups are n contention or any lineups for that matter. Here are the Top 5 DraftKings points scorers for the Main Slate and Weekend Slate going into Sunday:
Main Slate
Jordan Spieth - 99 points
Matt Kuchar - 84 points
Brooks Koepka - 76.5 points
Austin Connelly - 72.5 points
Hideki Matsuyama - 68 points
Weekend PGA Slate
Branden Grace - 30.8 points
Scott Hend - 26.3 points
Dustin Johnson - 25.8 points
Matt Kuchar - 24 points
Jordan Spieth - 23.3 points
My Picks from Weekend PGA Article
Rory McIlroy - 18 points
Hideki Matsuyama - 22.3 points
Bubba Watson - 13 points
Good luck to everyone with all your lineups and bets tomorrow. As always, be sure to check out my Tourney by Tourney Trends sheet to see ownership, salary and DraftKings points per tourny. I have also added last 5 and 10 average points per tourny as well. Link is below.