Mark Sanchez Poised To Get Job For 2014
Former Jets starting quarterback will have many options to choose from if Jets don't bring him back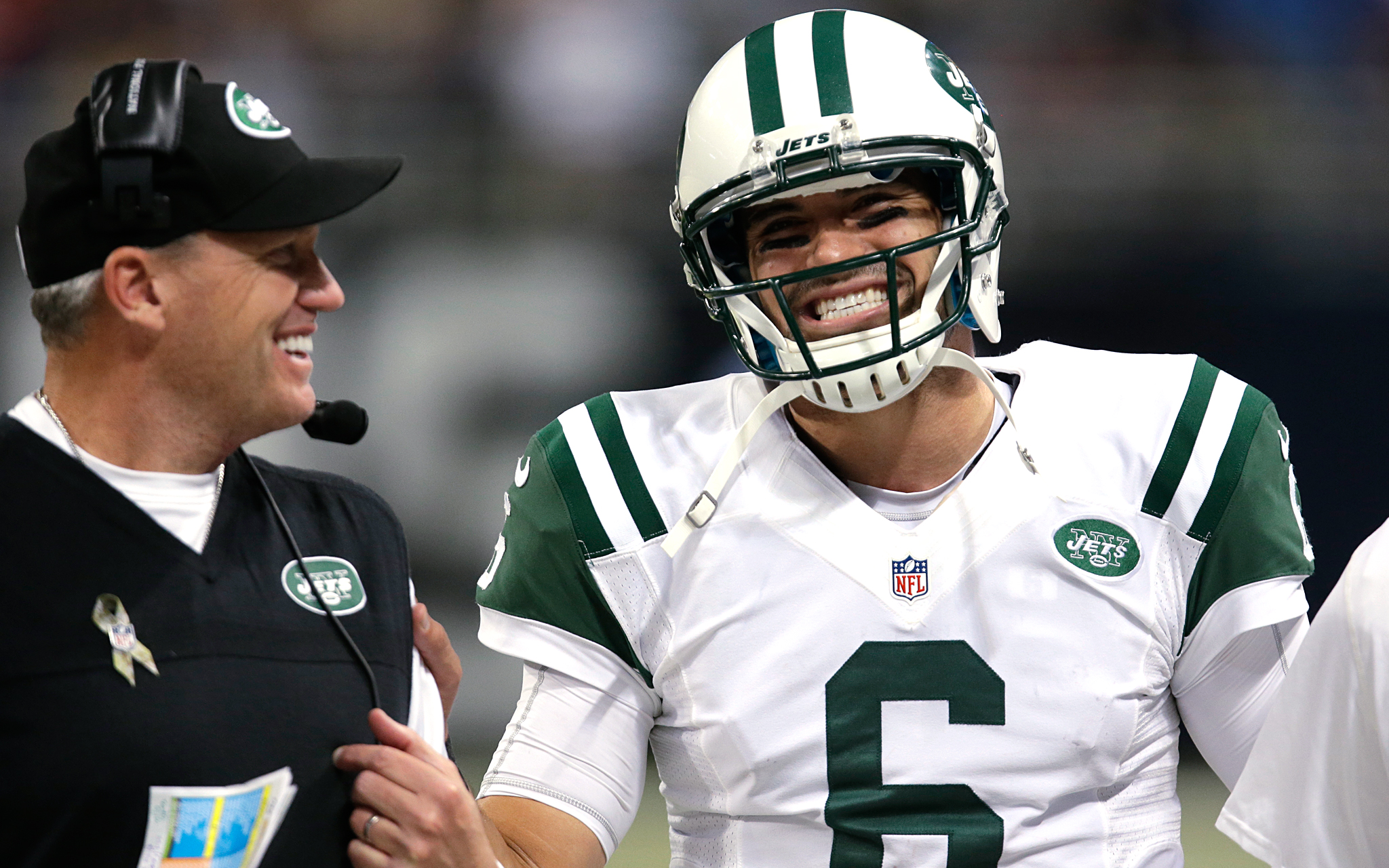 Days like this with Sanchez smiling seem long gone, but they might be on the comeback trail...
Written by Jake Elman
SportsMix
There always seems to be one sportswriter or media person that people cannot stand for whatever reason; maybe it's the way that they go about their business, how they talk about your favorite team, or maybe even their Twitter avatar. As a New York sports fan, I've seen Mike Francesca, Craig Carton, ESPN, me, Chris Russo, and plenty of others get bashed but no one seems to get it worse than Daily News writer Manish Mehta.
Cue all Jet fans never reading this blog again.
This is not going to be me defending Mehta, because I'm admittedly not a big fan of him. However, one of his latest collumns in the Daily News brought up a point that I've actualy been thinking about lately; that being Mark Sanchez, his future, and him possibly returning to the New York Jets in 2014, either as a veteran backup or maybe even as a starter.
Cue all Jet fans never reading this blog again AND reporting it.

Now, you're probably wondering why I would even think that. This is Mark Sanchez, after all; master of the butt-fumble. The Sanchize, the man who led the Jets to back-to-back AFC Championships, then suddenly forgot how to hold onto the ball. Sanchez is one of the most hated Jets in history, it seems, but could Sanchez actually be back for the 2014 season?
Slim to none chance.
I like Sanchez; he may have his issues, but there's part of me that's still grateful for what he did in the 2009 and 2010 seasons that had the Jets so close to a Super Bowl. Since the 2009 season, there are just a handful of quarterbacks to lead their teams to the conference championship more than once. Tom Brady with New England, Joe Flacco of Baltimore, and Mark Sanchez, New York Jets. In his career, he's 37-31 including the playoffs, where he's 4-2.
Now...there is a chance that Sanchez will be brought back to New York. It's tiny, yes, but if John Izdik feels that bringing Sanchez in at least for OTA's and training camp is worth it not only for the team, but for second year man (at the time) Geno Smith, then I think you could see Sanchez in green, white and red. Remember, Izdik has kept David Garrard on the team for the past few weeks despite Garrard not playing a single snap; he's there for insurance and mentorship.
Could a Mark Sanchez-Pete Carroll reunion be in the works?
Of course, if Rex Ryan does not return as Jets head coach, then Sanchez is officially gone. I can't really see a new coach bringing in a player like Sanchez from the old regime if he doesn't need to. It's not entirely the same, but you could argue that Sanchez's future in New York would be similar to Darrelle Revis' once Izdik took over this past winter.
If you had to make a pick, however, on if Sanchez would be a Jet in 2014, then I would say don't bet on it.
However, it's certain that the former Jets starting quarterback will have many options to choose from if the Jets don't bring him back. The list of notable free agent quarterbacks include Jay Cutler, Matt Flynn, Chad Henne, Josh Freeman, Trent Edwards, Seneca Wallace, Tarvaris Jackson and Michael Vick. With the exception of Cutler and arguably Vick, would you take any of them over Sanchez?

The most likely destinations for Mark Sanchez in 2014 are Seattle and Minnesota, both far from the metropolis that he once called home. Seattle is coached by his former college coach Pete Carroll; we've seen college quarterback-coaches reunions a lot in recent years, most notably Andrew Luck and Pep Hamilton in Indy, Ryan Tannehill and Mike Sherman in Miami, and Chip Kelly/Dennis Dixon in Philadelphia.
Sanchez wouldn't start in Seattle - barring a Russell Wilson injury - but he'd be better than Tarvaris Jackson as Wilson's backup. Reunions are always nice, and maybe under Carroll's watchful eye, Sanchez could get on the track to saving his career and being a starter once more.
Speaking of starting, is there a team would be interested in him as a starter for 2014? Sure - the Minnesota Vikings. While they appear primed to draft a Teddy Bridgewater or a Johnny Mainzel in May's draft, signing Sanchez could be insurance in case they want to play it safe and not rush one of the non-seniors. It could work; Sanchez, Adrian Peterson, and Cordarrelle Patterson would be a nice little trio in Minnesota.
Me personally? I'm still waiting for the Jets to put out their press release of "Sanchez throwing scores again; the New Jersey reboot". We'll see what happens, but don't be surprised if in the year 2014, you see Mark Sanchez throwing touchdowns like he did when he was guiding the Jets to two AFC Championship games.
You can follow Jake Elman on Twitter at @JakeElman