Redskins Day one draft grade.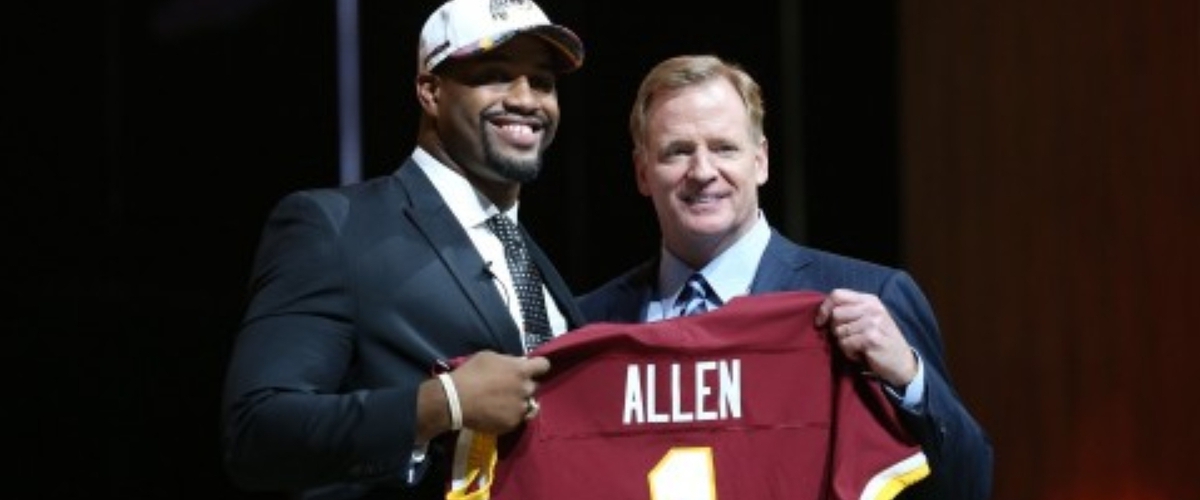 (photo Credit USA Today)
Going into the 2017 NFL draft the Redskins had many needs on defense. Non bigger or more glaring than defensive tackle. The highest ranked DT by most draft analyst was Jonathan Allen. He was projected as a top five pick however talk of his past shoulder surgeries began rumors of him sliding down the draft. ESPN Redskins beat writer John Keim said it would be a dream pick for the Redskins to draft Allen. Sure enough 16 other teams wanted no part of Allen's surgically repaired shoulders, despite the fact he was able to participate at the combine and put up 21reps on the bench press. What some viewed a damaged goods the Redskins surely viewed as gold.

Allen brings a rare pass rushing talent to the inside of the defensive line. He racked up 22.5 sacks in his last 29 college games. That's incredible for an interior lineman. Washington has talked all off-season about wanting better pass rushers but needed a big nose tackle who could plug up the run as well. In the words of Rae Sremmurd the redskins needed to "get you somebody who can do both" and that somebody is Jonathan Allen. They passed on big name free agents tackles like Dontari Poe and Johnathan Hankins most likely because of a lack of pass rushing ability.

In a diviosn with Dak Prescott and Ezekiel Elliott you really need a guy like Jonathan Allen. Those two players will be a problem for the Redskins for years to come but Allen will provide the answer. Allen will surely make life easier for pro bowl linebacker Zach Brown who Washington just added via free agency. DJ Swearinger playing at safety strengthens the middle of the defense on the back end. Jonathan Allen will be coming back to his home town of Leesburg VA to play for his favorite team. Truly this is dream pick for him and Washington.
My 1st round grade: A