2017 NBA Mock Draft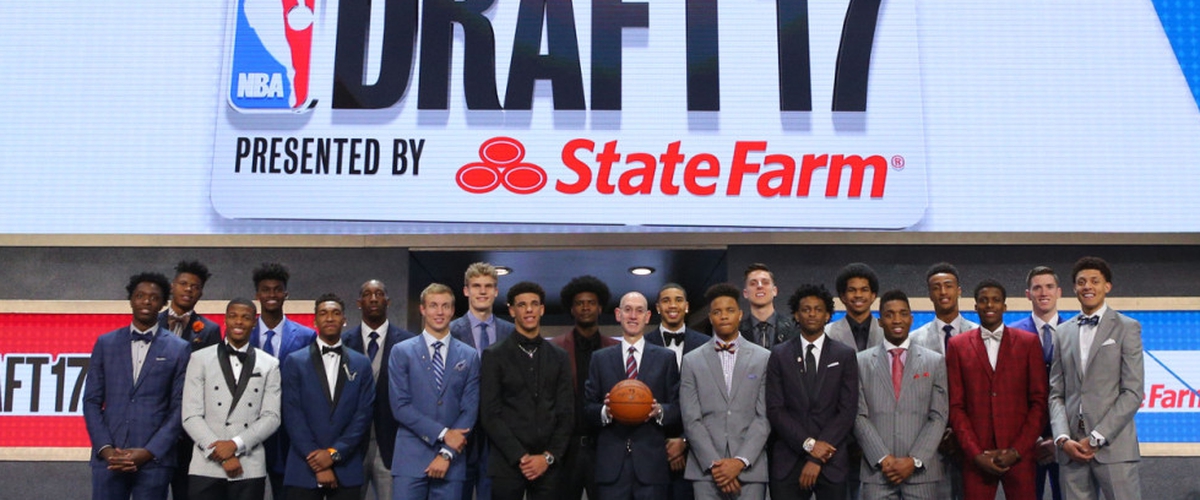 NBA Mock Draft 2017
(No Trades in Mock)
1. Philadelphia- Markelle Fultz- Washington- He is the consensus number 1 pick and it would be a major shock if the 76ers picked anybody besides him.
2. LA Lakers- Lonzo Ball- UCLA- One of the most electrifying College players stays out West to become a huge piece of this franchise that just traded D'Angelo Russell.
3. Boston- Jayson Tatum- Duke- With so many guards on this team the Celtics go with a man who has a similar game in many ways to Boston legend Paul Pierce.
4. Phoenix- Josh Jackson- Kansas- Showed that he is capable of just about anything at Kansas and if his jump shot improves then he could be the scariest player from this draft class.
5. Sacramento- De'Aaron Fox- Kentucky- He shined in the tournament and if you blink you might miss one of the fastest players you are going to find.
6. Orlando- Jonathan Isaac- Florida State- Being in the ACC he faced top competition
but I question his offensive skill set much more than his top-notch defensive skills.
7. Minnesota- Lauri Markkanen- Arizona- After selecting Kris Dunn last season the Timberwolves grab a big man who I see fitting perfectly with Karl Anthony-Towns.
8. New York- Dennis Smith- NC State- The Knicks grab the best point guard remaining while hoping he can help turn this organization around as quick as possible.
9. Dallas- Frank Ntilikina- France- The Mavericks are in need of a point guard as well and they take the 18-year-old who has plenty of time to develop his game.
10. Sacramento- Malik Monk- Kentucky- Not only do the Kings draft another guard but they draft another Kentucky player and Fox joins forces with Monk once again.
11. Charlotte- Justin Jackson- North Carolina- In my opinion he is one of the most underappreciated players in this draft class and he can become a major game changer for a team in need of a boost.
12. Detroit- Caleb Swanigan- Purdue- Andre Drummond could be gone very soon and now the Pistons have another option that has the potential to eventually be better than Drummond.
13. Denver- Terrance Ferguson- Australia- This man could have been one of the top players in college basketball if he played but instead many people have yet to see him play and I can see him as a great replacement for Danilo Gallinari.
14. Miami- John Collins- Wake Forest- Pairing up this guy with Hassan Whiteside is going to be absolutely terrifying for opposing teams.
15. Portland- Zach Collins- Gonzaga- No relation to the guy taken before him but when it is all said and done which Collins will really be better?
16. Chicago- Luke Kennard- Duke- This dude could end up being the best pure shooter in the draft and the Bulls are in need of some guy that can come in and score fast because Wade is getting older and these Butler rumors are scary.
17. Milwaukee- Donovan Mitchell- Louisville- Many people thought he was staying at Louisville another year but now he will be trying to form one of the top young backcourts with Malcolm Brogdon.
18. Indiana- OG Anunoby- Indiana- The Pacers draft possibly the top defender that is in the class but his offensive skills really concern me if he wants to stay in the NBA for a long time. Just a coincidence that an Indiana guy goes to Indiana.
19. Atlanta- Harry Giles- Duke- Before the college season began this man was supposed to possibly be a top 5 or even top 3 pick but after an up and down season at Duke he heads to Atlanta with many question marks.
20. Portland- Dillon Brooks- Oregon- Most draft boards have Dillon going in the 2nd round but I see a big hole at small forward that the Trail Blazers would love to fill with a great scoring weapon like this outstanding player.
21. Oklahoma City- Jawun Evans- Oklahoma State- One of the best passers in this draft will give the Thunder the option of moving around Westbrook a little more to shooting guard but only if this kid is as legit as he looked in college.
22. Brooklyn- Justin Patton- Creighton- I personally think he should have stayed in school another year but the Nets are now looking at the future replacement of Brook Lopez.
23. Toronto- Johnathan Motley- Baylor- Whether he is a power forward or a center in the NBA is a major question but we do know that he will give this team some much- needed strength and length.
24. Utah- Semi Ojeleye- SMU- This versatile forward gives the Jazz a bit of everything and if Gordon Hayward leaves than this team will need a lot of everything.
25. Orlando- Derrick White- Colorado- Already 23 years old he will give this team some immediate scoring ability if he can see the floor on a consistent basis which usually is no problem in Orlando.
26. Portland- Ike Anigbogu- UCLA- One of the best rim protectors in this draft gives this team already their 3rd pick of the 1st round.
27. LA Lakers- Isaiah Hartenstein- Germany- This 7 footer will try to make the Lakers team at only 19 years old but the more likely scenario will be to give him more time to develop in the D League.
28. LA Lakers- Tyler Lydon- Syracuse- With their 3rd pick of the 1st round this player gives them a very solid big man that can come off your bench and make some shots.
29. San Antonio- TJ Leaf- UCLA- Already the 3rd Bruin taken in this round and he could very likely be another under the radar guy that the Spurs always somehow manage to draft every single year.
30. Utah- Ivan Rabb- California- After choosing to stay in school for his sophomore season while also watching his teammate Jaylen Brown go to Boston he now has the opportunity to show the rest of the NBA that he is better than the last pick of the 1st round.