Bradford Balls Out in Vikings Victory Over Saints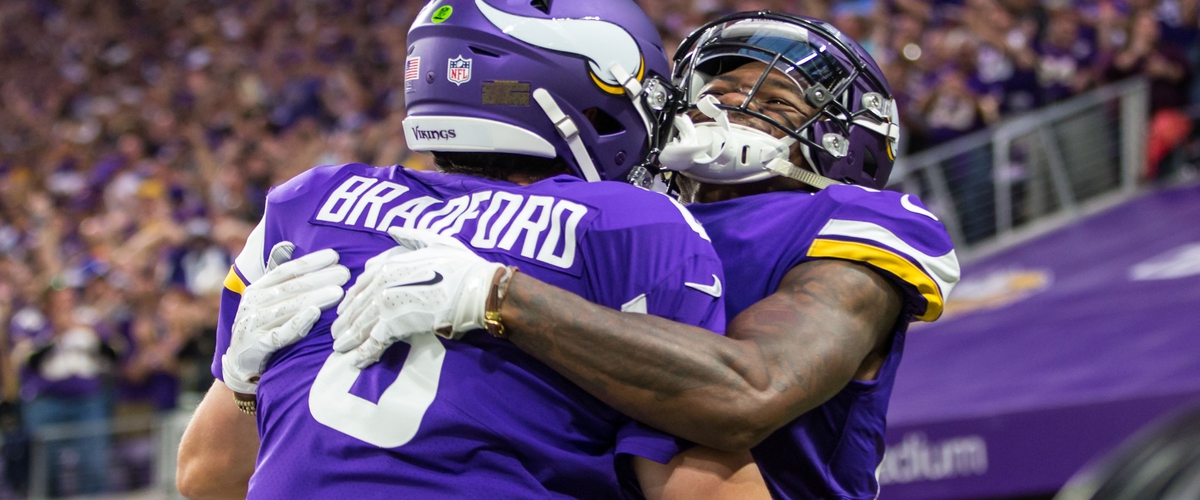 Minnesota Vikings quarterback Sam Bradford wasn't shy from the get go. He completed 27-of-32 passes for 346 yards passing and 3 touchdowns in a 29-19 victory over the New Orleans Saints.
Bradford threw two touchdown passes to Stefon Diggs in the second-quarter from 18 and 2 yards out. Diggs finished the game with 7 catches for 93 yards receiving and 2 touchdowns. Adam Thielen also balled out for the Vikings with 9 catches for 157 yards receiving.
Kyle Rudolph caught a 15-yard touchdown pass in the fourth-quarter from Sam Bradford. Rudolph only had 3 receptions for 26 yards receiving and a touchdown. The Saints only touchdown came in the fourth-quarter on a 8-yard touchdown pass to Coby Fleener from Drew Brees.
Fleener caught 5 passes for 54 yards receiving and a score. Brees completed 27-of-37 passes for 291 yards and one touchdown. Running back Adrian Peterson returned to Minnesota as a member of the Saints. He only rushed for 18 yards on 6 carries. Rookie Alvin Kamara rushed for the same amount of yardage on 7 carries.
Mark Ingram caught 5 passes for 54 yards receiving and Michael Thomas caught 5 passes for 45 yards receiving for the Saints. Dalvin Cook rushed for 127 yards on 22 carries for the Vikings. He broke Adrian Peterson's record of rushing yards (103) in his first career game with Minnesota.
The Vikings will travel to face the Pittsburgh Steelers (1-0) on Sunday and the Saints will head home to face the New England Patriots (0-1) on Sunday.