Kenyan Drake Sparks Dolphins to Upset over Patriots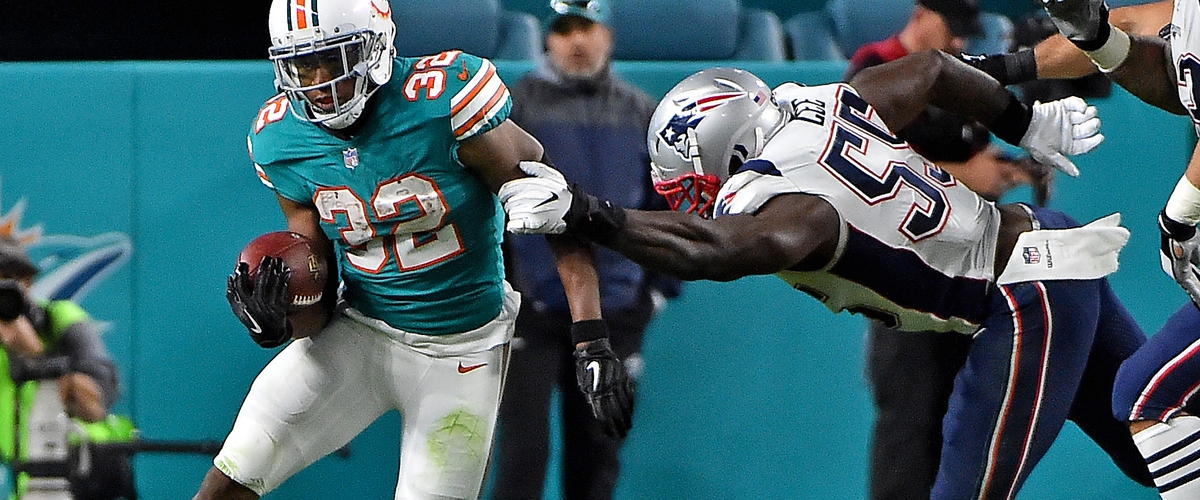 Kenyan Drake rushed for 114 yards on 25 carries and also caught five passes for 79 yards in the Miami Dolphins 27-20 upset win over the New England Patriots. Drake sparked them in a big way.
With the Patriots trailing 6-0 in the second-quarter, Rex Burkhead scored on a 3-yard touchdown run. Burkhead finished with eight yards rushing on five carries and a touchdown. He also caught five passes for 45 yards receiving.
Jarvis Landry caught a 5-yard touchdown pass from Jay Cutler in the second-quarter for the Dolphins. With Miami leading 13-10 in the third, Jakeem Grant caught a 25-yard touchdown pass from Cutler. Grant finished with two receptions for 42 yards and a touchdown.
Landry caught a 4-yard touchdown reception from Cutler later in the third. Landry finished with eight receptions for 46 yards and a touchdown. Cutler completed 25-of-38 passes for 263 yards and three touchdowns.
In the fourth, James White caught a 3-yard touchdown pass from Tom Brady. White finished with three receptions for 11 yards and a touchdown. Brady completed 24-of-43 passes for one touchdown and two interceptions.
Brady had a rough night. He was without tight end Rob Gronkowski because of his one-game suspension. His top target Brandin Cooks was basically shutdown the entire night. He had one catch for 36 yards receiving. Danny Amendola caught six passes for 76 yards receiving. New England also didn't convert a third down on the night as they went 0-for-11.
Stephen Gostkowski made a 33-yard field goal late in the game to make it a one possession game, but they failed to recover the onside kick. He also made a field goal from 46 yards out in the second quarter. Cody Parkey made two field goals in the first-quarter for the Dolphins from 30 and 44 yards out.
It isn't surprising that the Patriots probably got caught looking ahead to next week's match up on the road against the Pittsburgh Steelers (11-2). The Dolphins will hit the road and play against the Buffalo Bills (7-6) next Sunday.