Wentz Sparks Eagles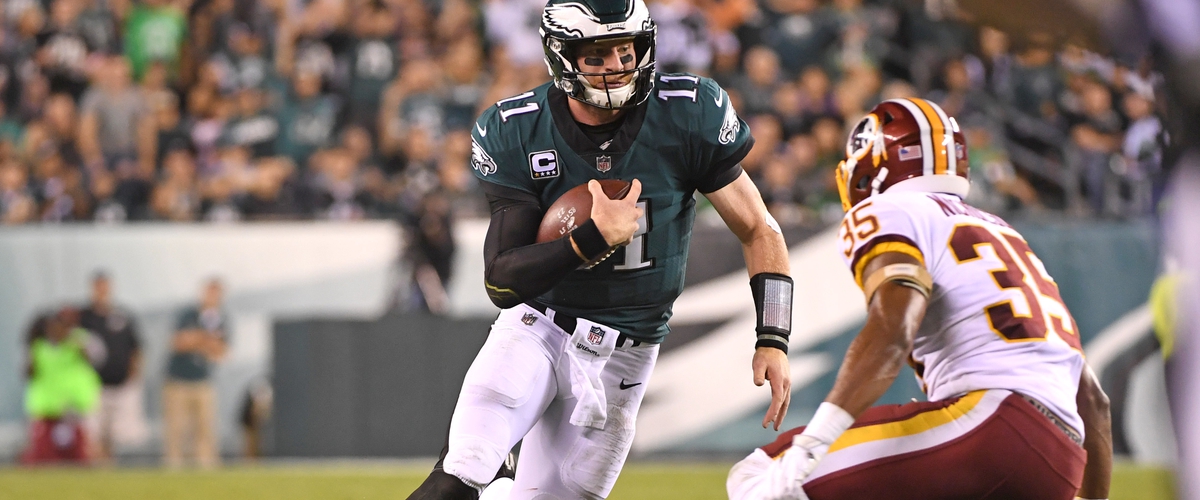 The Philadelphia Eagles was quiet for most of the first half until Carson Wentz decided to wake up. He completed 17-of-25 passes for 268 yards 4 touchdowns and an interception in a Eagles 34-24 victory over the Washington Redskins.
Wentz also rushed for 63 yards on 8 carries as well. With the game tied at 3 in the second quarter, Kirk Cousins threw a 7-yard touchdown pass to Chris Thompson Jr. He finished with 26 receiving yards on 5 receptions and a touchdown. Thompson Jr. also had 38 rushing yards on 7 carries.
Wentz threw a 64-yard touchdown strike on the next drive to Mack Hollins. On the next Eagles drive, Wentz threw another touchdown pass to Zach Ertz. Ertz finished with 5 receptions for 89 yards receiving and a touchdown.
In the third quarter, Corey Clement caught a 9-yard touchdown pass from Carson Wentz. On the next Redskins drive, Jordan Reed caught a 5-yard touchdown pass from Kirk Cousins.
In the fourth quarter, Wentz threw another touchdown pass to Nelson Agholor. He finished with 45 receiving yards on 4 receptions and a score. The Redskins scored a late touchdown on a Kirk Cousins 12-yard pass to Jordan Reed. Reed finished with 8 catches for 64 yards receiving and a touchdown. Cousins completed 30-of-40 passes for 303 yards 3 touchdowns and an interception.
The Redskins will head home to face the Dallas Cowboys (3-3) on Sunday and the Eagles will host the San Francisco 49ers (0-7) on Sunday.