Best Pro Hockey Team P9 : The DAC Championship Heats Up
In part 8, the DAC Championship had just began because Delta and Charlie were tied 3-3 and Alpha led Charlie 6-2, so, according to the math, nobody could claim, 1st, 2nd, or 3rd place. In Game 3, 2C 1921 Ottawa beat 3A 1918 Montreal 6-4. Alpha now led Charlie 6-3, Alpha and Delta were tied 1-1, and Delta led Charlie 4-3. Game 4 went into double overtime and 3D 1925 Montreal Maroons finally prevailed over 2A 1919 Ottawa Senators 5-4. Delta was now in 1st Place because they led Alpha 2-1, and led Charlie 4-3, so Delta had to hold service to capture 1st Place.
Game 5 also went into double overtime and 1A 1920 Ottawa slid past 3C 1923 1923 Montreal Canadiens 5-4. Alpha now had a commanding lead over Charlie 7-3, but still trailed Delta 2-1. Game 6 was between 1D 1924 Hamilton Tigers and 1C 1923 Ottawa. Ottawa won 3-2 and now Charlie and Delta were tied 4-4. There were 6 teams remainging for Round 2 and 3 of those teams were Ottawa. Game 7 was 2C 1921 Ottawa vs. 1917 Toronto which was won by Toronto 7-2. Alpha now led Charlie 8-3.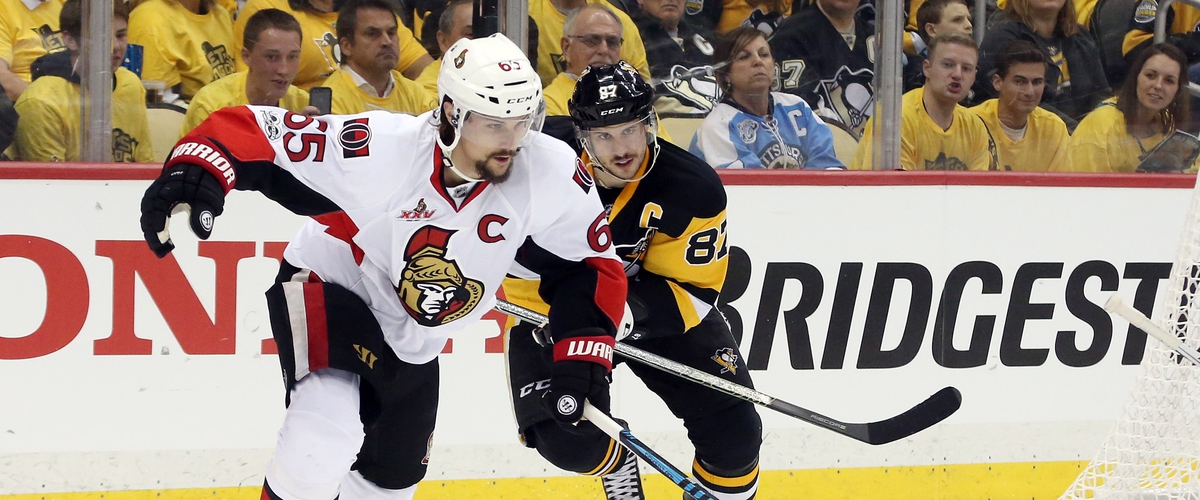 Ottawa leads Pittsburgh 1-0 in the 2017 Eastern Conference Finals. Can they knock out the defending Champions?
Game 8 was 4D 1921 Toronto at 1A 1920 Ottawa which Ottawa won 6-5; Delta and Alpha were now tied 2-2 as were Delta and Charlie at 4-4. Game 9 was 3D 1925 Montreal Maroons at 1C 1923 Ottawa which Ottawa won 3-2 in overtime. Charlie now led Delta 5-4, but trailed Alpha 8-3. That left 4A 1917 Toronto against two Ottawa teams. 4A 1917 Toronto lost to 1C 1923 Ottawa 4-3, so the Ottawa team with the best record would claim the Quebec Championship which was 1923 Ottawa at 15-5 +15 opposed 1920 Ottawa at 12-3 +23. Alpha led Charlie 8-4, Charlie led Delta 5-4, and Delta and Alpha were tied 2-2, so a 2nd Round of the challenge was necessary.