Ten Things I Think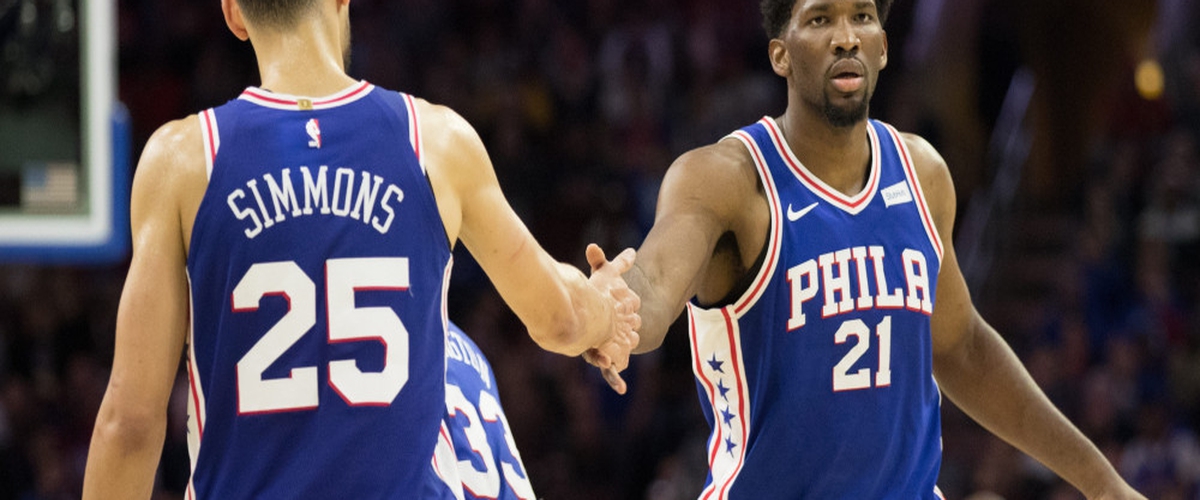 1. I think that the 76ers have the NBA's best young duo moving forward. Now this is assuming health, and that is a big if with Joel Embiid, but he and Ben Simmons are downright scintillating. Embiid, having played just 29 games prior to this season, and Simmons as a rookie are the two anchors on a Philadelphia team that will finish among the top four in the Eastern Conference. 76ers fans have a lot to be excited about moving forward, especially if a megastar, such Paul George or a LeBron James, climb aboard this summer.
2. I think it is just a matter of time before the midrange game returns to all levels of basketball. Sports are cyclical. Right now, it is all three-pointers and layups. Pull-up two pointers are currently considered an inefficient shot. While that may still be the case moving forward, defenses are going to be constructed differently. They will focus on denying three-pointers and limiting attacks to the rim. Because of that, the 15-footer will be unaccounted for and players such as Kevin Garnett who make an absolute living off of feasting on elbow jumpers will have tremendous value yet again.
3. I think draft picks are viewed a lot like cars. Before cars have been driven for the first time they have amplified value. The instant that car is driven off of the lot, it's value plummets. The same seems to be true of draft picks in all sports. Teams covet their picks dearly, but upon selecting the player of their choosing with said pick, their view of that player is substantially lower than their view of the draft pick used to select said player. Despite this, teams are so reticent to move their draft capital when it comes to acquiring known commodities. This is just so perple to me.
4. I think Lonzo Ball's free throw numbers should be a concern for the Lakers. On the season, the rookie is shooting an abysmal 45% from the charity stripe. He doesn't get there nearly as often as other point guards, but that is a serious blemish on Lonzo's game. Scouts have always thought that his three-point shot (he is currently shooting a lowly 30%) would come around and that his form would not be an impediment in the NBA, but if you can't hit free throws consistently, how can you be expected to hit from distance? Also, this could have long-term ramifications on Lonzo's career if he cannot right his troubles from the foul line. The Chino Hills product's greatest ability is his passing. He tends to attack the basket, draw defenders and then spray out to the open man. If Lonzo cannot knock down free throws he will be hesitant to genuinely attack the basket out of fear of humiliation and the Lakers offense will suffer. This is a real problem in Los Angeles.
5. I think the best comparison that I can formulate for Donovan Mitchell is Dwyane Wade with a formidable three-point shot. For a while, I had thought that Russell Westbrook was a more apt facsimile for the Jazz rookie, but I am not sure that is the case. Mitchell's playmaking ability is mesmerizing, just as Wade's was in his prime, the only difference is that the first-year out of Louisville can efficiently knock down the triple. Donovan Mitchel has the chance to be a special, special player.
6. I think the All-NBA voting this year is going to be fascinating. There will be some really deserving guards left off of some ballots. With only six spots available for guards across the league (two on the three teams), I believe that there are nine players worthy of inclusion. Stephen Curry, Russell Westbrook, Kyrie Irving, Chris Paul, Damian Lillard, Victor Oladipo, Kyle Lowry, James Harden, and DeMar DeRozan would all have legitimate gripes if their names are absent from an All-NBA team. It will be interesting to see how it plays out and which players ultimately get the nod.
7. I think the glorification of certain coaches' lunacies are to blame for a lot of the health predicaments that others are facing. We have all heard the stories of Andy Reid sleeping in his office or Jeff Van Gundy landing at 2 a.m. and heading straight to the office. These stories are retold as if in order to be a coach one must be willing to be wholly devoted. While devotion is critical, balance is vital. Both Steve Clifford and Tyronn Lue have had to leave their teams for extended periods of time this season due to health ailments. I am certain they are not the only coaches in the NBA and across other sports who are experiencing health scares due to the heavy burden that they carry as a result of the perception that if you are not eating, sleeping, and bathing in the office as you devour film then you are remiss of your job. This perception needs to change.
8. I think that teams, particularly in college, should begin to foul earlier when they trail at the end of games. As it stands now, most teams will not even consider fouling until the game clock bleeds under one minute and the game is within about seven points. I believe that if teams were willing to begin fouling with about two minutes left and down anywhere from seven to twelve points that their chances of eliminating the deficit would skyrocket. While it would be horrid television, I could envision the strategy being highly effective. The reason I surmise as to why it doesn't happen this way right now is because teams figure that by sending a player to the free throw line that they are conceding points. While that may be true, they fail to realize that they are also stopping the clock in the process. College players' ineptitude at the free throw line paired with the proliferation of the three-point shot would allow for some pretty remarkable comebacks if coaches utilized this approach.
9. I think for LeBron to enter Jordan's realm in the eyes of all avid basketball fans he needs to play at this level for another three to five years. Forget rings. If LeBron James can have a stranglehold on the entire league for the duration of two decades can we really fault him for losing in The Finals a handful of times? Jordan only made the Finals a handful of times. Is it better to lose earlier than to reach the biggest stage and fall short there? The MJ-LeBron argument has no end. Jordan's supporters will back him till the end of time while LeBron's will do the same. But if LeBron can play at this level until he is 36 to 38 (dare I say 40), even Jordan's most ardent supporters would have to tip their cap to The King.
10. I think that quarterbacks will be selected with each of the top four picks in this year's draft. I don't believe that the four teams currently slotted 1 through 4 will be the ones making the selections, but I do firmly believe that in some order Sam Darnold, Josh Rosen, Josh Allen, and Baker Mayfield will be the first four players chosen. Quarterback is obviously a position of need in the NFL and with four franchise caliber players available at the position in this draft, I expect teams to trade up to draft their signal-caller for the next decade. I expect the Browns to take a quarterback at 1 and the Jets at 3, while I envision the Giants trading out of 2 and the Browns out of 4 to potentially two of the Cardinals, Broncos, and Cardinals who will look to snag their quarterback of the future.