Start 'Em/Sit 'Em - Tuesday Review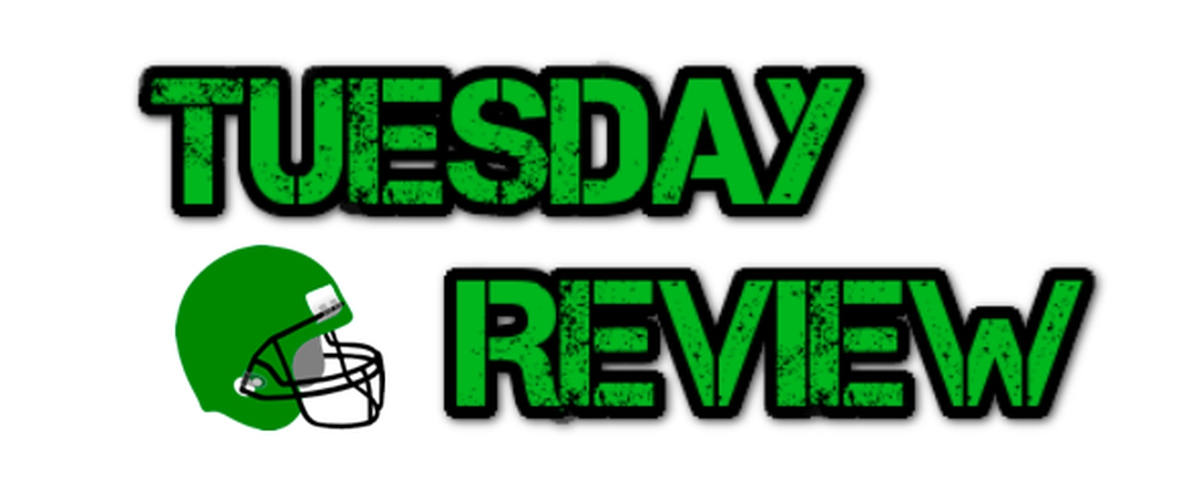 Alright it's time for another Tuesday Review where we examine our weekend picks and score how we did. Lets jump right in:
*QUARTERBACK*
-START-
Andy Dalton (24.8 points): 29/41, 337 passing yards, 3 TD, 1 INT
Philip Rivers (21.7 points): 25/39, 250 passing yards, 3 TD, 1 INT
Joe Flacco (22.2 points): 28/42, 363 passing yards, 2 TD, 0 INT
All of our Start quarterbacks finished in the Top-15 of fantasy scorers and put up over 20 points which makes me happy as a fantasy owner. Unless you drafted a top-tier quarterback early (or were smart enough to grab Mahomes later), twenty points is about all you can ask for out of a fantasy quarterback in standard league. The biggest thing we're disappointed about is that we put Mitchell Trubisky as a sleeper in our Week 3: Start 'Em/Sit 'Em and not this weeks. We would have looked like geniuses had we waited a week as Trubisky was the top overall signal-caller in Week 4, oh well!
-SLEEPERS-
Baker Mayfield (12.8 points): 21/45, 295 passing yards, 2TD, 2INT, 2 FUM
Case Keenum (7.8 points): 21/33, 245 passing yards, 0 TD, 1 INT
We were a big miss on sleepers at quarterback again this week. Baker's fantasy day was done in by two fumbled snaps and an interception that went straight off receiver Antonio Callaway's hands. All fixable mistakes for the Browns, but it obviously had an effect on Baker's fantasy day. We don't need to say much about Keenum at this point, his measly 7.8 speaks for itself.
-SIT-
Derek Carr (31.6 points): 35/58, 437 passing yards, 4 TD, 2 INT
Blake Bortles (24.3 points): 29/38, 388 passing yards, 2 TD, 1 INT
Josh Rosen (12.5 points): 15/27, 180 passing yards, 1 TD, 0 INT
Derek Carr was able to torch the Browns defense in ways that even Drew Brees wasn't able to do as Carr finished as the 5th highest scoring fantasy quarterback this week. Blake Bortles had a very solid week against the Jets at home, like we said before, have to be satisfied with a lower end quarterback hitting 20 points. Even though Josh Rosen didn't light up the fantasy score board he did a lot better than we expected, we penciled him in for at least two interceptions this week but he was able to be turnover free against a tough Seahawks defense.
Week 4 QB Score: 4/8
*RUNNING BACK*
-START-
Melvin Gordon (30.9 points): 15 carries, 104 rushing yards, 7 Rec, 1 TD
Carlos Hyde (14.2 points): 22 carries, 82 rushing yards, 1 TD
Royce Freeman (12.7 points): 8 carries, 67 rushing yards, 1 TD
Phillip Lindsay (15.9 points): 12 carries, 69 rushing yards, 1 TD
All of our Start running backs found the end-zone this week which is a great sign, and Gordon ended up as the number four overall fantasy running back in Week 4. Hyde was just shy of the 100 yard mark which would've been a nice boost to his day. Freeman and Lindsay both scored touchdowns on Monday night and did well as flex options.
-SLEEPER-
Giovani Bernard (25.6 points): 15 carries, 69 rushing yards, 2 TD
Chris Carson (DNP): Carson did not play this week
The only reason Giovani Bernard was a sleeper was because Joe Mixon was rumored to return, but Mixon didn't play and Bernard surely took advantage scoring two touchdowns. Unfortunately, Chris Carson didn't play due to injury meanwhile his backup (Mike Davis) racked up two touchdowns and 28 points. We would have loved to see what Carson would've done against the Cardinals.
-SIT-
James Conner (9.4 points): 9 carries, 19 rushing yards, 3 Rec, 25 yards
Derrick Henry (5.1 points): 8 carries, 24 rushing yards, 2 Rec, 7 yards
Dion Lewis (15.6 points): 9 catches, 66 receiving yards
Leonard Fournette (12.7 points): 8 carries, 67 rushing yards, 1 TD
T.J. Yeldon (23 points): 18 carries, 52 rushing yards, 1 TD, 3 Rec, 1 TD
We were pretty spot on with our Sits this week as the only player to have a good week was T.J. Yeldon. Surprisingly, Yeldon was able to snag two touchdowns with Fournette back in the lineup and there was still enough scoring to go around for Fournette to find the end-zone as well. Dion Lewis had a decent week while Derrick Henry put up another stinker and James Conner's point total dropped again exactly as we predicted. His fantasy production (34.2, 19.5, 14.5, 9.4) has now dropped every week through four weeks. Calling Le'Veon Bell anyone?
Week 4 RB Score: 8/11
*WIDE RECEIVER*
-START-
Emmanuel Sanders (11.3 points): 5 catches, 45 receiving yards
Tyler Boyd (21 points): 11 catches, 100 receiving yards
Tyler Lockett (10.3 points): 5 catches, 53 receiving yards
We're always the first to admit when we have a bust, but you can always at least learn something. For example, we'll never trust Case Keenum or his receiving crew again. Tyler Boyd had a nice day in Atlanta, but he didn't find the end-zone which always hurts for fantasy production. The same goes for Lockett who is a touchdown or bust option and this week was the latter. We'll be better next week!
-SLEEPER-
John Brown (20.9 points): 3 catches, 116 receiving yards, 1 TD
Geronimo Allison (14 points): 6 catches, 80 receiving yards
We did much better in our Sleeper section here, any time a sleeper receiver breaks 100 yards and scores a touchdown we consider that a great day and John Brown did just that. Geronimo Allison was having an impressive Week 4 until he was forced to exit the game in the third quarter after suffering a concussion. He's questionable for Week 5.
-SIT-
Marquise Goodwin (4.8 points): 2 catches, 24 receiving yards
Amari Cooper (26.8 points): 8 catches, 128 receiving yards, 1 TD
Corey Davis (31.1 points): 9 catches, 161 receiving yards, 1 TD
The 49ers played better than we expected without Jimmy Garoppolo, but Marquise Goodwin is just about doomed as a fantasy prospect. We were very high on that combo coming into the season, but it's time to call it quits and drop Goodwin for a player with more up-side. Amari Cooper torched the Browns for his highest scoring fantasy game since 2016, Cleveland really let us down this week (shocker).
Week 4 WR Score: 5/8
*TIGHT END*
-START-
David Njoku (10.2 points): 5 catches, 52 receiving yards
Will Dissly (1.5 points): 1 catch, 5 receiving yards
We're very disappointed with our picks at tight end this week, Njoku still couldn't score a touchdown against a terrible Raiders defense and Will Dissly tore his patella in Seattle's game against Arizona. This is the last time I trust the Browns.
-SIT-
Jared Cook (30.1 points): 8 catches, 110 receiving yards, 2 TD
O.J. Howard (0 points): 0 catches, 0 receiving yards
We can't seem to get Jared Cook right, last week we had him as a Start and he was awful. This week we had him as a Sit and he was the number one fantasy tight end. O.J. Howard sprained his MCL early in Sunday's game against Chicago and is expected to miss 2-4 weeks.
Week 4 TE Score: 1/4
*FINAL WEEK 4 CONCLUSIONS*
We ended up scoring almost exactly the same as last week which isn't ideal, but we learned a lot from Week 4. For instance, never trust Case Keenum or the Cleveland Browns, they'll always let you down.
Overall, we're feeling pretty good about our Week 4 picks and we're excited to share our Week 5: Start 'Em/Sit 'Em predictions on Thursday! Until then you can always tweet us
Total Week 4 Score: 18/31