Week 10: Start 'Em/Sit 'Em Review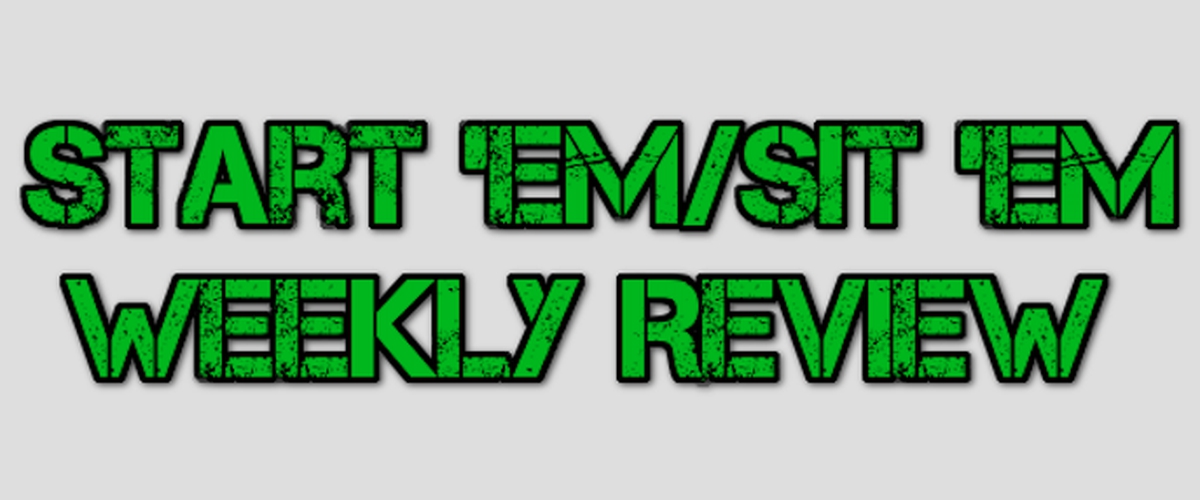 I'm feeling great about the picks we had for everyone this weekend! My fantasy weekend didn't go great personally, I went into the Monday night game winning in all three leagues, but only came away with one victory. Anyway, I can't wait to find out how we scored with our picks this weekend so let's jump right in:
*QUARTERBACK*

-START-
Philip Rivers (15 points): 18/26, 223 passing yards, 2 TD, 1 INT
Drew Brees (28.9 points): 22/25, 265 passing yards, 3 TD, 0 INT
Ben Roethlisberger (35.8 points): 22/25, 328 passing yards, 5 TD, 0 INT
Almost a perfect section to start off the week but Rivers wasn't able to hit 20 points for us this week. We absolutely nailed the other two picks though as Roethlisberger and Brees finished as the #2 and #3 fantasy quarterbacks this week, respectively.
-SLEEPERS-
Baker Mayfield (22.6 points): 17/20, 216 passing yards, 3 TD, 0 INT
Eli Manning (19.5 points): 19/31, 188 passing yards, 3 TD, 0 INT
We're going to take this as a perfect section as both sleeper picks had very solid games throwing three touchdowns a piece coupled with zero interceptions. Both Baker and Eli Manning were great replacements if you had a quarterback on bye.
-SIT-
Tom Brady (11.8 points): 21/41, 254 passing yards, 0 TD, 0 INT
Matthew Stafford (15.9 points): 25/42, 274 passing yards, 2 TD, 2 INT
Dak Prescott (21.7 points): 26/36, 270 yards, 1 TD, 0 INT, 1 Rush TD
Dak and the Cowboys played much better than we could have ever expected on the road in Philadelphia this week so kudos to them. Brady and Stafford did not have as great of weeks and suffered similar fates on the road against two of the toughest defenses in the NFL this season.
Week 10 QB Score: 75% (Week 9 QB score: 25%)
*RUNNING BACK*

-START-
Aaron Jones (32.2 points): 15 carries, 145 rushing yards, 2 TD
Duke Johnson Jr. (14.6 points): 3 carries, 15 yards, 4 Rec, 31 yards, 1 TD
Tevin Coleman (9.3 points): 11 carries, 4 rushing yards
Aaron Jones finally went off taking full advantage of the solo running back duties in Green Bay. Duke Johnson continues to impress, making the most of his limited touches due to Nick Chubb's emergence. Tevin Coleman was a major disappointment this week as he has three great chances to get into the end-zone inside the 3 yard line, but couldn't convert any of them.
-SLEEPERS-
Mike Davis (18 points): 11 carries, 58 rushing yards, 1 Rec TD
Josh Adams (4.7 points): 7 carries, 47 yards
Mike Davis ended up having a pretty good week for the Seahawks as Seattle gave the Rams a tough game. Josh Adams on the other hand wasn't able to do much with his seven carriers as the Eagles got shocked at home by the Cowboys.
-SIT-
LeSean McCoy (24.8 points): 26 carries, 113 rushing yards, 2 TD
Tarik Cohen (16.4 points): 7 carries, 15 yards, 1 TD, 6 Rec, 29 yards
Peyton Barber (7.6 points): 13 carries, 61 yards
LeSean McCoy had by far his best outing of the season rushing for over 100 yards and scoring twice. Tarik Cohen's day was saved by a short rushing touchdown and Peyton Barber wasn't able to find much success even though he received 13 carries.
Week 10 RB Score: 50% (Week 9 RB score: 50%)
*WIDE RECEIVER*

-START-
Golden Tate (3.9 points): 2 catches, 19 receiving yards
Tyler Boyd (9.5 points): 3 catches, 65 receiving yards
Marquez Valdes-Scantling (10.4 points): 6 catches, 44 receiving
Admittedly we had a poor selection of picks here, none of our guys were able to find the end-zone severely hampering any hope of a good fantasy output.
-SLEEPER-
Dede Westbrook (9.3 points): 5 catches, 30 receiving yards
Tyler Lockett (19.5 points): 5 catches, 67 receiving yards, 1 TD
This would have been a perfect section had Dede Westbrook picked up a touchdown, but Lockett got back to his scoring ways exactly like we predicted. Not a bad couple of sleepers!
-SIT-
Allen Robinson (31.3 points): 6 catches, 133 receiving yards, 2 TD
Devin Funchess (6.2 points): 3 catches, 32 receiving yards
Jordy Nelson (0 points): 0 catches, 0 receiving yards, 1 Target
We missed the mark big time on Robinson and no one paid more than myself. I left him on the bench in both leagues that I lost this week and had I played him, I would've won both games. So goes the world of fantasy football. Devin Funchess and Jordy Nelson both had poor games exactly like we expected. Nelson is so fed up with the Raiders that he's supposedly retiring, yikes.
Week 10 WR Score: 50% (Week 9 WR score: 63%)
*TIGHT END*

-START-
O.J. Howard (2.5 points): 1 catches, 15 receiving yards
Austin Hooper (21.6 points): 10 catch, 56 receiving yards, 1 TD
We were 50/50 here as O.J. Howard and the Buccaneers put up a stinker this week, but Hooper finished as the third best scoring fantasy tight end this week.
-SLEEPER-
Ben Watson (1.1 points): 1 catches, 1 receiving yard
Watson's box score is certainly disappointing, but he dropped two sure-fire touchdowns in each half which destroyed his fantasy output. It was an unfortunate weekend for Watson owners.
-SIT-
Jared Cook (9.2 points): 4 catches, 52 receiving yards
Jared Cook hasn't been able to keep up the same pace he started with in 2018, but the Raiders as a whole have taken a few steps back so it's hard to blame Cook. He's also not seeing nearly as many targets come his way which is surprising given the fact that the team traded Amari Cooper, Martavis Bryant is out with an injury, and Jordy Nelson is going to retire.
Week 10 TE Score: 25% (Week 9 TE score: 50%)
*FINAL WEEK 10 CONCLUSIONS*
We had definite improvement this week, but our picks are not nearly accurate enough! There's enough data at this point in the season that making informed picks should be a lot easier. Let's see what we can come up with next week! Until then you can tweet us any fantasy football questions
Total Week 10 Score: 53% (Total Week 9 Score: 46%)