Week 7: Start 'Em/Sit 'Em Review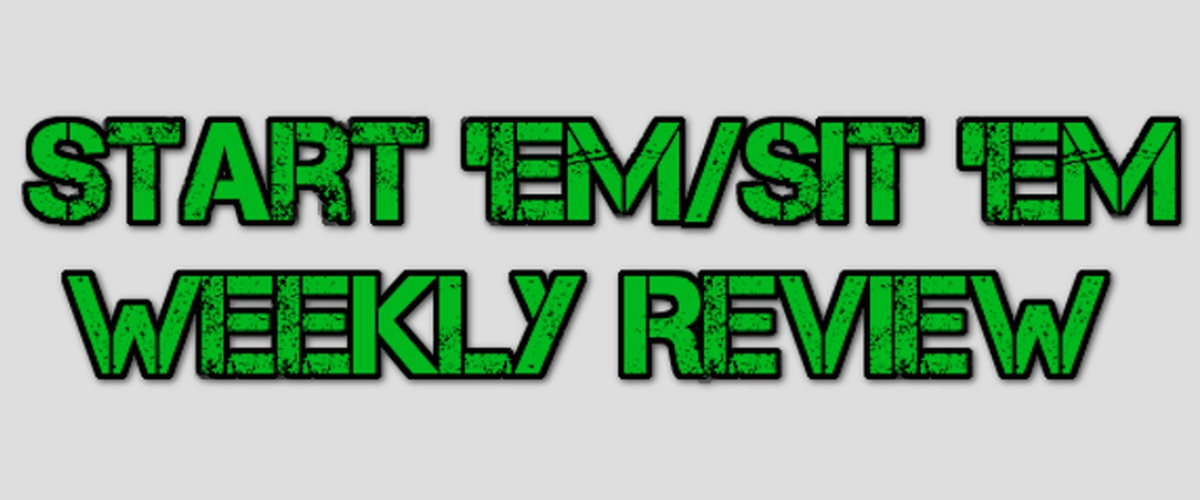 It's time for another weekly review of our Start 'Em/Sit 'Em picks! To be completely honest we don'y have the best feeling about Week 7, but there's only one way to find out:
*QUARTERBACK*
-START-
Jared Goff (16.5 points): 18/24, 202 passing yards, 2 TD, 0 INT
Baker Mayfield: (20.9 points): 23/34, 215 passing yards, 2 TD, 0 INT
Matt Ryan (19.3 points): 31/39, 379 passing yards, 1 TD, 0 INT
Well, not the best start to our Week 7 predictions as only one quarterback barely hit the magic 20 point mark that we look for. A very weird pool of quarterbacks as none had bad outings (zero interceptions between the bunch), but none had great game either. All duds here.
-SLEEPERS-
Joe Flacco (19.6 points): 23/39, 279 passing yards, 2 TD, 0 INT
Andy Dalton (7.9 points): 15/29, 148 passing yards, 1 TD, 1 INT
I now know what I suspect Bengals fans have known for awhile, never trust Andy Dalton. Every time I think he's going to have a big game he craps the bed. Never again will I pick Dalton. Flacco had a very solid game, but was technically short of the 20 point mark we like to hit.
-SIT-
Deshaun Watson (10.9 points): 12/24, 139 passing yards, 1 TD, 0 INT
Alex Smith (12.7 points): 14/25, 178, passing yards, 1 TD
Dak Prescott (20.2 points): 22/35, 273 passing yards, 1 TD, 1 Rush TD
We had pretty solid picks in this section, but it seems like every time we pick against Dak, he performs well. We'll be interested to see what happens with the Cowboys offense with the, rather expensive, addition of Amari Cooper. All we have to say is it's gutsy trading a first-round pick (8th overall at the moment) for the 2017 league-leader in drops.
Week 7 QB Score: 50% (Week 6 QB score: 75%) 4/8
*RUNNING BACK*
-START-
Nick Chubb (14 points): 18 carries, 80 rushing yards, 1 TD
Joe Mixon (8.1 points): 13 carries, 50 rushing yards
Kenyan Drake (18.7 points): 6 carries, 72 rushing yards, 1 TD
We can't seem to nail down our picks at running back, Chubb and Drake didn't have terrible outings but there was definitely much more to be desired from Mixon and the Bengals.
-SLEEPERS-
Latavius Murray (22.3 points): 15 carries, 69 rushing yards, 2 TD
Corey Clement (4.2 points): 8 carries, 6 yards, 2 catches, 16 yards
Both backs were filling in for injured starters, but only Murray was able to take advantage by grabbing two touchdowns. Clement wasn't involved as much as we hoped, but he didn't do much even when he did get the ball.
-SIT-
Jordan Howard (11.8 points): 12 carries, 39 rushing yards, 1 TD
Lamar Miller (16.9 points): 22 carries, 100 rushing yards, 1 TD
Nyheim Hines (5.2 points): 5 carries, 47 yards
Not too bad on our Sit picks for the week, Lamar Miller and Jordan Howard both were able to find the end-zone which always dramatically help fantasy performance. Hines wasn't nearly involved in the offense with the return of Marlon Mack exactly how we predicted.
Week 7 RB Score: 63% (Week 6 RB score: 25%) 5/8
*WIDE RECEIVER*
-START-
Robert Woods (13.4 points): 5 catches, 78 receiving yards
Tyler Boyd (5.7 points): 3 catches, 27 receiving yards
Jarvis Landry (25.7 points): 10 catches, 97 receiving, 1 TD
Our wide receiver picks this week were all over the board, one bad, one good, and one great. Boyd and the Bengals were extremely disappointing while Robert Woods had a decent day, but failed to find the endzone limiting his fantasy production. Jarvis Landry didn't let us down as his relationship with Baker Mayfield clearly continues to grow.
-SLEEPER-
John Brown (26.4 points): 7 catches, 134 receiving yards, 1 TD
Brandin Cooks (17.1 points): 4 catches, 64 receiving yards, 1 TD
Absolutely nailed it here with the sleeper picks as John Brown and Bradin Cooks each found the end-zone and finished in the Top-20 in fantasy points.
-SIT-
Will Fuller V (12.8 points): 6 catches, 68 receiving yards
Albert Wilson (6.6 points): 3 catches, 32 receiving yards
Marvin Jones Jr. (5.9 points): 3 catches, 29 receiving yards
Pretty spot on here with our sit picks as Will Fuller was the only one with an even decent day, but he still wasn't able to find the endzone.
Week 7 WR Score: 75% (Week 6 WR score: 75%) 6/8

*TIGHT END*
-START-
David Njoku (15.1 points): 4 catches, 52 receiving yards, 1 TD
Kyle Rudolph (2.6 points): 1 catch, 16 receiving yards
50/50 here as Rudolph put up an absolute stinker, but Njoku finished in the Top-5 for tight ends in Week 7.
-SLEEPER-
C.J. Uzomah (9.3 points): 2 catches, 13 receiving yards, 1 TD
Uzomah was our sleeper for the second straight week, luckily he caught a touchdown pass or else he would've had a very quiet week.
-SIT-
Greg Olsen (8.5 points): 2 catches, 5 receiving yards, 1 TD
Olsen is in the same boat as Uzomah this week with a touchdown salvaging his fantasy performance.
Week 7 TE Score: 50% (Week 6 TE score: 80%) 2/4
*FINAL WEEK 7 CONCLUSIONS*
Well, we had a tiny regression this week dropping in pick accuracy by one percent. Definitely could have improved on our usually steady quarterback picks, had we done better there we could have had another improvement in Week 7. Either way, we're excited for Week 8! Be sure to follow us on Twitter and tweet us any questions!
Total Week 6 Score: 61% (Total Week 6 Score: 62%)