Week 9: Start 'Em/Sit 'Em Review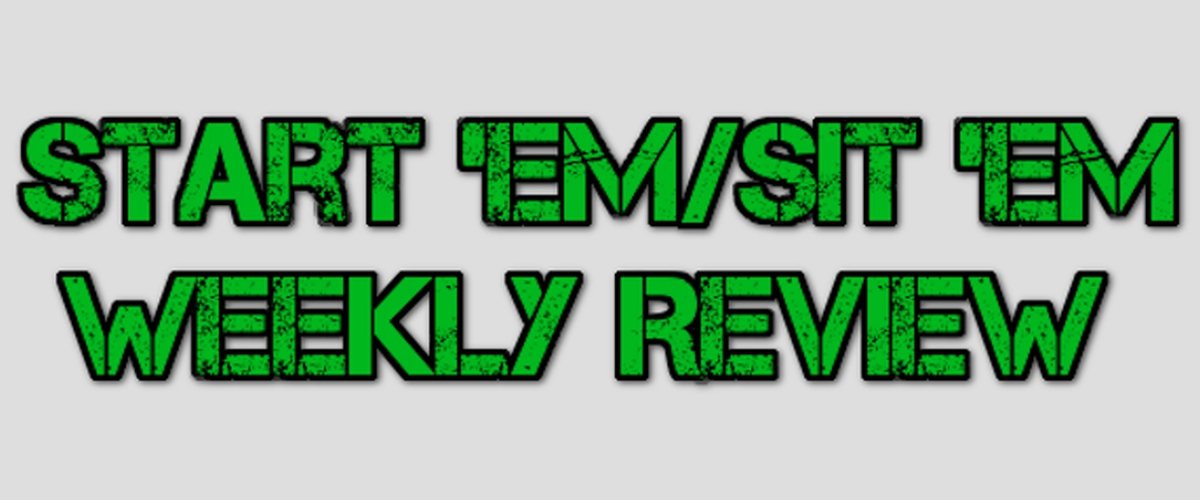 It's time for another weekly review where we go over our picks from the weekend to see how they actually performed!

*QUARTERBACK*
-START-
Baker Mayfield (17.9 points): 29/42, 297 passing yards, 2 TD, 1 INT
Cam Newton: (21.2 points): 19/25, 247 passing yards, 2 TD, 1 Rush TD
Kirk Cousins (6.9 points): 18/22, 164 passing yards, 1 TD, 1 INT

A very mixed bag this week at quarterback as we had the good, the bad, and the ugly. The good was Cam Newton accounting for three touchdowns and hitting that 20 point mark. I wouldn't necessarily consider Mayfield's performance bad, but hey I wanted to use the saying. His interception came in garbage time as the Browns were trying to force their way down the field and he was three passing yards shy of hitting 300 and getting some extra points. The ugly was most definitely Kirk Cousins, he started the season hot but has been struggling ever since. We liked him to bounce back at home this week but it just didn't happen.

-SLEEPERS-
C.J. Beathard (0.0 points): Beathard did not play
Mitchell Trubisky (8 points): 12/20, 135 passing yards, 1 TD, 1 INT

We're taking credit for our Beathard pick as we even would have gone with Mullens against this horrible Raiders defense had we known he was starting. On the other hand Trubisky wasn't needed much as this week with the Bears defense and running game dominating early and often.

-SIT-
Ben Roethlisberger (25.2 points): 28/47, 270 passing yards, 2 TD, 0 INT
Case Keenum (15.6 points): 26/42, 290 passing yards, 1 TD, 0 INT
Marcus Mariota (22.8 points): 21/29, 240 yards, 2 TD, 1 Rush TD

We have to give credit where credit is due and Big Ben had an outstanding game this week against the Ravens. Roethlisberger didn't turn the ball over and more importantly the Steelers got the win on the road. Case Keenum played better than expected against a tough Texans defense, but that stat line is about his ceiling. Marcus Mariota went off on Monday night in a surprise win against the Cowboys, I don't think anyone saw that coming

Week 9 QB Score: 25% (Week 8 QB score: 50%)

*RUNNING BACK*
-START-
James White (28.3 points): 12 carries, 31 Ru yards, 2 TD, 6 Rec, 71 yards
Nick Chubb (16 points): 22 carries, 85 rushing yards, 1 TD
Lamar Miller (6.8 points): 12 carries, 21 rushing yards

Lamar Miller not finding the end-zone is the only thing that held us back from a perfect section here. James White and Nick Chubb both finished in the Top-12 of running backs this week. Chubb owners clearly have nothing to worry about with the change of coaching as he got another huge workload.

-SLEEPERS-
Adrian Peterson (6.3 points): 9 carries, 17 rushing yards
Isiah Crowell (7 points): 13 carries, 49 yards

Absolutely miserable performance from both our sleeper picks doomed this section, we'll be better next week!

-SIT-
LeSean McCoy (6.9 points): 10 carries, 10 rushing yards
Austin Ekeler (4.4 points): 3 carries, 21 rushing yards
Tevin Coleman (32.6 points): 13 carries, 88 yards, 2 Rec TD

We were spot on with two of our of three sits this week, Coleman had a much better game than we anticipated and grabbed two receiving touchdowns. McCoy and Ekeler both didn't do much on the rushing or receiving end as the Bills were getting blown out and Melvin Gordon returned for the Chargers.

Week 9 RB Score: 50% (Week 8 RB score: 63%)

*WIDE RECEIVER*
-START-
Marvin Jones Jr. (12.6 points): 6 catches, 66 receiving yards
John Brown (4.5 points): 3 catches, 15 receiving yards
Julian Edelman (17.4 points): 6 catches, 71 receiving

Our start picks at receiver weren't able to find the end-zone, but Edelman and Jones somehow put together decent outings. Julian Edelman threw a pass for 37 yards and had a few rushes which helped his point total.

-SLEEPER-
Amari Cooper (16.8 points): 5 catches, 58 receiving yards, 1 TD
Devin Funchess (8.4 points): 4 catches, 44 receiving yards

We had a feeling that Amari Cooper would get himself a touchdown on his Cowboys debut, Funchess was a let down this week as the Panthers running game took care of business early and often.

-SIT-
Corey Davis (12 points): 6 catches, 56 receiving yards
Doug Baldwin (11.7 points): 4 catches, 77 receiving yards
Taylor Gabriel (7.5 points): 3 catches, 45 receiving yards

For as bad as we were with our start picks this week our sits were pretty spot on. None of the three caught a touchdown while Baldwin and Davis both barely hit double digit points.

Week 9 WR Score: 63% (Week 8 WR score: 75%)
*TIGHT END*
-START-
Greg Olsen (19.6 points): 6 catches, 76 receiving yards, 1 TD
Jared Cook (4 points): 2 catch, 20 receiving yards

Both of our start picks caught all of their targets, it just so happened that Olsen got six targets to Cook's two and Big Greg was able to find the promised land (end-zone).

-SLEEPER-
Vance McDonald (5.5 points): 3 catches, 25 receiving yards

McDonald let us down just like the restaurant usually does, but that's a different complaint for a different day. Vance caught only 3 of his 6 targets and didn't look very impressive although the Steelers were playing a tough Ravens defense.

-SIT-
Ed Dickson (0 points): 0 catches, 0 receiving yards

You might think that Dickson didn't play due to injury, but he simply wasn't used. Dickson only saw one target as Nick Vannett got double his snaps this week. We warned you not to chase Dickson this week!

Week 9 TE Score: 50% (Week 8 TE score: 50%)

*FINAL WEEK 9 CONCLUSIONS*
Admittedly, we took a massive step back this week in our total score, but I suppose everyone has an off week now and then. I know we'll be back with a vengeance next week and nail some picks for everyone! As always check out our Twitter and tweet us any questions

Total Week 9 Score: 46% (Total Week 8 Score: 61%)