Time to Depart: Not because it isn't working! Blame the Wild Wild West!!!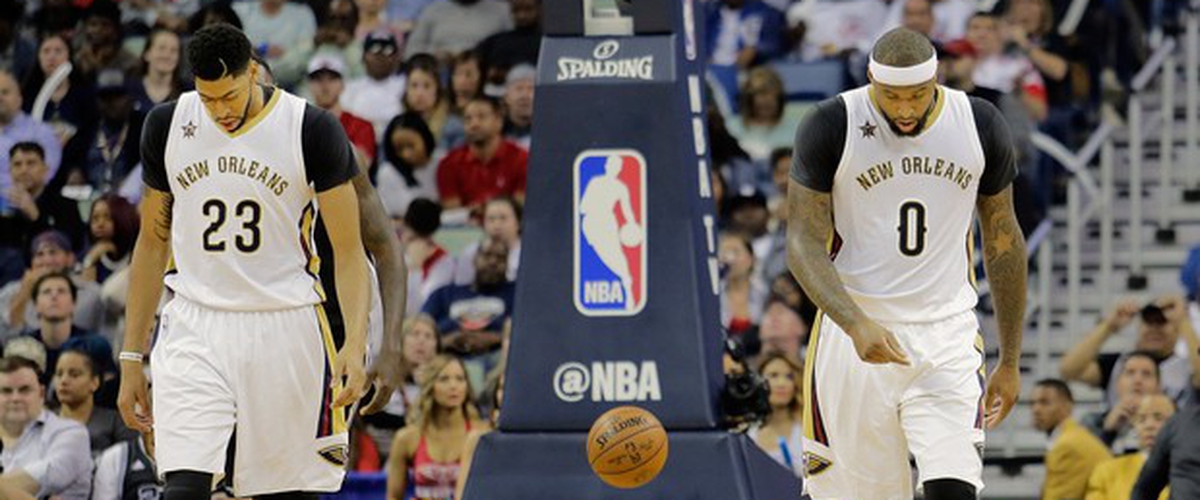 It looks the NBA champion will emerge out of the Western conference for the next 3-5 years, unless we see the ultimate super team (boat team) in the East. The East isn't nearly as competitive as the West. The East's best team, Cleveland, has been getting dismantled by the top teams in the West. Any team that makes it, outside of Cleveland (and they haven't been successful) is DOOMED!!! The top 5 seeded teams in the West would have a field day against the top 2 teams (Boston and Cleveland) in the East (Raptors, you didn't make the cut. It is time to let Kyle go) easily. I would love to see some new or different teams competing for a NBA title. Once the Lakers get back, you all will have to see that Purple and Gold reigning like they used to. I still love good competition and basketball. This is my take on one of my trade proposals that'll shake up the NBA for years to come.
Being in the West isn't as cool as it seems these days. As AD and Boogie would soon find out!!! Maybe this is what the NBA really needs!!!
Forced to Rebuild: Hard spot to be in!
While the Pelicans aren't currently facing any turmoil, they can feel the urgency to make a move approaching. In the last recent months their cornerstone piece superstar, AD, has went to the media in frustration about losing. However, when they have limited attractions, and not that much money to splurge, the best way to elevate is to breakdown the current team to build up the future roster. Trade the BIGS away! As crazy as this sounds, why not? Boogie, is an unrestricted free agent at the end of this year. Do you trust him to test FA, to stick around and rejoin you all? Does he trust you all will find the money and assets to help build NO into a top 3 team in the Western Conference? Because that's what it is going to take to come out of this tough Western Conference. The best teams play on their home turf throughout the playoffs. From there, if he leaves, that dynamic big man combination is a thing of the past. Now you are stuck with an insatiable AD, who is set on winning a ring. Whom is getting older, may I add. Larry Bird, quit because he didn't know what to do with Paul George in his efforts to being moved. The thing is this, warning comes before destruction. I am not saying the Pelicans are a terrible team, not at all. They just don't have what it takes to come out of the West. By the time it happens, if it ever transpires, AD may have run his course. Might as well make that move. Kevin Garnett probably would have had 3 wings had he been waved his no trade clause. We live in a place where the players must showcase loyalty. While owners can get rid of you for the next hot thing. I'll never understand that.
The Collective Bargain Agreement: The Right Man, Bad Contract!
Then there is Jrue Holiday's contract. The Pelicans wanted to show their loyalty and proved that to Holiday. However, that was a hefty contract given to the baller. Had they given him a smaller deal that had similar earnings, that would have poised them to be suited better financially, to get the correct pieces for that dynamic duo and Holiday. I love Jrue's game; however, he is not the only fix here for the Pelicans. I love him as a big point guard, playing defense on the top point guards; with some long playmaking wings alongside him. I more so look at how and when he is being utilized while he is on the floor alone and with one or both the bigs on the floor with him. Is he that perimeter threat to led you to a ring? While Jrue is a pure pro and is consistent, the Pelicans would be a totally different team if Dame Dollar was the PG, leading the team. Nothing against Jrue, he just needs a better pairing in the backcourt. However, you put Jrue on the Spurs, then it is a different makeup. He is what the Spurs are missing. He is not what the Pelicans need, unless he step his level of play up. For that money they gave Jrue, he still hasn't gone to the next level yet, which they need to get out of the West. Golden State has 4 All-stars and a bonafide bench, with a coach. They need to fix their presence on the perimeter to ever be considered as a for sure threat. Plus, Rondo and Jrue isn't as dynamic as AD and Boogie. Rondo, is a pass heavy guard and lacks offense which makes it hard on the surrounding team to penetrate at times. Teams still cheat and help when guarding Rondo. Moving Jrue to the off-guard, gives him the ability to be a force scoring, however, he can't stick the big guards the entire game; tiring him out. This is the first year of a five-year deal and it doesn't look like Jrue will not be going anywhere. If the Pels are to get to the next level, they need Jrue to play out his body like Dame Dollar; being the 3rd Superstar for the Pelicans to aid AD and Boogie. If that doesn't transpire, ASAP, there could be drama. Figure paying Jrue 85-90 million, the Pelicans could go after some perimeter studs that can produce offensively and defensively.
The pieces they have lack strong value on the trade market, which only leaves the two untouchables to trade to build the Pelicans roster to a true contender. While the team is doing well in the regular season, they are not cut to make a deep run in the playoffs. The supporting case is their issue. Now the bench is sneaky good/bad. With the bigs on the floor, they spread the floor to allow them to make others better. When neither big is on the floor, the bench goes through periods of dry spell; lacking fluidity in their offense. With Jrue on the floor, they are not struggling, however, they go through long offensive droughts. Not because of Jrue, because there isn't a running mate he has when AD and Boogie are resting. Will Barton or Wilson Chandlere would fit perfectly in a Pelican uniform. If they don't trade either of the bigs, they should really look to get some decent size via the starting lineup regarding having an agile and playmaking wing alongside Jrue. However, the Pelicans are now face with the ultimate decision of a decade.
The Decision: To do or not to do!
Therefore, the Pelicans should to get rid of both their dynamic big men. No, not because they don't work well with one another, or have had locker room turmoil (this is not the case). They both are averaging 20+ PPG and 10+ RPG and playing well defensively. Contrary to belief, they look damn good, and I believe that they possibly could win together. Sorry that it wont happen in the West! New Orleans, indeed you all may have the best 1-2 big combo in the modern era, however, you all are in a conference ran by Golden State. To counter that: Houston – San Antonio – Minnesota – OKC - Denver are all true competitors, and won't be going anywhere anytime soon. To add to that the young teams that hasn't scratched the surface: Lakers, Phoenix, Sacramento, Utah, Dallas (once Dirk retires) will all have a young core that has been together for some time and they look good. Meanwhile, you all get bounced from the playoffs the next 2-3 seasons while AD and Boogie are under contract. While other teams are improving. Not to say nobody will come there and play with the two beasts in the paint. However, when your money is tide up and you are in a somewhat smaller market, it makes it hard to talk money and sacrificing winning a ring when neither has occurred.
Currently New Orleans, has a roster that doesn't give their 1-2 combo the best support needed to win a NBA championship. Outside of the two bullies in the paint, whom have done a hell of a job expanding their game and range, there isn't a for sure threat. They need a dynamic perimeter player which will serve as a threat while being able to spell either both or one of the big's so they can rest. Paul George, before OKC would have been a good candidate. Will Barton is another person that would serve as some support. While the pairing of the two is perfect, the support cast doesn't add much perfection. Sitting at the 6th seed, which is good considering all I just mention, it will be tough for them to make it out of the first round. Let's say they make it past the first round. The second round gets tougher and game-planning becomes more intense. Then the conference finals and finals separate the tough from the faint. So, before there becomes turmoil of losing and getting bounced out of the playoffs early, season in and season out, I would just start over and get some young studs that can help us rebuild to be better suited to thrive in the long term. At 25 and 27 respectively, AD and Boogie are pro's. They want to win. NOW! Although they are somewhat young, you figure another 2-3 years and it may not be easy for them to win.
Teams that should step up: Washington and Milwaukee
I would collectively go after that dynamic 1-2 punch; allowing us to be able to compete for this season and years to come. Opening competition in the East!
This is how!!!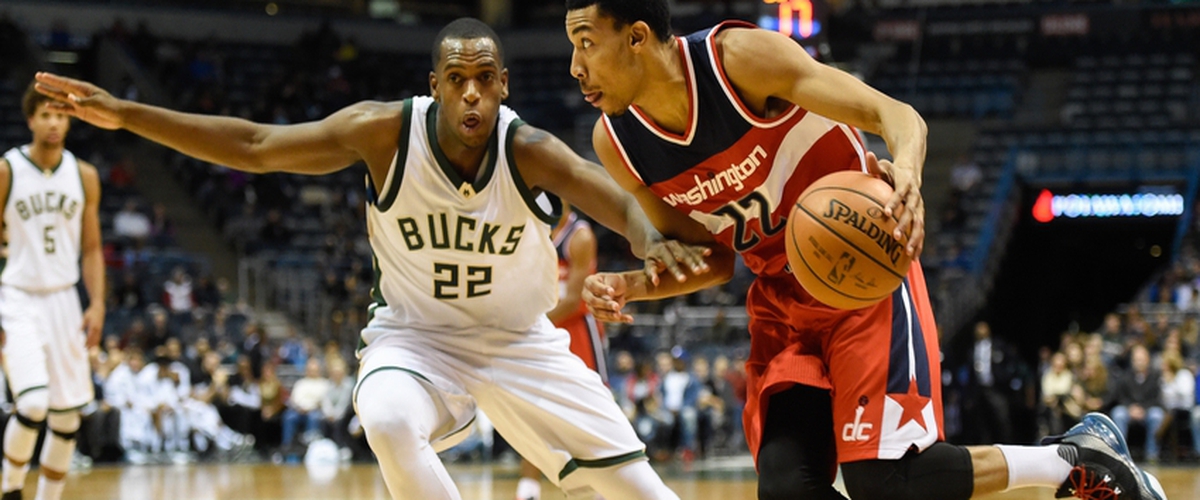 AD to Milwaukee: Makes damn perfect sense!
Greek Freak, newly acquired Bledsoe and AD, would serve as a prolific 3-ring nucleus. They are ready to compete now and when the post-LeBron era in the East has come to an end.
The pieces: Jabari, Thon, Toni, Middleton, Brogdon, Henson, a few picks here and there. Put a package together excluding, the Greek Freak and Bledsoe!
With the new addition of AD, it allows the Bucks to make some extra loud noise now in the East and NBA. Just too bad you all got rid of Jason Kidd a little too soon, because he would now have a team that could compete consistency, barring injuries, night in and night out. Now you all just became a top 3 team in the East for the next 5-10 years. Greek Freak is only 23 years old. AD is only 25 years old. Bledsoe the eldest of the three is 28 years old. He may reach his end faster, however, it wouldn't be hard to find a PG to play alongside those two beasts once Bledsoe's skillset diminishes. Now, defensively, you have a team that is. Your PG is a defensive stud. To follow that, you have 2 of the most flexible players at their positions, whom are both monsters defensively, protecting the perimeter and paint. Even if the Pelicans want: Brodgon, Maker, Jabari (and/or Middleton) and a couple of picks. You are still left with: Henson, Snell, Delly, Terry, (Middleton) if they decline his addition, Greek Freak, Bledsoe, the new addition of AD. Not to mention the added pieces you may get from the Pelicans if they agree to your trade package.
Milwaukee after trade with Pelicans: Bledsoe, Brogdon/Middleton (depending on whom the Pelicans want), Greek Freak, AD, Henson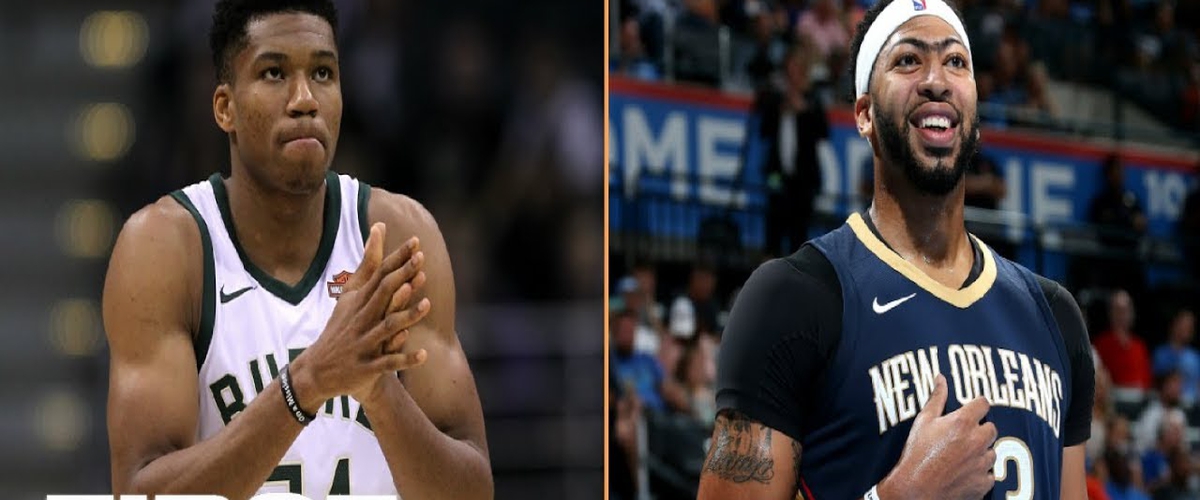 Pelicans after trade with Milwaukee: Jrue, Brogdon/Middleton (depending on whom the Pelicans want), Parker, Boogie (Maker) and some picks to help build on this roster
(Boogie hasn't been traded)
Do you want to get rid of Jabari? Not really. To get AD, whom is a for sure 20+ PPG and 10+ RPG guy, can stretch the floor, guard multiple positions, play multiple positions, and is a SUPERSTAR. I love Jabari, he is a tough Chicago guy. He would look good in a Bulls uniform if I could throw that in, however, for AD, he would be wearing a Pelicans uniform until he allows his pending free agency to take him as he pleases. So, you figure, you will have AD and Greek Freak in the East, both at 7'0" with multi-facet talents, pairing for a decade. They easily could get a ring or two. Or would make Milwaukee the ultimate free agent destination. They could easily become the GSW of the East! However, the Pelicans is in a great space after trading away their Franchise leader in every category.
Boogie to Washington: "Reunited and it feels so good"
You all want to see an in-order Boogie Cousins? Send him to play with his Kentucky brother Wall in Washington. This may be a reach, being that Washington doesn't have much promising young talent besides: Mr. Beal and Otto. They would have to put together a package around one of the two of them so this could work. If the Pelicans are in full rebuild mode and just looking to fill its roster with pieces to keep a competitive advantage, while developing youth talent, they may take some of the vets, Kelly Oubre, Otto Porter (or Beal), Gortat, and a couple picks. They may even need to orchestrate a third team (hello Milwaukee) to orchestrate this trade. Why not team up for a win-win-win trade between the organizations. Wall and Beal, serve as the ultimate backcourt. A past-fist general. A smooth-maneuvering shooter. If you are Washington, you should think and think hard about whom you are willing to depart with to get Boogie (a top 3-center in the NBA), Beal or Porter, to make this transpire. Washington, hasn't been able to climb to that level yet in the NBA and are at a good place to make the playoffs again this year. Gortat, has been holding his weight since he arrived in Washington. However, to win a championship, you need gamechangers. Sorry, Gortat, you are not that! While you would serve well for a contending team; Raptors, you are not the factor for this team. Boogie, is fit to play in the modern NBA, even at his current size. Shooting, dribbling, rebounding, defense, and ability have all skyrocketed for Boogie this year. We all know he wants to win, and win badly. Do you keep defense or offense? I can see Washington trading away: Gortat, Oubre, Porter, and a couple picks to entice the Pelicans. Will they bite? Who knows! If you are Washington, you hope they do, in efforts of rebuilding around Porter and Oubre while shedding some salary cap relief from Gortat. To have: Wall, Beal and Boogie is a headache and nightmare. Their competitiveness will have that practice session like gladiators on a mission. Can you imagine what that will do them as unit? You need a player to rowdy other players up to have them playing to their full potential. They will be the "Bad Boy Pistons."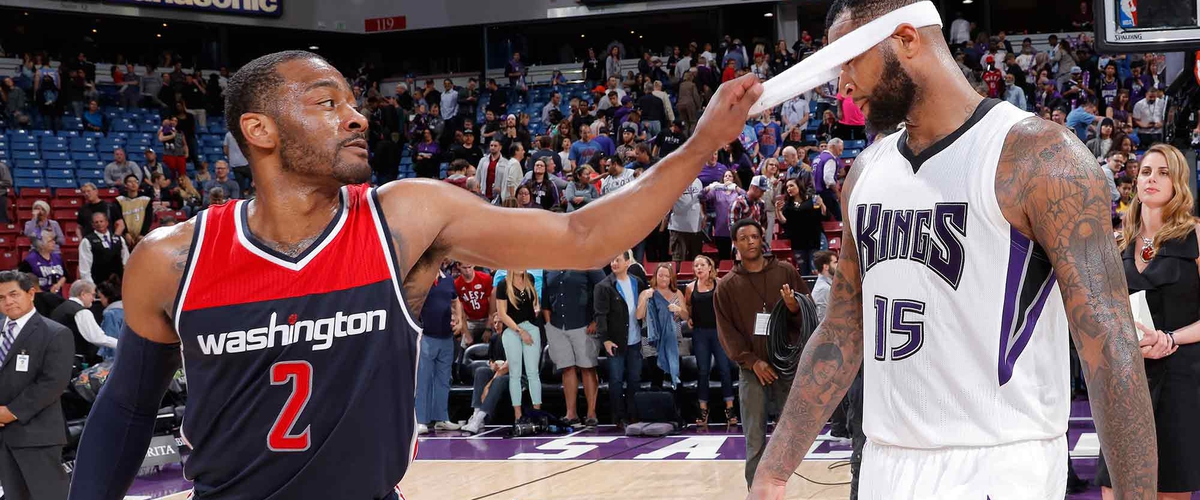 Starting lineup after trade with Pelicans: Wall, Beal, Robinson, Morris, and Boogie
Starting lineup after trade with the Wizards: Jrue, Porter, Oubre, AD, Gortat
(AD hasn't been traded)
You now have a dominant presence to go alongside the star backcourt, to help alleviate the pressure off them. The difference now is being able to throw the ball in the post, run pick and roll, pick and pop, all while Beal is roaming freely on the perimeter and paint. Still have the necessary floor spacing to allow Boogie to handle the post while adding a different effect the dribble drive scheme for this team. Will you double Boogie the post and allow him to past to shooters all night? Which will then allow Wall to penetrate without issue, which will lead to Beal being open. I would love to see this take effect.
Look at us now: How all teams benefit
Pelicans retooled: Holiday, Porter, Parker, Oubre, Maker, Gortat, Middleton/Brogdon (depending on whom the Pelicans want) - Picks from both teams that'll help them draft prospects in the future
Bucks retooled: Bledsoe, AD, Greek Freak, Middleton/Brogdon (depending on whom the Pelicans want), Toni, Delly, Kilpatrick, Wilson, Plumlee - see if you all can swap out some picks or get some second round picks
Wizards retooled: Wall, Beal, Boogie, Morris, Scott, Frazier, Smith, Meeks, Mahinmi - see if you all can swap out some picks or get some second round picks
What I didn't include were the players shipped to Washington and Milwaukee from the Pelicans in these mock trades. So those lineups and benches can get deeper for all 3 teams!!!
Players the Pelicans may give up:
Rondo, Asik, Moore, Hill, Clark, Nelson, Cunningham, Miller, Liggins, Allen
(While they are not suited to help the Pelicans come out of the west, combine with the right talent and team geno, these players are veterans and can fit with a combination of young studs, role players and veterans - with the right coach)
However, all teams come out as winners. It's always hard to rebuild. However, to transfer a balance of powers in both conferences, this trade needs to transpire. Washington and Milwaukee are a couple of pieces away from dethroning LeBron in the East, while preparing themselves for Kyrie's Celtics, in the collision with a Western Conference foe. Outside of Cleveland (Boston is missing Hayward and a small addition; nothing out of the blockbuster magnitude is needed for them), if any team was to makes it to the Finals, they will not win. That's even if 2-5 makes it to the NBA Finals out of the West coast. The East is just not ready.