Worth the Risk: Dwight being a Warrior!
Why Dwight to the Warriors isn't a bad idea. If you're thinking cause he's poisonous well I have two reasons this will work!
Draymond Green!
At 16.6ppg, 1.6bpg, 12.7rpg, 1.3apg at .559%, during the 2017-2018 campaign, Dwight could add even another layer to the potent Warriors team, that we may not want to see. Being able to work inside out, with a big. Saving KD's body from the extra physical play down low. While being superior on defense.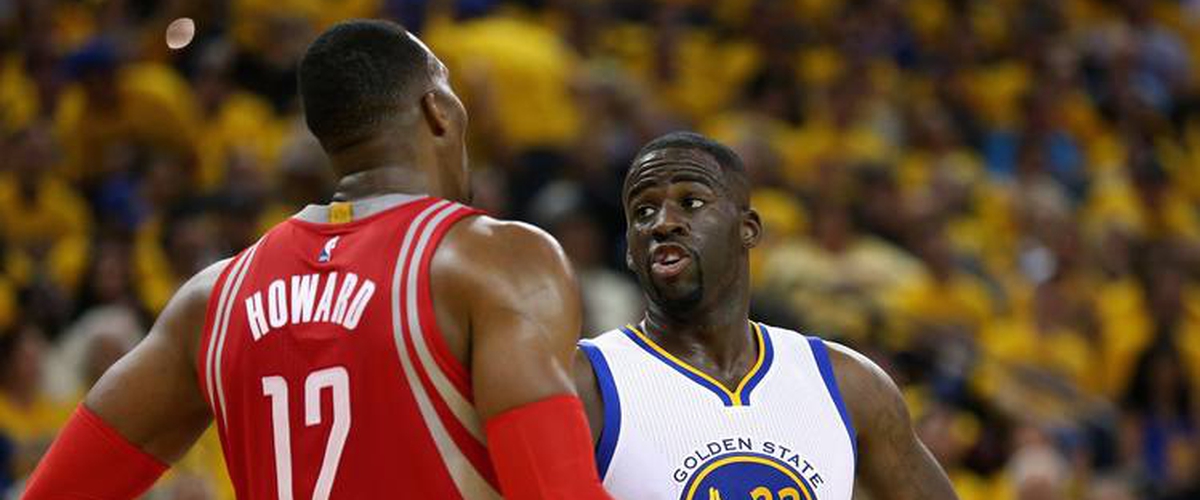 Sure, I'm crazy. What's been the issue with Dwight his last 4 NBA team? His presence in the locker room. He complains. He has players divided. He talks bad about management. Well, Dray isn't having it! The Warriors enforcer and vocal leader can be just what the Doctor ordered for Dwight. The one thing Dwight has yet to have in his career was somebody whose bark is a little louder than his. They say never mix oil and water. I can see Draymond as that person who calms Dwight down; calm after the storm! I mean, he's definitely not afraid to step in Dwight's face and informing him of the Warriors way. We've seen Dray go at it with teammates on the sideline and midgame about various things: lack of effort, energy, bad passes, bad shooting, etc. I'm sure he won't mind doing the same to Dwight if he sees his energy level changing. I can hear Dray saying something of the lines of "you knew whet you signed up for when you came over here big fella. So, take it smoothly, or you can ask to be released."
Hopefully, not the released part. Still, fact remains, the Warriors locker room is nothing like the Lakers, Rockets, Hawks or Hornets. Not that they were bad. We saw Dwight upset by his lack of involvement while being over aggressive. There wasn't anybody to keep him in grounded, not that he should need that. Instead they sort of undermanned his voice and added more fuel by more fire vs a voice to reason. Not reason in regards to understandng his raft moreso another ignitor; somebody who will cause the storm. Draymond is just that! Draymond got that Charles Oakley in him. He'll step to you to clear the issue. That helps a lot. Dray also is a big boy. That also helps a lot. No tussle will happen. Draymond wouldn't mind calling Dwight out midgame.
It's basketball, we see teammates at it all the time. Draymond won't back down. Dwight won't back down. Plus Draymond is good with reverse physiology. So I see him making Dwight upset purposely, to have a big impact on the game. Every time we see a Draymond and Warriors (whomever) aggressive talk they go on runs. I got you mapped out Draymond. I know what you be I think Dwight respects the Warriors and the Coaches style of play, to not allow that to be an issue. The Warriors looks similar to the Magic, when Dwight played there, so the spacing will automatically make him a factor itself. So he'll get the ball. Which will ease his past issues.
Same token that offense can benefit even more with the signing Howard; not that they need it. Imagine the Warriors having a few possessions where they allow the perimeter stars to rest while dumping it to a single covered Howard, in the post. They don't need another offensive focal point, however, knowing Howard is still physically and athletically gifted to score down low in the post is kind of stimulating for a team with limited post play, outside of KD here and there. Factor in the winning aura, coach and management of the Warriors, then I'm sure they'll easily be able to get Dwight to calm his spirit. Just let him know in the door that he may get limited touches some games and some games he may get more touches. However, the Warriors should and need to consider signing Dwight. He wants to win. Sell that to him. 4 straight finals appearances, winners of 2 straight finals, Dwight needs you all at this juncture of his career.
He wants to prove himself, badly, by any means. He'll be angry, and motivated. Go figure, Curry, Klay, KD, Green, Howard starts your game. They will help off of Green on the perimeter, when you decide to feed Howard in the post. As you run perimeter screens, freeing your shooters, you open up even a bigger tunnel for opposing defenses. Who will they cheat off of? Dwight passes to Green, Green is wise enough to still be in a playmaking state of mind. Thought it was hard guarding the Warriors then, it'll be hell now being that they can slow the game down if and we needed. Then when Dwight goes to the bench you can speed it up. However, Dwight is still somewhat agile enough to run with the Warriors while being in the game. Let's say they run their pick and roll. When it's 4 on 3 after the defense doubles. Draymond and Dwight can end up as a nice alley-oop connection.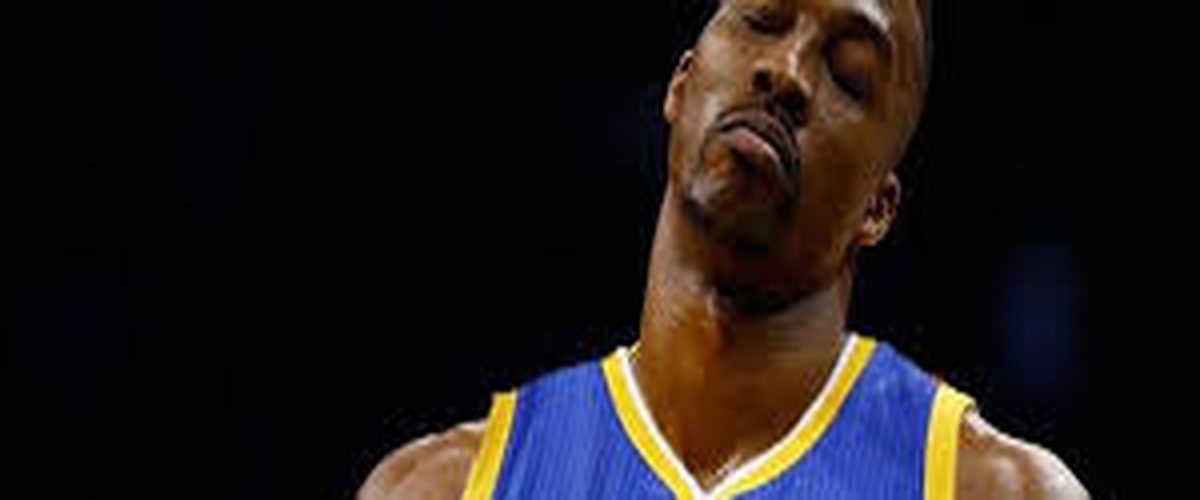 Factoring in the fact that Howard is an able passer to have him at the top of the key; shooters running flare and down screen motions. While he may not be able to spread the floor. You figure a little off ball action with Steph, Klay and KD, ending up with one of the two of them getting the ball from Dwight at the top of the key, Dwight then rubbing their defender and quickly rolling to the cup. Either he's scoring or kicking it out to a wide open shooter; Splash! Howard is not the best ball handler, however he is comfortable with grabbing a rebound and starting the break. Just don't go overboard, LOL! However, not many bigs can still keep up with Howard streaking down the court or with him handling the ball. So it'll work offensively! Imagine the most deadliest team with a safety valve. This is it. You'll have more dynamic lineups to feature.
You'll have: Green, Thompson, Iggy, KD (has been improving), Bell, and Howard having the ability to be Hound Dog's on defense, Curry is not too bad himself. Howard winner of 3 DPOY awards can still switch, protect the paint or play great help side defense. With a career of 2.0BPG Dwight would be adding to a team that ranked 3rd, 1st, 1st and 1st in defense the last four seasons, starting with 2017-2018 and ending with the 2014-2015 season. Adding that to a defense featuring: Draymond, whom also won a DPOY award, Iggy, a physical beast, KD, a lengthy nightmare, Klay, pesky, and Bell, I'm using all 6 fouls, to your defense should be very scary. Kerr, should be able to use that as an advantage from jump. That's been Dwight's building block. Reinvigorate him on that end. He can add more possessions. He can save baskets. He can be like having a hitman with a body guard in Draymond and Dwight being defense anchors. You can always use Dwight for the more physical big's. Draymond isn't a slouch, to have him battle in the post night end and night out, you'll have to think he'll love to give his body a break. He could use it with the likes of AD and Boogie as a unit. The Warriors had somewhat of n issue with defending the paint. They lack size however they make up for it with their offensive firepower.
Plus, what do you have to lose? If he gets up happy with winning and being great at what he does then, get rid of him! That simple. The Warriors matron is about sacrifice!!! First, Second and Third; Sacrifice! Sure they have 4 All-stars. If it was that simple every team would have 4 All-stars. Egos collide. People have discrepancies about whose team it is verses just winning as an unit. So, don't allow him to break that culture and aura. If he's seriously about winning, then he'll come to the team that's been winning their way and he won't allow his ego to get the best of him. Still, Draymond, will be that individual to keep Dwight in tune with what the mission is. Plus that'll be nice to see the two of them holding down the interior for the Warriors.
Follow me on Twitter:
SportsStory88