2018 NBA Draft Profiles: DeAndre Ayton
Hey guys. I'm going to be starting a new series today covering the top prospects for this year's upcoming draft. In it you'll find some insights, thoughts, and comparisons on the NBA's next generation of talent. Hope you enjoy.
DeAndre Ayton, C, Arizona - Freshman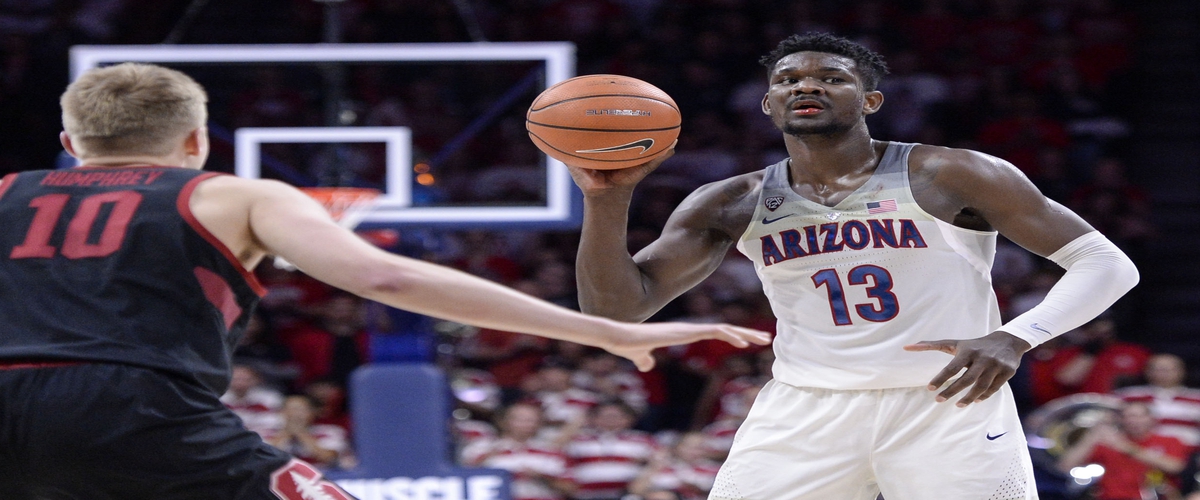 Background
Regarded by many as the top pick of next year's draft, and by others as the Association's next great big man, DeAndre Ayton is a terrificly talented individual. Hailing from the Bahamas, Ayton developed into a consensus five star recruit out of Hilcrest Prep Academy and earned Jordan Brand Classic honors as well as being named a McDonald's All-American in 2017. He committed to play for coach Sean Miller and the University of Arizona Wildcats during his senior year, and has emerged this season as one of the nation's top collegiate basketball players at one of the nation's top collegiate programs. Ayton figures to be the next in a long line of Wildcat big men selected in the first round, joining the ranks of Lauri Markannen, Aaron Gordon, Jordan Hill, and Channing Frye. Here are some things that have stood out to me on tape.
Positives
The phrase "a man amongst boys" takes on new significance when watching DeAndre Ayton play. His physique, height, and length are pretty much unmatched by any player at this level right now. He will quickly settle in on offense near the high post and establish his presence immediately. When he gets the ball, Ayton secures the ball high and tight away from defenders, and what I really like is that when he puts the ball on the floor, he uses his body to keep defenders away from the ball. He is a big boy, and he knows it. I've yet to see a game of his where he hasn't tried to exploit the fact that physically, he's longer, stronger, and faster than most other guys that play his position. He's got terrific bounce around the rim, and when he calls for the ball, he gets himself in a good base and makes himself an easy target for his guards to feed it in to him.
On offense, Ayton has fantastic upside. Despite his freak of nature physical tools, Ayton really seems most comfortable in the face up game, where he usually figures out in about a second how best to dissect his defender. Sag just enough, and his high post jumper is sweet. Play too close, and Ayton uses his fast feet and body control to get to the cup. He also uses his eyes effectively. You can pretty easily find guys in college who are solid on the catch and shoot or in the post, and occasionally guys who can do both, but Ayton keeps his head up and looks for double team opportunities to exploit as well. In the low post, Ayton becomes even more scary. Sometimes I swear, the guards on this Wildcats team will just heave up passes to Ayton in the post and he just snatches them out of thin air for a quick finish. On the offensive glass, forget about it. Ayton collects rebounds in one bounce, and before the defense even comes down, Ayton is already back in the air a second time for the flush. In isolation, Ayton shows a solid repertoire of post moves, and he really uses his strength and leaping ability to make some tough finishes through down low. And he can hit a three from time to time. Not bad.
On defense, Ayton is more of a highlight reel player. There are some possessions when he looks like an absolute animal defensively. Big men seemingly give up trying to back him down, and instead opt to try with a close hook, and find their shot usually heavily contested, tipped, or blocked entirely, with Ayton then bo out and collecting the rebound. I have yet to see a game where Ayton doesn't at least get a block. Because of his leaping ability, Ayton collects his fair share of defensive boards too, and he usually doesn't waste time dillying around. He secures the bag, makes a strong outlet pass to his guard, and breaks it up the floor. I see some possessions when he cheats a little on defense in an attempt to steal a pass or make a play, but it isn't usually an issue because his big strides and long arms of the law help get him back in plays.
Now I've read some reports on Ayton, and I've seen some people compare him to throwback centers like Pat Ewing and David Robinson. I don't know if the comparisons quite mesh, given how both were probably much stronger defensive players than Ayton, but certainly in terms of potential, these comps are spot on. Watch one game of Ayton, and you know he's good. Watch more than one, and you can see how this guy has superstar potential.
Negatives
Ayton is without a doubt a phenomenal talent, but he's hardly a complete basketball player. For my money, Karl Anthony-Towns was far more of a total package coming out in 2015. That's not to diminish Ayton at all, but he's not quite the stud on both sides of the ball that Karl Anthony-Towns was. NBA draft experts know this, and that's why good teams have extensive development plans in place for guys like Ayton. He has unlimited upside, but he also has some work to do if he wants to reach his superstar potential.
On offense, Ayton clearly coasts, at least to some degree, on his athletic gifts. He is lackadaisical moving around the floor and occasionally seems content to sit outside of the paint for long stretches. The effort level also isn't great. There are guys who have high motors, and he doesn't seem like one of them. That's not the worst thing in the world, because not all NBA superstars are, but you always have to question a player's intensity when they make the leap from college to the pros. Also, while standing outside of the paint is sometimes okay in an attempt to spread the floor a little, Ayton seems content with sitting outside the paint for long periods and then flying in to collect the putback once a shot is heaved up. At the next level, NBA big men are far less likely to give up some of these second chance points. I see some of these college big men going for the ball near Ayton on rebounds and, obviously, being a superior athlete, Ayton collects them easily. At the next level, good big men find a player, not the ball, and box out for boards. Other than the effort and intensity, not a whole lot of bad things to say about him offensively, which is great.
I like to think of Ayton as a highlight reel defender. He'll have moments where he looks dominant and blocks shots left and right, and other times where he regresses into an average defender. You'd think given his size and length that he'd do better than 2 blocks a game, but he doesn't. With a block rate of 6.3%, he comes nowhere near the defensive prowess of other prospects in this class who are in the mid to high teens. Even as a defender, ignoring the blocked shots, he lets up north of 102 points per possession in conference, which really isn't that good. On tape I see a lot of the same problems that he struggles with on offense. He doesn't play with great desire defensively, and if he is out of the play, rarely ever does he bring himself back into the play. I'll see plenty of times where guys try to get around him and he blocks their shot because of his length, but then occasionally, I'll see a team get a second chance attempt right next to him and he stands around watching. This is where the Pat Ewing comps fall apart in my eyes. Put on tape of Ewing, and he makes it his mission to own the paint. He blocks far more shots, yes, but just his presence and frame down there made it next to impossible to score down low. Ayton is far from that. He's difficult to score against, but he's far from a dominant defender at this level. He's got good foot speed and length, but he doesn't appear to use it all that well on defense.
Ayton is a great prospect, and when you think about his unlimited potential, it is easy to shrug off some of his shortcomings because he has the physical tools to overcome them. That's usually what NBA teams bet on anyways. But he feels a lot more of a longer, more athletic Chris Bosh than a Ewing or Robinson or Towns. Not a bad thing at all - Bosh was an 11x All Star and 2x NBA Champion - and personally, I do like Ayton as a prospect.
Conclusion
Ayton is no question, a very special talent who will without a doubt be a good player in the NBA for a long time. The real question here is does he have the desire and the intensity to become a great one. When you are asking these kinds of questions, you are usually talking about a top 3 pick and sometimes the #1 selection. Ayton has all the tools to be a dominant force in the NBA. I can only hope that Ayton goes to an organization that will develop his numerous physical gifts and make him into the superstar that he clearly is meant to be.