2017 Baltimore Ravens Preview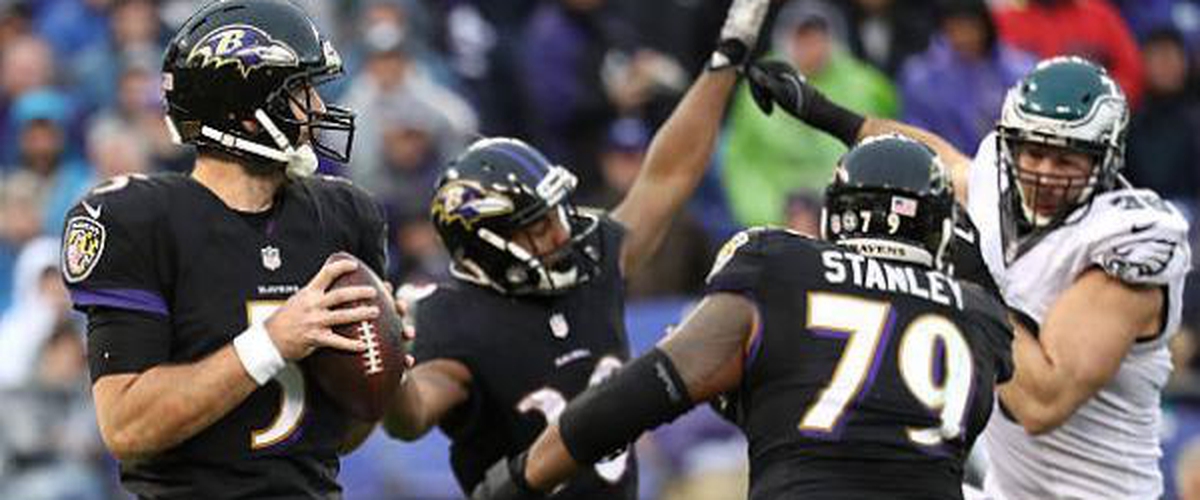 With the third team in the AFC North, I will be talking about the Baltimore Ravens. Over the past few years, it's been hard to tell if this team still has Super Bowl potential, or if they are destined to ride with the middle-of-the-pack until Joe Flacco retires. Seriously, you tell me. Last year, they struggled with injuries again and went 8-8, so maybe if they don't they could find themselves over .500.
DRAFT RECAP
For starters, they took CB Marlon Humphrey after the big name wideouts were all selected. Humphrey now gives the Ravens a pretty elite secondary, and enough insurance in case a CB gets injured again. They then decided to help beef up the front seven, and that started with the addition of OLB Tyus Bowser, followed by LB Tim Williams. DE Chris Wormley was selected in between the two. Surprisingly, they took no skill position players on offense, so it was a puzzling draft.
FREE AGENCY
They kept nose tackle Brandon Williams, which is a very important step to keeping the front seven alive. They also re-signed CB LaDarius Webb, although they are likely to move him to safety. As far as free agents are concerned, they added S Tony Jefferson from Arizona, CB Brandon Carr from Dallas, and RB Danny Woodhead from San Diego. All in all, those are five quality players they have going into training camp.
PLAYERS LOST
RT Rick Wagner is gone, and honestly the entire line looks like a mess with or without him. OLB Elvis Dumervil is a free agent still, but he's 33 and they already have one really old linebacker on the team (Terrell Suggs). DE Lawrence Guy went to New England, and FB Kyle Juszczyk went to San Francisco, but those losses aren't as big. WR Kamar Aiken is also gone, and he may not be the best wide receiver, but that's a position that Baltimore lacks bodies.
STRONGEST POSITION
It has to be the secondary now, because every other position has a severe lack of talent or was ravaged by injuries. Jimmy Smith, Carr, Tavon Young and Humphrey are at corner, while Jefferson, Webb and veteran Eric Weddle are the safeties. That's a really good group. They also have a lot of talent at the outside LB position.
WEAKEST POSITION
They don't have a true starting running back, the offensive line has three very questionable spots, and the inside linebackers not named CJ Mosley struggled to stay on the field. With that said, wide receiver had no injury problems, lost Kamar Aiken to free agency, and still have no real good options there. Mike Wallace is decent, but he's not a number one receiver anymore. Breshad Perriman could be okay, if he plays and doesn't struggle through injuries again and again. After that, the third leading receiver is Chris Moore, with 46 receiving yards. Yeah.
FIVE MOST IMPORTANT PLAYERS TO THE RAVENS' SUCCESS
QB Joe Flacco, NT Brandon Williams, ILB CJ Mosley, OLB Terrell Suggs, S Eric Weddle
Yeah, without any real playmakers on offense, it's all about the defense in Baltimore. Fortunately, the defense looks to be good enough to get them and keep them around .500, but what after that? All four of those players played like Pro Bowlers last season, and need to be the leaders of the defense again for this team to have success.
PREDICTIONS
As important as the defense is for the Ravens to win anything, the offense is what is going to either put them in the postseason, or have them win between 5 and 9 games. They have a solid committee of running backs, and a good group of tight ends. Mike Wallace is still a number two receiver at best. They just need to find more if they hope to make the postseason.