Assessing the Knicks with five games to go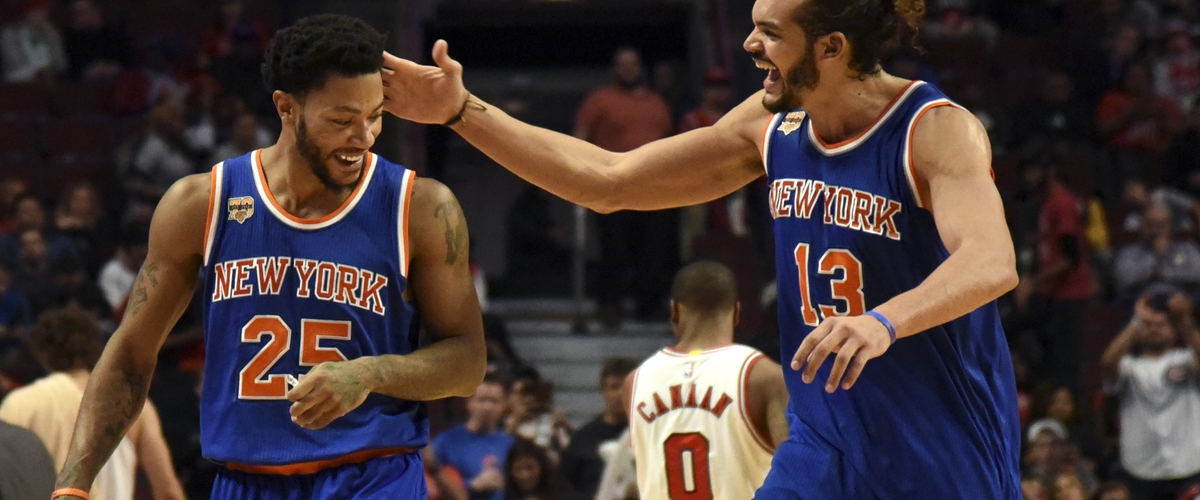 It's been a while since I've written a post due to some technical difficulties with the site, but things are back and running as the Knicks' season nears its end. Over the past couples weeks the Knicks have continued to plummet in the standings and raise their lottery odds. Thye still haven't won back to back games since before Christmas and their two biggest offseason acquisitions are now out for the season.
We all knew that Joakim Noah would be sidelined the rest of the year due to knee surgery, though we didnt know he'd face a suspension while doing so. Noah has been suspended by the NBA 20 games for violating the league's anti-drug policy. The Knicks' $72 million man took an over the counter, performance enhancing supplement that is banned under the league's collective bargaining agreement.
Noah's first season in New York was already a disaster prior to the news and things have somehow gotten worse with the news of his suspension. The only good news coming out of this is Noah was cleared to comeback and serve the first eight games of the 20 game ban. I'm being somewhat sarcastic when I say "good news" because I think the Knicks would rather Noah be off the roster entirely and never have played for them in the first place. Noah apologized to the fans and the organization, but his signing already has to go down as one of the worst moves in Knick history.
The same could possibly be said about Derrick Rose if he wasn't set to be a free agent after this season. Rose managed to stay healthy for most of his first season in New York, but that ended when Rose tore the meniscus in his left knee to sideline him the final six games. The injury was likely the last straw for any chance the Knicks might resign Rose this summer. As much of a relief as that is for Knick fans it's a sad end for Rose as he faces another uphill climb from injury.
The Knicks took a chance with the Rose trade this summer and while things started out ok they quickly took a turn south the night he went AWOL from the team. Rose still proved he had some bounce in his step and could get to the basket at will, but that couldn't make up for what an awful fit he was for this team. There was no chemistry with Rose and the entire starting unit all season long. His defense was terrible in all aspects and his perimeter shooting was nonexistent. He never formed any kind of on-court connection with Kristaps Porzingis or took on any kind of leadership role with his new team. The Knicks need a point guard who is going to have a positive impact on the development of Porzingis, as the Knicks plan to build around him moving forward. Rose just never filled that need.
I'd be lying if I said I wasn't a little bit happy that Rose won't be back next year, but it does sadden me to see him have to go through another serious injury. Derrick Rose isn't a bad guy, or a bad basketball player. He was just a bad fit for this Knicks team. Rose showed flashes throughout the year of the MVP player he once was after returning from numerous surgeries that would've kept a lot of guys away for good. It's admirable how he keeps coming back which makes it even more sad that his body continues to betray him.
To think that this could be the beginning of the end for someone who once was looked at as a future Hall of Famer is a real shame. Rose was the youngest MVP in the history of the league just six years ago. Now he'll face another uphill battle just to return to the league an even bigger shell of the player he used to be. His one and only season in New York was nothing short of a disaster, but I wish Rose nothing but the best and a healthy return to the game he loves.