2017 Mock NFL Draft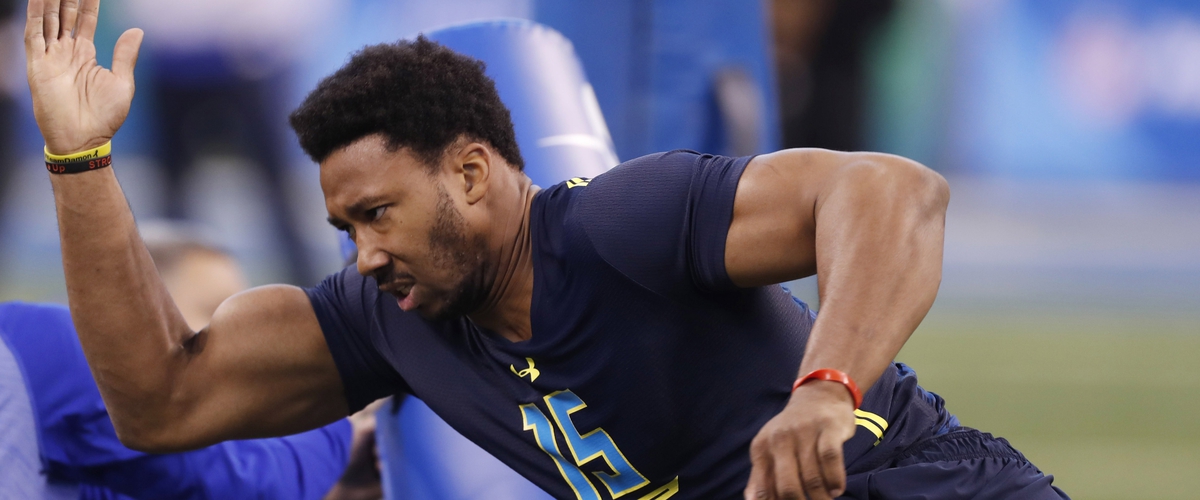 1) Cleveland Browns- Myles Garrett, Texas A&M, Edge
This is a no brainer pick. Garrett has all of the tools to be a once in a decade player. The rumor is that some Members of the Browns front office want to go quarterback here, but I think they can take Garrett and still manage to get their QB.
2) San Francisco 49ers- Solomon Thomas, Stanford, Edge
It wouldn't shock me at all to see the 49ers trade out of this spot come draft day. That being said, pairing Thomas with former first round picks Arik Armstead and DeForest Buckner could potentially give the 49ers a stud defensive front.
3) Chicago Bears- Jamal Adams, LSU, S
The Bears need to upgrade their pass defense in a big way. Especially when you are in a division against quarterbacks like Aaron Rodgers and Matt Stafford. Adams is the best safety in the draft and could be a difference maker from day one.
4) Jacksonville Jaguars- Leonard Fournette, LSU, RB
It wasn't long ago that teams were shying away from taking running backs so high in the draft. Then came the likes of Ezekiel Elliot and Todd Gurley who have shown just how impactful an elite running back can be. The Jaguars take Fournette here and hope he provides similar results.
5) Tennessee Titans- Mike Williams, Clemson, WR
The Titans need to find their franchise QB some playmakers. Kendal Wright has speed, but is small. Williams is an athletic, big-bodied receiver who can help take Mariota's game to the next level.
6) New York Jets- Marshon Lattimore, Ohio St, CB
It wouldn't surprise me if Lattimore was already taken by now, but if the Jets see him on the board I think they won't hesitate to pull the trigger. Lattimore has great size and athletic ability, with elite cornerback potential.
7) Los Angeles Chargers- Malik Hooker, Ohio St, S
Hooker is a perfect fit for new coordinator Gus Bradley's defense. He can immediately come in and anchor a secondary that has lacked a playmaker since the departure of Eric Weddle.
8) Carolina Panthers- Christian McCaffrey, Stanford, RB
McCaffrey's stock has been on the rise in the past few weeks. He is a very athletic and instinctual running back who the Panthers desperately need. The RB combo of the powerful Stewart and the elusive McCaffrey could rejuvenate Cam Newtons offense.
9) Cincinnati Bengals- Jonathan Allen, Alabama, DL
Pass Rush is a big need for the Bengals and Allen could immediately fill that role. He might not rack up the most sack totals, but he can create tons of pressure from any spot on the defensive line. The Bengal's would definitely love someone with his versatility.
10) Buffalo Bills- Marlon Humphrey, Alabama, CB
The Bills lost their top corner when Stephon Gilmore signed with the rival Patriots. Marlon Humphrey is raw, but the size/speed combination offers a lot of upside.
11) New Orleans Saints- Haason Reddick, Temple, LB
The Saints badly need an athletic, playmaking linebacker. They brought in a few veterans, but no one with the upside of Reddick. The former Temple linebacker will immediately bring much needed speed and youth to the Saints defense.
12) Cleveland Browns- Mitch Trubisky, North Carolina, QB
This would be a dream scenario for the Browns. They would receive a defensive anchor along with the quarterback they reportedly covet. Trubisky has potential, but is still raw and will need the right development in order to thrive.
13) Arizona Cardinals- Reuben Foster, Alabama, LB
Off the field issues could easily push Foster out of the first round, (especially with the latest failed drug test) but I think a team is going to fall in love with his potential. If he can stay on the field he would be a steal for the Cardinals and can anchor an already dominant defense for years to come.
14) Philadelphia Eagles- Gareon Conley, Ohio St, CB
Conley is a great Cornerback. He will always be compared to his teammate Marshon Lattimore who is viewed as a superior prospect, yet Gareon has great size and athleticism himself. The Eagles would love to get a shut down corner to help solidify their secondary.
15) Indianapolis Colts- Derek Barnett, Tennessee, Edge
Easily one of the most productive college players over the past couple of seasons. Barnett is a blue-collar player who gives it his all on every down. If he were able to put up great athletic numbers at the combine he would easily be a top 5 pick. The Colts desperately need to improve in the pass rush and he could be the answer.
16) Baltimore Ravens- Corey Davis, W Michigan, WR
The Ravens lost Steve Smith to retirement and Kamar Aiken to free agency, leaving a big gap at the receiver position. Davis is one the most pro ready receiver's in the draft and could provide a big-bodied receiver for Joe Flacco.
17) Washington Redskins- Taco Charlton, Michigan, Edge
The Redskins need a pass rusher to pair with sack master Ryan Kerrigan. Charlton needs more consistency, but he is a talented pass rusher who could blossom with the Redskins.
18) Tennessee Titans- Kevin King, Washington, CB
The Titans have a big hole in their secondary, even before releasing Jason McCourty. The signing of Logan Ryan will help, but Kevin King would be a very nice addition. King fits the mold of the big/fast corner that teams are falling in love with these days.
19) Tampa Bay Buccaneers- Dalvin Cook, Florida St, RB
This just makes too much sense. Tampa cannot rely on the health of Doug Martin, and are in need of a big time playmaker at the RB position. Cook is a former Florida State product, as is the Buccaneers franchise QB. Skeptics have doubted Cook since his poor showing at the NFL combine, but numbers don't always tell the truth.
20) Denver Broncos- O.J. Howard, Alabama, TE
It would be surprising to see O.J. Howard fall this far with how in love teams are with size/speed freaks, but it could happen. Howard is the best tight end in a very good class, but he never really put up huge numbers at Alabama. Denver needs someone with his ability who cannot only burn defenses, but can run block as well.
21) Detroit Lions- Jabrill Peppers, Michigan, S
Pepper's is a mystery with how people are grading him. Some think he's first round worthy, while others don't. It comes down to what position teams think he can play. Peppers can flat out play football and is versatile and athletic. He can play safety, linebacker or even nickel.
22) Miami Dolphins- Forrest Lamp, W Kentucky, OG
Miami has finally moved Laremy Tunsil to tackle, which would allow Lamp to step in right away at a guard position. He is a very versatile player who would be a tackle at the NFL level if it weren't for his lack of size. Miami would be wise to help protect Ryan Tannehill.
23) New York Giants- Cam Robinson, Alabama, OT
Robinson Is the most prototypical Left tackle in the draft in the sense that he is 6'6" 320lbs, has long arms and big hands. Robinson definitely needs to play with much more consistency which is why he slides down the first round. Still, the Giants need help at the tackle position and Robinson could end up being worth the risk.
24) Oakland Raiders- John Ross, Washington, WR
Once John Ross set the combine on fire with his record breaking 40 times, his stock went through the roof. Injury history is a concern, but the Raiders have always been enamored with speedsters. Crabtree and Cooper are a great duo, but neither offers anywhere near the speed that Ross can bring. That offense would be sure hard to stop.
25) Houston Texans- Deshaun Watson, Clemson, QB
The Texans can't be serious about starting Tom Savage, or Brandon Weeden. They traded free agent bust Brock Osweiller and failed to get Tony Romo. Now they are forced to look to the draft. Deshaun Waton is winner, period. He is athletic and has great leadership. His decision-making and inconsistency will come into question, but the upside is there.
26) Seattle Seahawks- Ryan Ramczyk, Wisconsin, OT
For the Past few years the Seahawks have continued to either trade or not re-sign their top lineman. It finally has caught up to them as last year Russell Wilson was constantly pressured all year, and the ground game stalled. Ramczyk is a big athletic tackle who can play on either side. He would be an immediate upgrade.
27) Kansas City Chiefs- Jarrad Davis, Florida, LB
Its hard to judge where Davis will go, but if he falls to the Chiefs they will have gotten a steal. Davis is a great all around football player who can eventually take over for Derrick Johnson. He would be a great value pick here, with star potential.
28) Dallas Cowboys- Takkarist McKinley, UCLA, Edge
The Cowboys could definitely benefit from adding a raw athletic edge rusher like McKinley. He has the skill set to be a versatile scheme player, which is very beneficial in todays NFL.
29) Green Bay Packers- T.J. Watt, Wisconsin, Edge
Why not take a chance on a hometown Wisconsin player with Watt bloodlines? Watt is a heck of a player and he fits exactly what the Packers need.
30) Pittsburgh Steelers- Tre'Davious White, LSU, CB
The Steelers need help in the secondary as they were burned a lot over the past couple of years. White has a lot of experience and great footwork, which will help his game translate to the next level.
31) Atlanta Falcons- Charles Harris, Missouri, Edge
With an already stacked roster the Falcons go best available here. Harris will immediately provide another pass rushing element and tough player to a young defense. Dan Quinn would love this guy.
32) New Orleans Saints- Adoree Jackson, USC, CB
It's hard to gauge where Adoree Jackson will go. He's an all around special talent who can play defense or offense. He is a bit undersized with what nfl teams are looking for these days, but he's an elite cover corner. The Saints defense has continuously been beat up in the secondary and Jackson could help immediately.
Hope you enjoyed the article. Feel free to comment or share.
Thank you!
-TJ