Projected Mets Starting Rotation for 2018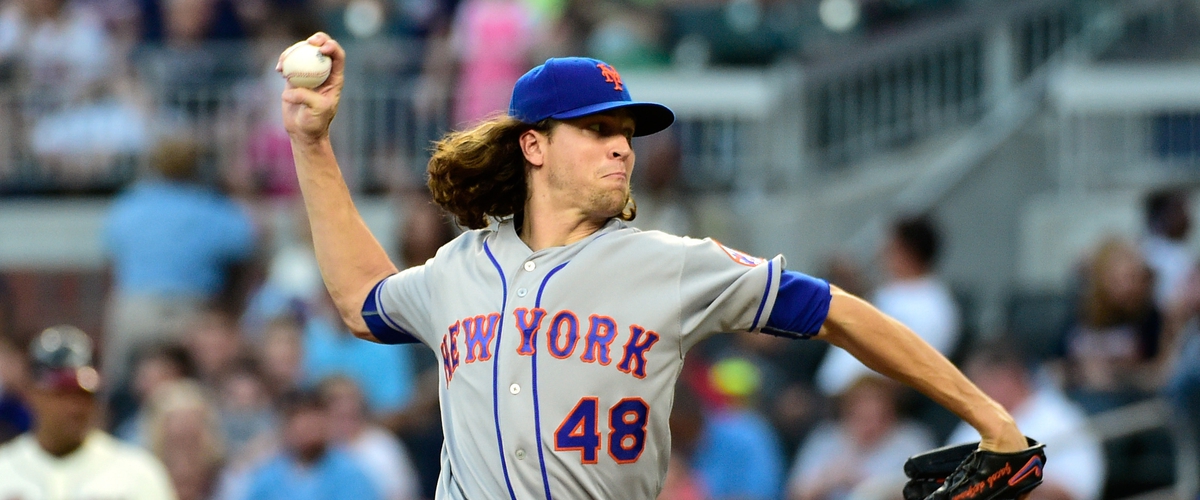 The New York Mets starting rotation is still decent. It's not like they have a bunch of aging scrubs that are looking for a job, they have a bunch of young guys, none of which are older than 29. A lot have untapped potential that manager Mickey Callaway will hopefully tap into, along with pitching coach Dave Eiland. There are obviously major question marks with the back end of the rotation heading into the new year, as there are about five candidates that can fill in the every fifth start. Stability in the rotation will have to rely on health, with Mets starters last season spending far too much time on the disabled list with the sole exception of Jacob deGrom. Keeping all of this in mind, here is the projected starting five-man rotation for the New York Mets heading into the 2018 MLB season.
1. Opening Day Starter, Jacob deGrom
Aside from a few iffy starts in the 2017 season, Jacob deGrom pitched brilliantly. He was an all-star snub, and proved it by finishing 8th in the Cy Young award voting for the NL. He finished with career highs in wins (15), strikeouts (239, second in the NL behind Max Scherzer), and innings pitched (201.1, second in the NL behind Zack Greinke). He did set a career high in ERA (3.53) and losses (10), but he nonetheless pitched exceptionally well. He without a doubt deserves to be the opening day starter for this team, and the Mets should probably consider giving him a contract extension and pay him what he's worth considering he looks to be the ace of this team.
2. Other de facto ace, Noah Syndergaard
If Noah Syndergaard did not get hurt and miss most of last season, he would arguably be the best and most durable starter on the Mets roster. Going into his age-26 season, he has already compiled 418 career strikeouts. He's also arguably the Mets most recognizable and marketable player due to his star power both on and off the field (check out his feud with Mr. Met, it's high quality entertainment). There isn't really much else justification, he's definitely going to be either 1 or 2 in the rotation, I'm simply putting him at 2 due to the tremendous season Jacob deGrom had last year.
3. Still Has Potential But Must Prove Himself, Steven Matz
This is a bit of a pickle, since last year every pitcher outside of the aforementioned ones had a turd of a season, but I'm putting Matz third in the rotation despite all of that. He is a phenomenal pitcher when he's on, but when most important he's healthy. He has yet to pitch more than 135 innings in a season, and has been plagued with the injury bug pretty much since he was drafted back in 2009. He was horrid last season, however, posting a 6.08 ERA and having a putrid 2-7 record. He's going into his pre-arbitration years, as well as his age-27 season, so I believe he can be motivated enough to earn a big paycheck. Durability is going to be a major concern with him, but when he's healthy he's usually reliable.
4. Last Season's Second Best Pitcher, Seth Lugo
Lugo is a hard working player, and he more than deserves a spot in the rotation next year ahead of names like Robert Gsellman and Matt Harvey. Logo was a workhorse, after partially tearing his UCL during the 2017 World Baseball Classic championship game against the United States, he still came back and managed to fill more than 100 innings last year. He posted a modest 7-5 record and a 4.71 ERA. He happens to have one of the more wicked curveballs in all of the MLB. Time will tell if he is able to manage another solid season, because everyone knows the Mets are going to need it.
5. The One Who Just Happened to do Better Than the Others, Robert Gsellman
This was a tough call to make, because there were not any bright spots in the back end of last seasons rotation, aside from a few decent Rafael Montero starts. Gsellman gets the nod because he just happened to do the least terrible job, despite people still believing in the potential of Zack Wheeler and Matt Harvey. This one might not happen, because Callaway might still believe that "The Dark Knight" Harvey still exists (spoiler alert, he doesn't) or that Wheeler IS NOT made of fragile glass as he seems. I'm doing this prediction based on who deserves it the most, and Gsellman does. He outplayed both Harvey and Wheeler in my opinion, despite Wheeler's WAR being higher (I have no clue as to why, this just proves that WAR is the most overrated stat in baseball). Gsellman is also younger than the both of them, so he has more potential than both as well. Gsellman gets the nod.
Mickey Callaway is better off putting Harvey and Wheeler in the bullpen. Perhaps Matt Harvey can revitalize his career the way former starters Archie Bradley of the Arizona Diamondbacks and Andrew Miller of the Cleveland Indians did in the bullpen. Maybe this will be a wake up call to Zack Wheeler that he cannot get by based off of past hype alone and maybe he can learn a thing or two about durability.
The five I listed are the best players for the job, and will hopefully not produce a laughingstock of a season the way the rotation did last season.