Projecting the Mets Starting Lineup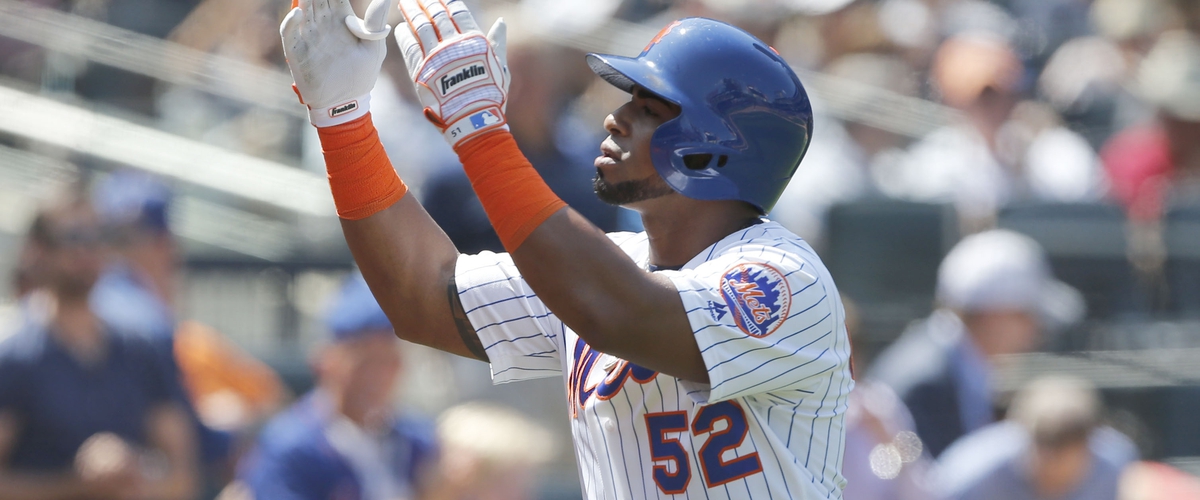 The New York Mets offense was not bad last season, considering all of the injuries to players like OF Yoenis Cespedes and Michael Conforto. The offense had playoff caliber stuff, they just could not for the life of them stay healthy. However, with the new coaching staff and trainers, I wholeheartedly believe that this lineup can avoid any serious injuries. From lead off to the nine spot, the Mets lineup has the potential to compete with the Washington Nationals for the NL East division title. If they can avoid the injury bug, the team all around can win NLCS and perhaps even their first World Series in 32 years (that's a stretch, but a fan can dream). This lineup is as of January 15, 2018, without any extra free agent signings.
1. Amed Rosario, SS: Once considered the #1 prospect in the MLB according to ESPN's Keith Law, Rosario still has a lot of untapped potential considering he has never played a full major league season. Last season, we saw flashes of brilliance, but definitely room to grow. Rosario can run, hit for average, and has a bit of pop in his bat. If he's able to draw more walks and cut down on the strikeouts, he can show marginal improvement in the 2018 season.
2. Michael Conforto, OF: Conforto truly came into his own last season, having a breakout season despite not even going into the season guaranteed a starting job. He was the lone Mets representative at the all star game in Miami, and played exceptionally well until he dislocated his shoulder on a scary swing of the bat. He hit well batting leadoff last year, and I believe him and Rosario could be a deadly 1-2 punch at the top of the order.
3. Jay Bruce, OF: The man once loathed in New York, he was arguably the best player on the Mets roster last season before being traded to the Cleveland Indians for Ryder Ryan. Arguably an all star snub, Bruce has consistently torn the cover off of the ball while he's played in the majors, and can be the best player on the team next season if he stays disciplined at the plate, and with Rosario and Conforto at the top, he can become an RBI machine.
4. Yoenis Cespedes, OF: La Potencia, as he's known as, was the hero New York wanted back in 2015, who took a struggling offense and led it to the World Series. Fast forward a couple of years, and people already want to trade him (because New York fans are simultaneously the best and worst kind of people). If he's healthy, he's truly on point and a perennial MVP contender, but health is very important. If he's healthy, he's the Mets best hitter, but he must remain healthy. If he does, he's going to hit a lot of home runs and and drive in many more.
5. Wilmer Flores, 3B: Does anyone know who is going to play second or third base for the Mets yet? No? Me either. But Flores goes here due to the fact that he has a great bat that doesn't get to shine often. Although his defense is sub par at best, he gets the 3B job over Asdrubal Cabrera due to the fact that he has more range than Cabrera. Flores is still very young and brimming with potential, he just needs the opportunity to showcase it on a consistent basis similarly to Michael Conforto. A beloved fan favorite, I don't think anyone will be opposed to Flores playing everyday.
6. Asdrubal Cabrera, 2B: A veteran with playoff experience and a good switch hitting bat, Cabrera is far beyond the years of his prime when he made amazing plays (https://m..com/watch?v=blrrWlZ7wDQ), but he's still a very useful utility player. He's obviously not getting any younger, and putting him higher in the lineup would be a hinderance to the team. He is still a clutch player and provides leadership to a young team that so desperately needs it.
7. Travis d'Arnaud, C: I would personally much prefer putting Kevin Plawecki in this position, as I believe he has much more potential and a better bat, but the nod is likely going to d'Arnaud, the prospect once thought to be the prize of the now infamous R.A. Dickey trade. But he's not, clearly. His bat isn't streaky and his defense isn't much better. But, the Met front office higher ups still believe in his potential, so that's why he goes into this position. That's all, because I truly don't believe he has earned the starting job.
8. Adrian Gonzalez, 1B: Its a very odd thing to put a first baseman in the number eight spot, but that's precisely what has happened because Gonzalez is entering his final years as a player. He's likely to be a fill in until Dominic Smith is ready for his shot in the majors. Gonzalez will be a nice mentor for Smith, and show him what it takes to be an elite 1B like he once used to be. Gonzalez also still has a decent bat, and will likely turn into a useful bargain for the Mets.