2017 MLS Week 6 Team of the Week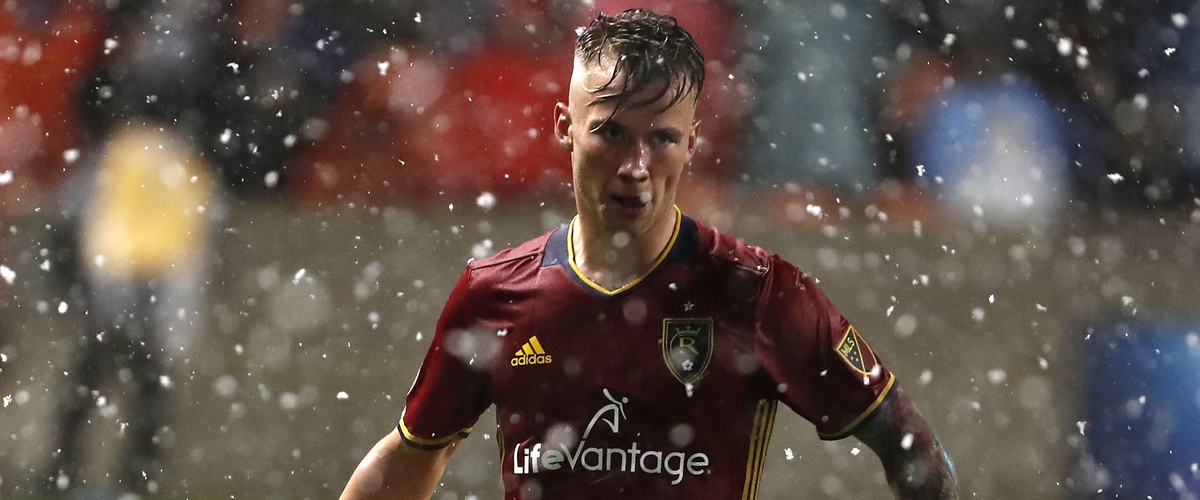 GK: Jesse Gonzalez, FCD
1x Team of the Week
Whenever you have a week in which people say you challenged for the starting job, you had to have impressed. Gonzalez was able to record a shutout win over Minnesota United who was one a bit of an offensive streak lately. Jesse was heavily tested and recorded five saves in his shutout victory.
DEF: Walker Zimmerman, FCD
1x Team of the Week
Walker Zimmerman has been one of the most dominating centerbacks in MLS in recent years. His youth and skill was even enough to get him a January camp call-up. This week Zimmerman proved why he has received some attention. This week, Zimmerman was able to help FCD record a shutout victory. In dominating defensively, Zimmerman was also able to help offensively. Zimmerman assisted on Dallas's first goal of the game.
DEF: Seth Sinovic, SKC
1x Team of the Week
Seth Sinovic was finally able to score his first ever MLS regular season goal! Sinovic started the scoring in this game and was able to dominate from the leftback position. Sinovic dominated defensively and the SKC backline only allowed one late goal. Adding to his goal, Sinovic was also able to assist on SKC's second goal.
DEF: Matt Hedges, FCD
2x Team of the Week
I previously listed Walker Zimmerman on this week's Team of the Week, and now here is his centerback partner, Matt Hedges. Hedges was extremely dominant in his game against Minnesota United. A shutout win over a potential golden boot winner is quiet impressive!
DEF: Nick DeLeon, DCU
1x Team of the Week
Moving DeLeon from the midfield to rightback was a very good decision for D.C. United. DeLeon has developed into a very reputable fullback and he was able to help D.C. beat NYCFC. D.C. only allowed one goal this week, and it was a garbage time goal to David Villa. I expect DeLeon to continue to impress on defense and be a top fullback within three seasons.
MID: Victor Vazquez, TFC
1x Team of the Week
Vazques impressed for the first real time since joining MLS. This week Vazquez was able to assist on both of Toronto's goals against Atlanta. Vazquez is a very impressive attacking midfielder and his performance will be key for TFC's attack. Vazquez performed this week and TFC's offense finally seemed to arrive!
MID: Michael Barrios, FCD
1x Team of the Week
Barrios is one of the most underrated midfielders in MLS. This week Barrios was able to score FCD's second goal and he assisted on FCD's first goal. Barrios is wonderful at holding up possession, making key passes, and moving without the ball. Barrios pushing up the field to help the attack is key for FCD's offense as a whole.
MID: Albert Rusnak, RSL
1x Team of the Week
Rusnak is the MLS Aces player of the week. Rusnak scored his first ever MLS goal to start the scoring for RSL. His next major impact on the game was assisting on the team's second goal. You thought his day was done? NOPE! Rusnak was able to assist once again on RSL's third goal! RSL beat Vancouver 3-0 and Rusnak was an impact on all three of his team's goals, what a game.
MID: Dax McCarty, CHI
1x Team of the Week
The final midfielder on this week's team of the week is defensive midfielder, Dax McCarty. McCarty showed his typical defense game and slowed the attack of Justin Meram and the rest of the start studded Columbus midfield. McCarty was also able to show his offense impact by holding up the offensive play. Once held up, McCarty was able to assist on the game's lone goal. His beautiful pass to Nemanja Nikolic put Chicago up 1-0, and that's how the game would end.
FOR: Hector Villalba, ATL
1x Team of the Week
With Josef Martinez out due to injury, someone had to step up and score goals for Atlanta. Hector Villalba was just that player and he was able to score a brace against Seattle. Scoring a brace against a top team in the league is quite impressive and Atlanta looks dangerous when Martinez comes back.
FOR: Dom Dwyer, SKC
1x Team of the Week
Finally Dom! Dom Dwyer finally scored his first goal of the season against Colorado. Dwyer scored the third goal against Colorado and he also assist on another of SKC's goal. Dom Dwyer finally got offensive help from his wingers and he looked like the talented Dwyer that we have come to know and love.
Bench:
GK: Bill Hamid, DCU
2x Team of the Week
DEF: Joshua Smith, NE
2x Team of the Week
DEF: Aurelien Collin, NYRB
1x Team of the Week
MID: Will Johnson, OC
1x Team of the Week
MID: Jermaine Jones, LA
1x Team of the Week
FOR: Gerso Fernandes, SKC
1x Team of the Week
FOR: Nemanja Nikolic, CHI
1x Team of the Week