MLS Aces Week 28 Team of the Week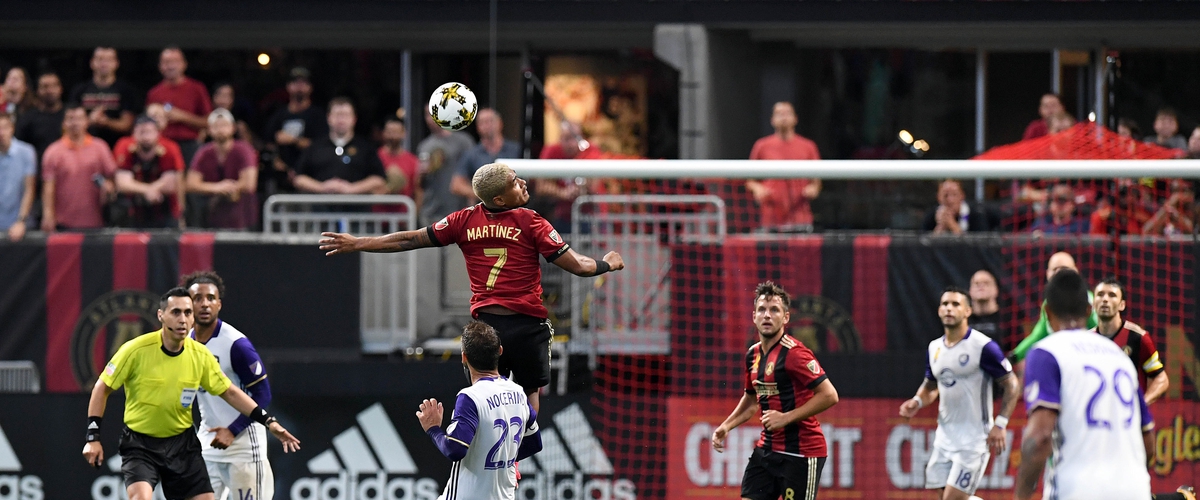 GK: Andre Blake, Philadelphia Union
2x MLS Aces Team of the Week
With recent reports coming out that there was Premier League interest in Blake his performance this week was once again dominant. Blake was able to go into Red Bull Arena and have one of the best goalkeeping performances of the season. Blake allowed zero goals to the Red Bull attack and in the process he saves eight shots in the 0-0 tie.
DEF: Greg Garza, Atlanta United FC
6x MLS Aces Team of the Week
Greg Garza has had a stellar season for Atlanta and in the last few weeks has looked extremely impressive. Garza has lead a defense that has come into its own as of late and once again they performed. Garza and the Atlanta defense allowed zero goals to New England and then three to Orlando City. Though allowing three goals in one game is great, Garza didn't play in that match. In Atlanta's match against New England he scored one of his team's seven goals.
DEF: Drew Moor, Toronto FC
1x MLS Aces Team of the Week
The TFC backline is a very good mix of veterans and youth. One of the key veterans on this squad is Drew Moor. Moor was part of a TFC backline allowed zero goals to the Galaxy shutdown the likes of Zardes and Giovanni Dos Santos moving forward in the attack. This week Moor was able to get into the attack when he scored a goal in the 24th minute to start the scoring.
DEF: Brandon Vincent, Chicago Fire
4x MLS Aces Team of the Week
Bradon Vincent has made it back onto the Team of the Week after a great performance against D.C. Vincent and the Chicago backline shutout the weak D.C. attack which had nothing going. Vincent had a great game not only on defense but on offense as well. Vincent scored the Fire's second goal by putting one away in the 62nd minute. Vincent put on a top game and in my opinion has a shout as one of the best American leftbacks RIGHT NOW!
DEF: Anton Walkes, Atlanta United FC
2x MLS Aces Team of the Week
The Tottenham loanee has really stepped up in a new role for Atlanta. Walkes has filled in a lot at rightback splitting time with Tyrone Mears. Walkes is young, has a ton of talent, and can play multiple positions which has helped him be a top player for Atlanta. This week Walkes, Garza and the Atlanta backline shutout New England and then Walkes wasn't really involved in the three goals scored by Orlando City. Walkes added a goal this week as well by putting one away in the 7-0 win against New England.
MID: Kekutah Manneh, Columbus Crew SC
2x MLS Aces Team of the Week
Kekutah Manneh seems to finally have found his form in the last few weeks for Columbus. Manneh (besides being one of my favorite dudes of the field), was easily the best player on the field for Columbus in their 2-2 tie to Western Conference leaders Vancouver. Manneh started his game by assisting on Ola Kamara's 19th minute goal to tie the game at 1-1. Finally, Manneh would go on to put his team up 2-1 with a goal in the 63rd minute of the game.
MID: Yordy Reyna, Vancouver Whitecaps
2x MLS Aces Team of the Week
Speaking of midfielders getting hot as of late, nobody has seemed to play better than Yordy Reyna. Reyna dominated in both of Vancouver's games this week. In the Whitecaps game against Minnesota Reyna was able to score the first goal of the game and then finally assist on Erik Hurtado's 31st minute goal. In the Whitecaps second game of the week against Columbus he factored into that box score as well. Reyna assisted on Fredy Montero's game opening goal.
MID: Albert Rusnak, Real Salt Lake
4x MLS Aces Team of the Week
Rusnak has been one of the best young players in MLS this season. This week in Real Salt Lake's 2-1 victory over Portland Rusnak was a factor on both goals. First, Rusnak scored the game opening goal in the 14th minute. After Diego Valeri tied the game at 1-1, Rusnak came back and assisted on a Jefferson Savarino goal to have RSL win 2-1.
MID: Victor Vazquez, Toronto FC
5x MLS Aces Team of the Week
This guy seems to be on every Team of the Week list. Vazquez once again dominated as TFC went on to win 4-0 over LA. Vazquez would tally up a goal and assist to continue to add to his high season totals. Vazquez first assisted on a Tosaint Ricketts goal in the 76th minute and then went on to score his own in the 78th minute. In a lineup without Altidore and Giovinco, Vazquez stepped up and was the best player on the field for TFC.
FOR: Josef Martinez, Atlanta United FC
4x MLS Aces Team of the Week
What. A. Fucking. Week... Josef Martinez literally took a shit on the entire league this week. First, Josef Martinez would go on to score a hat trick in Atlanta's 7-0 win over New England. In that game two of his goals came from penalty kicks. In Atlanta's second game, against Orlando, Martinez would score another hat trick none of them coming from penalty kicks. Again... WHAT. A. FUCKING. WEEK!
FOR: Dom Dwyer, Orlando City SC
3x MLS Aces Team of the Week
Dom Dwyer had his first really dominate game for Orlando City as he would go on to score two of Orlando City's three goals against Atlanta. Dwyer would then go on and assist on OC's third goal scored by Cyle Larin. Dwyer dominated this game and was the main reason why the Lions came away with a point.
Bench:
GK: Andrew Tarbell, San Jose Earthquakes
1x MLS Aces Team of the Week
-1 game
-0 goals allowed
-4 saves
-Win
DEF: Graham Zusi, Sporting Kansas City
5x MLS Aces Team of the Week
-1 game
-1 goal allowed
-1 assist
DEF: Marcel de Jong, Vancouver Whitecaps
1x MLS Aces Team of the Week
-2 games
-2 goals allowed
-1 assist
MID: Blerim Dzemaili, Montreal Impact
5x MLS Aces Team of the Week
-1 game
-1 goal
-1 assist
MID: Brek Shea, Vancouver Whitecaps
1x MLS Aces Team of the Week
-2 games
-1 goal
-1 assist
FOR: Fredy Montero, Vancouver Whitecaps
5x MLS Aces Team of the Week
-2 games
-1 goal
-2 assists
FOR: Hector Villalba, Atlanta United FC
5x MLS Aces Team of the Week
-2 games
-1 goal
-2 assists