MLS Week 27 Team of the Week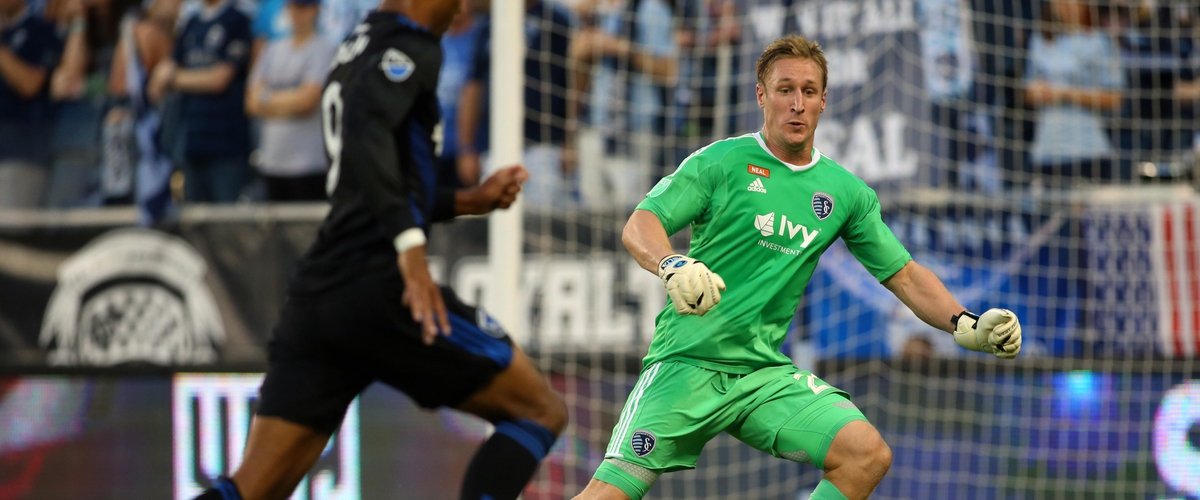 GK: Tim Melia, Sporting Kansas City
4x MLS Aces Team of the Week
This week Melia played a tough two games and came out of it with a tie and a loss. Even though the results didn't go his way the SKC keeper impressed greatly in net. Melia was able to allow two goals in total, one in each game. Melia had a total of nine saves in both games this week and was a huge factor in SKC staying in both games.
DEF: Leandro Gonzalez Pirez, Atlanta United FC
2x MLS Aces Team of the Week
Atlanta United's best center-back was in great form this weekend. Pirez and the Atlanta United backline allowed zero goals against FC Dallas this week. Pirez played a great game and the talent that FC Dallas has in the midfield couldn't get anything through him. He also impacted the offense this week as he scored a goal in the 14th minute to start the game's scoring.
DEF: Matt Besler, Sporting Kansas City
3x MLS Aces Team of the Week
Matt Besler has been one of the best defenders in MLS this season and once again he had himself a great week. Besler played in both games for Sporting Kansas City this week and in both games they only allowed one goal in each game. Besler also added an assist this week as he assisted on Cristian Lobato's goal against the Columbus Crew.
DEF: Brent Kallman, Minnesota United FC
1x MLS Aces Team of the Week
Besides Christian Ramirez, Kallman has been one of the better NASL additions from last season. This week Kallman and the Minnesota backline only allowed one goal to the Union who had trouble getting anything going. Kallman had a stellar game against the Union slowing the likes of Ilsinho and Chris Pontius. Kallman is a guy who can easily play in MLS and deserves the step up into MLS.
DEF: Jake Nerwinski, Vancouver Whitecaps
1x MLS Aces Team of the Week
Newwinski makes his first ever appearance on the MLS Aces Team of the Week after dominating against Real Salt Lake. Nerwinski and the Whitecaps let up two goals to RSL, one being a true decently scored goal. However, Nerwinski was a major impact on offense over his defensive impact. First, Nerwinski assisted on the opening goal in the 29th minute. He finished his game with another assist on a Yordy Reyna 64th minute goal. Not a typical game to make the MLS Aces
Team of the Week but he still had a great week.
MID: Miguel Almiron, Atlanta United FC
7x MLS Aces Team of the Week
The French midfielder (for you podcast listeners hopefully you got that joke) had a game that lead Atlanta to victory. Almiron was able to factor in on two of Atlanta's three goals in their 3-0 victory over FC Dallas. Almiron first got into the box score with an assist to Leandro Pirez in the 14th minute. He followed that up with another assist, this time to Josef Martinez in the 46th minute.
MID: Victor Vazquez, Toronto FC
4x MLS Aces Team of the Week
Toronto had an offensive showcase against San Jose as the reds beat them 4-0. Victor Vazquez was once again in the middle of the TFC offense. Vazquez started off the scoring in this game with a goal in the 26th minute coming from a Steven Beitashour pass. Then Vazquez would go and get an assist himself as he assist on a Jozy Altidore goal in the 48th minute. The midfielder for Toronto is very Inesta-esc and was exactly what this team needed to be the best in MLS.
MID: Diego Valeri, Portland Timbers
9x MLS Aces Team of the Week
Valeri has been CLUTCH for PTFC is recent weeks. When Portland needed a player to step up for them and break a 0-0 tie with NYCFC Valeri was the hero. A misplayed Pirlo pass resulted in a turnover that Valeri took complete advantage of. The MLS veteran did what fans in the northwest have seen for years... put that shit away! Valeri scored the game's lone goal and was a major key for 90 minutes.
MID: Bernie Ibini, Vancouver Whitecaps
1x MLS Aces Team of the Week
Ibini may not be a household name for all MLS fans but for Whitecap fans they should be happy that he was on their team in week 27. Ibini was connecting passes all over the field in the Whitecaps 3-2 win over RSL factoring in on two of his team's goals. First, Ibini assisted on Christian Techera's 29th minute goal and followed that up with an assist to Yordy Reyna in the 64th minute. A great game from many Whitecaps but Ibini in particular sealed the win for his team.
FOR: Jozy Altidore, Toronto FC
4x MLS Aces Team of the Week
As I mentioned before, TFC completely beat up on San Jose this week and two men dominated in that game. I mentioned one before in Victor Vazquez and the other is Jozy Altidore. Jozy had a excellent game for the best team in MLS as he had a brace with goals coming in the 48th and 64th minutes. Jozy is a prototypical striker that may fall behind in ability at times, but when he is hot, not many in MLS can do it better.
FOR: Hector Villalba, Atlanta United FC
4x MLS Aces Team of the Week
The final starter on this week's team of the week is one of the quiet heroes to the Atlanta season. Villalba may not have impressed by scoring this week but the winger put on a show passing the ball. He was able to rack up two assists in Atlanta's win over FC Dallas. He first assist on Leandro Pirez's opening goal in the 14th minute and then on Greg Garza's goal that he scored in the 68th minute.


Bench:
GK: Sean Johnson, New York City FC
3x MLS Aces Team of Week
-2 games
-1 goal allowed total
-8 saves total
-3 points
DEF: Greg Garza, Atlanta United FC
5x MLS Aces Team of the Week
-0 goals allowed
-1 goal
DEF: Frederic Brilliant, New York City FC
1x MLS Aces Team of the Week
-1 goal allowed
-2 games
MID: Yordy Reyna, Vancouver Whitecaps
1x MLS Aces Team of the Week
-1 goal
MID: Lee Nguyen, New England Revolution
6x MLS Aces Team of the Week
-1 goal
FOR: Cyle Larin, Orlando City SC
5x MLS Aces Team of the Week
-1 goal
FOR: Dominique Badji, Colorado Rapids
2x MLS Aces Team of the Week
-1 goal