MELO GOES WEST!!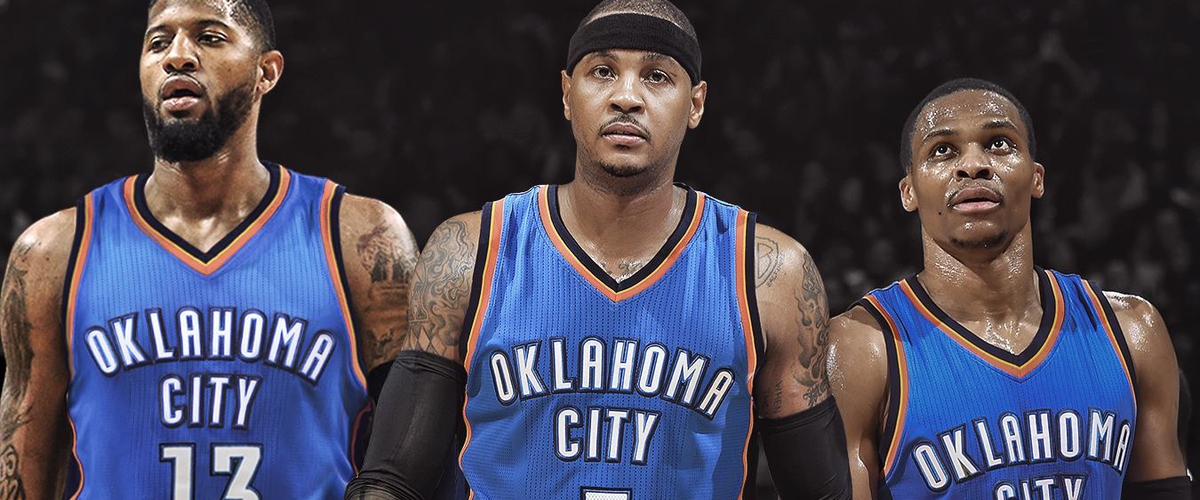 NBA sources just confirmed a Megatrade which sends Carmelo Anthony of the New York Knicks to the Oklahoma City Thunder for Enes Kanter, Doug McDermott & 2018 second-round pick. This comes as a huge surprise as we just were hearing about Melo wanting to go to the Cavaliers.
The Carmelo-drama has been talked about for the biggest majority of last season, multiple sources were under the assumption that Carmelo would basically waive his no trade clause if the Knicks agree to send him to either the Houston Rockets or the Cleveland Cavaliers.
The Knicks for the past 3 seasons have been going under a lot of drama since the time Phil Jackson agreed to be the President of operations for the Knicks who he himself ironically was on the 72' Knicks as a player and won his first ring.
One of his first moves was to hire Derek Fisher as the Coach of the Knicks after Mike Woodson took the knicks with 54 wins and a playoff trip. Everyone and especially the loyal Knicks fans disagreed with that move since Fisher didn't have any previous coaching experience and also it meant that Jackson would run the outdated triangle offense through his guy Fisher instead of him coaching, the Knicks deserved a more veteran coach to lead them into winning again. Phil made some outrageous trades and signings during his tenure, one of them was signing Joakim Noah to a massive contract as he has been injured for the past two-three seasons just after he was the DPOY and an MVP Candidate in Rose's absence.
Phil had also some excellent pickups, he drafted Kristaps Porziņģis- a 7'3" feet tall Power Forward who could handle the ball and shoot it from 3 like a guard. Everyone criticized Jackson on draft night for his pick but that pick was actually was one of the best drafts in Knicks history alongside that of Patrick Ewing.
Now how does all this tie to Melo? Well for the majority of the Jackson era in New York, he has been critically calling out Carmelo for his lack of leadership on and off the court. Jackson had pointed out Melo's ball hogging and halting the triangle offense publicly. He might have been right as he is an 11 time champion, the great Zen Master, but you shouldn't be calling your best player out publicly if you want to build around him, that shows how little Jackson respected Melo and it was Phil's tactic to get rid of Melo because he had that " No-Trade Clause" so if you can't trade them then make them trade themselves. He is the Zen Master after all.
One thing led to another and the media and the fans started to feel sympathy for Melo and were asking him to waive his no trade clause and leave New York but Melo didn't want to leave home as he called it and people accused him of staying for the money and he is not so hungry to win like his banana boat pals of Lebron and Wade and even Chris Paul.
So Comes the off season of 2017-2018 and we have the Thunder trying to assemble a team to try and take the Warriors down as is every other team in the league and one move was to acquire Paul George from the Pacers and now Carmelo Anthony. A 33 year old Melo who has had his fair share of injures in the past and he was ranked 64th by ESPN, a spot lower than Lonzo Ball, a rookie. However as an offensive player he does demand the ball and he is a threat from anywhere on the floor along side Westbrook and George.
How does Melo change the Thunder? Simple, spaces the floor as he can shoot the rock form anywhere and also can hit big time shots when the Thunder need him to as he has done in the past. It's a bit of a strange trade as the Thunder now will start with Westbrook, George at Small forward and potentially Anthony at the Power Forward spot and Adams at the Center. This gives them the ability to play small ball, space the floor and somehow run the break and even give the Warriors a run for their money.
They will have one massive disadvantage on Defense. Carmelo has been known to basically sleep on the defensive end of the floor which might create an issue for the Thunder but they have George and Roberson for that and also Melo hasn't played a full season since the 2012-2013 season.
However this is not the Melo of 4 years ago, but if he was then i would say that the Thunder could potentially beat the Warriors but we will have to wait and see if these guys can gel together as a unit and share the ball rather than play the your turn, now it's my turn offense.
Westbrook and Melo are very ball dominant players and so is George as he came out publicly and said that he wants to win the MVP this upcoming season, so we will have to wait and see as this might end up a one failed experiment.
Personally, I think every team is trying hard to compete with the Warriors and they are just getting weapons left and right, it's the era of the "Super Teams". I can't wait to see how will this upcoming season develop and see these teams battle it out against one another!