Patriots: Draft Jaylen Samuels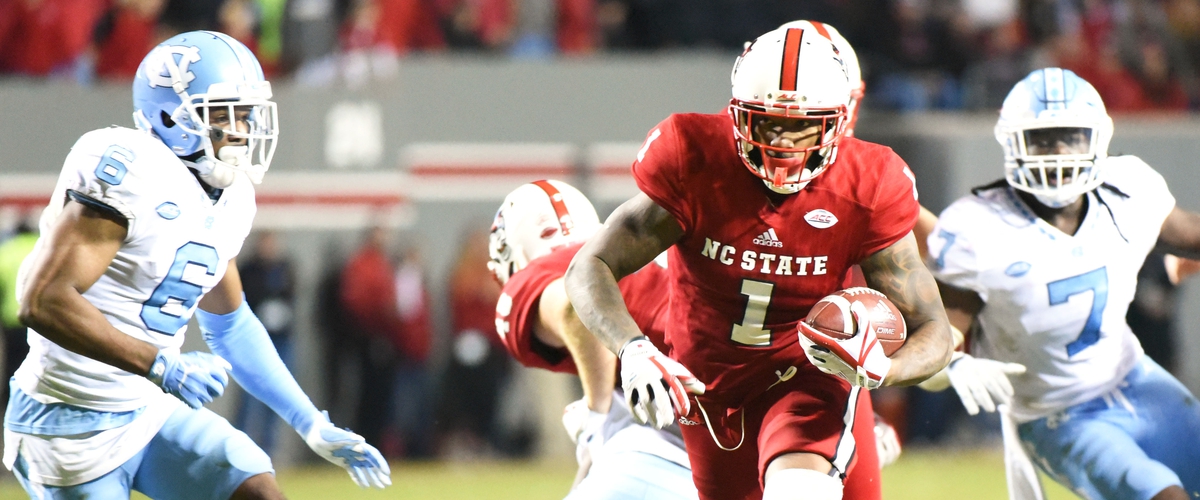 Some coaches see a player that lacks a true defined position and see a square peg in a round hole, wondering what to do with such a player. Other coaches look at that same player and see a square peg in a round hole, thinking defenses won't know what to do trying to defend him.
That player is Jaylen Samuels. What is he? Depends on who you ask.
Samuels is a 5-11 225-pound fullback (403 rushing yards in 2017, 5.2 average) with a nose for the endzone (12 TDs) and soft hands.
Or Samuels is a tight end. Undersized for the role, but a matchup problem for many defenders (76 receptions, 597 yards, 4 TD). Or maybe you want to list him as a wide receiver. To each their own.
Whatever Samuels is, when used right, he's a versatile weapon that will keep defensive coordinators up at night.
New England would know exactly what to do with Samuels. And with Samuels, the offense could be special.
After the Randy Moss era, the best offensive period for the Patriots was the tight end-centric offense that featured Rob Gronkowski and Aaron Hernandez. The latter's name is taboo in New England and the Patriots would prefer to erase Hernandez's name from the team's history after Hernandez was convicted of murder. But on the field, Hernandez's unique talents paired with Gronkowski's physical gifts made the Patriots offense nearly unstoppable from 2010-12.
New England's passing yards in 2010 ranked just 11th, but Brady had an All-pro year, throwing 36 touchdowns to just four interceptions. According to Pro Football Reference, the Patriots finished second in third down percentage and fourth in red zone percentage.
The following year Brady threw for more than 5,000 yards and 39 TDs (12 int). Efficiency on third (fifth in the NFL), and fourth downs (third) and in the red zone (second) helped propel the Patriots to Super Bowl XLVI. If Gronkowski didn't get injured against the Baltimore Ravens in the AFC Championship, severely hobbling Gronk for the championship game, New England might have six Lombardi Trophies.
Health for Gronkowski and Hernandez (eleven games missed combined) held the offense back to a degree in 2012, but Brady (4,827 yards, 34 TDs, 8 Int) and the offense (fourth in passing yards and touchdowns, first in third down percentage, fifth in fourth down percentage, first in red zone percentage at a ridiculous 70 percent) flourished as Gronkowski and Hernandez caught 16 touchdowns combined.
If two players combined to catch almost half of Brady's touchdowns seems disproportionate, in 2010 it was 16 of 36 and 24 of 39 in 2011.
The tight end-led offense worked. The NFL saw two tight end offenses before, but never was a duo so unique and devastating. Other teams tried to copy it, but never came close to New England's effectiveness.
New England tried to capture that magic after Hernandez's arrest, but Michael Hoomanawanui wasn't that kind of player, Scott Chandler and Dwayne Allen were disappointments, and James O'Shaughnessy couldn't even make the 2017 roster. Martellus Bennett came closest to fulfilling the TE dream team in 2016, but it was short lived due to injuries and free agency.
New England's infatuation with a double tight end offense goes back to the Daniel Graham-Benjamin Watson days. Easy to understand based on the results when it works. If offensive coordinator Josh McDaniels wants to run a two tight end offense, Samuels is the best option to pair with Gronkowski.
The Patriots shouldn't let size discourage them. Samuels is about two inches and 20 pounds lighter than Hernandez. That might hurt Samuels' ability to be a decent blocker. He may not consistently seal the edge on a defensive end and many linebackers. If Samuels is used often on third down, he must learn blitz pick-up.
But using Samuels as a blocker reduces the opportunities to get the ball in his hands. That's not why any team would want Samuels for.
At NC State, Samuels lined up everywhere, making him a threat all over the field. Samuels against a linebacker should be a mismatch practically every time. And if Samuels draws a cornerback or safety, it's a blocking assignment Samuels can win.
If being a receiver/tight end/fullback/H-back isn't enough, Samuels even returned kickoffs for the Wolfpack. Last year he averaged 23 yards per return on nine attempts.
If Samuels' body of work isn't enticing enough to the New England coaches and front office, Samuels shined during the combine drills. Working out with the tight ends, Samuels was a top-5 performer in the 40-yard dash, 3-cone drill, 20-yard shuttle, bench press, broad jump and vertical jump.
Even among running backs, Samuels would had tested well. He had a top-10 time in the 40-yard dash, bench press and 3-cone drill; His 20-yard shuttle and broad jump would rank eleventh, and Samuels' 34.5-inch vertical would finish 12th - better than Fordham's Chase Edmonds, Oregon's Royce Freeman and Arizona State's Kalen Ballage.
While flat out speed is important to the Patriots, New England values quickness. The ability to change direction and quickly create separation early in routes matters more than one's top speed. Samuels' 4.54 40 time is solid, but his 6.93-second cone drill and 4.28-second 20-yard shuttle appeals to New England because of the many short and underneath routes that are a part of the offense.
Belichick loves versatile players. There may not be a more versatile athlete in this year's draft. New England's third down percentage slipped to 10th in 2017. Whether to move the chains or to strike pay dirt from within the red zone or beyond, Samuels can be an impact player for the Patriots.
Samuels currently is a projected third to fifth round selection.
Questions? Comments? Send to [email protected] Follow @NE_Arena on Twitter.