Grading the 2017 Atlanta Falcons
And as the ball slipped through Julio Jones's hands on Saturday evening, the up-and-down Falcons season ended in heartbreak just as last year's Super Bowl collapse had ended it.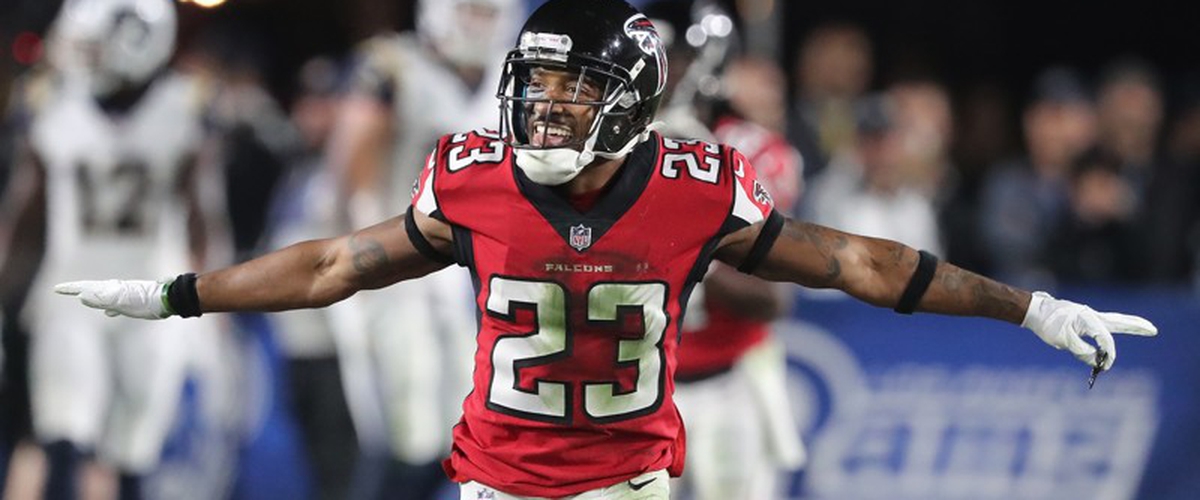 The Falcons entered 2017 with high hopes of a repeat and finally getting past New England for the Super Bowl. As the first few weeks started, they got close calls on the road in Chicago and Detroit where a sack by Brooks Reed saved Atlanta's game against Chicago and Golden Tate's knee came down too early and a 10 second run-off saved the Falcons from a loss in Detroit (which now may have been the biggest game of the season for both teams). Then the Falcons came home and inexplicably lost to Buffalo and Miami in back-to-back weeks (with the latter being a blown 17-point lead at halftime). The rematch with the Patriots was one-sided in New England's favor. The Falcons struck back against the Jets in a monsoon while dropping the ball (literally) in Carolina before smacking Dallas to start a 3 game winning streak (at Seattle, vs. Tampa Bay). However, another home loss to Minnesota happened, but rebounded on a late-game interception win against the hated Saints and a nail-biting Bucs win before losing down in New Orleans and then finishing off with Carolina. So yeah, up-and-down.
Which is stunning given that the Falcons nearly returned their entire record-setting offense from 2016 but with a new offensive coordinator Steve Sarkisian as Kyle Shanahan took his talents to the Bay Area. And the results were inconsistent at best. Yes, the Falcons were in the top half of the league in offense, but looked like previous years of driving down the field and sputtering to just get a field goal. But it seemed way worse this year with the play-calling and execution. The defense on the other hand, rose up with their young players as we saw jumps from the likes of Deion Jones, Robert Alford, Ricardo Allen, Grady Jarrett, Keanu Neal, and the emergence of rookie Takk McKinley. It is probably what saved Atlanta from being out of the playoffs in 2017. So let's look at the grades, and mind you these are my opinions.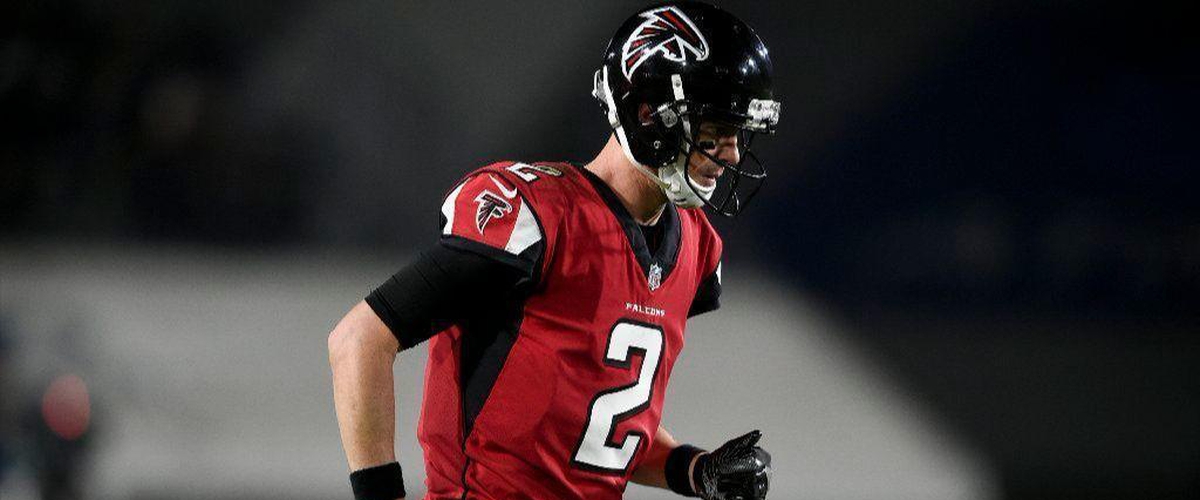 QUARTERBACK (MATT RYAN): C+. Matty Ice went backwards from his MVP year in 2016. It was to be expected...somewhat. But nearly 1,000 less passing yards, nearly half as many TD's as he threw all of last year and nearly doubled the INT rate (to be fair, the WR's costed him 7 of those INT's). But the argument is, was, and will always be is that Ryan isn't the best when he's under pressure against defensive lines. Last year's line was excellent and admittedly this year's line wasn't as strong with replacements like Wes Schweitzer and then Ryan Schraeder dropping off from last year as well as Jake Matthews becoming a liability. But with it his accuracy wasn't as stout. But the other thing about Ryan is that when he is rattled a little bit, he really gets rattled. That is probably the separation of why he is not on that same level of elite QB's like Brady, Brees, and Rodgers. And it showed this year.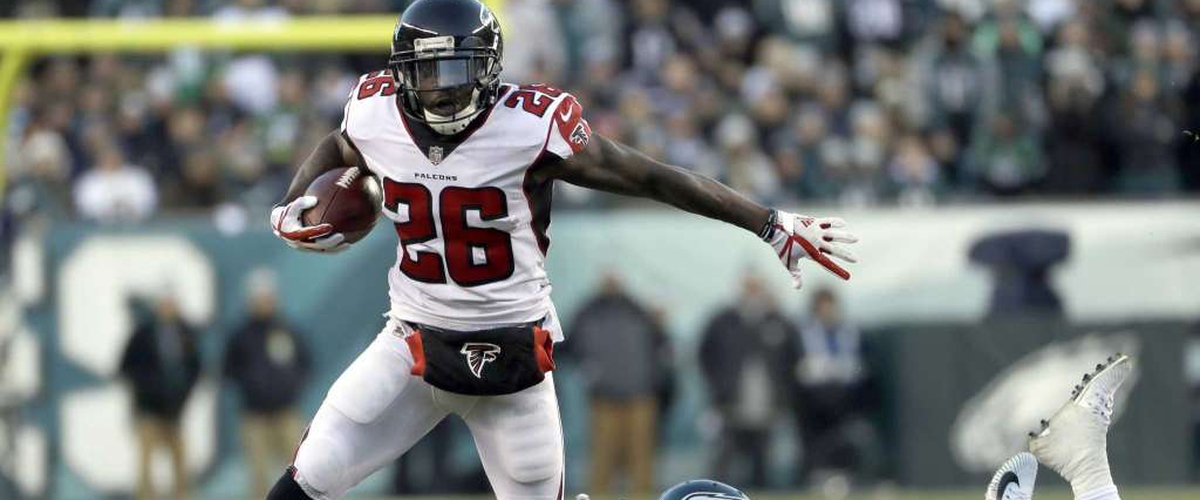 RUNNING BACK (DEVONTA FREEMAN, TEVIN COLEMAN, TERRON WARD): B. I think the run game was incredibly underutilized all year and the Philadelphia game showed. Freeman signed his big contract extension but missed 2 to concussion protocol. At times he was excellent in running but at other times such as the Saints game where he couldn't muster a yard near the goal line and coughed up, he was not as stout. So there was a bit of consistency issues but I do applaud him if the case was he was running on sore knees all year so I give him a B-. Coleman was the home-run back and continued that this year. He got those big third down conversions for the Falcons and was the hot hand most of the time. But he was underutilized in Sarkisian's offense. So for what it is worth, I would actually give Coleman an A- Terron Ward had some moments (Dallas game) but didn't factor too much outside of that so his is really an Inc.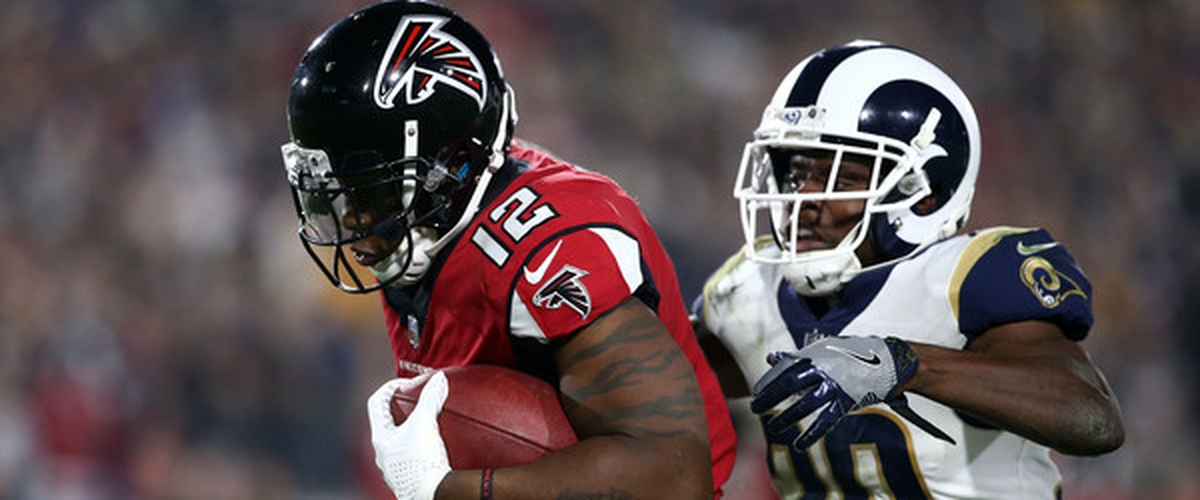 WIDE RECEIVER (Julio Jones, Mohamed Sanu, Taylor Gabriel, Justin Hardy): C. I will start with Mohamed Sanu actually. Sanu was more of the reliable guy at the Falcons WR. Yes, I get Julio is still "the man," but it felt like when a catch was truly needed and Ryan threw it Sanu's way it would work well for Atlanta. I'm giving Sanu a B+ for his efforts. He made some drops much like the rest, but he seemed like he came through more often than not. As for Julio, yes....2nd most receiving yards in the NFL in 2017. But in key situations he was nowhere to be found or he dropped the ball (literally on both). Two plays that may have really decided Atlanta's fate in the NFC South was the Carolina loss where he was wide open and dropped a touchdown pass that probably would have given the Falcons the win against the Panthers and then the Saints game where he pulled himself out of the lineup on a key 3rd down play for Marvin Hall, who dropped the pass, landed on Marshon Lattimore's butt and an interception. The Saints would score a TD on that drive. So for the talk of who is the best receiver in the NFL right now, Julio cannot be considered "the best" after this year. I will give him a C+ because he does make an impact on how defenses play him differently. Taylor Gabriel was lost this year. Dropped passes, nearly 200 less yards (though only 2 less receptions) and only 1 TD this year. And he played 3 more games than last year. He actually gets a D in my book. Justin Hardy was not bad for the limited time he was out there though but not really enough to warrant a high grade so I will keep him around a C+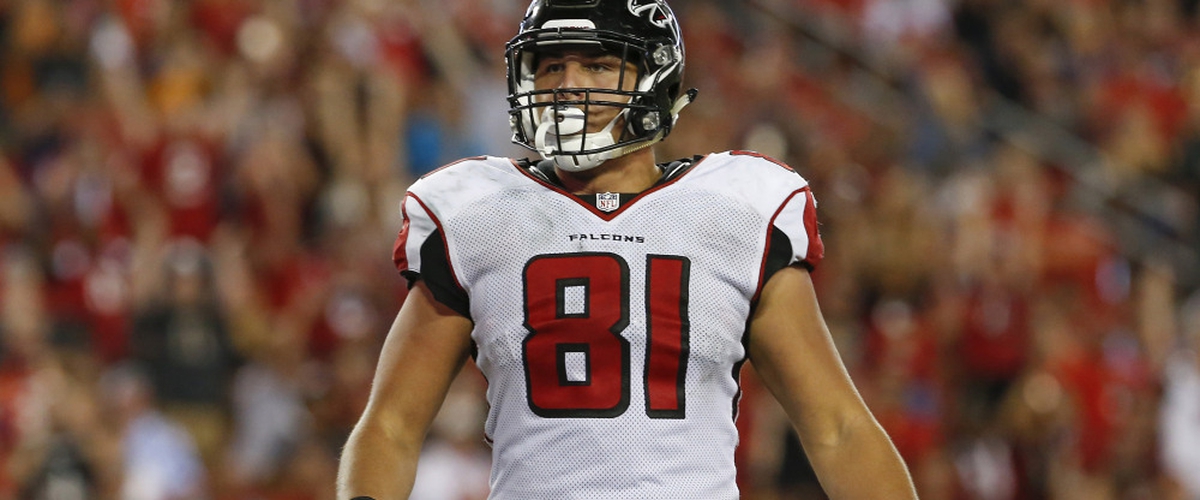 TIGHT END (AUSTIN HOOPER, LEVINE TOILOLO): C. Hooper gave all Falcons fans hope with his huge TD reception in Week 1 against Chicago where he bulldozed nearly the entire Bears secondary for a score. But then, that was really it from him. Dropped passes, costly penalties, and missed blocks really killed him and the Falcons from stringing up touchdown-leading drives. He gets a D for his efforts. Toilolo was sparingly used in the offense in terms of being one of Ryan's options, but when Ryan threw it to him he was able to catch it. And he was a quality run blocker for the Falcons. I give him a B+ in part because of he showed up every week.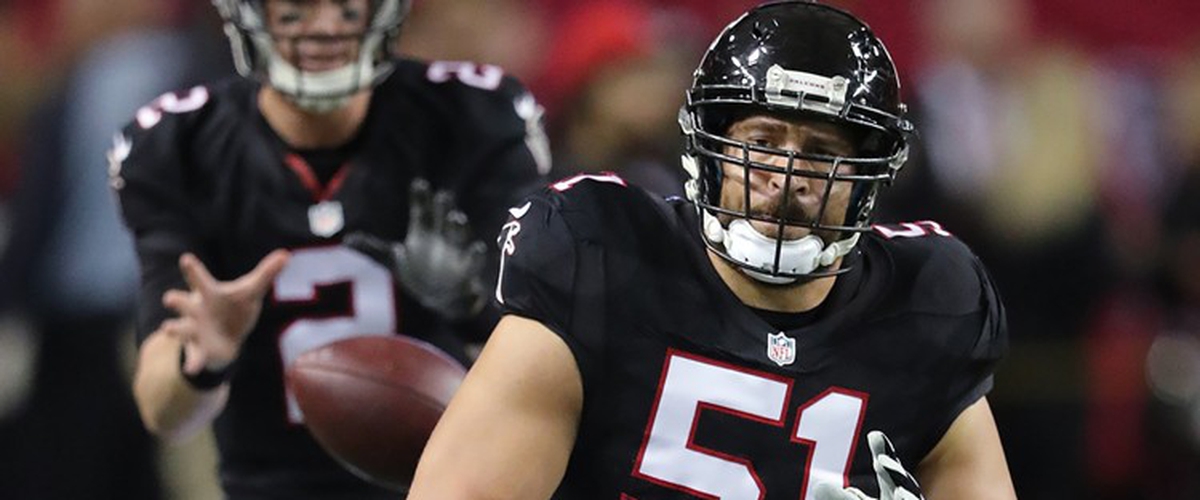 OFFENSIVE LINE (ALEX MACK, WES SCHWEITZER, ANDY LEVITRE, BEN GARLAND, RYAN SCHRAEDER, JAKE MATTHEWS): C. I will start with the positives. Alex Mack is still the best center in the game, but at times he got bulldozed by opposing defensive lines on running plays. He was solid as you would expect and maybe taken for granted somewhat. I give him a B+. Ben Garland was the Swiss Army Knife of the offensive line, able to play guard or tackle, whatever was needed. And he did an overall good job so I will give him an A- and was an adequate blocker in both the pass and the run games. Levitre played well, but was stung with the injury bug late in the year and it was costly for the Falcons. Another B+. Schweitzer was one of the most maligned players for the Falcons media and fans early on as he was beyond terrible. But as the season went on, he improved more and more each week. While he wasn't a strength, he wasn't a key liability. Honestly, another year of experience and he may get to be one of the better linemen on the Falcons. But for this year, Schweitzer gets a C- in part because of how horrible he was early on. Schraeder, who had a great year in 2016, got a concussion in the Green Bay win and never was the same when he came back. He had costly penalties and got beat on more than a few occasions so he gets a D+. And for Matthews, he has becoming more and more of a disappointment on the line with costly penalties that didn't affect plays, getting beat on a consistent basis, and at this point you wonder if it is all in his head. He at least has played every game so that accounts for something, right? I give him a D.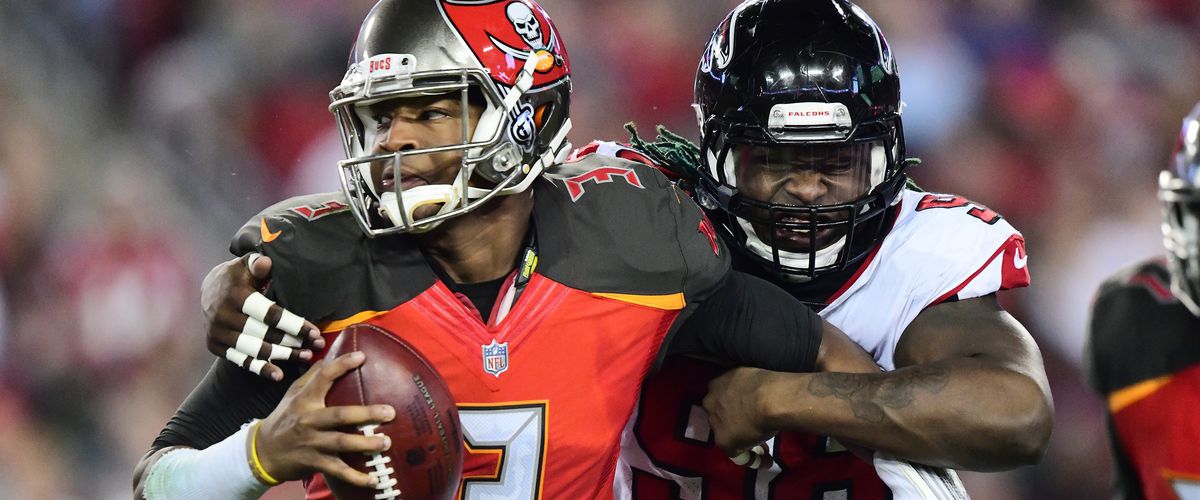 DEFENSIVE LINE (TAKK MCKINLEY, BROOKS REED, ADRIAN CLAYBORN, DONTARI POE, GRADY JARRETT): B+. At times overall the line couldn't generate a pass rush, but for the most part they created havoc on opposing quarterbacks. Takk McKinley got better as the season went on and getting 6 sacks a couple in the playoffs. For how he played down the stretch I give him a B+. Jarrett played like an All-Pro and is one of the best tackles in the game so he gets an A-. Dontari Poe came over from Kansas City, started off a tad slow but got going near the end of the season as well as he was falling into what Quinn and defensive coordinator Marquand Manuel wanted him to be. It will be interesting to see if the Falcons keep him. He gets a B. Clayborn had a huge stretch when the Falcons needed him the most (6 sacks against Dallas alone and returned a TD a week later in Seattle) but had only 3.5 sacks the rest of the season. He was an adequate rusher though so he gets a B+. Reed had the game-winning sack against Chicago in Week 1 and improved from last year while staying healthy for all 16. He also had the ability to get to the QB but was lost in the shuffle with all the other rushers on the team. He too gets a B grade. So overall, this was solid, though maybe slightly more consistency of rushing the QB next year would be nice.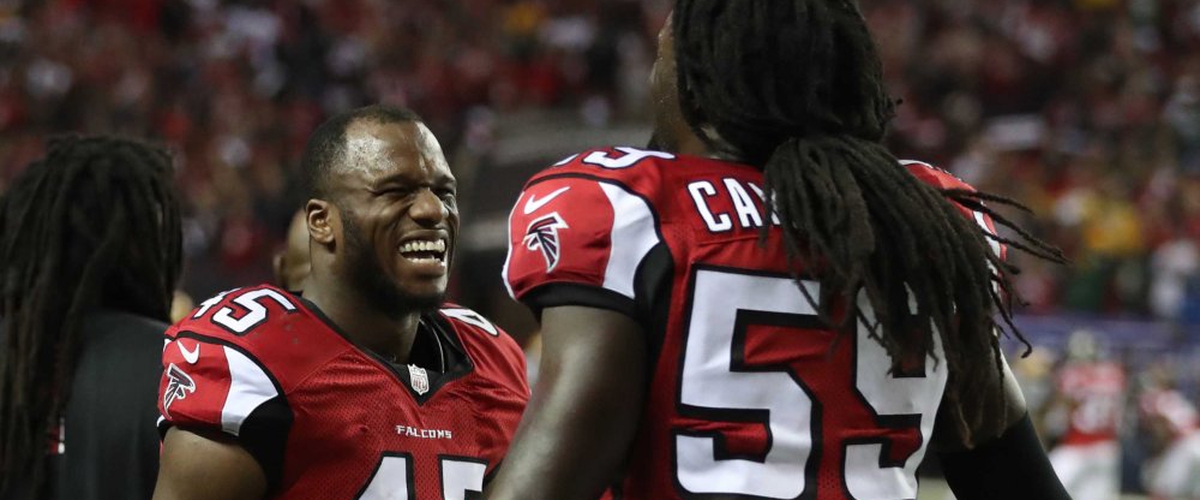 LINEBACKERS (VIC BEASLEY, DEION JONES, DUKE RILEY, DE'VONDRE CAMPBELL, KEMAL ISHMAEL): B+. May be biased on Beasley and Jones here, but Beasley did drop off tremendously with his sack totals in part because he was 1. injured for 2 games and 2. played more of coverage. But he held his own as a cover guy. So upon first look, people may think he gets a C- or even a D, but not in my book as he gets a B-. Jones, like Jarrett at DT is becoming one of the best young linebackers in the league and will continue to be that as he is really the leader on that young defense. His INT against Brees late in the game against the Saints and his ability to go with running backs in pass coverages is very underrated. Had Jones not make a couple of personal foul penalties I'd give him an A+ and is a becoming a personal nightmare for Drew Brees in his short time (3 of his 6 INT's are from the Saints great), so an A is deserved for Debo. With everybody else in the lineup the Falcons have, Campbell has been often forgotten but he is that guy who can rush, cover, tackle, etc. An unsung hero is what he is and he gets a B+. As for Riley, at the beginning of the year he truly played like a rookie, making rookie mistakes, missing tackles, and so on. However, he got hurt with a torn meniscus but when he came back, he played more calm and disciplined and he learned from his mistakes and that's what good rookies do. He gets a C+ though. Ishmael was a backup who got a sack, but he was an excellent special teams player for Atlanta and his contributions shouldn't go unnoticed including the Wild Card win against the Rams. He gets an A- for his special teams play.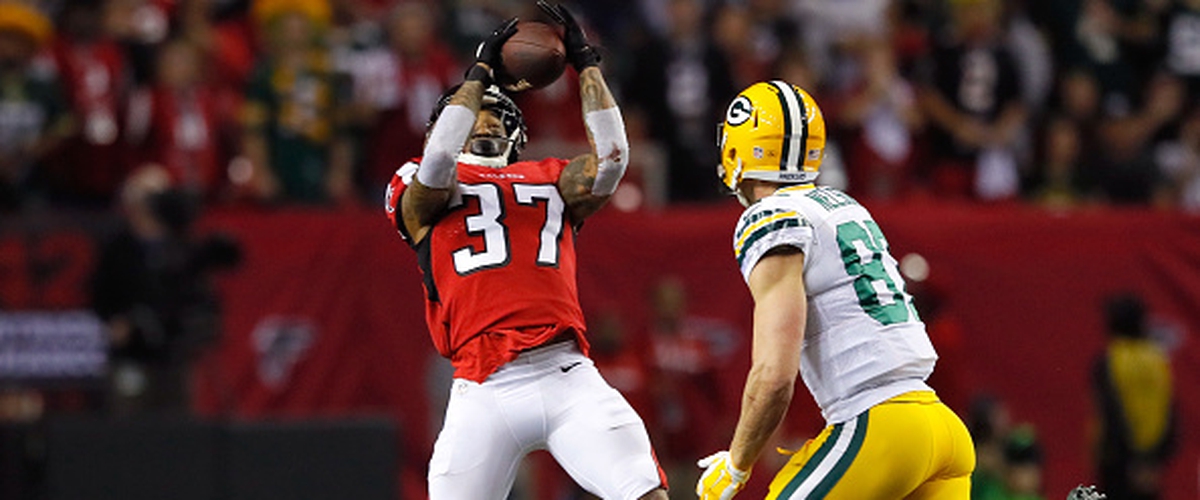 SECONDARY (DESMOND TRUFANT, ROBERT ALFORD, BRIAN POOLE, RICARDO ALLEN, KEANU NEAL): B+. Two reasons why I don't give this crew an A was that they didn't get the key interceptions needed and Desmond Trufant. Trufant, the "money corner" who got paid, really struggled this year and he got burnt what felt like numerous times for touchdowns. Even he admitted something was missing and that isn't good. However, the rest of the secondary picked him up. He did improve the final games and the playoffs so he gets a C-. Robert Alford played like a money corner as his improved play continued from last year. I can live with his pass interference calls too as some of them are necessary to take and other were just "reputation" penalties. How he played down the stretch especially makes me more excited for next year. He gets an A for his play. Poole had a solid year until the last portion making some poor plays (either tackles or penalties), but overall he held his own and gets a B. Allen is also a guy who could play corner or either safety position and he played all of it very well and that is a guy who you need to build around too. He also gets an A for his play this year. Neal is becoming known in the NFL as that heat-seeking safety. He plays ruthless but clean and can deliver key hits that stops drives. He is about what you expect from your safety and then some. He gets an A- here.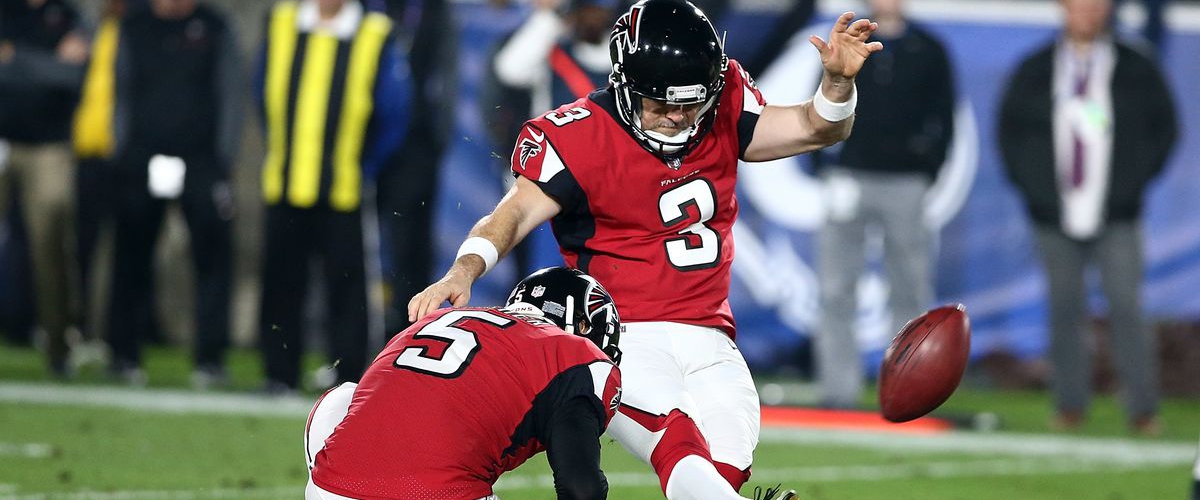 KICKER (MATT BRYANT): A+. Duh to this one. The guy is money. Unless he retires, Atlanta would be nuts not to bring him back in 2018.
PUNTER (MATT BOSHER): B-. He either looked really good or really bad at times. Most of the times he was fine, but some of his kicks in key spots were as inopportune as you wanted to have as a Falcons fan.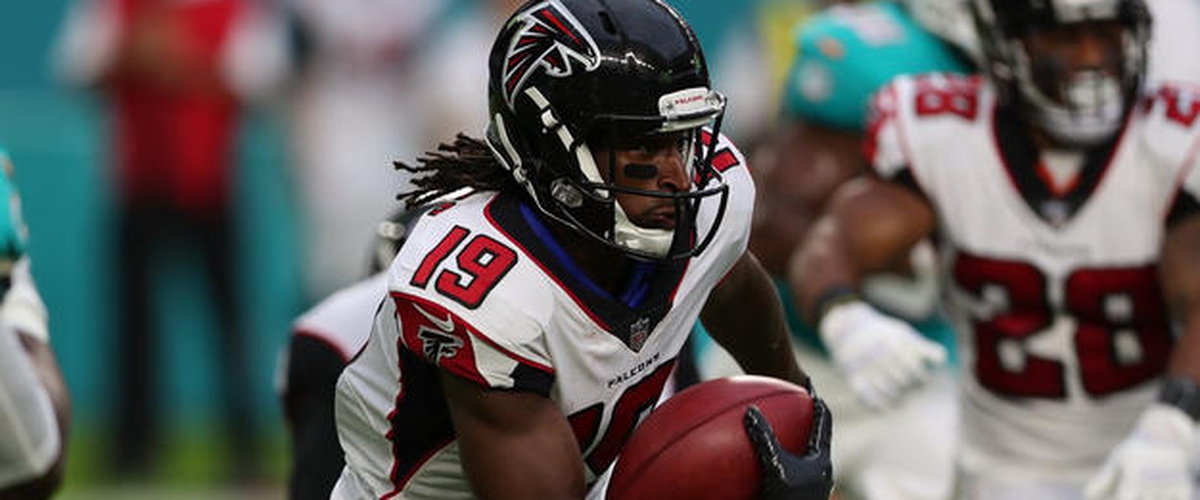 RETURNER (ANDRE ROBERTS): C+. Roberts, who is normally a great returner, tried to do too much for the Falcons and it costed them field position numerous times. But he did have some key returns in games for the Falcons though so he wasn't a dumpster fire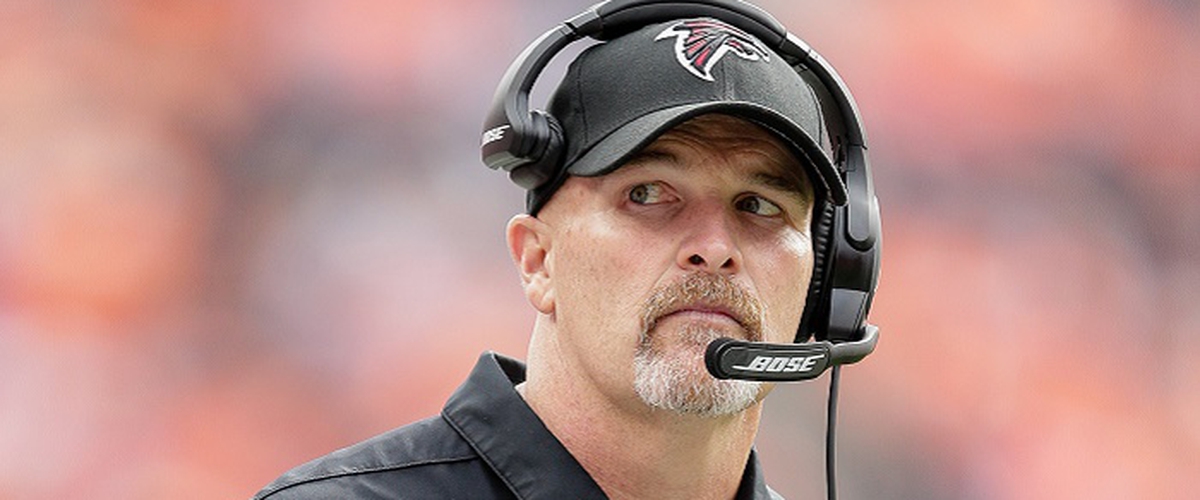 HEAD COACH (DAN QUINN): B+. I liked how Quinn did not let the ship to sink when the Falcons hit their funk early on. He just kept on saying "trust the process." Yes, they din't get to where they wanted but his philosophy especially on defense is really taking shape. He is aggressive with his offense and that is fine. He is loyal maybe to a fault but overall, you do have to applaud what he's done in his 3 years with Atlanta.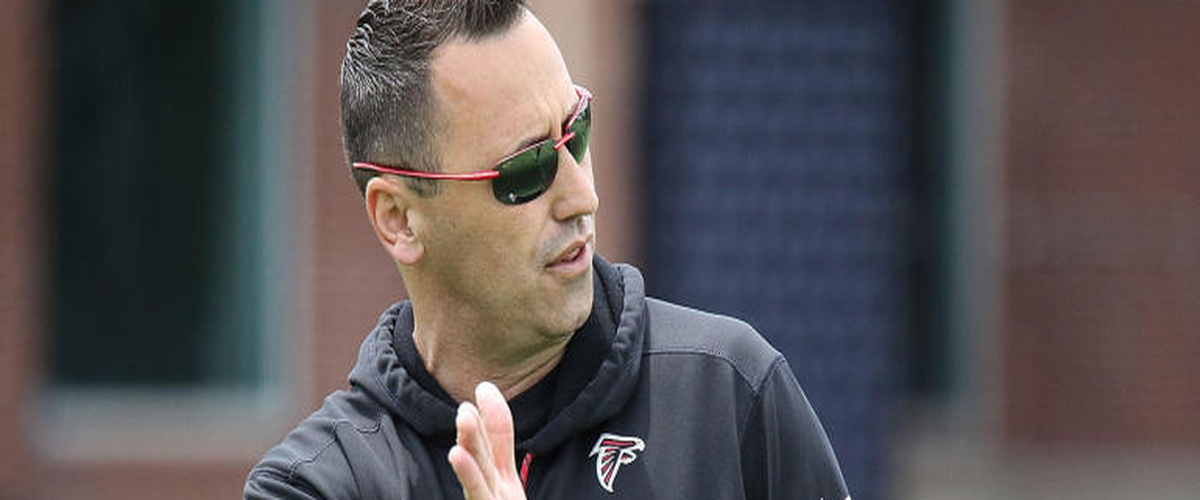 OFFENSIVE COORDINATOR (STEVE SARKISIAN): C-. Let's be clear on something....the ENTIRE offense should take blame for their inconsistencies from Ryan to Julio to Freeman to Matthews to whatever. But with THAT much talent on offense and you had 7 games where the Falcons failed to score 20 or more (all losses mind you)? My massive gripe including the playoff was his inability to stick with the hot hand of Tevin Coleman and I felt like he underutilized him and Freeman. And some of the plays on offense were just head-scratchers. That said, some of the gruff he got may not have been warranted as the Falcons failed to execute. But he has to use the weapons that are some of the best in football and especially when they are on a roll.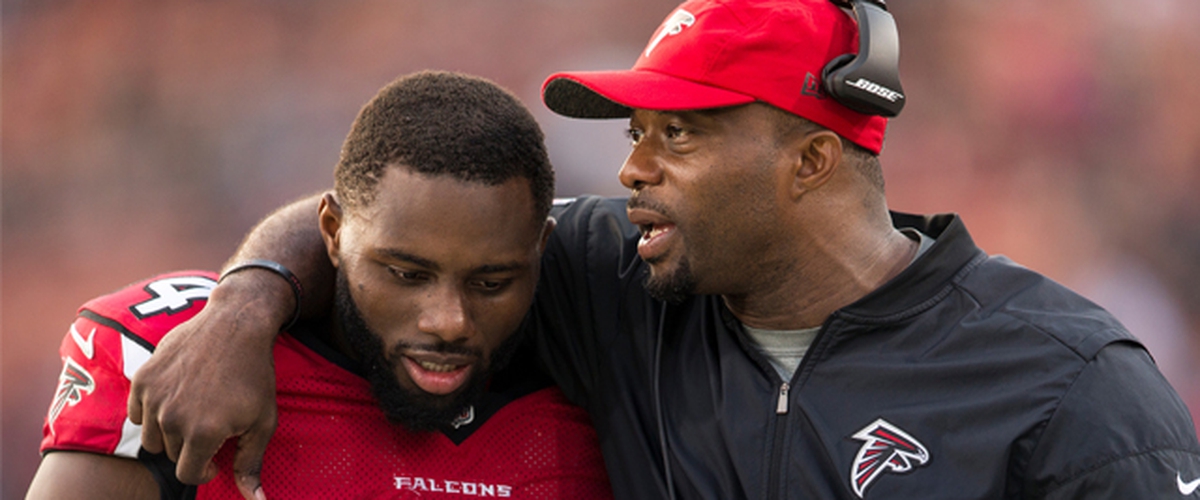 DEFENSIVE COORDINATOR (MARQUAND MANUEL): A-. This is hard to really get a gist. Is it Quinn's approach to the defense or is it Manuel relating to the players since he is still relatively "young?" Either way, the defense plays for him. And he had a great first year for the Falcons as coordinator.
That is it. I will do other Falcons stuff over the off-season, but for now, let this sink in.
-Fan in the Obstructed Seat