The Cubs Hangover Must End Very Soon
Editor's note: I had started this about an hour before gametime of the Pirates/Cubs game on July 9th. When If finished and turned on the game, the Pirates were up 10-0 in the first inning.
Hangovers.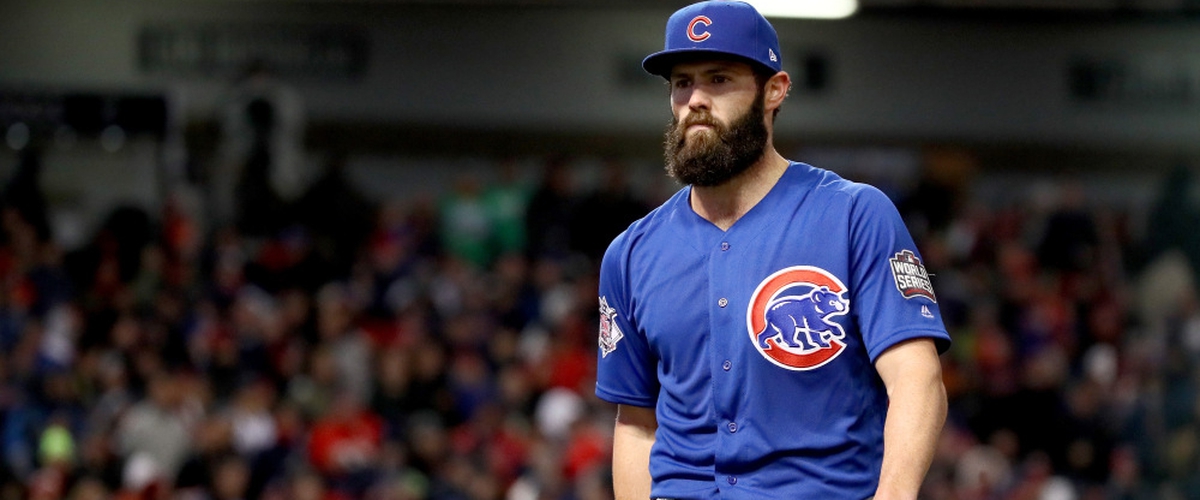 In the truest form it is when you are out celebrating way too much for a period of time, not having a care in the world about anything or anybody but enjoying yourself and loving life. It is a time of elation. Then you sleep and wake up the next morning. You don't want to get out of bed. You cling to your pillow a bit harder. Your loved one tells you to get up and get going as a new day is here. When you get up, you stagger, you move very slowly as the enjoyments of last night take its toll on you through dizziness and a major headache. But as the day progresses, you start to get it going again and you feel better, albeit not 100%.
Many, including myself, believed the Cubs would have the baseball version of the hangover. After all, 108 years of misery of not winning a world championship ended with an extra innings classic against Cleveland (who suffered a small hangover through the depression way this year). So what does a town do when you haven't won a World Series in that long period of time? You celebrate like you haven't won a World Series in 108 years.
So when 2017 arrived, many had the take the Cubs would endure a hangover from it. But at the same token, the core of the team still remained. Arrieta, Lester, Lackey, Bryant, Rizzo, Baez, etc. The major loss was Dexter Fowler, who went to St. Louis and Aroldis Chapman who went back to the Yankees. Add on a great manager like Joe Maddon and what you would get is a team that would recover early and then do their thing like we saw in 2016.
Turns out, that hasn't been the case. The Cubs still want to stay in bed, clinging to their pillow. And listening to the Pirates/Cubs game last night, Matt Vasgersian and John Smoltz agreed is that every time you think the Cubs get that big win or one of their players that are struggling has a big game they turn around and crash. And that has been Chicago's issue. They haven't seemed to get it together at any point as you are just waiting for them to bust out of this hangover and get it going.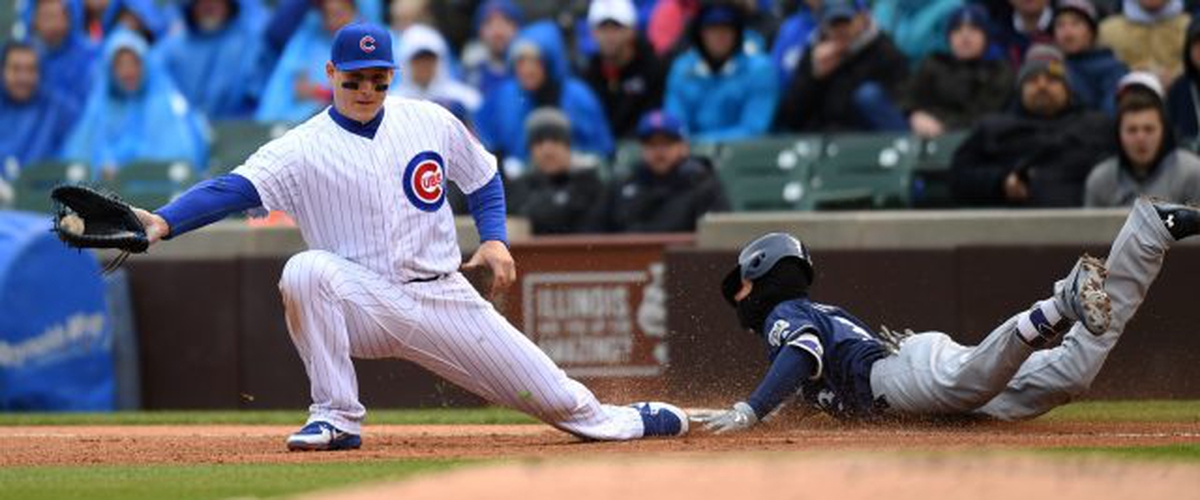 We are now at the All-Star Break. The Cubs are 43-44 in the NL Central and 4.5 back of the surprising Milwaukee Brewers. The Cubs are also fortunate that the Cardinals and Pirates have also underachieved to this point (Cards 1 behind Chicago and Pirates 2.5 behind Chicago).
All along Joe Maddon has kept saying the Cubs will play their way out of the first half funk and there isn't room for panic. Hard to disagree with him most of the time. And while my team isn't the Cubs, I had a sense if I was, I wouldn't panic. The hitters at some point I felt would bust out and the pitchers would get it together. But after this week, if I was a Cubs fan, I might not panic, but I'd be looking at that panic button a little bit more.
The Cubs as a team are hitting .238 this season. Only Oakland and San Diego have hit worse. The OPS is middle of the pack at .743 and 20th in runs scored. Last year, the Cubs were hitting .256 as a team with an OPS of .772 (3rd) and 3rd in runs scored. Their pitching is ranked 8th with a 4.06, but in terms of starter ERA they are 16th with a 4.59 ERA. But to put it in perspective, Chicago was #1 last year with a 3.15 ERA and the starting rotation had a 2.96 ERA. Was it too much to have the Cubs rotation repeat those numbers? Probably, but that is a huge spike from last year.
Playing their way out of this? Maybe not the case anymore.
So what are some of the problems of the Cubs in 2017?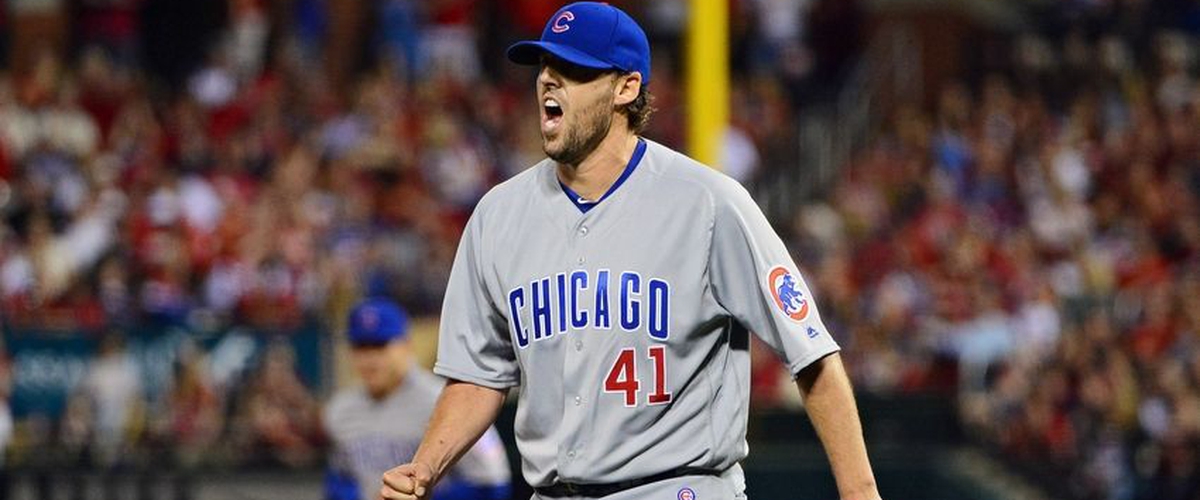 1. The VETERANS have underperformed. Save for Kyle Schwarber (getting to him later), it has been the likes of the guys who have been around the Majors for a while. Kris Bryant is a little off his MVP pace of last year and had a slow start but has been fine. Anthony Rizzo has been a little off, but again he has been okay this year. Javier Baez has actually been better than last year and Willson Contreras has been pretty good in his first full season. And Ian Happ has been a nice pickup. But it has been the likes of Ben Zobrist (.OPS down 158 points and dealing with nagging injuries), Jon Lester (ERA up from 2.44 to 3.94), John Lackey (ERA up from 3.35 to 5.20), and Jake Arrieta (3.10 to 4.35). And while Jason Heyward has been better than last year, his numbers still aren't worth the 8 years, $184 million the Cubs gave him after 2015 (not to mention he still finds himself on the DL at some point every year, maybe twice). It is hard to have the more seasoned guys to slump like they have and expect to win. These are the leaders of the team.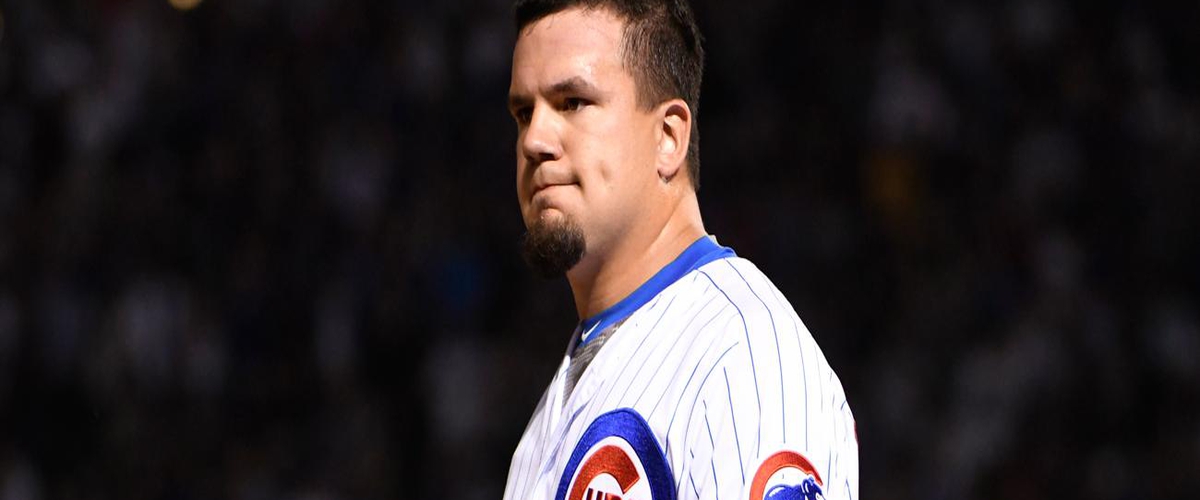 2. Mysterious cases of Jake Arrieta and Kyle Schwarber. Arrieta in 2015 and first half of 2016 was mentioned under the same breath as Clayton Kershaw, Madison Bumgarner, and Max Scherzer. And it seemed like the 2nd half of last year, Arrieta struggled (3.69 in 2nd half of 2016 as opposed to the 2.68 of first half). Strikeouts per 9 were down 2 whole and gave up 2 more HR in 5 less games in the 2nd half. After watching him pitch against Pittsburgh, he looked way off in his pitches, not being on the same page with Wilson Contreras, and his demeanor was "what else can I do?" So he does look lost out there. As for Schwarber, one of the World Series heroes and a legend in Chicago now, he already had the knack of being an all-or-nothing guy. Even in his first year, he has had that issue. But this year it is either the home run or strikeout, mostly the strikeout. Some think perhaps with Schwarber the success got to as well as he may have returned from injury too fast, but it is hard to tell. He is a slugger at heart, but the strikeouts are too high and the average is too down. You hope perhaps he doesn't become this generation's Rob Deer. That said, he has taken everything in stride especially when he was sent down to Iowa to get his swing together. So far the results have been fine (.300 with 1 HR), but only the smallest of sample sizes.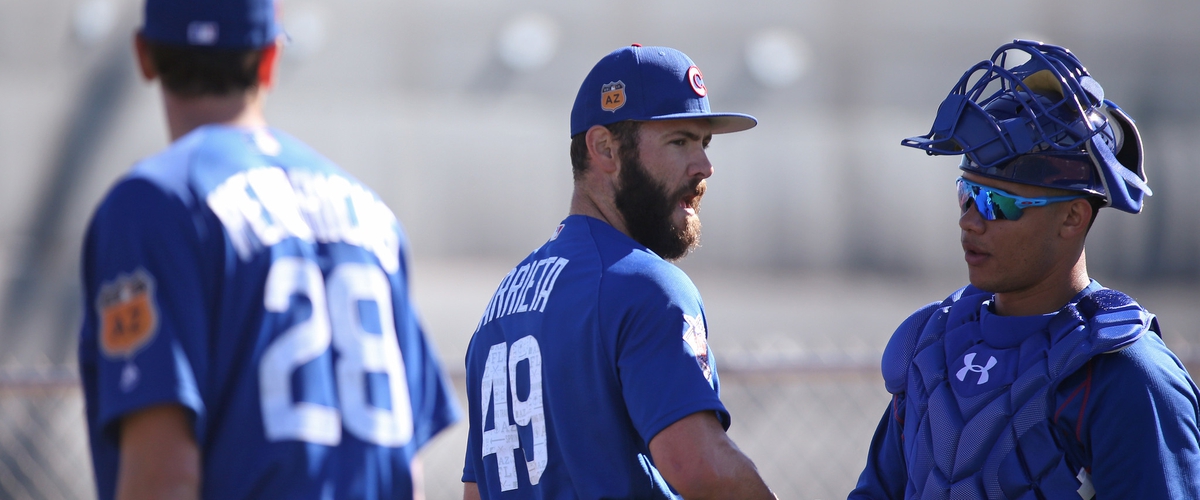 3. Young catcher with veteran starters? The Cubs dumped Miguel Montero for his comments after outing Jake Arrieta after a loss to the Nationals. And rightfully so. You don't out a player like that. And watching how Willson Contreras and Jake Arrieta against Pittsburgh, they were nowhere near being on the same page. More than a few times, pitches were crossed up giving passed balls and Contreras giving the vibe is that he was calling something different. But you have to think though while on paper it may be easy to catch 3 quality seasoned veterans, but if you're a 25-year old catcher who hasn't played a full season like Contreras, you have to know the ins and outs of those three. And for Lester (33), Arrieta (31), and Lackey (38), it may be a trust issue. Last year, Lester had his personal battery in David Ross and enjoyed great success (2.25 ERA with Ross as his catcher). However, there was one start Lester didn't have Ross and got shelled by the Mets. 9 H 8 ER in 1.1 innings. The catcher? Contreras. (Editor's note: he gave up 10 runs in .2 IP today with Contreras; maybe it's time for a change of battery) I don't think it is a chemistry issue between Contreras and notably Lester & Arrieta, but more of adjustment issues as Contreras tries to assert himself as the guy behind the plate. Or maybe Lester tries to go with Vic Caratini. But we hear it all the time from players and coaches is that having a catcher to call games for the pitcher is vitally important, not necessarily having a catcher to hit .300 with 15 HR. So this is probably a thing the Cubs can fix somewhat, but they have to fix fast.
So what can the Cubs do?
1. Trade? Rumors swirling of possibly bringing in Justin Verlander and Alex Avila from Detroit to help with the rotation. Verlander would give the Cubs another arm and Avila would bring a veteran presence behind the plate and perhaps a personal battery mate for Lester or Arrieta. But Verlander has a heavy price tag and Detroit needs prospects so this may not come to fruition. But adding an arm is probably needed in Chicago. If the Cubs are hoping Kyle Hendricks coming back is "like trading for another arm," they are sadly mistaken. But what they could afford to give?
2. Pray Milwaukee has a 2nd half swoon circa 2014. It is possible the Brewers fall back as they have done that before, but also possible they string off a hot streak, leaving the Cubs in the dust if they slump as well. Also, you have to factor the Cardinals and Pirates in the equation if one of them gets hot. Pittsburgh has Starling Marte return soon from his PED suspension while McCutchen has played like the MVP he once was and Gregory Polanco is coming out of his season-long funk. And the Cardinals are having that same mentality of "some point we'll bust out of our season-long slump."
3. R-E-L-A-X. The lone representative in the All-Star Game is closer Wade Davis so it may be a blessing in disguise for the Cubs who just need a 4-day break mentally. And the 2nd half starts with 4 series against teams under .500 (Baltimore, Atlanta, St. Louis, and the White Sox) before seeing the Brewers. Save for maybe Atlanta who has played better ball of late, they are all attainable series to win. They need to given the Brewers have a healthy dose of Philadelphia early on in July. If the Cubs struggle? Instead of buying, maybe the champs consider selling.
4. Play it out. You do think at some point things will click and maybe the break is what they need. But we've heard it all year.
At some point you have to figure it out and get out of that bed if you're Chicago. At the rate of how the season has gone, nothing can be banked. The Cubs can't bank on Milwaukee slumping. The Cubs can't bank on that trade to get another pitcher to get them over the hump. The only thing they need to do is like everybody else who has suffered a hangover: get up out of that bed and do something.
-Fan in the Obstructed Seat