Patriot Talk: Week 8 Recap and Week 9 Predictions
[email protected]: 25-6 Win (6-2 record)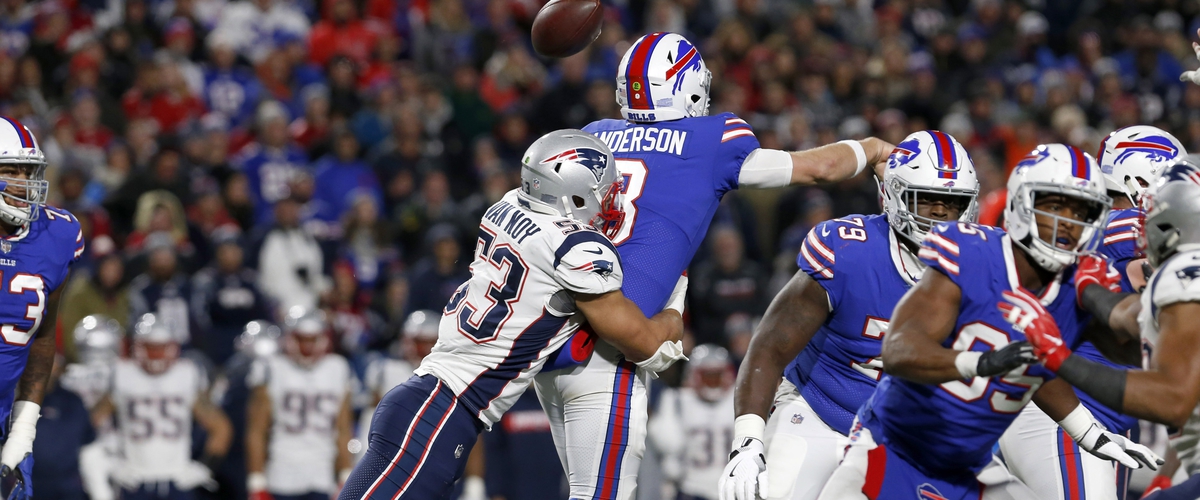 "What the hell is he wearing?", came a voice from behind me. As the camera caught Bill Belichick, my dad noticed immediately what was wrong. "Where is his lucky hoodie?". Now, you're probably confused. Belichick always wears a hoodie, always. The last time he didn't wear a hoodie was, at least from memory, in the 2008 Super Bowl (Super Bowl XLII) where the Patriots went undefeated through the regular season and playoffs, just to come up empty to the New York Giants. "We're either going to lose, or play like crap, I'm telling you. I don't like this." I guess my dad was right. Let's break it down.
To start, our offense was not good, at all. Brady went 29/45 for 324 yards and no touchdowns. Of his 16 incompletions, 3 were thrown away, 1 was dropped and 1 was spiked. Brady was also 2 for 5 on deep passes for a total of 48 yards, with Josh Gordon recording the only drop on one of those passes. The Offensive Line, which has been very good recently, was horrid. Shaq Mason, whom is highly regarded as our best linemen, gave up 5 hurries before going down with injury. LaAdrian Waddle, the backup Right Tackle for Marcus Cannon who held his own against Khalil Mack, allowed a sack, a QB hit, and 2 hurries. Left Tackle Trent Brown also struggled, giving up another sack, a QB hit and 2 hurries, like that of Waddle. Joe Thuney, James Devlin and Rob Gronkowski all allowed one hurry. Ted Karras, James White and David Andrews were perfect in protection. Their running game was non-existent, however, without Sony Michel in the lineup. James White isn't a strong ball carrier, Kenjon Barner has little experience and wasn't given a big workload, which opened up a spot for…. Cordarrelle Patterson. Yes, that's wide receiver Cordarrelle Patterson who played running back. He had 10 carries for 38 yards, while Barner and White combined for 10 carries for 19 yards, with White's 1 yard rushing touchdown being the only offensive TD of the game. The Patriots offense overall wasn't bad in the air, but they were atrocious in the redzone, going 1 for 3.
Defensively, we couldn't have played much better. For pass rush, where the Patriots have struggled, Kyle Van Noy recorded 2 sacks (one of those a strip sack), along with a QB hit and a hurry. Trey Flowers, who was everywhere, recorded a QB hit and 2 hurries, along with a batted pass at the line of scrimmage. Adrian Clayborn had a sack as well, along with one hurry. In coverage, Van Noy allowed 4 catches on 4 targets for 70 yards. Jason McCourty allowed 5 catches on 6 targets, for 57 yards, also recording a pass breakup. Stephon Gilmore continues to shine, as he allowed just 2 catches on 7 targets, with 2 pass breakups, allowing just 45 yards. Undrafted Free Agent JC Jackson, who replaces Eric Rowe (who was added to IR with a groin injury) allowed 2 catches on 4 targets for 35 yards. Devin McCourty had the lone interception on the day, taking it all the way to the house. Devin McCourty, on that return, becomes the fastest recorded ball carrier this season, as he topped off at 22.05 MPH. On the Kyle Van Noy sack, he recorded the fastest sack of the season among his teammates, getting to Bills QB Derek Anderson in 2.9 seconds. Also after this game, Gilmore now ranks second in the NFL with 11 pass breakups.
As we have reached the halfway mark, here's a quick check in on key players and what they are projected statistically IF they mirrored the first half of the year in the second half.
Tom Brady- 398 of 590 (67.5% completion), 4,400 yards, 32 TDs and 14 Interceptions.
James White- 110 receptions, 918 receiving yards, 12 receiving TDs, 96 carries, 408 rushing yards, 4 rushing TDs. (White has never recorded more than 717 scrimmage yards in a season, he's at 663 yards right now.)
Sony Michel- (If he misses another 2 games) 190 carries, 844 rushing yards, 8 touchdowns, 8 receptions, 62 receiving yards.
Rob Gronkowski- (If he misses another game) 58 Receptions, 896 yards, 2 TDs. (Has never finished with less than 3 TDs in a season)
Trey Flowers- 4 sacks, 6 tackles for loss
Stephon Gilmore- 2 interceptions, 22 pass breakups (Never finished with more than 18 pass breakups)
Heading into week 9, the Patriots face the 3-3-1 Packers at home in Foxboro. As most people know, the trade deadline in the NFL has passed, and one of the players moved was Packers safety Ha Ha Clinton-Dix. Clinton-Dix has not had a very good season to be quite honest, and that's part of the reason the Packers traded him. But the defense as a whole has struggled in Green Bay, and trading what was once their best player in the secondary was not a solution. The Patriots offense may have a very good matchup this week, but if Michel isn't ready to go, and they don't at least sign someone from free agency (Orleans Darkwa is still available, you know), the Pats are one dimensional. If the lousy Bills had the Pats offense sputtering, who's to say the Packers won't slow the Michel-less Patriots offense. Defensively, the Patriots have been off and on. Dont'a Hightower should play this week after missing the game against the Bills. If Van Noy, Trey Flowers, and the surprisingly successful Adrian Clayborn can continue to get pressure on the QB and shutting down the running game, then Hightower will just be a bonus, and help the defense take that next step. Rodgers does spread the ball around, never really using a receiver too much, it'll be interesting in the air. The inconsistencies of Jason McCourty, along with inexperienced JC Jackson, could cause problems. I believe it will be a war fought in the air this week, and both defensive units will have to give their all. I think the Patriots have the advantage in the secondary, however.
Prediction: 31-28 Patriots win