I Refuse To Say "Fultz Steam Ahead": A Phillyfansince88 Draft Writeup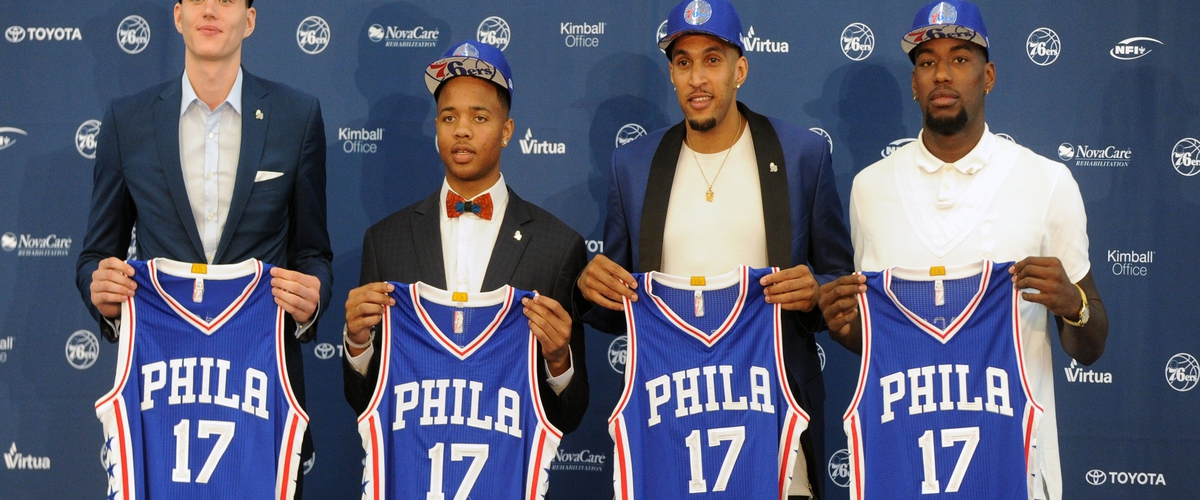 As we find ourselves in the midst of another summer, it's time to evaluate another important draft night for your Seventy-Sixers.
First of all, there were the trades. Unlike in years past, the Sixers made not just one but two trades for first round picks that did not include players already on the roster.
Trade #1
Sixers receive: The 2017 first overall pick
Celtics receive: The 2017 third overall pick and the rights to the 2018 Lakers' pick the Sixers received in the 2015 trade deadline deal that saw reigning Rookie of the Year Michael Carter-Williams shipped to Milwaukee, or either the Sixers' own or Sacramento's in 2019.
Grade: A. Regardless of how this works out, the Sixers got a pick the Celtics refused to include in deals for players like Jimmy Butler while still ensuring they have at least one first round pick in any year the Celtics are to receive one from them. It was a win-win for both teams, really.
Trade #2
Sixers get: 2017 25th overall pick.
Magic get: The protected top 20 protected 2020 first rounder the Sixers got from the Thunder in exchange for Jerami Grant and a future second rounder.
Grade: A. The Sixers basically traded found money for a very intriguing big man prospect.
Trades #3 & #4
Sixers trade Jawun Evans to the Clippers and Sterling Brown to the Bucks for cash. I'm not going to grade this but I can't hate these moves -even though Evans would be a great scoring point guard to have off the bench.
Overall the Sixers made some very solid moves. Now let's get to the part you're really here to read and analyze the picks.
First overall: Markelle Fultz, PG- The freshmen combo guard out of Washington was considered by many to be the best player in this year's draft. I wasn't among those people.
With that said, Fultz is going to be a player in this league. He is a natural scorer who moves very quickly with the ball in his hands and can play well off the ball. He is deceptively athletic and his 6'5" size is accentuated even more by his ridiculous wingspan, making him potentially capable of guarding 1-3 or even some 4. The guy he reminds me of the most is Kent Bazemore but offensively he will be much better.
Fultz is a hell of a talent and actually is the kind of player every overrated combo guard -like D'Angelo Russell- is made out to be. If he stays healthy, he will probably be a 20+ppg scorer for the entirety of what should be a long and successful NBA career.
25th overall: Anzejs Pasceniks PF/C- The Sixers took a bit of a risk trading back into the first round to take the Latvian big man but the potential is obvious. Sixers fans will be tempted to compare him to Porzingis but it's highly inaccurate. Porzingis was a small forward for pretty much his entire pre-NBA career and is like a Latvian Anthony Davis. This kid is more like a highly mobile stretch five.
That said, there is a lot to like about Pasceniks. He's highly mobile for a seven footer and stronger than his build would have you believe. The problem with him is he's already 21/22 and physically doesn't have the kind of build that would enable him to add on much bulk. What you see is basically what you get.
However, when one watches Pasceniks' pre-draft workout one can see that he hasn't really reached that next level of fitness just yet. If and when he does, his mobility and athleticism should make him a major headache for opposing defenses. However, if he never does unlock that then it's unlikely he can ever be an impact player in the NBA.
36th overall: Jonah Bolden, F- I am a huge fan of this pick. It reminds me of the Richaun Holmes pick in 2015.
Bolden is 6'10" with a 7 foot wingspan, crazy energy and athleticism, and the physical ability and offensive potential to play both forward positions. He's also got great handles and passing ability as well as the potential to be a deadeye shooter. At the absolute least he'll be the player people try to make Larry Nance Jr out to be.
However, if anybody thinks Bolden can be a replacement for Holmes, you're out of your damn mind. He doesn't have the frame to ever play Center and is best suited as a combo forward.
50th overall: Mathias Lessort, F- Lessort is the third of three international players I had my eye on for the Sixers to draft, with their two picks before him having been the others. These three forwards were by far the best post-lottery international frontcourt players after Hartenstein -who has a ways to go and would have been a likely lottery pick in 2018.
The French forward is highly athletic, strong, has flashed elite post shot blocking at times, and has all of the potential to be an Alex Poythress type -which he's going to have to be if he ever wants a real shot at the NBA.
Lessort may never play in the NBA but as a physically versatile 6'9" forward with a 7 ft wingspan, the Frenchman is great value at #50.
The Sixers got by far the best scoring guard they've had since Jrue and a guy who was made to run the pick and roll with their bigs and Ben Simmons. They drafted three of the best young international prospects. They drafted two second rounders who at the absolute least will be among the better bench players in the league. It's genuinely impossible to hate this draft.